Best 4×4 SUVs: 10 Top Options
Published on: January 31st, 2019
Editorial Note: The content of this article is based on the author's opinions and recommendations alone. It may not have been previewed, commissioned or otherwise endorsed by any of our network partners.
If you're an adventurer — daily or weekend-only — seeking the perfect SUV for off-road exploring or navigating snowy city streets, there's a four-wheel drive (4WD or 4×4) vehicle out there for you.
4WD vehicles are designed to climb steep hills, descend slippery slopes and take on all types of terrain with a dedicated slow, low-gear setting via manual/part-time controls or via automatic sensors. They're a must for people who live in rural areas or deal with heavy snow on unplowed roads.
We'll talk more about the different types of SUVs below, but we picked these best 4X4 SUVs based on high ratings by Kelley Blue Book (KBB) experts, consumers on Edmunds, the National Highway Traffic Safety Administration (NHTSA) and/or the Insurance Institute for Highway Safety (IIHS), when available. For consumer reviews, we noted the number of reviews available as of publication.
10 best 4×4 SUVs in 2019
2019 Ford Escape SE

2019 Volkswagen Tiguan S with 4Motion

2019

Jeep Grand Cherokee

2019 Jeep Wrangler

2019 Nissan Pathfinder

2019 Toyota 4Runner

2019

Land Rover Discovery Sport

2019 Toyota Sequoia

2019 Lexus GX

2019 Chevrolet Tahoe
A closer look at the best 4×4 SUVs
2019 Ford Escape SE
MSRP $26,500
4.1 out of 5 by KBB experts; 4.8 out 5 by consumers on Edmunds (4 reviews)
5 stars NHTSA
The 2019 Escape comes with Ford's new Intelligent 4WD system that monitors for loss of traction (then supplying necessary 4WD). However, the basic S trim level doesn't offer the Intelligent option, so you'll need to upgrade to at least the next step up (SE level) to add on Intelligent 4WD, which ups the price by $1,500. The roomy Escape provides 68 cubic feet of cargo space. If you need more cargo space versus people space, think about the 2019 Ford Ranger truck, which also offers the Intelligent 4WD system.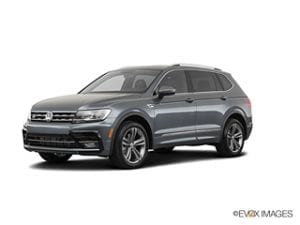 MSRP $25,595
4.3 out of 5 by KBB experts; 5 out of 5 by consumers on Edmunds (4 reviews)
The Tiguan is described by Volkswagen as its "not-so-compact compact SUV." The S with 4MOTION-level trim — one up from the base S — automatically includes Volkswagen's unique 4×4 drive, which can be used to maintain traction at higher speeds than traditional 4WD. 4MOTION gets great gas mileage to boot, 29 on the highway, and 21 in the city. The Tiguan also offers an optional third-row seating addition for $595 more. Bumping up to the SE level ($27,995) brings leather-like seating, blind spot monitoring, that desirable third row and an optional sunroof package. Keep going up the trim ladder, and the Tiguan with 4WD could top out close to $40,000.
MSRP $33,995
4.3 out of 5 by KBB experts; 4.5 out of 5 by consumers on Edmunds (11 reviews)
Whether mud, gravel, snow, rocks or sand, the Cherokee's 4×4 Systems is prepared to battle all terrain conditions, though it adds about $1,500 to the base Laredo model to create the Laredo 4×4. The Laredo 4×4's powerful 3.6-liter V6 24-valve VVT engine engine clocks in at a pretty-good 18 city and 25 highway miles per gallon. Though the Grand Cherokee is more expensive than the Cherokee, which also comes in 4X4 models, the Grand Cherokee is capable of more power. The top trim (Trackhawk 4×4) starts at $86,650, and comes with a 6.2 L V8 engine; luxury Berber floor mats; a wood-and-leather wrapped steering wheel; heated front and second-row seating; and a hands-free liftgate.
MSRP $28,045
4.4 out of 5 by KBB experts; 3.2 out of 5 by consumers on Edmunds (2018, 33 reviews)
The classic Wrangler was redesigned in 2018 and now comes with a removable top and removable doors, but retains its classic styling. Available in two or four doors, we focus on the base two-door Sport with standard Command-Trac part-time 4WD. The higher trim level, the Rubicon, comes with standard Rock-Trac part-time 4WD, which gives drivers greater control and enhanced off-road performance. The Rubicon adds about $10,000 to the price, starting at $38,045.
2019 Nissan Pathfinder S 4WD
MSRP $33,120
4.2 out of 5 by KBB experts; not yet rated by consumers on Edmunds
IIHS Top Safety Pick
This seven-seat crossover SUV at every trim level gives drivers the ability to select between 2WD, 4WD and Auto settings via their Intelligent 4×4 (I-4×4) 4WD system, along with the handy Hill Descent Control (on 4WD), which helps maximize driver handling down steep slopes. Families may appreciate the standard-issue Rear Door Alert, which notifies if you opened the rear door at the journey's beginning, but not at the end; hopefully the alert prevents forgotten items or children. It can tow 6,000 pounds, so it's ready for summer camping or outings to the lake.
MSRP $35,110
3 out of 5 by KBB experts; 4.5 out of 5 by consumers on Edmunds (6 reviews)
4 stars NHTSA
Some buyers gravitate to the 4Runner's build, as it boosts the seven-seat SUV, so it drives more like a truck, providing good clearance for varied terrain. Mud fiends may most enjoy the top-level trim level, the TRD Pro  (base $46,415), which comes with a V6 engine, 15-speaker sound system, rugged tires, dynamic suspension and skidplates to protect against rocks and Crawl Control (designed to handle challenging terrain at low speeds). However, for purposes of this story, we focus on the base-level 4Runner SR5, which comes standard with 2WD but has the option of 4WD for about $2,000 more ($36,985).
MSRP $37,795
3.6 out of 5 by KBB experts; not yet rated by consumers on Edmunds
5 stars NHTSA
A less-expensive cousin to the Land Rover Range Rover (starting at MSRP $89,160) this midsize luxury SUV doesn't quite have 4WD. But it does feature "All Terrain Progress Control," which Land Rover describes as a "low-speed cruise control;" Hill Descent Control, to maneuver downhill; Wade Sensing for stream crossing; and The Terrain Response monitors road conditions to automatically shift driving modes as necessary for ultimate control, whether through sand, mud or grass. Intelligent Seat Fold automates the SUV's internal origami, folding up second- and third-row seating with the touch of a button. Towing capacity is up to 8,201 pounds — among the most in any class, and there's a choice of gas or diesel engines.
MSRP $51,925
3.8 out of 5 by KBB experts; not yet rated by Edmunds consumers
The Sequoia's V8 engine is standard in all four trim levels, but SUV shoppers can also select a Multi-Mode 4WD system to tackle off-road and exciting-terrain ventures that adds more than $3,000 to the base price of ($48,700). A reclining third-row seat is nice for passengers in this full-size, 8-seat SUV, as is the second-row climate control and plentiful tech plug points (both 12V and 120V AC outlets). The Sequoia can even tow up to 7,400 pounds. Trims range from the SR5 to Platinum ($64,410); however the less-than-stellar mileage may provoke a double take: just 13/city and 17/highway for the 4WD SR5.
MSRP $51,000
4.5 out of 5 by KBB experts; Not yet rated by Edmunds consumers
Not yet rated by NHTSA or IIHS
When it comes to 4WD, the General Motors family has a range of choices, including trucks and SUVs. The Tahoe has been on its most popular models and though compared with its roomier sibling, the Suburban, the Tahoe is generally considered more powerful with a six-speed automatic V8 engine, even at the base trim (LS). This large SUV still manages to get 15/city and 21/highway MPG, no small feat for a three-row vehicle that weighs 7,300 lbs and can tow 6,400 pounds. We focus on the base LS model, but for $5,000 more, you can upgrade to the LT, and get standard features like forward-collision alert, an Infotainment system with an 8-inch touch screen, Bose 9-speaker sound system, leather-appointed bucket seats and tri-zone climate control. Though the Tahoe hasn't received an overall rating from the NHTSA. it did score well in side crash ratings.
2019 Lexus GX 460
MSRP $52,155
3.7 out of 5 by KBB experts; 4.5 out of 5 by consumers on Edmunds (2 reviews)
For those who find the basic trim for a 4WD Lexus LX a bit spendy at $85,830, the Lexus GX is an attractive alternative for those seeking a luxury 4×4 SUV. After all, they both share a V8 engine and full-time 4WD, and the GX 460 Luxury ($63,555) offers the same dual-overhead camera, LED headlamps and power moonroof/sunroof — although the GX Luxury also boasts a navigation system, plus the ability to seat seven (the LX can only seat five and moving up to a three-row LX 570 will cost over $90,000).
Is a 4WD right for you?
The pros of a 4WD include maximum control in all types of terrain, in all types of weather — albeit at low speeds — while lighter, more widespread AWD focuses on all-weather driving, and works at a variety of speeds. Drawbacks of 4WD vehicles include higher prices and poor gas mileage and handling, especially compared with traditional front-wheel drive, due to the tank-like construction featuring larger wheels, more internal machinery and heavier metals for the body.
Though sometimes called different things by different manufacturers, it's also important to understand the differences in types of 4WD:
Part-time 4WD: Intended for off-road use only, drivers can engage 4WD so both front and rear wheels turn at the same rate of speed. This is done by what is typically known as a high/low transfer case.
On-demand 4WD: Created so drivers won't have to turn 4WD on and off, this system can be left on during normal driving conditions. The system temporarily diverts power to the other wheels when it detects slippage.
Full-time 4WD: Though this can be turned on and off, the idea is that SUVs equipped with full-time 4WD can operate in this mode at all times on any surface conditions.
4WD vs. AWD: An all-wheel drive (AWD) car or SUV temporarily redirects power to all four wheels (or non-primary wheels), depending on the car's sensors detecting easy-slip or skid conditions, such as rain or ice. The driver of an AWD vehicle doesn't have to "do" anything.
However, the lines are becoming blurred between 4WD and AWD, due to advances that bridge the two worlds through electronic sensors and automation, such as Ford's new Intelligent Drive system or Volkswagen's 4DRIVE system. The benefits include improved handling at higher speeds and automatic detection of changing road conditions.
Best ways to finance a 4WD SUV
As always, when shopping, check out preapproved car loans and your best auto loan rates. And if, after a bit more research, you determine a 4WD vehicle isn't necessary or desired, check out our auto pages for more info.
Methodology
Vehicles on our list must score at least a 3 from KBB experts and/or Edmunds consumers and have at least a 4-star safety rating from NHTSA or be a top pick by the IIHS, when available. The MSRP is for the lowest priced 4X4 version of each SUV. Any MSRP mentioned in this piece is accurate as of the date of publishing.