Best Cars That You Can Actually Live In
Published on: July 30th, 2019
If you're looking to live in your car, you're probably chasing freedom, whether it's financial or geographic. Living in a vehicle can help you save a considerable amount of money. You might be traveling or simply cannot afford the cost of housing in your city. And, if you get sick of the rain in Seattle you could put your whole house on the road and get to Phoenix. There is a wide range of vehicles you could use, each with its own set of pros and cons, and what you choose will depend on your budget and your needs. Any vehicle you live in will require some degree of flexibility but it is possible to sleep, eat and work out of these cars, vans and trucks.
Best cars you can actually live in
We count sedans, hatchbacks and crossovers in this category; any "regular" vehicle that isn't a full-size SUV, van, minivan or pickup. You might already have one of these vehicles. If you don't, the good news is they tend to be less expensive because they are smaller.
However, because they can be smaller, make sure you would be able to get comfortable enough to sleep inside. A traditional sedan might not allow easy access to the trunk from the passenger area, so you may have a more cramped sleeping position on one of the car's seats.
Pros
Cons

May be less expensive
Can be used immediately

Not much room
May not be able to lay flat
Might be hard to secure privacy
We narrowed this broad category to two vehicles, one new, one used. While most cars can technically be used for living space, as we mentioned earlier, we chose these because they're not hampered by a traditional trunk, leaving more room for someone to lie down.
Best new car
2019 Toyota Prius
MSRP $23,770
The Prius may surprise you. It has a decent-sized, easily-accessible cargo area. With the second row of seats folded down, it allows for plenty of room to sleep on one half of the vehicle, leaving the other half as room for your things. And, as a hybrid, if you want to leave it running all night with the AC on, your fuel bill will probably come out to less than $2 a night. Of course, other hybrids may be an option, too.
Best used car
To provide an idea of average used vehicle prices in this article, we chose 2015 model years for all used vehicles that we picked except for the Honda Element, which stopped production after 2011. We chose to include the Element because it's one of the most affordable best cars you can actually live in.
Honda Element
Used 2011 prices ~$11,000
One of the boxy cars no longer being produced, the Honda Element has a lot of room inside. It's a favorite among campers who choose to live in it while traveling rather than pay for a hotel. The amount of room inside means it is highly customizable. You could simply throw a sleeping bag and pillow in the back of the car and be done. But some people take out the back seats and build inside. For example:
A platform bed allows for sleeping space with room for storage underneath.
A folding bed provides a seat in the day, a bed at night.
A twin bed can leave room for a small sink with working water, given you have a water jug or two underneath the basin.
What about pop-tops? "Pop-tops" are camper accessories you may be able to add to your car that could make it better to live in. They literally allow you to pop-up the roof of your car, creating a tent-like area that provides a dedicated sleeping room and some standing room. This is usually not available for sedans but could work on smaller crossovers and SUVs. You could look for a vehicle with this already installed or get the parts separately and install them.

Best minivans and SUVs you can actually live in
For a short-term living solution, you may be able to throw a small mattress in the back of a minivan or SUV and be ready to go. You could have enough room to sleep, stretch out, sit up and still have space for easy-access to clothes, food, etc. Most do not offer enough room for you to walk around or stand.
Pros
Cons

Room enough to fully lie down
Can be used immediately

Not much vertical space
Can be more expensive than a smaller vehicle
Because these vehicles are bigger, you could customize them in many ways similar to how people customize the Honda Element. But you have more room in these vehicles to play with and customize however you want, if you want to customize them at all. We chose an SUV that is one of the largest on the market and also highly-rated as well as safe, and a minivan that is also rugged — the Sienna is the only one on the market with available all-wheel drive.
Best new minivan or SUV
2019 Ford Expedition
MSRP: $52,130
The Ford Expedition is a full-size SUV and it's ranked as one of the best cars for snow. It has room enough to take eight people and the kitchen sink on an adventure and it is definitely big enough to live in. This is one of the reasons it's also the most expensive vehicle on this list. The base prices for new, full-size SUVs tend to be around the $50,000 mark, although you could look for a used one.
Best used minivan or SUV
Toyota Sienna
Used 2015 price ~ $21,500
Toyotas have an excellent reputation for durability, so a used one could be a good choice. The back passenger windows of the 2015 Sienna can roll down (unlike in some other minivans) and even the backmost windows can open slightly for ventilation.
Best cargo vans you can actually live in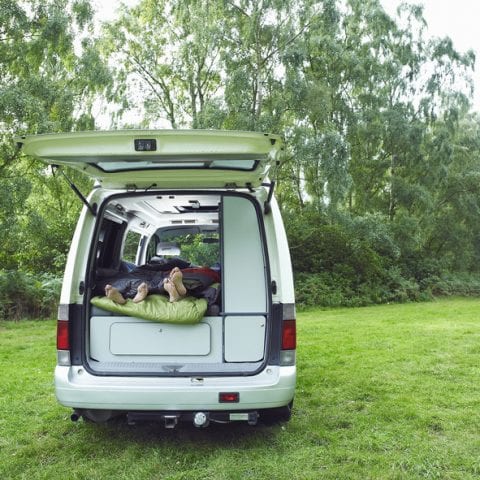 A cargo van could provide the bare bones you might use to make a home. Because they are made to transport stuff, not people, they usually have a lot of room in the back, but have few creature comforts, like insulation and a carpeted floor. You probably wouldn't be comfortable sleeping in a cargo van without doing some work on it first.
A cargo van could be a good choice for longer-term living as you could get a lot of room for the price and customize it to have a bed, kitchen, even solar panels, water holding tanks, etc. Many RVers do a "camper van conversion," which is when they turn a cargo van into their own custom recreational vehicle. If you're curious to see how some people do this, search "van life" online.
Pros
Cons

Lots of room
Customizable
Good for longer-term living
Rear space offers privacy

Bare bones
Needs work to make it livable
Potentially expensive to convert
We chose the following two cargo vans based on their popularity in online reviews from people who live in them both short and long term.
Best new cargo van
2019 Ford Transit
MSRP: $33,135
The Ford Transit is a basic, get-it-done vehicle meant for work or deliveries. You could also get one with an extended length and an extended height, that allows enough vertical room for most people to stand up and walk around inside the vehicle. The Transit is a favorite of people who live in them and practice the "van life" mentioned earlier. And if you can deal with a little less room, the Ford Transit Connect MSRP starts at $21,400.
Best used cargo van
Nissan NV
Used 2015 Prices ~$15,000
Also a popular choice for those who want to live the van life, the Nissan NV could offer all the room you need and you might be able to buy a van that someone has already converted so you won't have to do nearly as much work.
What about camper vans? The first thing that may come to mind when you think about living in a vehicle is an old Volkswagen bus. Camper vans such as the Volkswagen Kombi and Chevrolet Express Conversion are vans that have already been converted into livable spaces. Most have a bed, seating and storage built in. Some have a kitchen, bathroom and possibly more built in, depending on the model.
While only a few such camper vans are still being produced (the new Volkswagen bus will be electric; its release date is in 2022), they can count as Class B recreational vehicle, which we don't cover in-depth here. For more, you could check out the types of RVs. A used RV may cost less than you think, perhaps the same price or less than the vehicles on this list, although finding a place to park in your city may be more difficult or expensive.
Best pickups you could live in
Pickups offer two spaces you could potentially live in — the cab, where people sit (though that could be a squeeze), and the truck bed, the back where cargo goes. You could get a cap to go over the truck bed or, just as you could build out a cargo van, you could do the same with the back of a pickup. The downside to a cap that you slide over the truck bed is that they are often relatively short, giving you enough room to sit, but not stand when you are inside.
There are also RV truck campers that are made to slide into the back of a pickup. With one of these, you could stand up inside and potentially have a bed, kitchen and bathroom area. The price range for truck caps ranges from almost $4,000 to less than $100, depending on age, size, materials and windows. New truck campers can cost as much as a car, even exceeding $60,000. Used truck campers can cost around $1,500 on sites like Craigslist.
Pro
Cons

Two potential sleeping areas: the cab and the truck bed

Truck bed covers don't provide much vertical room
Potentially expensive to convert
There are a lot of pickups out there, from compact to full-size, basic to extravagant. We already made a list of the best pickups of 2019; here are two of them that you can actually live in. The Ridgeline rose to the top because of its five-star safety ratings and the overall comfort it can offer on the road. The F-150 rose to the top in the used category because the model has spent decades as a best-selling vehicle, which means two things: one, it must be doing something right and, two, there should be plenty of used inventory that may fit your budget.
Best new pickup
2019 Honda Ridgeline
MSRP $29,990
The Honda Ridgeline is more like an SUV. It has a unibody construction rather than a body-on-frame construction like most pickups, which translates to a smoother ride and a better safety rating. It has some interior comforts you'd expect from an SUV and nice details such as a lockable trunk built into the bed floor — a good way to store things. Perhaps the only downside is that unlike most pickups, you don't have the option to mix and match cab size and bed length. Both are set: the Ridgeline has a crew cab and a short bed.
Best used pickup
Ford F-150
Used 2015 price ~ $18,000
Ford's F Series pickup line is famous for a reason. It has been the best-selling pickup truck for almost 40 years. The F-150 is a full-size truck which means it has plenty of room to sleep in and store things, and plenty of power to tow a light RV if you ever decide to get one.
Things to consider about living in your car
As you look and figure out the best car you can actually live in, here are some things to keep in mind.
The paperwork
Is it legal?
In some cities, it is illegal to live in your car. Look up your city. If you will be living in your car out of need and can't leave the area, consider parking overnight outside of the city. RV campgrounds might or might not allow cars. You could ask for permission from church, community center or a friend to park on their property overnight. Many big box stores such as Walmart allow people to park in their lots overnight. Other good parking areas may include a rest stop or a gym. And you may be able to use the bathroom of whatever store you park near.
Where will your mail go?
Consider renting a P.O. Box at the local post office or ask a friend or family member if you can have your mail sent to their address.
The money
Will you need special insurance?
You will need to maintain vehicle insurance as required by your state. If you get a type of RV or camper van, you may be able to get insurance for the RV and everything in it.
How will you finance?
If you plan to buy one of these best cars to live in, the best way to get a good deal on financing is to apply to several lenders. It does not hurt your credit to apply to a few lenders any more than it does to apply to one lender, as long as you do your applications within a 14-day window. Potential lenders include your bank, credit union or online lender. You could fill out an online form at LendingTree and potentially get up to five potential auto loan offers from lenders, depending on your creditworthiness. You can read also read more about getting an auto loan with bad credit.
What is your budget?
You have to consider not only the price of the vehicle but the price of making it into your home. If you get a cargo van and plan to convert it, adding solar panels, a water tank and more, it's going to cost more. And if you plan to do the conversion yourself, you'll be putting some "sweat equity" into it.
Picking out a best car to live in
How long will you be living in it?
While living in it, how much time will you spend inside the vehicle? Will you only use it as a place to sleep or will you be working out of the car too? The more time you spend in your vehicle, you may want one you can sit and stand in comfortably.
What about water and electricity?
Will you have access to a toilet and a shower outside of your car? A cheap, monthly gym membership might work. Will you need electricity when your car is off? If so, maybe solar panels or a battery is the answer. Will you need to keep food cold? A fridge or a cooler may work. Will you need to store some water or filter any water for drinking? Water jugs are cheap at grocery stores and can be reused; camping water filters and filter tablets are available in many common stores such as Walmart and online.
How many people will be living in it? 
Will you be living solo, or will your significant other join you? Is the whole family going to live together?
What type of weather will you face?
Do you need a heater for the winter? A fan for the summer?
Do you want windows?
Windows you can look out of are also windows others can use to see you. If you're considering a type of van, maybe a panel van would provide the most privacy.
Alternatives to living in your car
If you are looking to live in your car due to financial troubles, here are some options you could consider as alternatives.
Talk to the landlord or the mortgage company. If you're looking to live in your car because you're having trouble making rent or mortgage payments, talk to the landlord or mortgage company. They may be willing to lower your payments for a time and work with you.
Ask for rental assistance. If the landlord won't work with you, maybe the government will. You could apply to the U.S. Department of Housing and Urban Development (HUD) for rental assistance with your current apartment.
Find an affordable housing program. Government agencies sponsor affordable housing programs for those who qualify.
Find a shelter. Especially in cities, there are often homeless shelters sponsored by nonprofit groups. They may be full at the time you call, but you could ask to be notified when there is an opening.
Consider a tiny house, RV or mobile home. These can cost as much or as little as a car. Don't consider them out of your reach without looking into one.
Look for a charity. Some charities specialize in helping people get back on their feet. Habitat for Humanity might be able to help provide affordable housing. And if you're concerned with finding a new job, Dress for Success might be able to help you with professional clothing, interview skills and more.
The bottom line
There are a lot of vehicle options if you're looking to live in your car. Consider how long you may live in the car, where you can park, the weather you'll face and what you may or may not need to have inside the vehicle for hygiene purposes.
If you are looking at the best cars you can live in because you want to go on an adventure – have fun! If you are looking because of housing and financial issues, and don't want to live, or keep living in your car, check out the resource links above – you're not alone.
MSRPs in the article are accurate as of the date of publishing.