Dangers Elderly Drivers Face
Published on: September 23rd, 2019
We've all had some serious, hair-raising experiences while driving. Those stressful driving situations may get more difficult as we age.
The dangers eldery drivers face include changing and declining abilities — and we're all aging, even if we're not necessarily aged. The cars themselves may not be doing older drivers any favors either, particularly women. Auto manufacturers typically design vehicles for the "average" driver, a mid-sized man. If a smaller, older woman is behind the wheel, it could lead to injuries in case of a crash.
The good news is that a car's advanced safety features may help older drivers and even extend their driving years, if used properly. There are tools for assessing driving skills, resources for those who need help and alternatives if it's time to hang up the keys. Here we'll discuss driving dangers, how to counteract them and how to help an aging loved one stay mobile.
Who is an "elderly" driver?
There isn't a designated age for an older driver. "An older driver is seen as someone older than you," said Neil Charness, director of the Institute for Successful Longevity at Florida State University. Studies have typically shown that when older adults are asked about the definition of an old person, "old" is someone 10 years older than they are. That said, government statistics about older drivers generally refer to those 65 or older.
The Insurance Institute for Highway Safety (IIHS) shows fatal crash rates increase notably for drivers ages 70 to 74 and are highest among drivers ages 85 and older. This is due to an increased risk of injury in collisions, not increased collisions.
"There are some people who are probably not fit to drive in their 70s and then there are others who are fit to drive in their 90s," said Charness.
How to choose a safe car for older drivers
If you're looking for a vehicle for an older driver, you don't necessarily need the newest, most advanced (and expensive) option though some of the features we discuss below may only be available on a car model's upper trim levels. We gave preference to cars that offer standard technology helpful to older adults in our roundup of the best cars for seniors. Whether the driver is yourself or a loved one, choose a vehicle that has the most helpful features based on specific abilities and limitations, which we'll discuss in a minute.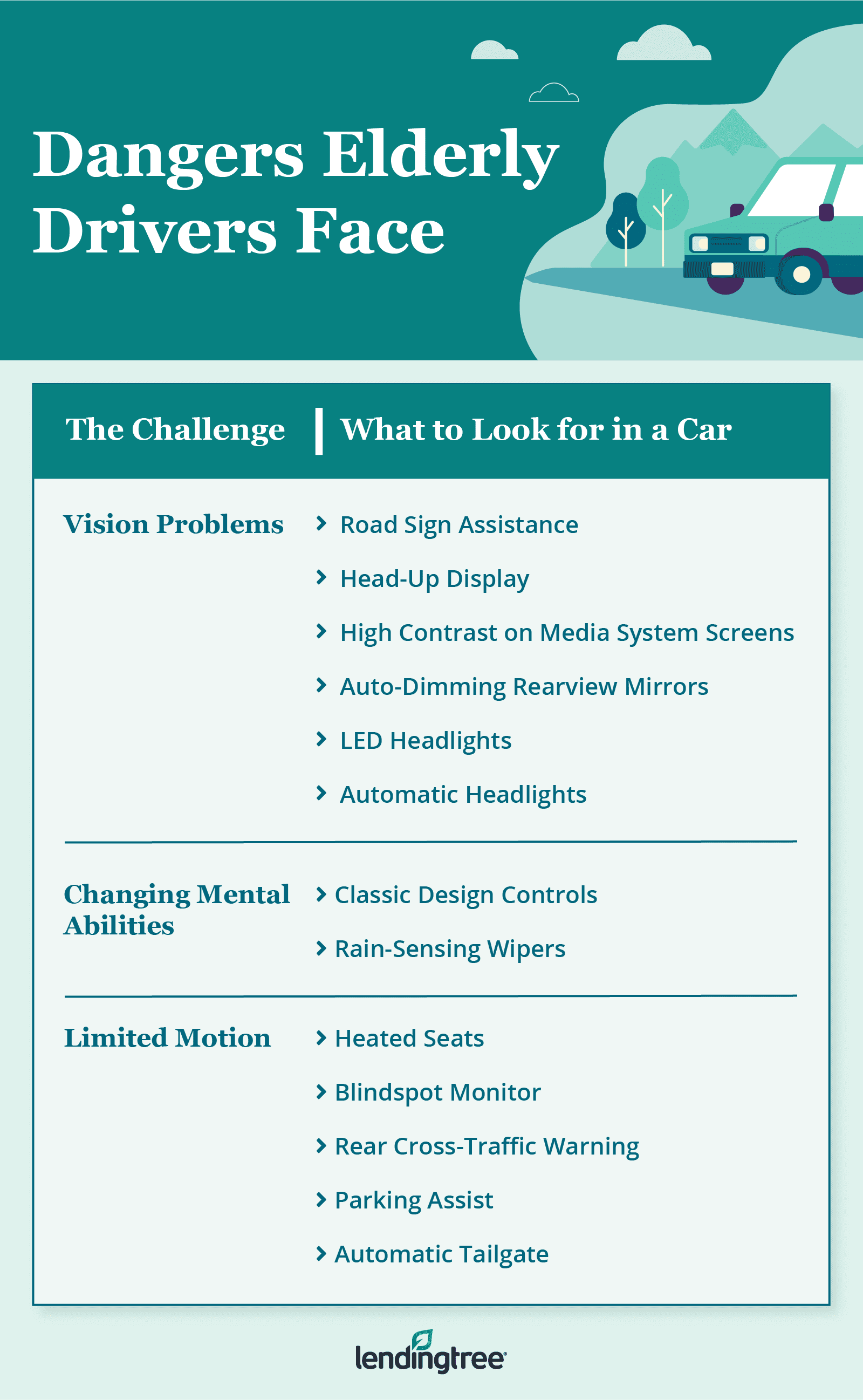 AAA also offers a list of features that might be useful, based on driver capabilities
Compare rates
Just as you shop around for a vehicle, remember to shop around for a vehicle loan as well. Dealerships can and often do increase customer APRs. And while anyone of any age may dread the dealership, older adults may feel particularly vulnerable or nervous about making the best decision, particularly if they're unsure how much longer they may be driving.
The best way for anyone to avoid an interest rate markup is to get an auto loan offer directly from your credit union, bank or online lender. You could also fill out an online form at LendingTree and receive up to five potential auto loan offers from lenders, depending on your creditworthiness.
How to be safe as an older driver
While you might have heard that learning a new language can keep your mind sharp, there's no beating regular cardiovascular exercise for the brain and body, said Dustin Souders, a fellow at Purdue Policy Research Institute who works in the area of aging, advanced vehicle technologies and transportation safety. In addition to a healthy lifestyle, here are some tips for the road:
Be cognizant of your driving abilities and limitations, if any. If you're unsure what those might be, you could take one of these quizzes from AAA or AARP.
Take a driver safety class. This could be online or in-person from an organization approved by your state's Department of Public Safety or Department of Motor Vehicles. You might also be able to earn an auto insurance discount by doing this.
Talk with your doctor about any prescription medication that could interfere with your driving capacity.
Include gentle stretching in your exercise routine.
If you are ever in a car crash, take stock of yourself, any passengers and the situation. Move to a safe location and call 911. Exchange information with all parties involved in the crash, including insurance information.
Are there special laws for aging drivers?
Older drivers may have to renew their driver's licenses more frequently and in person, rather than online. Road tests are usually not required.
For example, Florida requires that drivers age 79 and younger renew their licenses every eight years and drivers age 80 and older do so every six years. Floridian drivers 80 and older also have to renew in person and pass a vision test that is either performed by a doctor or the one that is offered for free at driver's license centers.
How to help an older driver be safe
If a loved one is facing challenges driving as they age, you might be able to help increase their comfort and safety without compromising their independence.
Talk with the driver. AAA recommends you talk early, often and one-on-one with an aging loved one about what they specifically experience when driving.
Make sure their vehicle is tailored to them. Are the mirrors angled well, is the seat is in a good position and the seat belt at the right height? CarFit.org offers "car fit clinics," events in which trained technicians and/or health professions assess the "fit" of a vehicle to a person.
Watch demos. If the driver is unsure how to use new vehicle safety technology, AARP offers free workshops and MyCarDoesWhat.Org offers free online demonstration videos.
Create a plan with your loved one about when they might phase out driving and their mobility options after they hang up the car keys.
If there is disagreement about an aging driver's abilities, the American Occupational Therapy Association has a national database of driving programs and specialists that could evaluate and assist a driver.
Dangers older drivers face
As we age, we face reduced vision, changing mental abilities and reduced ease of movement. Here are some specific things to watch for and how you could counteract them.
Dangers older drivers face: reduced vision
Most people need some type of vision correction as they age: glasses, contacts or corrective surgery. Squinting often won't cut it, especially at night. According to AARP, here are potential vision problems to keep an eye out for:
Cataracts. This is the clouding of the eye's natural lens.
Color blindness. The lack of ability to differentiate colors. This could make it difficult to identify traffic lights and see brake lights of other vehicles.
Decreased contrast sensitivity. The decreasing visual ability to see objects apart from their background. This could make it hard to observe traffic signs.
Decreased depth perception. The ability to judge the distance of objects in relation to ourselves. This could make it hard to park accurately.
Decreased peripheral vision. The ability to see outside your immediate field of view. This could make it difficult to see potential road hazards or oncoming cross traffic.
Decreased useful field of view. The amount of visual information that can be processed in a glance. This could make it difficult to drive in traffic when quick decisions are needed.
How can drivers offset reduced vision? Book that eye exam or check out new technology — there might be more ways than you thought to see better while driving. Over 90% of new vehicles offer or come standard with advanced driver assistance features (ADAS). For example, the Toyota Yaris with a base MSRP of $15,600, comes standard with Toyota Safety Sense, which includes brake assist and rain-sensing wipers.
Have up-to-date eyeglass prescriptions. To make sure you can see clearly and that your eyes are healthy, the Mayo Clinic recommends you get an eye health evaluation at least every one to two years, even if you have no symptoms of vision problems.
Drive during the day. The National Institute on Aging recommends that if drivers have trouble seeing at dawn, dusk or night, to not drive during those times.
Have LED headlights. Bright lights to illuminate your path can make a big difference. It's worth noting that just 14% of headlight systems on 2019 models tested by the IIHS received a "good" rating from the agency. The National Highway Traffic Safety Administration (NHTSA) has proposed a change where automakers may offer "adaptive" headlights in the U.S.
Have auto-dimming mirrors. So other vehicles' lights don't blind you with the glare in your mirrors, auto-dimming rearview mirrors could be useful.Set any media system to have highly contrasting text. If the car has a media system or LED screen to show speed or radio stations, adjust the settings to high contrast so it's easier to read quickly.
Use sun visors. Don't forget to flip down your sun visor whenever you need it.
Have road-sign assist. This advanced driver aid assistance can recognize traffic signs, such as yield, stop and speed limit signs, and then display them on the windshield's head-up display.
Dangers older drivers face: changed mental capacities
As we age our intelligence changes. "Fluid" abilities, the ability to rapidly solve novel puzzles, declines from your 20s on, according to Charness at Florida State University. "Other types of abilities, your crystalized abilities — the knowledge you rely on in playing Jeopardy! — they don't peak until you're in your 50s."
This means while we are better at recalling facts as we age, we're not as good at figuring new things out and multitasking. This can be compounded by certain medicines and diseases such as dementia.
To help with changing mental acuity, here are some things we could do:
Select a car with more classic design controls.
Have automatic, rain-sensing wipers so you don't have to take your hands off the wheel in risky driving conditions.
Avoid driving during rush hour.
Allow for a larger distance between you and the vehicle in front of you.
Dangers older drivers face: reduced ease of movement
"As you age, physiological changes make it harder to check blindspots due to arthritis, stiffness in chest, neck and trunk area," said Souders at Purdue University.
How can drivers offset reduced ease of movement? Look for these vehicle features in your next car or perhaps the one you already have.
Heated everything: Seats, mirrors, steering wheel, seat belt height
Adjustable everything: Steering wheel column, side mirrors, lumbar support
Advanced driver assistance systems (ADAS): Blind spot monitors, parallel park assistance, park sensors, automatic emergency braking and others
Hand controls: Brake and gas pedals, if leg movement isn't comfortable
Are aging drivers likely to use the new vehicle safety tech?
We've described several safety and comfort features available on cars such as heated seats, rain-sensing wipers and auto-dimming headlights as well as those that might be available on your dashboard monitors or "infotainment" systems such as parking aids or blind spot monitors. But AAA found that some of those same systems might be a distraction for older drivers and has recommended that they look for such systems on the dashboard versus a center console and to practice using the controls before driving.
"There is the stereotype that older adults are technophobic, but I think ADAS and other advanced tech will meet a need for them," said Souders. He said focus group studies have found that older adults were more actually more accepting of ADAS than younger.
The bottom line on the dangers older drivers face
As we age, we all face changing abilities. New technology can help mitigate declining abilities and takes drivers closer toward fully autonomous vehicles, which may be decades or more from common use.
Future projects in the works to help eldery drivers be safe include larger road signs and better crash test modeling that reflects the changing physiology of aging drivers.
Ways to be mobile without driving include RideInSight.org, public transportation, carpooling, paratransit services, taxi and ride-sharing services. There are even services like GoGoGrandparent.com, which lets riders order and track Uber and Lyft rides without a smartphone.