2019 Ford F-150 Review
Published on: October 8th, 2019
Editorial Note: The content of this article is based on the author's opinions and recommendations alone. It may not have been previewed, commissioned or otherwise endorsed by any of our network partners.
With at least 44 configuration and trim options — electric and hybrid versions are in the works, too — the Ford F-150 could serve as your workhorse or your top-of-the-line luxurious ride. Price points range between $28,155 and $75,000, but most buyers wind up somewhere in between: the average transaction price for the F-150 is $47,500. Ford has rolled out a 2020 version, but without significant changes and lacking full available ratings, we focus on the lower-priced 2019 version.
2019 Ford F-150 pricing
The lowest manufacturer's recommended price (MSRP) for the 2019 F-150 is $28,155. However, depending on where and when you shop, you may be able to get if for less. Use industry guides such as NADAguides or Kelley Blue Book to see what the fair market price is in your area. Dealers often have sales and manufacturers often offer rebates, so shop around for the best price on whatever version of the F-150 you're looking for.
And there are a lot of versions as you mix and match three types of cabs and beds, seven trims and an available 4×4 powertrain. We break them down in the tables below from least to most expensive, not including add-on packages and available engines.
What's next? Once you pick out the truck you want, an auto loan is next. Potential lenders include Ford financing, your bank, credit union or online lender. You could also fill out an online form at LendingTree to receive up to five potential auto loan offers from lenders at once, depending on your creditworthiness.
Ford F-150 Regular Cab Medium and Long Beds: $28,155 to $37,855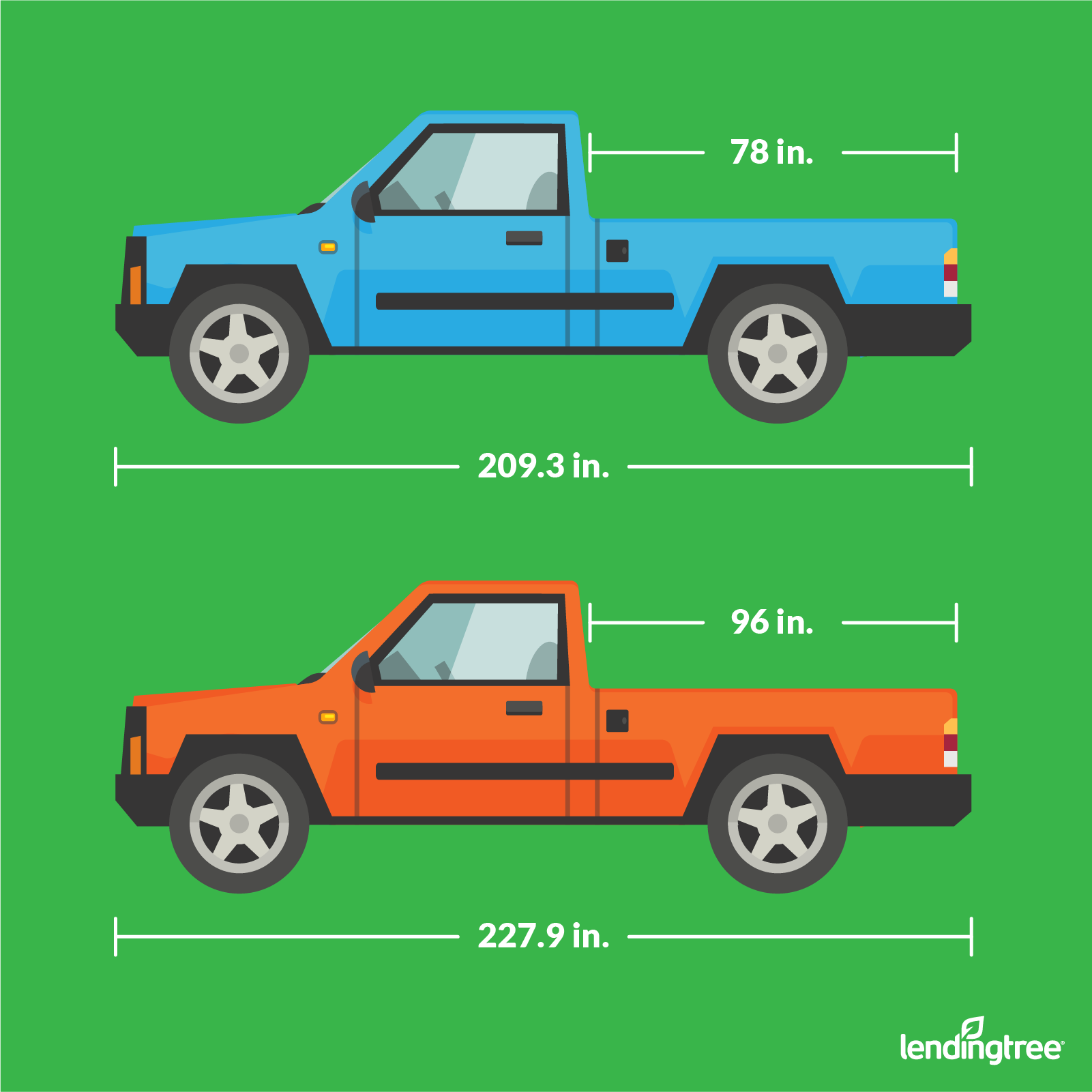 Regular Cab, Medium Bed
Regular Cab, Long Bed
Trim
XL
XLT
XL
XLT
2×4
$28,155
$34,160
$28,455
$34,460
4×4
$32,800
$37,585
$33,100
$37,855
For the lowest price on the Ford F-150, you'll need a Regular Cab, which comes with the Medium Bed or the Long Bed. Both offer the lowest two trims available, the XL and the XLT, and each can have 2×4 or 4×4 powertrains. You also have the option of a V8 engine, but we used the base engine for these and all of our pricing charts.
The Regular Cab has two doors and one row of seating. The Medium Bed has a six-and-a-half feet length. For only $300 more on the 2×4 XL trim though, you could get the Long Bed, which offers 18 more inches, making the bed a total of eight feet long, which should be plenty of space for cargo.
Ford F-150 SuperCab Short and Medium Beds: $34,240 – $52,855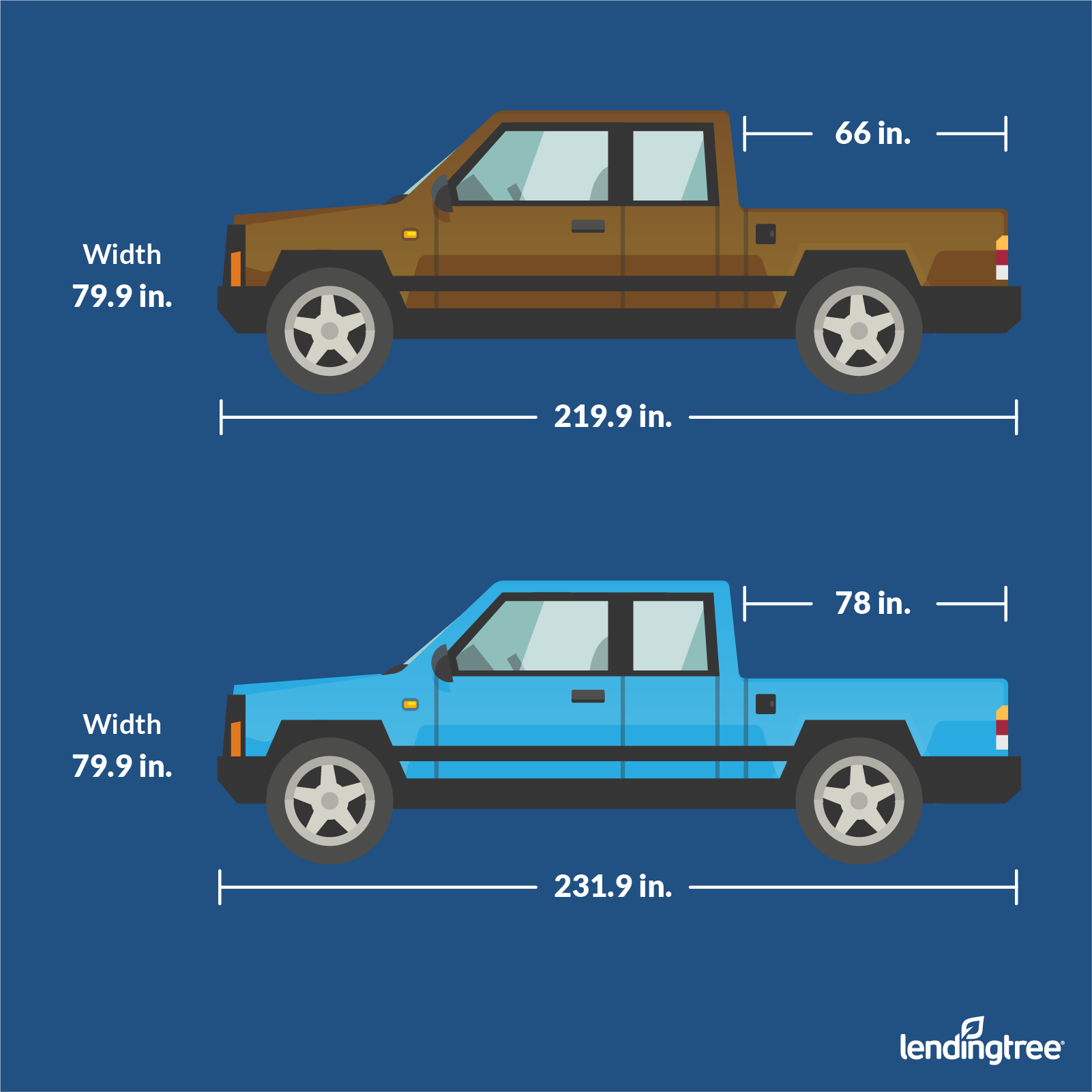 SuperCab Short Bed
SuperCab Medium Bed
Trim
Raptor
XL
XLT
Lariat
2×4
NA
$34,240
$37,070
$41,700
4×4
$52,855
$35,670
$40,495
$45,125
If you'd like a little more room in the cab, the SuperCab offers a place to put your bags and your kids with a second row of seating. Ford offers the SuperCab with all three bed types: short, medium and long. However, the second row doesn't offer enough leg room in this configuration to be conducive to transporting fully-grown adults — so don't assume you can put your three tall friends in the back seat and they'll be happy.
Note that the SuperCab Short Bed is only offered in the Raptor trim, which means it's built for going off road. It only comes with a 4×4 powertrain, plus high-performance shocks and more special equipment, which is why the price is relatively high.
The SuperCab Medium Bed gives you more options with three trims, all of which have lower prices and offer both 2×4 and 4×4 powertrains. We'll talk about the SuperCab Long Bed next.
Ford F-150 SuperCab Long Bed $33,545 – $46,375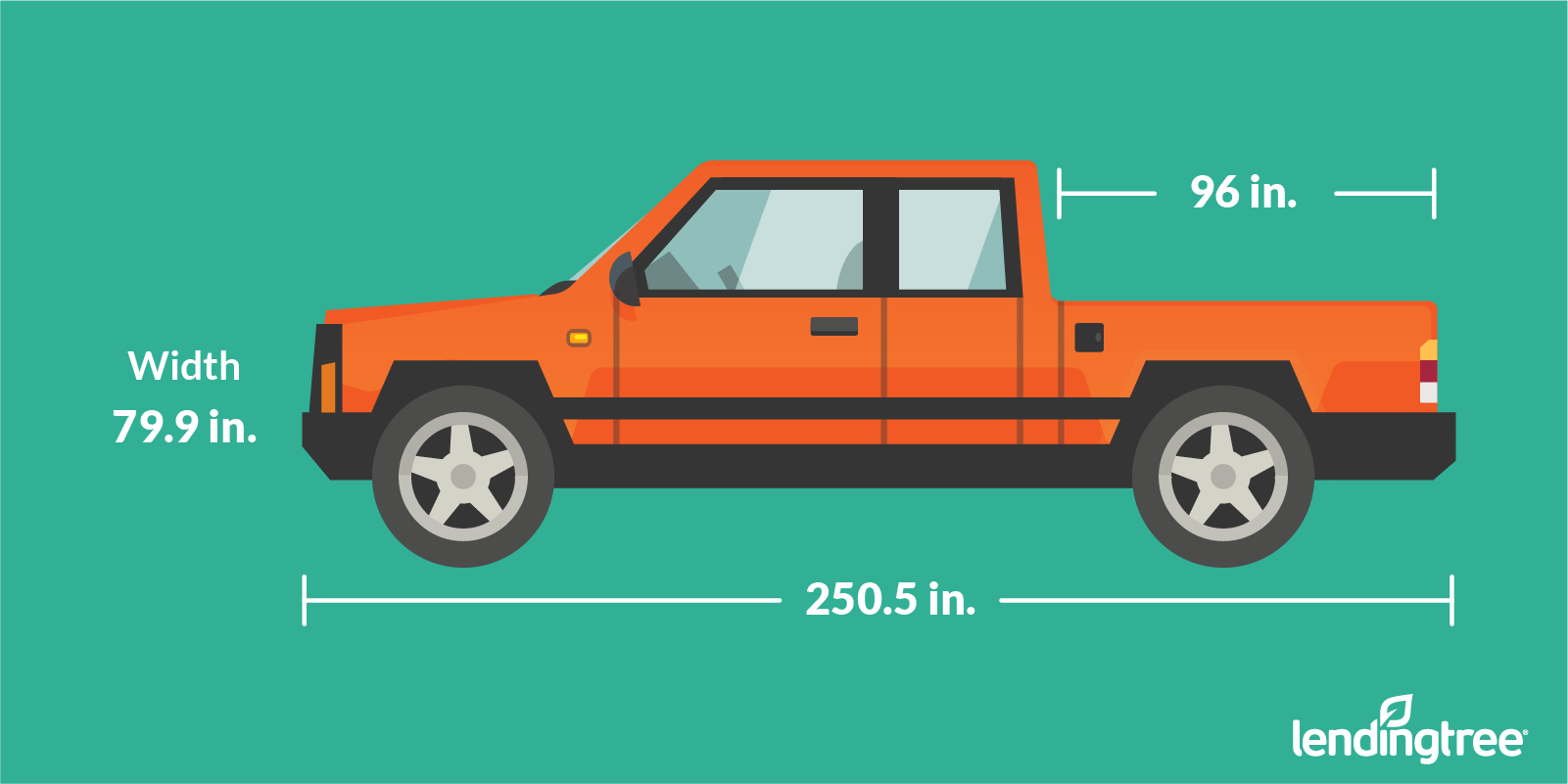 SuperCab Long Bed
Trim
XL
XLT
Lariat
2×4
$33,545
$37,375
$42,000
4×4
$37,925
$42,750
$46,375
In terms of cargo room, the SuperCab Long Bed gives you 18 more inches over the Medium Bed and 30 inches over the Short Bed. A long bed isn't offered on the SuperCrew cab, so this is your last stop to get it. This configuration offers the three lowest trims: XL, XLT and Lariat. Each trim can come in 2×4 and 4×4 powertrains, giving a price range from $33,545 to $48,615.
Ford F-150 SuperCrew Short Bed $34,695 – $70,560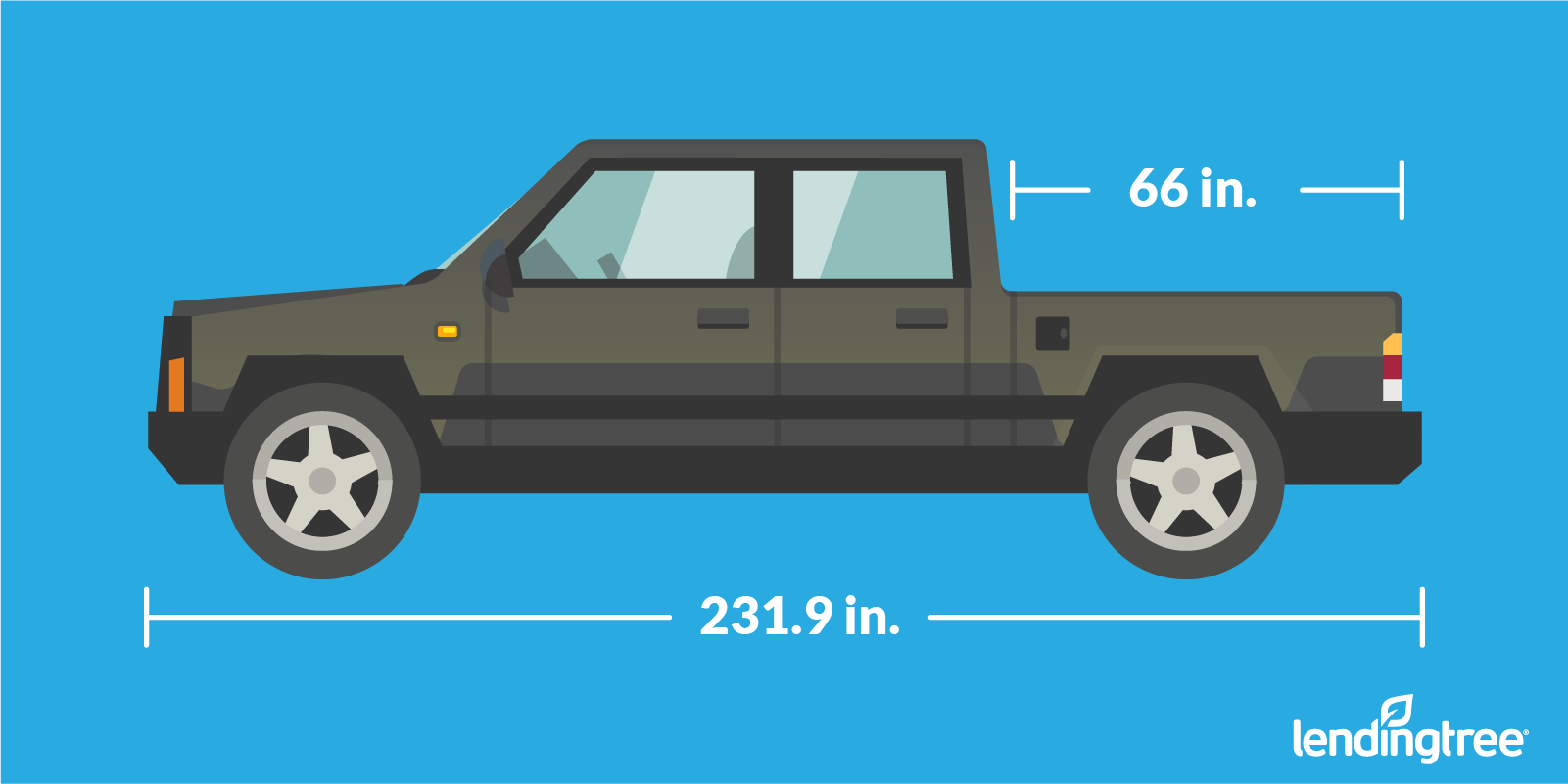 SuperCrew Short Bed
Trim
XL
XLT
Lariat
King Ranch
Platinum
Raptor
Limited
2×4
$34,695
$39,420
$44,060
$52,390
$54,920
NA
$67,135
4×4
$38,205
$42,915
$47,485
$55,815
$58,345
$55,840
$70,560
The SuperCrew Short Bed is the only configuration that offers all seven trims, from the XL to the Limited. And it is the least expensive way to get a crew cab on the Ford F-150 with a starting MSRP of $34,695. It's also the most expensive way, with the starting price on the Limited trim being $70,560 as a 4×4.
The crew cab provides four full doors so second-row passengers can enter and exit independently of first-row passengers. The second row also has enough leg room for adults to be comfortable. The short bed provides five and a half feet of room for cargo.
Ford F-150 SuperCrew Medium Bed $36,000 – $58,645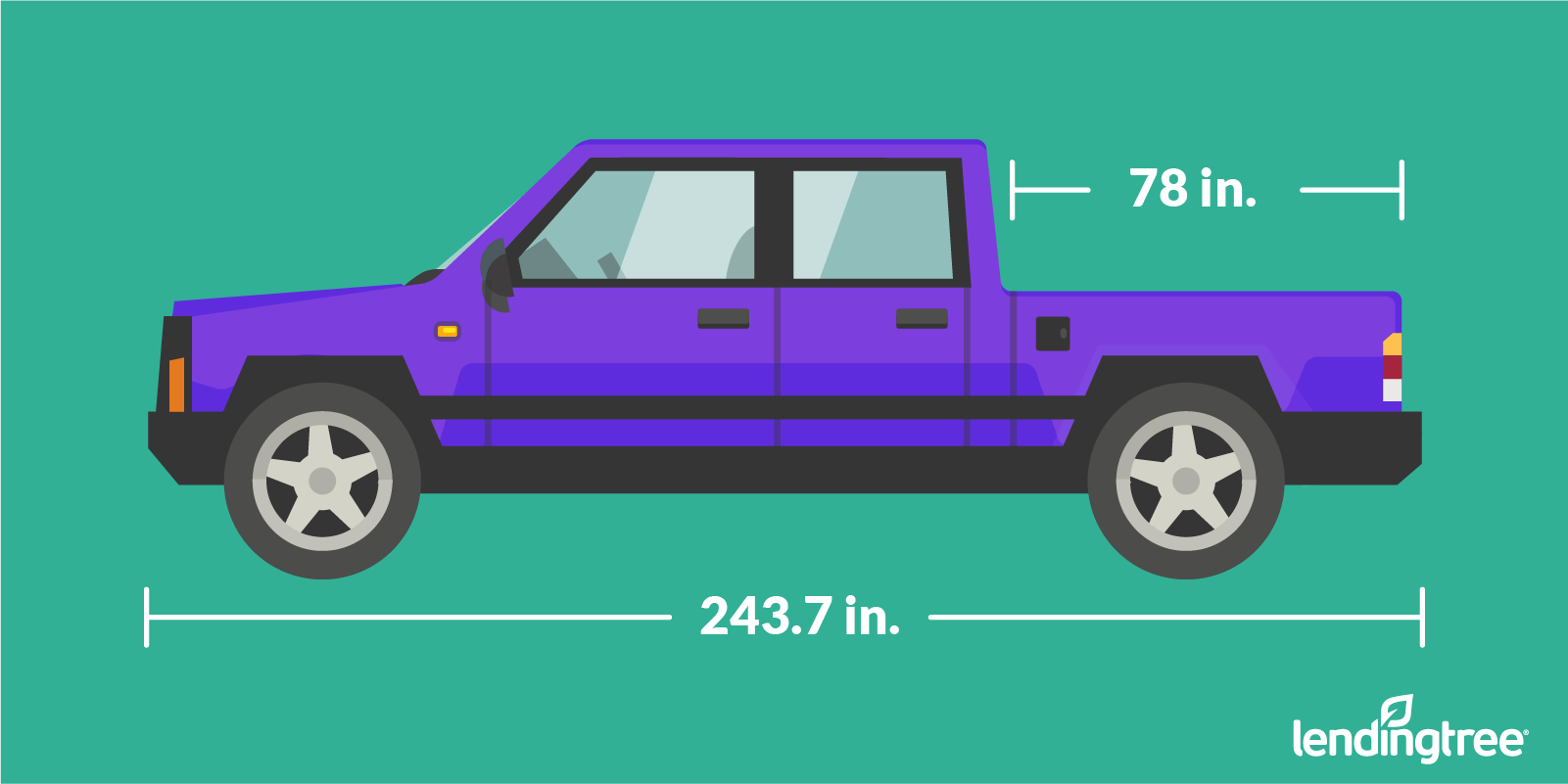 SuperCrew Medium Bed
Trim
XL
XLT
Lariat
King Ranch
Platinum
2×4
$36,000
$40,725
$44,360
$52,690
$55,220
4×4
$40,460
$45,170
$48,735
$56,115
$58,645
The SuperCrew Medium Bed gives you four doors and two rows of seats with ample leg room, plus a six and a half foot-long bed, a full foot longer than the short bed. This configuration is available in five trims, from the XL to the Platinum. It doesn't come in the top two trims, the Raptor and Limited.
2019 Ford F-150 trims
So now that we've talked about the pricing on the configurations and trims, what do the trims mean? Each trim has a set of standard features. The nicer the features, the higher and more expensive the trim.
Each trim includes or improves upon all the features of the trim(s) that came before it, with few exceptions. For example, the King Ranch has all the features of the Lariat, including leather seats, but has a V8 engine rather than a V6.
2020 Ford F-150 Trims
Trim
Standard Features
XL
3.3L V6 Engine, 6-Speed Automatic Transmission, 17″ Wheels, Manual Door Locks, Daytime Running Lights, Black Styling
XLT
Power-Adjustable Side Mirrors, Chrome Style Accents, Power Lock Tailgate, Cruise Control, One-Touch Up/Down Front Windows
Lariat
2.7L V6 Engine, 18″ Wheels, Leather Seating, Push-Button Start, Auto-Dimming Rear View Mirror, Driver Memory Seat
King Ranch
5.0L V8 Engine, LED Lights, Fog Lights, Heated Mirrors, 8″ Touch Screen, Interior Wood Accents, Wifi Hotspot Capable, Heated Rear Seats
Platinum
20″ Wheels, Rain-Sensing Wipers, Multi-Contour Front Leather Seats
Limited
3.5L V6 Engine, 22″ Wheels, Moonroof (SuperCrew), LED Mirror-Mounted Spotlights, Advanced Driver Assistance Systems
Raptor
3.5L V6, 4×4 Powertrain, High-Performance Off-Road Shocks, Running Boards, Skid Plates, Wheel Well Liners, Terrain Management System with 6 Drive Modes
*Standard Features refers to amenities included in each trim level for no extra cost. It is not an exhaustive list. It does not include any optional packages that may be available on the vehicle.
2019 Ford F-150 safety
The Insurance Institute for Highway Safety rated the 2019 Ford F-150 with top marks in all crash tests, but gave the worst rating possible for its headlights. The National Highway Safety Administration rated the SuperCrew cab version of the F-150 with a five-star crash test safety rating, but dropped a star for the other types of cabs.
Regarding advanced driver assistance features (ADAS), the lowest trim (the XL) comes with features including: Pre-Collision Assist with Automatic Emergency Braking, Automatic High Beams and Curve Control.
However the Technology Package available on certain trims offers these additional features:
360-Degree Camera with Split-View Display
Adaptive Cruise Control with Stop-and-Go
Lane-Keeping System
Reverse-Sensing System
Blind Spot Information System with Cross Traffic Alert
Upper trim levels come with more standard features offered by Ford's Co-Pilot360 suite:
King Ranch
Platinum
Blind Spot Information System with Cross-Traffic Alert
Limited
Adaptive Cruise Control
Lane-Keeping System
Raptor
Be aware that no matter how many safety features the vehicle has, you should still practice safe driving methods. If you do plan to face harsh weather and off-road environments, check out the best off-roading SUVs and trucks.
2019 Ford F-150 competitor comparison
A competitor comparison can be rather difficult to do for pickups because there are so many variations, not including optional packages such as towing.
To keep it simple, here are the F-150's main competitors and how they stack up on their least-expensive crew cab models.
2019 Ford F-150 vs. Competitors
Vehicle
2019 Ford F-150 SuperCrew, Short Bed
2019 RAM 1500 Classic Crew Cab, Short Bed
2020 Chevrolet Silverado, Crew Cab, Short Bed
Base MSRP
$34,695
$34,145
$36,195
Expert Scores
4.3
4.4
4.3
Standard Features
3.3L V6 Engine, 6-Speed Automatic Transmission, 3 Drive Modes (Normal, Tow-Haul, Sport), Dynamic Hitch Assist, 17″ Wheels, Tire Pressure Monitoring System, SOS Post-Crash Alert System
3.6L V6 Engine, 8-Speed Automatic Transmission, Auto Dimming Rearview Mirror, Power Windows and Locks, USB Port, 17″ Wheels, Tire Carrier Winch, Heated Exterior Mirrors, Spray-In Bed Liner
4.3L V6 Engine, Teen Driver, 6-Speed Automatic Transmission, Power Windows and Locks, 7″ Diagonal Touchscreen. Bluetooth, 17″ Wheels, 2 Speakers, Tire Pressure Monitoring System
Fuel Economy Combined/City/Hwy
22/20/26 MPG
20/17/25 MPG
14/15/19 MPG
*Chart data is for 2019 and 2020 base models, when available. Expert score averages Kelley Blue Book (KBB) and Edmunds expert ratings as available. Standard technology refers to features included in the lowest trim level for each model at no extra cost (not an exhaustive list). Fuel economy is as defined by the EPA.
The bottom line on the 2019 Ford F-150
The F-150 has a ton of options for drivers to choose from and a reputation for being the best pickup available. Whether you're looking for a basic truck with a huge bed, or a high-end truck with chrome details outside and wood inlays inside, you've got multiple options with this one truck model. If you're not sold yet on the F-150, check out these best pickup trucks of 2019.