2019 Honda Civic Review
Published on: March 18th, 2019
Editorial Note: The content of this article is based on the author's opinions and recommendations alone. It may not have been previewed, commissioned or otherwise endorsed by any of our network partners.
Editorial Note: The editorial content on this page is not provided or commissioned by Honda Motor Company or any of its partners or subsidiaries. Any opinions, analyses, reviews, statements or recommendations expressed in this article are those of the author's alone, and may not have been reviewed, approved or otherwise endorsed by any of these entities prior to publication.
The Honda Civic is a best-selling compact car with a high resale value. It comes in multiple body styles — sedan, coupe, hatchback — with up to five trim options each, plus two high-performance models: the Si coupe and sedan, and the Type R hatchback. Notably, even the lowest trim level of the non-performance cars comes with Honda's active safety features included. The basic warranty is 3 years, 36,000 miles.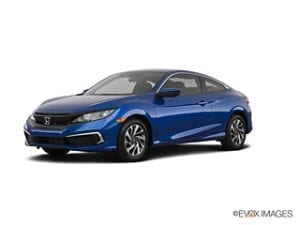 2019 Honda Civic pricing
These are Honda's manufacturer recommended price (MSRP) for each type of Civic as of the date of publishing.
Honda Civic
Honda Civic Type R
Sedan
$19,450 – $27,300
Hatchback
$35,700
Coupe
$20,650 – $26,850
Honda Civic Si
Hatchback
$21,450 – $28,750
Sedan and Coupe
$24,300
You do not necessarily have to pay MSRP for a vehicle. Shop around and use industry guides such as Kelley Blue Book or NADAguides to see what the fair market price is in your area. These MSRP ranges cover all trims Honda offers:
The lowest price is for the base model with no added options and a manual transmission.
The top price is for the highest-trim model with all automatically-included options.
The Type R and Si only have one trim level and thus only one MSRP.
What's next? Once you pick out the car you want, a car loan is next. Car dealers raise customer APRs an average 2.47%, so shop around for a car loan like you'd shop around for a car. It doesn't hurt your credit to apply to multiple lenders any more than it does to apply to one if you do all your applications within the rate shopping period of generally 14 days — and some credit scoring methods may even allow you up to 45 days.
Potential lenders could include Honda Financing, your bank, credit union or online lender. You could also fill out an online form at LendingTree to receive up to five potential auto loan offers at once.
2019 Honda Civic safety
All varieties of the 2019 Honda Civic but one earned an overall five out of five stars in the National Highway Traffic Safety Administration's (NHTSA) crash test safety rating. The Type R did not have an overall rating, but earned a five out of five in side crash and rollover test.
The Insurance Institute for Highway Safety (IIHS), another major car crash safety test organization, hasn't rated the 2019 model yet, but gave top marks to the 2018 model in all crash tests and noted its front crash prevention as "superior." However, it also gave the worst rating possible for the Civic's headlights, "poor," and noted the ease of use for its child safety seat anchors as only "acceptable." It is not yet known whether the 2019 model improved upon them.
Honda Sensing, which comes standard on all trim levels of the Civic includes:
Collision mitigation braking system. If the car senses it is about to run into something front-first, it will brake itself.
Road departure mitigation system. If the Civic begins to cross a lane without the turn signal on, it can brake and steer to help keep it in the lane and not leave the road.
Adaptive cruise control with low-speed follow. The Civic can follow behind another car at a set interval.
Lane keeping assist system. The car can adjust its steering to help keep itself in a lane.
2019 Honda Civic competitor comparison
Honda Civic sedan
Chevrolet Cruze sedan
Subaru Impreza sedan
Toyota Corolla sedan

Base MSRP

$19,450

$17,995

$18,595

$18,700

Expert Scores

4.4

4.3

4

3.9

Standard Technology

Honda Sensing, Audio USB Port

Apple CarPlay/Android Auto, 7″ Touch Screen

AWD, Apple CarPlay/Android Auto

Safety Sense-P, Audio USB Port

Body Types Available

Sedan, Coupe, Hatchback

Sedan, Hatchback

Sedan, Wagon

Sedan

Fuel Economy

32 MPG

33 MPG

27 MPG

32 MPG
*Chart data is for base 2019 models. Expert score averages Kelley Blue Book (KBB) and Edmunds expert ratings. Standard technology refers to features included in the lowest trim level for each model at no extra cost (not an exhaustive list). Fuel economy is combined city / highway mileage as defined by the EPA.
2019 Honda Civic trim comparison
Each body type of Civic has different trim availability. Here's what they are, their prices and some of the main features of each. The features we mention are all included in that trim level for no extra cost. We mentioned popular features but did not mention every single feature each trim level includes.
Note that each trim level builds upon the trims before it, so that it includes any features from the trims below it. For example:
The Sport trim will have all the LX features, plus the Sport trim features.
The EX trim will have all the Sport and LX trim features, plus the EX trim features.
The Touring trim will have all of the features from all of the other trims, plus the new features that come with the Touring trim.
Honda Civic sedan
LX
Sport
EX
EX-L
Touring
$19,450
$21,150
$23,400
$24,600
$27,300
Honda Sensing
Apple CarPlay / Android Auto
174-HP Turbo Engine
Leather-Trimmed Seats
Navigation
Bluetooth
Leather-Wrapped Steering Wheel
Moonroof
HomeLink (R) Remote System
Premium Audio
Rearview Camera
7″ Touchscreen
18-inch Alloy Wheels
Honda Civic coupe
LX
Sport
EX
Touring
$20,650
$21,450
$23,200
$26,850
Honda Sensing
Apple CarPlay / Android Auto
174-HP Turbo Engine
Navigation
Bluetooth
18-inch Alloy Wheels
Moonroof
Leather-Trimmed Seats
Rearview Camera
Premium Audio
Dual-Mode Paddle Shifters
Honda Civic hatchback
LX
Sport
EX
EX-L Navi
Sport Touring
$21,450
$22,250
$23,750
$26,250
$28,750
Honda Sensing
Leather-Wrapped Steering Wheel
Moonroof
Leather-Trimmed Interior
Premium Audio
174-HP Turbo Engine
180-HP Turbo Engine
Apple CarPlay / Android Auto
Navigation
Dual-Mode Paddle Shifters
Rearview Camera
18-inch Alloy Wheels
Remote Engine Start
Heated Front Seats
Dual Outlet Exhaust
The Honda Civic Type R and Si are performance vehicles and don't have trims, but here is a short comparison.
Honda Civic Type R
Honda Civic Si
$35,700
$24,300
306-HP Turbo Engine
205-HP Turbo Engine
3-Mode Drive System
Sport Mode
6-Speed Manual Transmission
6-Speed Manual Transmission
2019 Honda model comparison
If you are loyal to the Honda brand and want an apples-to-apples comparison of the different models available, here is a comparison table of the base trims of several Honda models.
Honda Fit
Honda Civic sedan
Honda HR-V
Honda Accord
Honda CR-V

Base MSRP

$16,190

$19,450

$20,520

$23,720

$24,350

Expert Scores

4.4

4.4

4.1

4.4

4.4

Standard Technology

Bluetooth, 5″ Screen, Rearview Camera

Honda Sensing, Audio USB Port

Bluetooth, 5″ Screen, Rearview Camera

Honda Sensing, Bluetooth

Bluetooth, 5″ Screen, Rearview Camera

Body Types Available

Hatchback

Sedan, Coupe, Hatchback

SUV

Sedan

SUV

Fuel Economy

31 MPG

32 MPG

30 MPG

33 MPG

28 MPG

Transmission

Manual

Manual

Automatic

Automatic

Automatic
Remember each model has trims you may be able to upgrade to for an increased price. You do not have to get a manual transmission Honda Fit, nor a Honda Ridgeline without Honda Sensing, but you would have to upgrade and pay an increased price for those things on those models.
2019 Honda Civic — the bottom line
You might like this car if you're looking for a compact car with advanced technology, much of which either comes standard or comes in the lower-level trims. You might not like this car if you are looking for a basic form of transportation and don't want to pay for all the bells and whistles that are regularly included in a Honda. If you are looking for different powertrain options such as AWD, 4×4, hybrid or diesel, you'll need to look for a different Honda model or for a competitor's model.