Honda HR-V vs. Honda CR-V
Published on: April 29th, 2019
If you're loyal to the Honda brand and are searching for a crossover SUV, you may be wondering: What's the difference between the CR-V and the HR-V? The short answer: size, specifically, cargo space. The HR-V and CR-V are the smallest in Honda's SUV lineup, which climbs from there to Pilot and Passport. No matter the size, Honda vehicles generally have high reliability and high resale value, so Honda CR-V versus Honda HR-V could be a difficult decision. Here is an in-depth review on the differences between the 2019 CR-V and the HR-V, including where each falls on size, price, safety and tech features.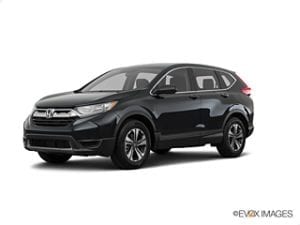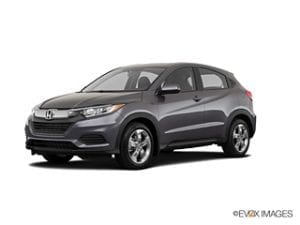 Honda CR-V vs. HR-V: at a glance
They're both SUVs with seating for five and a mysterious letter combination for names. For the record, CR-V stands for "Compact Recreational Vehicle" or "Comfortable Runabout Vehicle" while HR-V stands for "High-Riding Vehicle" or "Hi-Rider Revolutionary Vehicle." The Honda CR-V is larger, more expensive (by $3,830 on the base trim; $4,210 on the top trim), has slightly worse fuel economy (by 2 MPG) and slightly higher ratings by autos experts at Kelley Blue Book and Edmunds. However, with an expert score of 4.1 out of 5, the HR-V is no slouch. It's also the new kid on the block — introduced for the 2016 model year, it's nearly two decades younger than the CR-V.
The manufacturer's recommended price (MSRP) is not necessarily the price you should pay for the vehicle, depending on where and when you car shop. Check out an industry guide — Kelley Blue Book or NADAguides, for example — to find a fair market price for your area.
What's next? Once you pick out the car you want, an auto loan is usually next. Potential lenders could include Honda financing, your bank, credit union or online lender. Car dealers can and often do raise customer APRs, so be sure to apply for a loan outside of a dealership. You could also fill out an online form at LendingTree, where you may be matched with up to five different auto loan offers from lenders, based on your creditworthiness.
HR-V vs. CR-V size comparison
The CR-V is a compact and the HR-V is a subcompact, but what does that really mean? Both can technically seat five people, although levels of comfort may vary. Here are the actual measurements from Honda for each vehicle's size and capacity.
CR-V vs. HR-V Exterior Measurements (inches)
Honda CR-V
Honda HR-V
Length
180.6
170.4
Height
66.1
63.2
Ground Clearance
7.8
7.3
Width
73
69.8
Wheelbase
104.7
102.8
If you're looking at these numbers and thinking there is not a huge difference, you'd be right in most cases. The largest difference is in length, which translates to more or less cargo space. Despite the HR-V's rear Magic Seat ® which folds completely flat, those 10 inches make a big impact when you cube them to get cargo volume, see below.
CR-V vs. HR-V Interior Measurements
Honda CR-V
Honda HR-V
Seating Capacity
5
5
Cargo Volume with rear seat up/down (cubic feet)
39.2 / 75.8
23.2 / 57.6
Legroom front/rear (inches)
41.3 / 40.4
41.2 / 39.3
Headroom front/rear (inches)
40.1 / 39.2
39.5 / 38.3
Shoulder Room front/rear (inches)
57.9 / 55.6
56.8 / 54.5
Hip Room front/rear (inches)
55.1 / 49.5
53.1 / 47.4
Other than cargo room, both the CR-V and the HR-V can comfortably fit most adults and up to five total passengers. However, the HR-V may not fit five adults comfortably. It's when you have multiple people in the car that the difference of two inches in hip room may prevent awkward contact. If you are not in the habit of ferrying around multiple adults, however, why pay for the extra room?
HR-V vs. HR-V pricing and features
The base price for the CR-V is $24,350; for the HR-V it's $20,520. Again, the price difference comes down to size — both Hondas have similar trims with similar offerings.
What is a trim? A trim is a group of vehicle features. Higher trim levels generally offer more features than the entry-level or "base" trim. Honda's trims generally build upon each other — the EX trim, for example, will have or improve upon all the features of LX and Sport trims before it.
Honda CR-V
Honda HR-V
LX Trim
$24,350
$20,520
Multi-Angle Rearview Camera, Bluetooth, 5″ Touch Screen
Sport Trim
N/A
$22,220
Android Auto/Apple CarPlay, 7″ Touch Screen, Dual Mode Paddle Shifters
EX Trim
$27,250
$23,720
Honda Sensing, Moonroof, Smart Entry
EX-L Trim
$29,750
$25,320
Leather Seats, Heated Front Seats, Power Tailgate
Touring Trim
$32,750
$28,540
LED Headlights, Navigation, Roofrails
All-wheel drive (AWD). Both offer AWD on all trim levels for a price bump of $1,400. AWD is your only option on the HR-V's Touring trim.
CR-V vs. HR-V safety
The 2019 Honda HR-V earned a five-star crash test safety rating from the National Highway Traffic Safety Administration (NHTSA) for both its front-wheel drive and its all-wheel drive models, and was named a Top Safety Pick by the Insurance Institute for Highway Safety (IIHS).
The 2019 Honda CR-V is also an IIHS Top Safety Pick, however, it does not currently have an overall crash test rating by the NHTSA. The 2018 CR-V did earn a five-star NHTSA rating.
Honda Sensing. Honda's suite active driver safety features is not standard on the CR-V nor the HR-V. It is only included on the third trim up, the EX trim, for both models. There are other Honda vehicles that come with it standard, such as the Honda Accord.
The bottom line on the Honda HR-V vs CR-V
With similar safety ratings, fuel economy and comfort features, these two Honda crossovers are like close siblings — either could be a solid choice if you're looking for an SUV. The deciding factors might be price versus size.
You might like the CR-V more if extra space matters to you. With a few more inches in hip room and a lot more inches in cargo space, the CR-V offers more capability and comfort for longer drives. It also has a longer track record.
You might like the HR-V more if you want to save some cash and aren't in the habit of transporting people and cargo simultaneously. Otherwise, you could put the back seats up and down depending on your needs at the time. Or, put extra cargo on top of the car. Just don't put extra people on top of the car.
MSRPs in the article are accurate as of the date of publishing.