2019 Honda HR-V Review
Published on: March 27th, 2019
Editorial Note: The content of this article is based on the author's opinions and recommendations alone. It may not have been previewed, commissioned or otherwise endorsed by any of our network partners.
In Honda's lineup of SUV crossovers, the Honda HR-V is the smallest and least expensive. It sips gas and has plenty of options, including all-wheel drive and Honda Sensing safety features. If you want something smaller that still has five doors (including the hatch door), look to the Honda Fit hatchback. If you'd like something larger, the CR-V, Pilot and Passport could be considerations. But the HR-V is a well-rounded subcompact crossover that may fit the bill.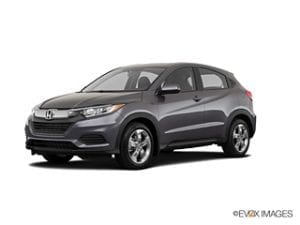 2019 Honda HR-V pricing
There are five trims for the 2019 HR-V, from LX to Touring, with an $8,020 difference in the manufacturer's recommended price (MSRP) between the two extremes.
Trims
LX
Sport
EX
EX-L
Touring
MSRP
$20,520
$22,220
$23,720
$25,320
$28,540
You don't necessarily have to pay MSRP for the vehicle. You may be able to find the HR-V for a lower price, depending on when and where you look. To know the fair purchase value, you could use an industry guide like Kelley Blue Book or NADAguides.
What's next? Once you pick out the car you want, you can read up on Honda financing. Potential lenders may include Honda Finance Corp., a bank, credit union or online lender. You could also fill out an online form at LendingTree to receive up to five potential auto loan offers from up to five different lenders, based on your creditworthiness.
Auto dealers may raise a customer's APR, so it's wise to apply for a loan outside of the dealership. It doesn't hurt your credit to apply to multiple lenders any more than it does to apply to one if you do all your applications within 14 days — some credit scoring methods may even allow you up to 45 days.
2019 Honda HR-V Safety
Pros. The 2019 Honda HR-V earned a five-star crash test safety rating from the National Highway Traffic Safety Administration (NHTSA). The Insurance Institute for Highway Safety (IIHS) selected it as a Top Safety Pick, as well.
Honda's active safety features, called Honda Sensing, is included in the EX trim line and above. It may include:
Collision Mitigation Braking System. If the car senses it is about to run into something front-first, it will brake itself.
Road Departure Mitigation System. If the car begins to cross a lane without the turn signal on, it can brake and steer to help keep it in the lane and not leave the road.
Adaptive Cruise Control with Low-Speed Follow. The car can follow behind another car at a set interval.
Lane Keeping Assist System. The car can adjust its steering to help keep itself in a lane.
Cons. The IIHS rated the HR-V's headlights and the ease of use for child safety seat anchors as "acceptable," which is a step down from the best.
2019 Honda HR-V trim comparison
Honda offers five trim levels on the 2019 HR-V. Each progressive trim includes every feature in the trim below, or an improved version of that feature. Honda Sensing is included in the price of the EX trim and above.
Trims
LX
Sport
EX
EX-L
Touring
MSRP
$20,520
$22,220
$23,720
$25,320
$28,540
Standard Features
Multi-Angle Rearview Camera, Bluetooth, 2nd Row Magic Seat
Android Auto/Apple CarPlay, 7″ Touch Screen, Dual Mode Paddle Shifters
Honda Sensing, Moonroof, Smart Entry
Leather Seats, Premium Audio, Heated Front Seats
AWD, Navigation, LED Headlights, Power Front Seats
The least expensive HR-V trim comes with an automatic transmission, a multi-angle rearview camera, Bluetooth audio and Honda's patented Magic Seat in the second row, which not only folds flat down, but can also flip up, allowing for different cargo configurations.
Standard features are included in that trim at no extra cost. However, you could add options to the vehicle, such as all-wheel drive, which would increase the price.
2019 Honda HR-V competitor comparison
Looking at some competitors, the HR-V lacks some technology that comes standard on others.
Honda HR-V
Hyundai Kona
Mazda CX-3
Subaru CrossTrek
Base MSRP
$20,520
$19,990
$20,390
$21,895
Expert Scores
4.1
4.3
4.2
4.2
Standard Technology
Bluetooth, 5″ Screen, Rearview Camera
7″ Screen, Hyundai Smart Sense, Apple CarPlay/Android Auto
7″ Screen, Rearview Camera, Smart City Brake Support
AWD, Bluetooth, 6.5″ Touch Screen
Fuel Economy
30 MPG
30 MPG
31 MPG
25 MPG
*Chart data is for base 2019 models. Expert score averages Kelley Blue Book (KBB) and Edmunds expert ratings. Standard technology refers to features included in the lowest trim level for each model at no extra cost (not an exhaustive list). Fuel economy is combined city / highway mileage as defined by the EPA.
2019 Honda model comparison
The HR-V's bigger siblings, the CR-V and the Pilot, have more standard technology, higher expert scores and higher prices. The HR-V's smaller and less expensive cousin, the Honda Fit, is a hatchback, not an SUV, meaning it is much lower to the ground.
Honda Fit
Honda HR-V
Honda CR-V
Honda Pilot
Base MSRP
$16,190
$20,520
$24,350
$31,450
Expert Scores
4.4
4.1
4.4
4.4
Standard Technology
Bluetooth, 5″ Screen, Rearview Camera
Bluetooth, 5″ Screen, Rearview Camera
Honda Sensing, Bluetooth, 5″ Screen, Rearview Camera
Honda Sensing, Bluetooth, Keyless Ignition, 5″ Screen
Body
Hatchback
SUV
SUV
SUV
Fuel Economy
31 MPG
30 MPG
28 MPG
22 MPG
Base Transmission
Manual
Automatic
Automatic
Automatic
2019 Honda HR-V — the bottom line
You might like the HR-V if you're looking for a compact SUV with high reliability and resale value. You might not like it if you need something bigger, more rugged or something with more standard technology.
MSRPs in the article are accurate as of the date of publishing.