2019 Nissan Titan Review
Published on: November 2nd, 2019
Editorial Note: The content of this article is based on the author's opinions and recommendations alone. It may not have been previewed, commissioned or otherwise endorsed by any of our network partners.
A namesake of Greek gods, the 2019 Nissan Titan cuts an imposing figure as a full-size pickup with a standard 5.6L V8 engine and a starting MSRP of $30,690. This means the Titan has a more powerful base engine than competitors for a similar price — yet, it doesn't sell by the tens of thousands like its rivals or even its own siblings, including the less expensive crossover Rogue. We focus on the standard Titan in this review; however, Nissan also offers the Titan XD, which has even greater towing capability thanks to an available diesel engine.
Nissan Titan pricing and trims
Pricing for the 2019 Nissan Titan starts at $30,690 for the 4×2 single cab, S trim. If you want your truck decked out, that price can double with accessories and packages added to the 4×4 Platinum Reserve trim.
Each trim builds upon the trim(s) that came before it. For example, the SV trim has all of the amenities of the S trim, plus new ones. The Midnight Editions are the exceptions: the black accent styling applies only to those trims.
Prices and features below are for the base version of each trim, but it's possible to add four-wheel drive (4×4) to every trim level, with the exception of the PRO-4X trim, which is only offered as a 4×4. The Titan also comes as a single cab, crew cab or King Cab. We'll get into more detail on those options later.
Trim
Starting MSRP
Features
S
$30,690
5.6L V8 Engine, Apple CarPlay, 40/20/40-Split Front Bench Seat With Flip-Down Center Seat With Armrest
SV
$34,320
Advanced Drive-Assist Display, Carpeted Flooring, Trailer Sway Control, Stain-Resistant Cloth Seating
SV Midnight Edition
$43,135
SV Features Plus Black Accent Styling: 20″ Black Alloy Wheels, Body Color Front Grille, Black Step Rails, Charcoal Interior Trim
PRO-4X
$44,880
4×4 Drive, Bilstein Off-Road Performance Shocks, Electronic Locking Rear Differential, Transfer Case Skid Plate, Hill Descent Control, All-Terrain Tires
SL
$48,740
Remote Engine Start, Intelligent Climate Control, Leather Seating, 7″ Touch Screen, Power-Sliding Back Window with Defroster
SL Midnight Edition
$49,990
SL Features Plus Black Accent Styling, 20″ Black Alloy Wheels, Body Color Front Grille, Black Step Rails, Charcoal Interior Trim
Platinum Reserve
$54,630
20″ Dark Chrome-Clad Alloy Wheels, Two-Tone Leather Seats, Intelligent Around View Monitor, Trailer Brake Controller, Dark Chrome Running Boards
You may be able to score the Titan for a price lower than MSRP, though. Vehicle prices depend on where and when you shop. Check out an industry guide such as Kelley Blue Book or NADAguides to find a fair market price in your area.
What's next? Once you pick out the car you want, a car loan is usually next. Car dealers can and often do raise customer APRs for their own profit, so be sure to also apply for a loan outside of a dealership. Potential lenders could include Nissan financing, your bank, credit union or online lender. You could also fill out an online form at LendingTree where you may receive up to five different, potential loan offers from lenders, based on your creditworthiness.
Nissan Titan Single Cab 8ft bed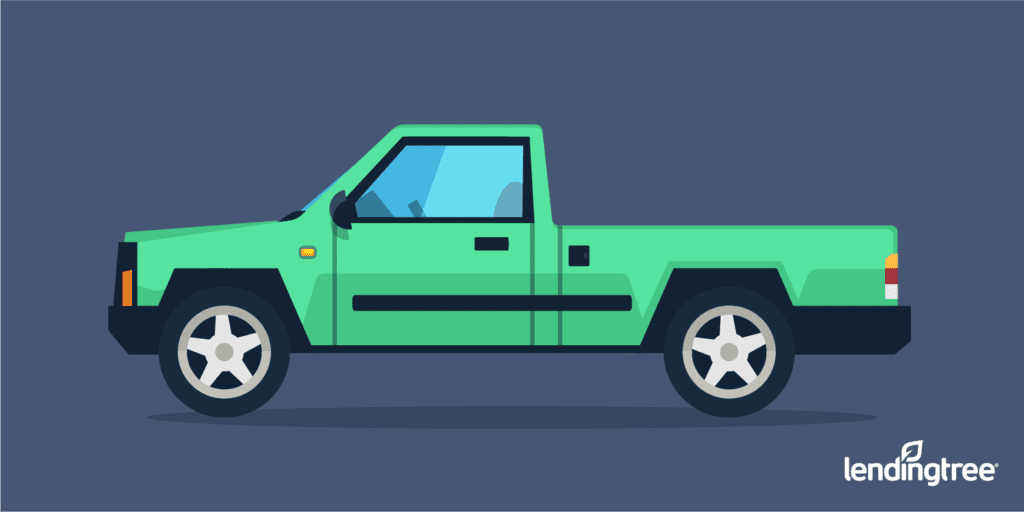 Nissan Titan Single Cab
Trim
4×2 MSRP
4×4 MSRP
S
$30,690
$34,090
SV
$34,320
$37,470
The single cab is the least expensive configuration of the Titan. It has only two doors and one row of seating, which leaves the rest of the truck length free to handle cargo. The single cab has the largest bed out of the three configurations. It offers two trims, both of which have the option of a 4×4 drive.
Nissan Titan King Cab 6.5 ft bed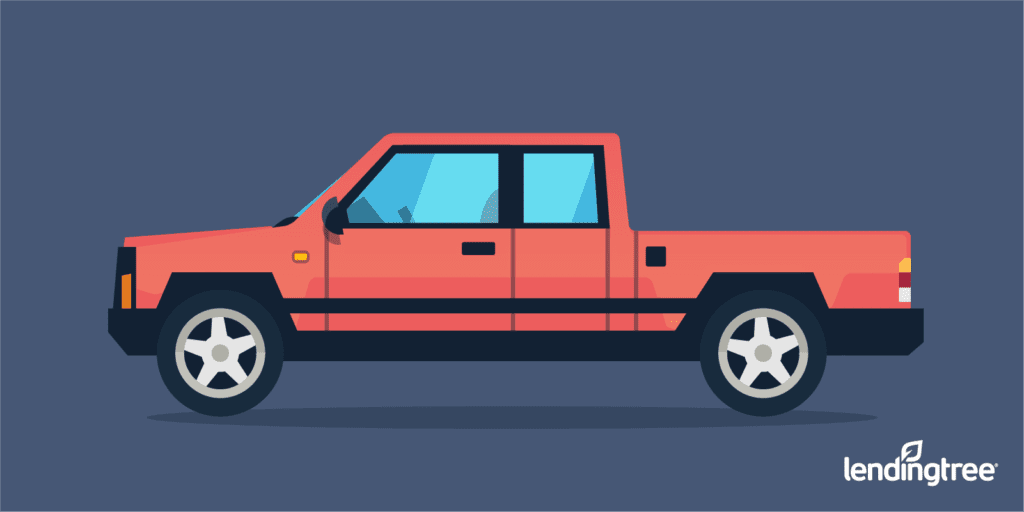 Nissan Titan King Cab
Trim
4×2 MSRP
4×4 MSRP
S
$33,960
$37,100
SV
$37,390
$40,540
PRO-4X
NA
$44,880
The King Cab offers a second row of seating, but don't expect three adults to slide in the back and be happy about it. There is little leg room, so the back seat is better suited for holding kids or tools and luggage that you don't want in the cargo bed.
The cargo bed on the King Cab configuration is smaller than the regular cab's bed, as the bigger cab eats up some of the length, but not as small as that of the crew cab.
Nissan Titan Crew Cab 5.5 ft bed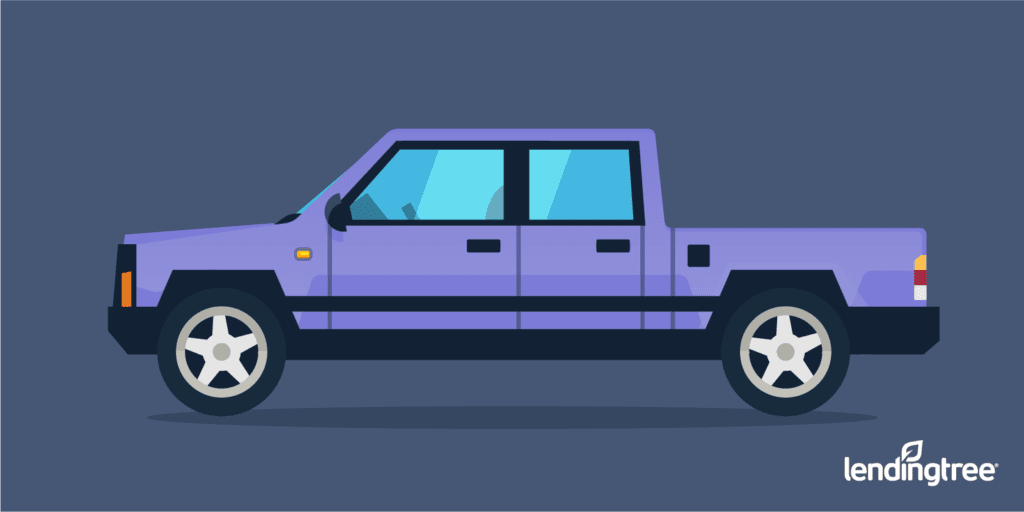 Nissan Titan Crew Cab
Trim
4×2 MSRP
4×4 MSRP
S
$36,680
$39,830
SV
$39,870
$43,020
SV Midnight Edition
$43,135
$46,285
PRO-4X
NA
$47,110
SL
$48,740
$51,940
SL Midnight Edition
$49,990
$53,190
Platinum Reserve
$54,630
$57,840
The crew cab, with a 5.5 ft bed length, offers the most inside room and the least cargo room. The second row features almost as much leg room as the first row, unlike the King Cab, where second row passengers are more squished.
This is the Titan's most popular configuration, as it has the most available trims: seven, compared to the single cab's two trims and the King Cab's three trims.
Nissan Titan XD
As we mentioned earlier, the Nissan Titan XD is a different model from the Nissan Titan, so we won't go into great detail. We will, however, give a quick overview of the heavy-duty pickup, which offers larger bed size and additional engine options.
Crew cab. While the regular Titan crew cab has only a 5.5 ft bed, which is rather short, the Titan XD crew cab has a 6.5 ft bed.
Diesel engine. The regular Titan has a standard V8 engine and no other options. The Titan XD has a standard V8, but you could opt for the Cummins turbo diesel engine that provides more torque (555 lb-ft vs. 394 lb-ft) and a greater maximum towing capacity (11,960 lbs vs. 9,240 lbs). Choosing the diesel engine increases the base S trim from $32,999 to $38,620. The Titan XD made our list of the best diesel trucks.
Nissan Titan safety
The 2019 Nissan Titan earned top-of-the-line ratings from the Insurance Institute for Highway Safety in all of its crash tests. The National Highway Traffic Safety Administration gave the popular crew cab four stars across the board. The Titan also offers some advanced driver safety aids on upper trim levels, including the following.
Intelligent Around View ® Monitor. Offers the driver a 360-degree view around the vehicle.
Blind Spot Warning. An indicator appears to the driver if there is an object detected in a blind spot. An audio warning will sound if there is a detected object and the driver puts a turn signal on.
Rear Cross Traffic Alert. When in reverse, the car can detect and alert the driver of oncoming passing traffic.
Nissan Titan competitor comparison
The Titan has strong competition with rivals offering more configuration options. The Titan has only the standard V8 engine, which is less fuel efficient than the base V6 offered by the F-150, RAM 1500 and Chevy Silverado. So if you don't need the power of the V8, check out these other options.
What about warranty? The Nissan Titan has a 5-year, 100,000-mile "bumper-to-bumper" warranty. Most automakers offer a similar 3-year, 36,000-mile warranty.
2019 Nissan Titan vs. Competitors
Vehicle
2019 Nissan Titan, Crew Cab 5.5 ft Bed
2020 Ford F-150 SuperCrew, Short Bed
2019 RAM 1500 Classic Crew Cab, Short Bed
2020 Chevrolet Silverado, Crew Cab, Short Bed
Base MSRP
$36,680
$35,035
$34,145
$36,195
Expert Scores
3.9
4.2
4.4
4.3
Standard Features
5.6L V8 Engine, 7-Speed Automatic Transmission, Apple CarPlay, 40/20/40-Split Front Bench Seat With Flip-Down Center Seat WIth Armrest
3.3L V6 Engine, 6-Speed Automatic Transmission, 3 Drive Modes, Dynamic Hitch Assist, 17″ Wheels, WiFi Hotspot, SOS Post-Crash Alert System
3.6L V6 Engine, 8-Speed Automatic Transmission, Auto Dimming Rearview Mirror, Power Windows and Locks, USB Port, 17″ Wheels, Tire Carrier Winch
4.3L V6 Engine, Teen Driver, 6-Speed Automatic Transmission, Power Windows and Locks, Bluetooth, 17″ Wheels, 2 Speakers, Tire Pressure Monitoring System
Fuel Economy Combined/City/Hwy
18/15/21 MPG
22/19/25 MPG
20/17/25 MPG
14/15/19 MPG
*Chart data is for base models of the named trims. Expert score averages Kelley Blue Book (KBB) and Edmunds expert ratings. Standard technology refers to features included in the lowest trim level for each model at no extra cost (but is not an exhaustive list). Fuel economy is combined/city/highway mileage as defined by the EPA.
All of the above are full-size pickups. If you don't need as much room or power, and want to save a bit of money, you could check out the best small trucks.
The bottom line on the Nissan Titan
If the power of a V8 engine appeals to you, the Titan could be a good choice with a great warranty to boot. And if you can spring for it, the top trim of the Titan also made our list of the best luxury trucks available. If you don't see what you're looking for in the Titan regarding engine options, cab/bed size or other features, look at these best pickups of 2019.