2019 Toyota 4Runner Review
Published on: April 10th, 2019
Editorial Note: The content of this article is based on the author's opinions and recommendations alone. It may not have been previewed, commissioned or otherwise endorsed by any of our network partners.
Don't be fooled by the SUV body of the Toyota 4Runner — it's a truck at heart. It has a large, loyal following and a 4×4 powertrain that can go places that would send most vehicles to a  shuddering halt. However, there are trade-offs: Safety features and amenities take a back seat to capability.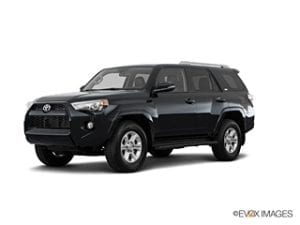 2019 Toyota 4Runner pricing
The lowest manufacturer's recommended price (MSRP) for a 4Runner is $35,110 and it can go up to $46,615 for the highest trim.
Trim

SR5

SR5 Premium

TRD Off-Road

TRD Off-Road Premium

Limited

Limited Nightshade Edition

TRD Pro

Starting MSRP
$35,110
$36,940
$38,285
$40,195
$43,425
$45,165
$46,615
Of course you do not have to pay MSRP for a vehicle. Depending on where and when you shop, the price may be lower. You could use a free, online industry guide, such as NADAguides or Kelley Blue Book, to see what the fair market price is in your area; you shouldn't pay more than that.
What's next? Once you pick out the vehicle you want, a vehicle loan is usually next. Potential lenders could include Toyota financing, your bank, credit union or online lender. Car dealers can raise your APR, so be sure to apply for a loan outside of the dealership. You could also fill out an online form at LendingTree where you may be matched with up to five different loan offers from lenders based on your creditworthiness.
It doesn't hurt your credit to apply to multiple lenders any more than it does to apply to one if you do all your applications within the rate shopping period of generally 14 days — and some credit scoring methods may even allow you up to 45 days.
2019 Toyota 4Runner safety
The good: The 4Runner, both the all-wheel drive and the two-wheel drive versions, earned 4 out of 5 stars in crash tests from the National Highway Traffic Safety Administration. In tests with the Insurance Institute for Highway Safety (IIHS), the 4Runner had top scores in most categories, but it didn't earn the title of Top Safety Pick because it had three main weak points: its headlights, which earned the lowest-possible score; child seat anchors, which are only marginally easy to use; and a problem where the driver's space was compromised during "overlap" crash tests to simulate the front corner of the vehicle striking another vehicle or object, such as a tree or utility pole.
The bad: The technology that could help prevent front-end collisions is not available on the 4Runner. While Toyota's full-fledged trucks, the Tacoma and Tundra, and SUVs like the C-HR, have Toyota Safety Sense as a standard feature, with collision detection and automatic emergency braking, you can't get Toyota Safety Sense on the 4Runner at all.  It's worth noting that even with Safety Sense, the Tacoma and Tundra also did not earn IIHS' Top Safety Pick designation — the 2019 Honda Ridgeline is the only pickup so far to qualify.
The Star Safety System is standard on the 4Runner, with common technologies like anti-lock brakes, vehicle stability control, electronic brake-force distribution, brake assist and smart stop technology.
2019 Toyota 4Runner trim comparison
With seven trims, you can probably find the 4Runner that has the features you want and none of the features you don't want. The ones mentioned here are all included in that trim level at no extra cost. We mentioned popular features but did not mention every single feature each trim level includes.
Trim

SR5

SR5 Premium

TRD Off-Road

TRD Off-Road Premium

Limited

Limited Nightshade Edition

TDR Pro

Starting MSRP
$35,110
$36,940
$38,285
$40,195
$43,425
$45,165
$46,615
Standard Features

V6 Engine, 17″ Wheels, Rear-Wheel Drive, 6.1″ Touch Screen, Towing Capacity up to 5,000 lbs

SR5 Features plus Navigation, Premium Audio, Heated Mirrors, Heated

and

Power-Adjustable Front Seats

CRAWL Control, Part-time 4WD with Active Traction Control, Multi-Terrain Select, Locking Rear Differential

TDR Off-Road features plus Premium Audio, Navigation, Heated

and

Power-Adjustable Front Seats

20″ Wheels, Parking Assist Sonar, Smart Key System, Power Moonroof, 20″ Wheels, Leather-Trimmed, Heated

and

Power-Adjustable Front Seats

Limited features plus Black Interior & Exterior Accents

TRD Off-Road features plus LED Fog Lights, FOX Shocks, Roof Rack, Heated and Power-Adjustable Front Seats
In most vehicle lines, trims build on top of one another. For example, the SR5 Premium has or improves upon everything the SR5 has. However, that's not always the case for every 4Runner trim. The TRD-Off-Road does not have the SR5 Premium features of navigation and the like. It excludes it so that the price doesn't jump up when it adds the features of CRAWL Control, Active Traction Control, etc. The TRD Off-Road Premium, however, has the amenities of the SR5 Premium, plus the capabilities of the TRD Off-Road. So as you look at trims, be sure the vehicle has the features you're seeking.
4×4 trim comparison
If you need or want four-wheel drive, here are the base prices for each model with the 4×4 drivetrain.
4×4 trim comparison
Trim
SR5
SR5 Premium
TRD Off-Road
TRD Off-Road Premium
Limited
Limited Nightshade Edition
TDR Pro
MSRP
$36,985
$38,815
$38,285
$40,195
$45,460
$47,200
$46,615
2019 Toyota 4Runner competitor comparison
If you're still undecided, here are some of the 4Runner's highly-rated competitors, which have some off-roading chops, too.
Toyota 4Runner
Jeep Wrangler
Subaru Outback
Jeep Grand Cherokee
Honda Passport
Base MSRP
$35,110
$28,095
$26,345
$31,956
$31,990
Expert Scores
3.3
4.2
4.1
4
NA
Standard Features
V6 Engine, 7″ Wheels, Rear-Wheel Drive, 6.1″ Touch Screen
V6 Engine, 4×4, Fog Lights, Push-Button Start, Underbody Skid Plates
AWD, EyeSight, 6.5″ Touch Screen, Apple CarPlay/Android Auto
V6 Engine, 7″ Touch Screen, Blind-Spot Monitor
V6 Engine, Honda Sensing, 20″ Wheels, 5″ Screen
Fuel Economy
18 MPG
20 MPG
28 MPG
21 MPG
22 MPG
*Expert scores were not available for the Honda Passport at time of publication. Chart data is for base 2019 models. Expert score averages Kelley Blue Book (KBB) and Edmunds expert ratings when available. Standard technology refers to features included in the lowest trim level for each model at no extra cost (not an exhaustive list). Fuel economy is combined city / highway mileage as defined by the EPA.
If you're wondering why experts don't hold the 4Runner in high regard, it's because Toyota opted for features that would please off-roaders more than street drivers seeking a comfortable SUV with the latest safety technology. Here are some of the trade-offs Toyota made:
Body-on-frame construction means the vehicle can withstand the greater physical stress involved in towing heavy weight and crawling over boulders. It also means worse gas mileage and crash-safety ratings when compared with vehicles built as a unibody.
A solid rear axle means the 4Runner can handle the twisting torque of off-roading like a champ. It also means the vehicle doesn't take turns as well as other SUVs — you will definitely feel each change in angle when going up, down or sideways.
All-terrain tires are made to get a grip on rocks, snow, sand and pavement. However, they don't do so quietly — they make a lot of noise on a regular paved road.
Lack of active driver safety tech. While many of Toyota's vehicles have Toyota Safety Sense as a standard or available feature, you can't get it on the 4Runner at all.
The bottom line on the 2019 Toyota 4Runner
You might like it if you do some serious off-roading. The 4Runner can comfortably hold five people — seven, if you opt for the third row — and their camping stuff, getting you almost anywhere off- or on-road you want to go.
You might not like it if you take long road trips or often have to deal with thick city traffic. Because it is a truck at heart, the 4Runner lacks the comforts many other SUVs offer, not to mention the safety ratings for which Toyota is known.
MSRPs in the article are accurate as of the date of publishing.