2019 Toyota Camry Review
Published on: March 18th, 2019
Editorial Note: The content of this article is based on the author's opinions and recommendations alone. It may not have been previewed, commissioned or otherwise endorsed by any of our network partners.
Editorial Note: The editorial content on this page is not provided or commissioned by Toyota Motor Corporation or any of its partners or subsidiaries. Any opinions, analyses, reviews, statements or recommendations expressed in this article are those of the author's alone, and may not have been reviewed, approved or otherwise endorsed by any of these entities prior to publication.
With a great reputation for reliability and value, Toyota offers the Camry as a four-door sedan with many options. Even the lowest trim option comes with the Toyota Safety Sense P suite and Apple CarPlay (though Android Auto is not available on any Camry). The basic warranty is 3 years, 36,000 miles.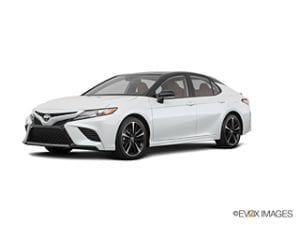 2019 Toyota Camry pricing
With the Camry, you could get everything from a basic four-cylinder engine to a V6 engine and the car is still a Camry sedan. Because of this, there is a huge price range between the least expensive and the most expensive Camry you can get. Here are Toyota's manufacturer recommended price (MSRP) range for each trim line of Camry as of the date of publishing.
Toyota Camry
MSRP
Luxury Trims
$23,945 – $34,150
Sport Trims
$25,650 – $34,700
The highest price in each range is for the highest trim within that line, with all automatically-included options. The lowest price in each range is for the base model with no added options. There is also a Toyota Camry Hybrid, which Toyota treats as a different model car. The good news is that the lowest trims all have automatic transmissions and every Camry comes with the Toyota Safety Sense P suite.
Toyota Safety Sense (TSS) does have a few suites that include different technology. The P suite is not the newest suite; for more information on what it does include, see the next section on safety.
You do not necessarily have to pay MSRP for the vehicle. You may be able to get if for a lower price. The best way to get a low price is to shop around online and use industry guides such as Kelley Blue Book or Edmunds to look up the fair market price.
What's next? Car dealers raise customer APRs an average of 2.47%, so whatever car you end up choosing, be sure you know the APR you qualify for before you walk into a dealership. You can read about Toyota Financing and where to find the best auto loan rates in 2019. You could get an auto loan offer from your bank, credit union or online lender. You could also fill out an online form at LendingTree to receive up to five potential auto loan offers at once.
2019 Toyota Camry safety
The 2019 Toyota Camry earned a five out of five star crash test safety rating from the National Highway Traffic Safety Administration (NHTSA). And it is a Top Safety Pick+ by the Insurance Institute for Highway Safety (IIHS).
Toyota Safety Sense P suite, which comes standard on all trim levels of the Camry includes:
Pre-collision system with pedestrian detection. If the car senses something or someone in front of it, it alerts the driver audibly and visually and applies the brakes if the driver does not.
Lane departure with steering assist. At speeds at or above 32 MPH, the car will alert the driver audibly and visually if it senses that it is drifting out of the lane, and will make small steering adjustments to help stay in the lane.
Automatic high beams. At speeds above 25 MPH, the car will automatically toggle between high and low beams accordingly to allow greater driver visibility.
Dynamic radar cruise control. While the driver has cruise control on, the car will automatically slow down or speed up, without cruise control deactivating, as conditions call for it due to other vehicles within range. The Camry can also alert the driver if more speed reduction is needed and apply the brakes.
2019 Toyota Camry competitor comparison
There are plenty of compact sedans on the market, which makes apples-to-apples comparisons tricky. Here are four of Camry's competitors and how they compare based on price, expert scoring, standard technology, body type and fuel economy.
Toyota Camry
Honda Civic sedan
Chevrolet Cruze sedan
Subaru Impreza sedan
Base MSRP
$23,845
$19,450
$17,995
$18,595
Expert Scores
4.2
4.4
4.3
4
Standard Technology
Toyota Safety Sense-P, Apple CarPlay
Honda Sensing, Audio USB Port
Apple CarPlay/Android Auto, 7″ Touch Screen
AWD, Apple CarPlay/Android Auto
Body Types Available
Sedan
Sedan, Coupe, Hatchback
Sedan, Hatchback
Sedan, Wagon
Fuel Economy
34 MPG
32 MPG
33 MPG
27 MPG
*Chart data is for base 2019 models. Expert score averages Kelley Blue Book (KBB) and Edmunds expert ratings. Standard technology refers to features included in the lowest trim level for each model at no extra cost (not an exhaustive list). Fuel economy is combined city / highway mileage as defined by the EPA.
2019 Toyota Camry trim comparison
Toyota offers two trimlines: luxury (L) and sport (S). The key difference between luxury and sport is the suspension. Sport-tuned suspension is made to handle more extremes, such as tight turns at a fast speed. With the two trimlines and three engine types available, the Camry has a total of 10 trims you could choose from.
Because trims can be mystifying, we broke them down between luxury and sport.
The luxury trim levels
L
LE
XLE
XLE V6
Base MSRP
$23,945
$24,450
$29,025
$34,150
Fuel Economy
34
34
32
26
L. The least expensive Camry is the Camry L. It comes standard with the Toyota Safety Sense P suite, a rearview camera, Bluetooth and Apple CarPlay; all other vehicles include these features as well. The L does not have many upgrade options. If you would like a Camry with premium audio or more technology, look to the LE.
LE. The second-least expensive Camry, the LE comes with a moonroof, but has few other standard features. Rather than include a random smattering of upgrades, the LE allows you to pick and choose what features you'd like to upgrade.
XLE. A more expensive Camry, the XLE automatically comes with most upgrades: leather seats, blind spot monitoring, navigation, an 8-inch touch screen and much more.
XLE V6. The XLE V6 is the XLE with a V6 engine, which offers 93 more horsepower.
The sport trim levels
SE
XSE
XSE V6
Base MSRP
$25,650
$29,575
$34,700
Fuel Economy
32
32
26
SE. The least expensive sport-tuned Camry, the SE, like the LE, allows you to pick and choose what upgrade options you'd like. So, if you have to have premium audio and you don't want to pay for leather seats, you don't have to.
XSE. The XSE comes with most upgrades, including leather seats, blind spot monitoring, navigation and an 8-inch touch screen.
XSE V6. This trim swaps the turbocharged four-cylinder engine with a V6 engine.
2019 Toyota Camry — the bottom line
You might like the Camry if you are looking for a customizable compact sedan. Powertrain choices range from a four-cylinder to a V6 engine with 301 horsepower. From a power-sliding panoramic moonroof at the top end, to manual-adjusting seats at the bottom end, the Camry can be almost any level of luxury or non-luxury you want.
You might not like the Camry if you're an Android owner. Apple CarPlay comes standard, but Android Auto isn't even an option. The Camry is also a bit pricey. Almost all of Camry's competitors have a lower base MSRP, so there are plenty of other budget-friendly compact vehicles out there. And two things you cannot customize on the Camry is the body and the Toyota Safety Sense P suite. The Camry is only available as a sedan and the Toyota Safety Sense P suite is included in all trim levels of the Camry; ergo, it adds to the price of all the Camry trim levels.