How to Rent Out Your Car
Published on: October 13th, 2019
Vehicle ownership costs are the highest they've ever been (as much as $9,000 annually), which is especially expensive considering a car is typically parked for 95% of its life. So instead of letting your car sit around eating up money, you could have it make money for you by renting out your car — no pizza delivering required.
How to rent out your car
To find renters, you'll typically have to use an online car rental platform. These platforms vet both renter and rentee, primarily in major U.S. cities, connecting the two. As payment for use of the site, the platform takes a portion of car owners' earnings. For those looking to rent a vehicle, there aren't really alternatives to these platforms, besides traditional rental car companies.
Choose a car rental platform
Here are a few of the most well-known platforms available:
Turo
Perhaps the best-known car rental platform, Turo is available in the U.S., the U.K, Canada, Germany and 52 other countries. Listing your car is free and simple: describe your car, upload photos and mark when it's available to rent.
Fees. It's free to list your car and communicate with potential renters. Turo takes its cut of 10% to 35% from what your renters pay, based on the insurance package you select. You only have to pay Turo when someone rents your car; you won't have to pay if you have no renters.
Insurance. Turo offers levels of insurance protection, from "basic" to "premium," or you could get your own insurance directly.
Earnings. Again, it depends on which level of insurance owners choose, plus your car and location. We'll talk about Turo's calculator in a minute. Owners get a direct deposit up to three days after the renter turns in the vehicle.
When someone wants to rent your vehicle, you'll get a request notification, which you could approve or deny. If you approve it, it's then between you and your potential renter to choose pick-up and drop-off locations so you may hand over the keys. Turo also advises that during pick-up meetings, you must check the renter's driver's license. You are also required to take photos of your car before the trip. Remote check-ins are available in select cities using TuroGo.
Getaround
Getaround operates in the U.S. and Europe and features Getaround Connect, which eliminates the need to meet with your renters for a key exchange. It's an electronic device that allows renters to find, unlock and start using the car, and it provides GPS tracking and anti-theft technology.
To list your car, go to Getaround, enter your car's year, mileage and zip code, and hit enter.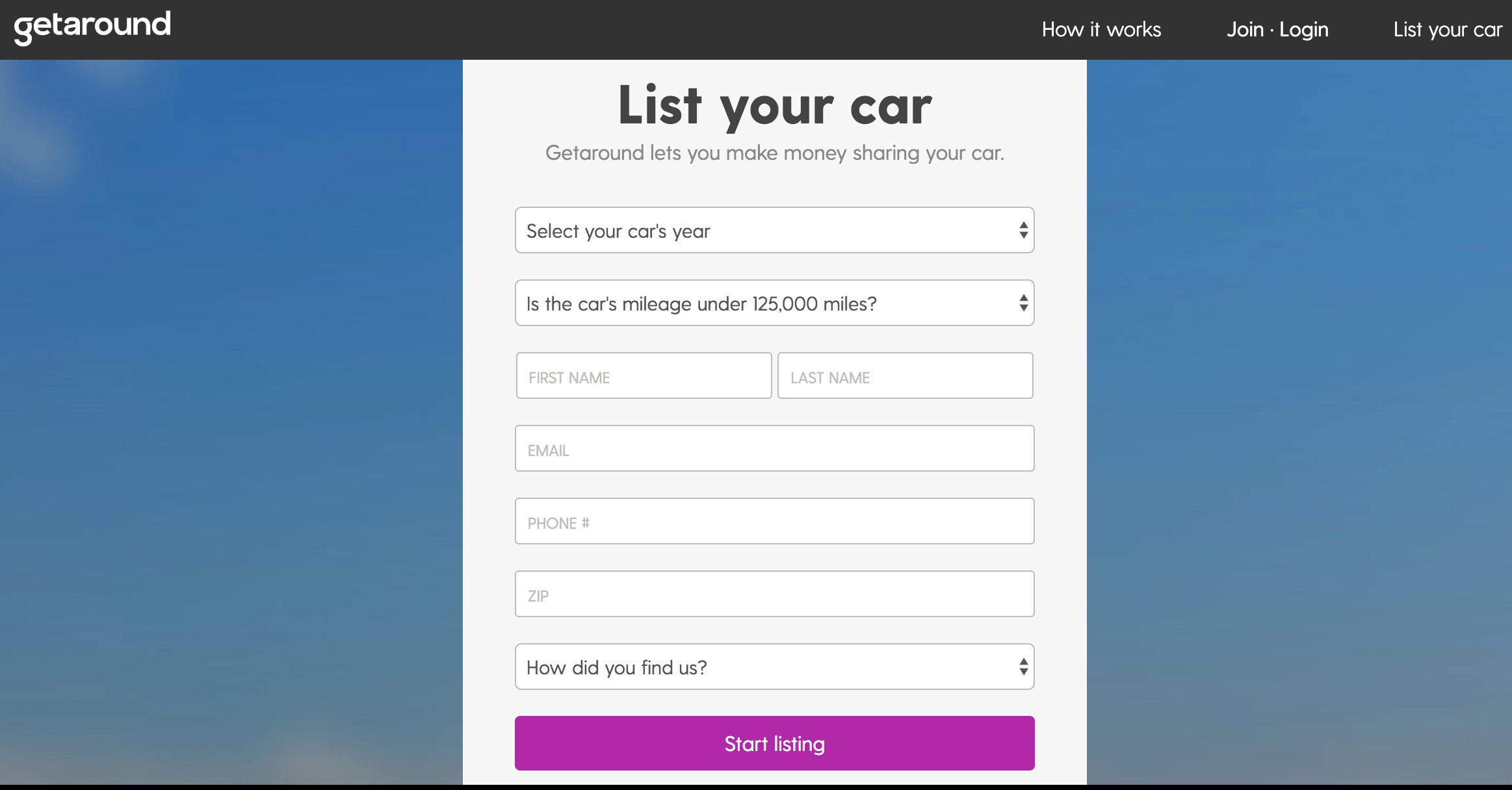 Getaround will then contact you to set up a time for the Getaround Connect installation, when the company will also take photos of your vehicle.
Fees. Getaround takes 40% from all trips as commision. You'll also pay a one-time $99 installation fee for the Getaround Connect and a $20 a month subscription fee if you decide to continue after a 30-day trial period.
Insurance. The insurance policy Getaround features covers every renter approved on the Getaround platform and includes comprehensive, collision and liability coverage up to $1 million.
Earnings. Owners set their rates and keep 60% of the proceeds. You get paid on the 15th of each month via check or PayPal for all trips taken in the month before.
HyreCar
Most rentals on HyreCar last 14 days as the platform markets to Uber and Lyft drivers, so this platform might be best for people who have a second car or don't need their car for longer periods of time. Because renters may want to use your car in their work for rideshare services, your vehicle may gain a lot of miles during its rental period.
To post your car, enter its details, a description and photos and mark where and when your car is available to rent. As you would on Turo, you have to coordinate drop-off and pick-up.
Fees. Listing your car is free. HyreCar takes a 15% commission fee from what the renter pays.
Insurance. Owners can choose between "basic," "standard" and "premium" plans that have different deductibles and coverages.
Earnings. Owners set their own rates, keeping 85% of the proceeds, and get paid 3 to 7 days after the renter is charged.
TravelCar
TravelCar is available in 60 countries and caters to domestic and international travelers. The idea is that you get paid to let someone else use your car while you travel. Advantages are free airport parking for car owners plus rental income for every mile your car is driven, up to $100.
The company notes that while parked and not rented, your car is in a covered parking space with 24/7 surveillance. TravelCar does a bumper-to-bumper inspection and washes your car each time your vehicle is dropped off and returned.
Fees. TravelCar doesn't charge owners any fees.
Insurance. The company covers up to $1 million in liability insurance coverage and $50,000 in damage to your car.
Earnings. Earnings range from 7 cents to 21 cents a mile, up to  $100. You are paid for your car's rental by direct deposit up to 14 days after the rental period ends.
Choose an insurance provider
Your regular, personal car insurance won't cover any damages done by your car or done to your car when you're earning money from someone else driving it. You could get commercial car insurance yourself or from the car rental platform, depending on the platform's terms and conditions.
Insurance directly from an insurance company. This might be an attractive option if you have multiple vehicles you're renting out. You might be able to add a commercial policy through your existing insurer.
Insurance from a car rental platform. For example, Turo takes 10% to 35% of each trip price, depending on the vehicle protection package you choose. If a driver rents your car for a four-day trip at $50 a day, the trip price would be $200. If you choose the highest vehicle protection package, Turo would take 35% of that, so you would get $130.
What's a vehicle protection package? It's a bundle of products — including third-party auto liability insurance — that can protect you as the vehicle owner.
How much could you make by renting out your car?
It depends on your car and your location. Turo has a calculator that could estimate what your car might earn. Here's the default model Turo uses: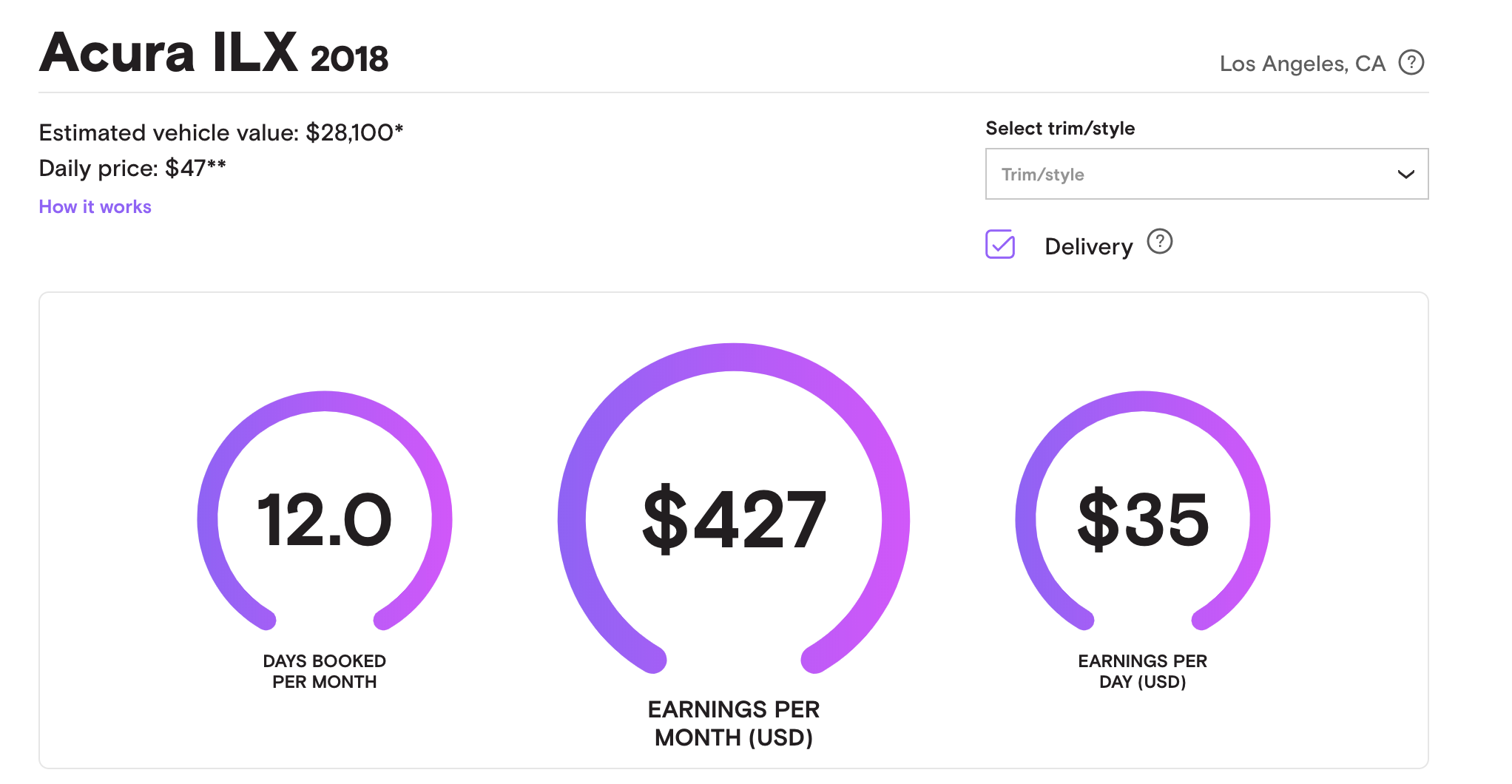 According to Turo, the Jeep Wrangler is the top-performing vehicle, with average monthly earnings of $851. But everything from daily drivers — the Ford Fiesta has average monthly earnings of $497 — to luxury sport cars — the Porsche Boxster has average monthly earnings of $1,365 — are available and rented on its site.
The locations that earn the most are all urban. In late 2018, Los Angeles was Turo's largest market, with average host earnings of $1,437 a month. The second largest was San Francisco, where the average host earned $969 a month. A spokesperson said the top three markets as of October 2019 were San Francisco, Los Angeles and Honolulu.
Benefits of renting out your car
You may be able to cover your car payment by renting out your car — in effect, getting your car to pay for itself. And even if you don't rent it often enough to cover the payment, it's still making some income for you rather than none.
A second benefit could be potentially helping others by offering a lower price than what traditional car rental companies charge.
Risks of renting out your car
There's an adage that, "you don't get paid for nothing." Even though renting out your car could be largely passive income, greater wear and tear on your car will cost you in maintenance, cleaning fees and depreciation. That's not to mention the additional risk of accidents or even purposeful misbehavior by renters.
According to complaints registered with the Better Business Bureau (BBB), car owners (and those renting through the platform) have had problems getting help from the car rental platforms that had promised to stand by their side in case of trouble. In one complaint, an owner waited months for a resolution when their car was totaled during a rental. Here are some worst-case scenarios to consider before listing your car:
Tickets and fines: A renter could break the law in your car — from getting parking tickets to doing drugs — leaving you with a mess, financially and legally.
Lock up and repairs: A renter could get your car impounded for 30 days or cause it to be in the mechanic shop, leaving you without a car to rent, without a car to drive or both.
Total loss: A renter may be involved — or cause — an accident in your car. In a BBB complaint, a renter led police on a car chase and totaled the owner's vehicle. While worst-case scenarios are just that, it's worth considering the fact that someone could cause injury or loss of life in your vehicle.
The bottom line on how to rent out your car
Renting out your car could be a great way to make passive income. Instead of having one of the most expensive things you own sit in your driveway, it could help pay for itself. Yet, you're rolling the dice on risk. After all, you're letting complete strangers use one of the most expensive things you own.
If you're on the fence about renting out your vehicle, there is more than one way to make money with your car.