Should I Buy a New or Used Car?
Published on: November 16th, 2018
Editorial Note: The content of this article is based on the author's opinions and recommendations alone. It may not have been previewed, commissioned or otherwise endorsed by any of our network partners.
While you may love the new-car smell, it's possible to find an excellent used car or truck — and enjoy the satisfaction of saving money instead.
There's a suitable car for every consumer, but to get the best car for the right price takes careful scrutiny of the advantages and drawbacks of each, from available cars and financing plans to features and affordability.
In this guide, we'll cover:
New vs. used cars: at a glance
All cars impact your budget. Before leaping into the driver's seat, consider the implications in choosing between a new or used vehicle.
When it makes sense to buy a new car
A new vehicle comes right off the showroom floor, so you know you're not inheriting damages caused by a prior owner. Of financial importance, you could benefit from manufacturer or dealer incentives, like cash-back offers, low or 0% interest rates, and a low or no down payment.
Pros
New cars come equipped with the latest factory technologies to extend engine life, along with entertainment/communication packages and fuel economy systems.
Dealerships may offer low interest rates backed by the manufacturer.
New-car warranties vary by manufacturer but generally cover most things in the car (hence the term bumper-to-bumper coverage) and last at least three years or 36,000 miles, whichever comes first. The power-train warranty lasts even longer, and extended warranties are available for a price.
Cons
Financing (whether it's through a dealership or other lender) typically requires the owner to carry collision insurance and full comprehensive coverage during the life of the loan.
Depreciation is stiff. A new car quickly loses value, especially in the first year, according to vehicle research and comparison site Edmunds.com. If you decide to sell or trade in your car in a few years, you'll recoup little of what you spent, particularly if you paid a lot of interest on an auto loan.
Speaking of value — new cars are simply more expensive than used ones. Even when you factor in the potential higher cost of maintenance that comes with a used car, choosing to buy a new car can put a significant strain on your budget.
When it makes sense to buy a used car
Buying a used car can make economic sense to cash-strapped consumers (or people who don't want to spend a lot on a car) who simply need a reliable vehicle. The price tag on a used car will be lower than new models of the same make. Used vehicles from private sellers and dealerships have a mechanical element of risk greater than new vehicles with manufacturer warranties. However, there are certified pre-owned (CPO) vehicles that are inspected and sold through dealerships and are covered by limited warranties.
Pros
With a used car, you avoid dramatic depreciation that impacts new cars over the first few years.
Insurance premiums, if required by the lender, may be substantially lower than those applied to showroom vehicles. The vehicle age and model impact the cost of premiums.
Cars cost less when they've been used. You could get a car that's one or two years old and in great condition while sticking to a tight budget.
Cons
Unless it's a certified pre-owned vehicle, a used car may constitute a roll of the dice, even for a mechanically savvy consumer. The Federal Trade Commission (FTC), the national consumer protection agency, recommends that shoppers have the used car assessed by an independent mechanic prior to making a purchase.
The supply of used cars may dramatically impact the variety and selection of car models and features available in the market.
The warranties and service plans offered on used vehicles have many more limitations than new-car warranties. A car may be under its original warranty when you purchase it, but you only have that coverage until the vehicle hits its original age or mileage limit.
Comparing the cost of new and used cars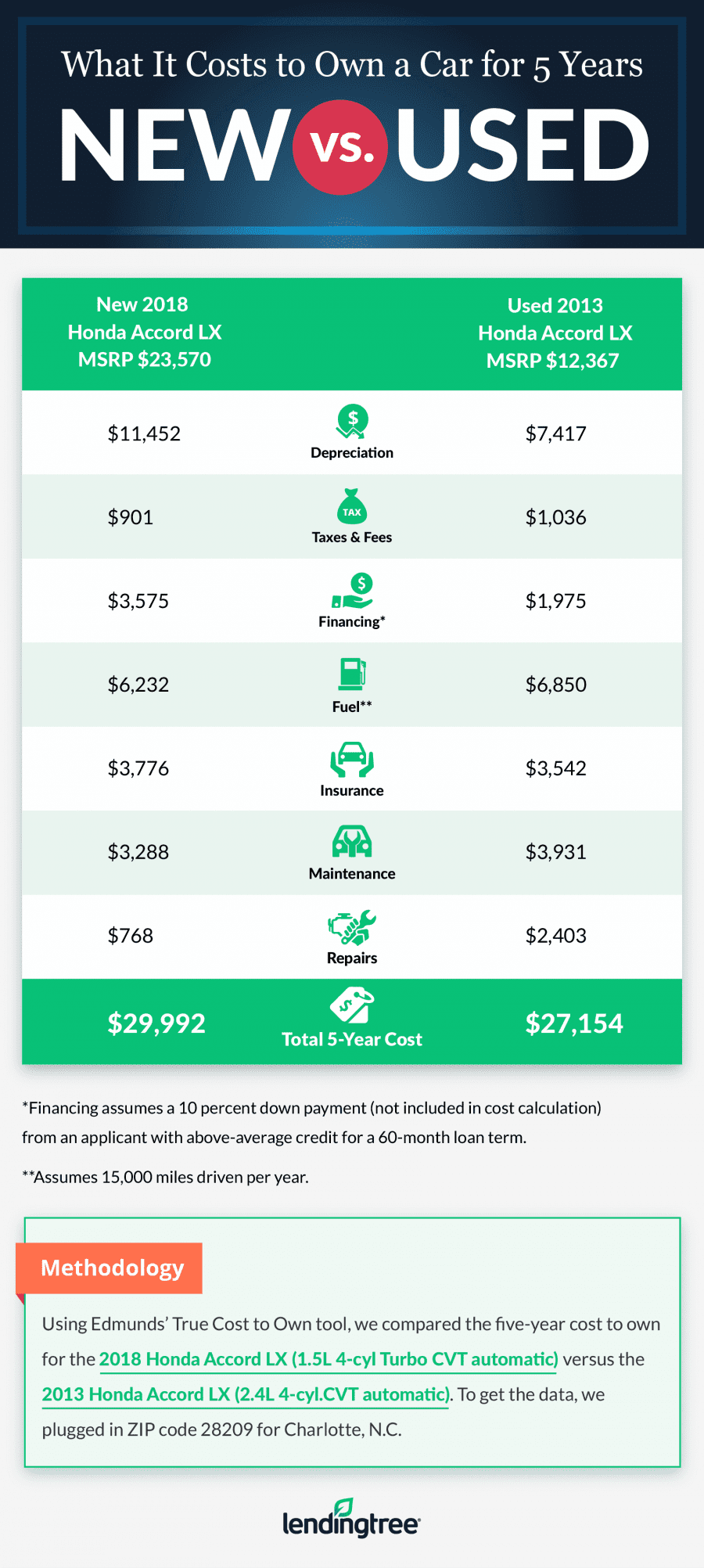 Financing
Interest rates tend to be lower on a new car over a used model. By nature, new cars are less risky as collateral than used ones that may have developed mechanical deficiencies over the years. Many lenders use the National Appraisal Guides (NADA) from the National Automobile Dealers Association to determine pricing and valuation. The guides, licensed by J.D. Power, give buyers financing estimates through its own payment calculator.
New-car financing: You can get new-car financing through dealerships, banks and credit unions. With the help of manufacturer incentives, dealers may be able to offer you low interest rates (even a 0% APR), but these offers aren't necessarily  the best available. Shop around for auto financing before going to the dealer so you have an idea of what's a good offer.
Used-car financing: In the absence of manufacturer incentives that often apply to new cars, dealers may try to make a profit on used-car loans. Consequently, banks and credit unions may offer better auto loan rates, and you can compare rates right here on LendingTree. You may also be able to use a personal or home equity loan to round up cash for the down payment.
Gas mileage
Fuel efficiency depends on the vehicle's engine size and type, aerodynamics, size, weight, axle ratio and emissions systems, according to online retailer Cars Direct. Another variable lies in how the car is driven: If the owner has a lead foot or loves to roar off from a stop, expect poorer mileage, according to the U.S. Department of Energy. Maintenance also plays a large role in fuel efficiency.
Over a five-year span, the difference in fuel efficiency between similar car models can impact the pocket book. After-market items, such as changing the tire size, can also impact operating costs.

Insurance
Insurance typically costs more for a new car, because the lender requires full liability coverage along with collision and comprehensive. But there is no hard and fast price on insuring a vehicle. For example, someone with a new car and an excellent driving record may be charged less for insurance than someone who owns an older model of the same car who has a record of accidents and moving violations. Your driving record, state of residence and age weigh heavily on insurance costs, but as far as how much a vehicle affects the pricing, online insurance retailer Esurance reports it depends on a range of factors, including:
Make and model (The steepest premiums are set on high-performance vehicles)
Vehicle value
Safety features
Repair history and cost of repairs
Cost for replacement
Model desirability among car thieves
Maintenance and repairs
Some cars are better built than others. The cost for maintenance and repairs depends on the extent of the service and whether the work is covered by a manufacturer's warranty. Auto retailers and private garages charge for repairs at a flat shop rate, whether the car is new or used. According to the American Automobile Association (AAA), higher rates may be charged on "luxury/exotic" makes over "mainstream" models. Repair shops in the AAA approved network charge from $47 and $215 per hour as determined by factors such as overhead, local labor costs, mechanic skill sets and professional certifications.
Manufacturer warranties also vary by the manufacturer, ranging from five to 10 years or 50,000 and 100,000 miles. The cost of an extended warranty can be paid upfront at the time of sale or spread out over the term of the loan.
You can weigh the difference in maintenance costs by typing in the make, model and year for a new car at Edmunds. Then you can enter an older model year for the same vehicle to view the difference in annual maintenance and repair costs. Research new car dependability by viewing the annual J.D. Power 2018 Vehicle Dependability Study. Or view the online consumer ratings at Kelley Blue Book
There are benefits of having a warranty to cover maintenance and repairs for a defined period of time. New car warranties are added into the price of the vehicle and include coverage for the drive-train, rust or corrosion and non-mechanical parts (bumper-to-bumper) for a specific period of time. Warranties vary and may include additional coverage. New car service contracts cover routine maintenance (oil changes, tire rotations), repairs and parts. CPO vehicles include limited warranties, in addition to any coverage remaining under their initial warranties. You can also buy extended warranties to add coverage for additional years and mileage, and market-research firm J.D. Power says extended warranties can potentially increase resale values on the car.
An alternative to a used car: Certified Pre-Owned vehicles
What's a Certified Pre-Owned vehicle?
According to Edmunds, more than 35 foreign and domestic manufacturers offer pre-owned certification programs through licensed dealerships. One-third of car shoppers surveyed by Kelley Blue Book, an auto-valuation company, said they would only consider a used car if it was a Certified Pre-Owned vehicle. Take note: The word "certified" doesn't necessarily indicate the vehicle is Certified Pre-Owned. If you're interested in getting a CPO car, research CPO programs by manufacturer and which dealerships it allows to sell its CPO cars.
What's different about CPO vehicles?
CPO vehicles are sold only after passing a multi-point inspection to ensure the used car meets standardized manufacturer requirements. Depending on the dealer, these used models are backed by the remaining miles allowed on the original bumper-to-bumper and powertrain warranty or are sold with an extended warranty to lengthen the original coverage. You receive the written service history of the vehicle along with other warranty features, including roadside assistance, towing and rental car coverage. It's possible to negotiate the price of an extended warranty and the price of the vehicle separately.
Does a CPO vehicle cost more than other used cars?
You pay for warranty protection offered in a CPO vehicle. Edmunds says to expect to spend on average $1,500 more on a CPO vehicle than on the same model of a non-certified used car. However, a CPO vehicle may be sold by a dealer offering low-interest financing incentives, so it pays to do your homework. Edmunds also warns that a non-CPO vehicle sold through a dealership may have wear, defects or damage that disqualified it from CPO approval.
Car loans for buyers with bad credit
Regardless of your credit score, you will find that lenders are more willing to finance a new car than a used one. That's because dealers, banks and credit unions can more-accurately assess the valuation of a new vehicle. And new car values increase the worth of collateral used to back the financing.
Check out our guide on car loans for people with bad credit.
The best way for a consumer to know where they stand is to check their credit score, which you can do for free on LendingTree. Scores of 600 or lower will drop borrowers into the subprime loan market.
Is it smarter to buy a new car or a used one if you have bad credit?
That depends on a number of factors, including the cost of the car you want to buy and how much you have for a down payment. Considering the significant depreciation that occurs on a new car and the higher interest rates assessed on poor-credit borrowers, the buyer must recognize they may find themselves tied to high payments while the car loses from a quarter to up to half of its value.
It's not just about monthly payments, either. The longer your loan term is, the more you'll end up paying for the car as a whole, and the longer you have the car, the more it will depreciate or need maintenance. Considering the total cost of the car loan rather than the size of the monthly payment will help you understand the long-term impact of this purchase on your finances.
All used-car shoppers, whether they have bad credit or not, also need to evaluate their financial ability to maintain a used vehicle that is out of warranty. Putting the used car through a mechanical inspection and pulling the vehicle history report from organizations like AutoCheck and Carfax can help you rule out high-maintenance cars.
The U.S. Government offers online information on a car's title, damage history and odometer readings via the National Motor Vehicle Title Information System (NMVTIS). You can get a handle on estimated monthly payments with LendingTree's Auto Loan Calculator.
New vs. Used Cars: 5 Questions to Ask Yourself Before You Choose
How much of my budget can I afford to dedicate to car payments?
Divide your current monthly payments by gross income to determine your debt-to-income ratio (DTI). Lenders prefer a DTI of 36 or lower, according to CapitalOne. If your DTI is too high, consider improving your credit, paying down revolving credit, or choose a cheaper vehicle. Or, use the 20/4/10 rule

as a base when shopping for a car in your price range. 

Shop for the lowest car loan rates

by competing lenders for free on LendingTree.

Can I afford to repair and maintain my car?
Check the true-cost-to-own data on car models at Kelley Blue Book or at Edmunds to see what you can expect to pay. The cost can be offset with a new-car warranty or extended warranty on a CPO vehicle.
Do I have sufficient funds or equity to lower the total price of a new car?
Loan rates on new cars are linked to a down payment amount. The more you can pay upfront, the lower the amount that's financed. The value of a trade-in can be used as part of the down payment, but keep in mind the dealer may value your trade-in at a lower price than Kelley Blue Book estimates.
How can I find the latest numbers on new car pricing and used car values?
The National Appraisal Guides provides vehicle data to lenders, dealers, insurance companies and consumers. You can search for data on new car prices and values organized by manufacturer or body style.
What do I look for in a used car?
Consumer Reports, a non-profit product testing and rating organization, recommends that used-car shoppers verify the odometer mileage, equipment and condition of the mechanical systems, body and interior. Ask for service records and whether the car was involved in accidents or recalls.
---
Disclaimer: This article may contain links to MagnifyMoney, which is a subsidiary of LendingTree.