Cost of Owning an RV
Published on: May 24th, 2019
Editorial Note: The content of this article is based on the author's opinions and recommendations alone. It may not have been previewed, commissioned or otherwise endorsed by any of our network partners.
A recreational vehicle is going to cost you more than the average sticker price, which was nearly $45,400 in 2017, according to the latest annual report from the RV Industry Association. There's fuel, campsite fees and maintenance, to name just a few more expenses that come with a traveling home. Here, we'll break down specific upfront, recurring and pay-as-you-go costs of owning an RV that potential owners should consider before taking to the open road.
Upfront costs of RV ownership
Here are expenses you'll have before you can drive off with your RV.
Purchase price
This is the most obvious cost. Depending on your budget, you may have to finance the total cost, though you could lower the amount you need by making a down payment. If your finances are solid, you could potentially pay the purchase price upfront depending on the type of RV. Make sure to comparison-shop — and don't be afraid to negotiate.
To give you an idea of prices, here are some listed manufacturer's suggested retail prices (MSRPs) for new 2019 RVs. These figures are via Camping World as of April 29, 2019. Beware, however, that there can be extreme exceptions to these ranges based on simplicity or luxuriousness.
There are seven main types of RVs:
Class A motor homes with plenty of luxurious touches, such as wood laminate flooring, stone countertops, multiple large slide-outs and large LED TVs, start at $112,000.

A shorter Class A motor home — 28 feet long — that sleeps six has an MSRP of $119,000.
A 40-plus feet long motor home that sleeps eight and uses diesel costs $319,000.

Class B motor homes, which tend to be more compact — under 25 feet — start at around $81,000 and rise to more than $185,000.

Class C motor homes with luxuries that sleep five start around $88,000, though this cost can rise to more than $280,000 for an almost 40-footer that sleeps 10.

Fifth-wheel RV trailers that can sleep from four to nine have MSRPs between $56,000 and $188,000.

Toy haulers have MSRPs between $28,000 and $162,000.

Travel trailer RVs start as low as $20,000, but here are a few examples:

A 36-foot trailer with luxury features that sleeps five is available for $53,000.
A 30-foot trailer that sleeps five costs $30,000.
A 19-foot trailer that sleeps three costs $20,000.

Pop-up RV trailers, also known as tent RVs and fold-down RVs, often have MSRPs below $20,000.
Here are a few questions and answers to help:
Confused about the types of RVs? Check out LendingTree's guide for some clarity.
Do you have to pay the MSRP? No. You could get an RV on clearance at a significant discount, especially as the new year's models come out. And once you know the price, an RV loan calculator could help you figure out your monthly payments.
How much of a down payment is expected? The rule of thumb is that RV buyers should make a down payment of 15%. Depending on your credit score, credit history, income, debts and assets, though, you may not have to pay any money down.
Taxes and registration
Depending on where you live, you may have to pay property tax, sales tax and registration fees on your RV. You might be able to roll the costs into your RV loan or pay them outright.
Sales taxes: The states with the highest average combined state and local sales taxes, according to the Tax Foundation, are Louisiana (10.02%), Tennessee (9.46%) and Arkansas (9.41%). Alaska, Montana, New Hampshire and Oregon do not charge a state-wide auto sales tax.
Registration fees: This may be a one-time amount or annual renewal that is usually based on the weight of the RV. This can vary greatly, ranging from $12 in South Dakota to $225 in Florida.
Property taxes: If you live in the Northeast, you probably already know the bad news: Property taxes are likely higher for you than for folks in other parts of the country. According to Tax Foundation research, New Jersey, Connecticut and Vermont have some of the highest, while New Mexico, Indiana and Utah have some of the lowest.
Tax benefits: If you are buying an RV as your primary residence, you may be able to qualify for some tax benefits. Check with a tax professional in your state.
Insurance
Much like car insurance, you'll need to have RV insurance. In many cases, dealers won't let you sign on the dotted line and drive off without it. Your state and your lender — if you have a loan for the RV — may have higher insurance coverage requirements.
Progressive offers RV trailer liability insurance policies as low as $125 a month. Extra coverages can raise this price, including accounting for pet injuries, vacation liabilities or replacing personal belongings if there is an accident. And unlike a car, you would have to consider whether you want to protect accessories for your RV, like awnings or satellite dishes.
Besides the level and type of coverage, the type of RV and your driving record would be considered. If you have an expensive RV that would be costly to repair or replace and your driving record isn't stellar, expect to pay more than $125 monthly.
Full-timer insurance, coverage for owners whose RVs are their primary residence, may be more difficult to find. Even if you own a traditional home and only live in your RV half of the year, you may be considered a full-timer. It's important to comply with the way your insurance defines full-time status.
Tow hitch
The parts and installation fee for a tow hitch may be necessary to tow your RV or to have your RV tow your car. The price of a tow hitch can vary from almost $90 to more than $1,000, depending on the type you need. The price of a hitch installation for a regular tow hitch can be about $100. Typically, a fifth-wheel hitch and its installation are the most expensive — the hitch can be around $1,000 and the installation can be around $300.
Recurring costs of RV ownership
These are things you'll be paying on your RV, no matter how often you use it.
Property taxes, registration renewal and insurance
Depending on your state's tax laws, you may need to continue to pay property taxes, registration renewals and license plate fees annually. You also probably have to keep insurance on your RV and pay accordingly.
Loan interest
If you take out a loan for an RV, keep in mind the total amount of interest — not just a percentage — that you'll be paying on it. You may be able to put money toward the principal to pay off the loan early and save money.
An RV loan interest rate is usually higher than an auto loan interest rate. It will depend on many variables including your credit score, how much you want to borrow for how long and whether the loan will be a new, used, refinance or a "full-timer" RV loan, which is for borrowers who plan to use the RV as a primary residence. At the time of publication, new, used and refinance RV loan rates were as low as 4.59% for amounts from $50,000 to just under two million. Full-timer RV loan rates were as low as 4.64% for amounts from $25,000 to just under one million.
To keep interest rates low, we recommend shopping around for an RV loan and applying for at least one outside of a dealership. It does not hurt your credit to apply to multiple lenders any more than it does to apply to one, as long as you submit the applications within a 14-day window. Potential lenders could include your bank or credit union, or an online lender. You could also fill out an online form at LendingTree. Based on your creditworthiness, you could be matched with up to five different loan offers from lenders.
Pay-as-you-go costs of RV ownership
These costs depend on how — and how much — you use the RV.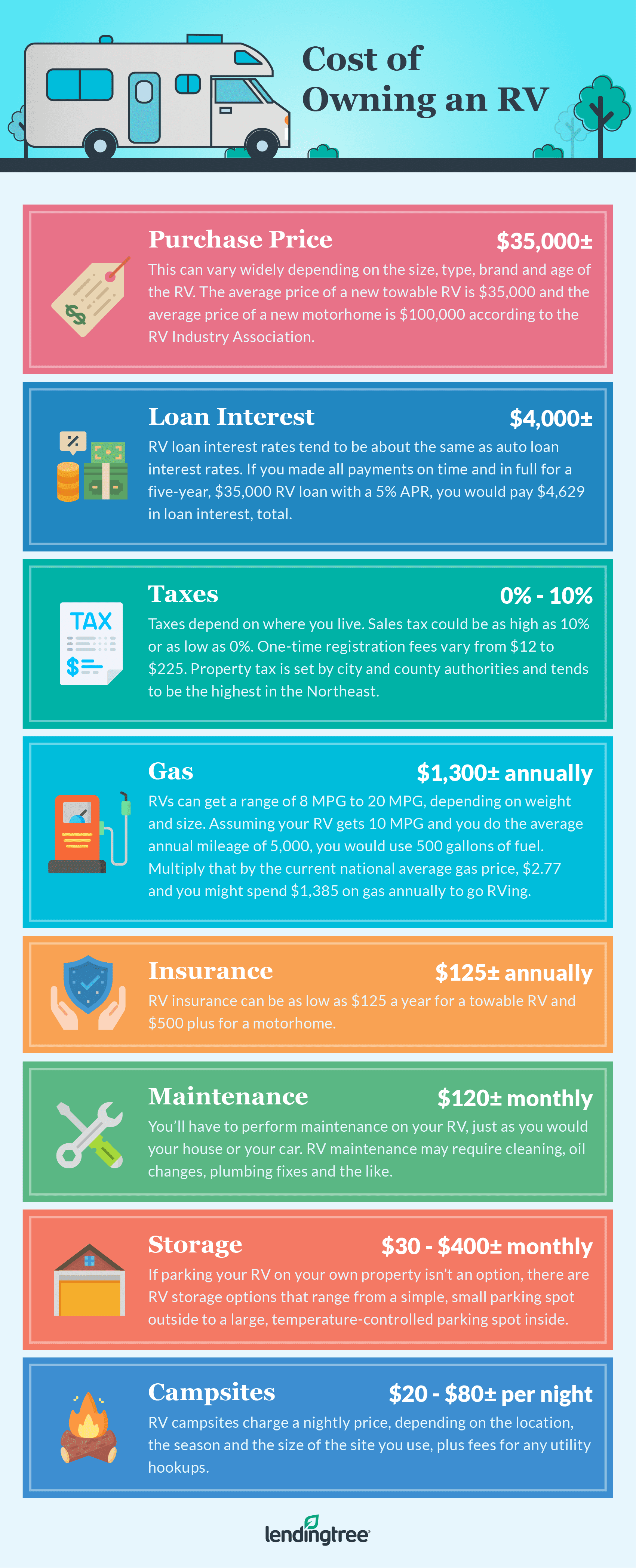 Fuel and energy
Don't forget you may need propane or kerosene for cooking in your RV, and you may run up your electricity bill if you decide to plug it into your house in order to keep batteries charged or the RV fridge cool between trips. The cost of a 30 lbs propane tank tends to be around $45 and the average price of electricity was 10.23 cents per kilowatt hour in April 2019 according to the U.S. Energy Information Administration. And regarding gas or diesel fuel, the farther you travel, the more you'll need. More on that below.
Motorhome towing
Keep in mind that you'll likely get far fewer miles per gallon with an RV than you would in a passenger car. While it varies greatly by the type of motorhome, 15 mpg is the default rate on Kampgrounds of America Inc.'s fuel estimator calculator. KOA has more than 500 locations in the U.S. and Canada, what it calls the world's largest system of public campgrounds. According to Southeast Financial, an RV lender, miles per gallon can be as low as 8 mpg for large motorhomes or reach as high as 20 mpg for a smaller camper van. Either way, a fillup won't be cheap — tanks can hold as much as 80 or 90 gallons of fuel. If you take 90 gallons times the current average national gas price of $2.78, according to AAA, that's over $250 to fill her up.
Towing a trailer
RV owners who are towing an RV can also expect a range of mileage rates depending on the weight of the camper or trailer they are towing. You could plug in your trailer's gross vehicle weight (the weight when the RV is fully loaded), plus the weight of the vehicle doing the towing into a towing calculator to come up with a weight estimate. According to fueleconomy.gov, every 100 lbs in the vehicle reduces MPG by about 1%.
If your RV trailer weight is 5,000 lbs, your fuel economy might be cut in half. So a full-size SUV or truck's 24 MPG, might drop down to 12 MPG.
You could read more about the equipment you might need for towing.
Campsites
Campsites charge rent based on how long you use a spot, plus potential fees for you to hook up to the water, power and sewer system. The amounts depend on the campground and the season, but they can vary from $20 a night to $80 a night, with the average hovering around $50 a night.
Off-grid camping: You may not always have — or need — to use a campground. You might be able to park your RV off-grid in a place that allows free parking, like the woods, a rest area or a large store parking lot — an activity often referred to as "boondocking" or "dry camping." When you do this, you are reliant on your RV's self-contained water and electricity resources.
Storage for your RV
When you are not using your RV, where will it stay? Will you keep it on your property, or will you need to rent a space? Does it need to be in a heated indoor space, under a roofed shelter or can it be completely uncovered? Do you have community or homeowners association rules that allow you to park your RV on your property?
Cost will correlate with the type of storage, the location and the size you need. Uncovered outdoor storage can be as cheap as $30 a month. Indoor storage for a large RV can be over $400 a month.
Storage for your belongings
If you live in an RV full time and don't need to store it, will you need storage for things you can't keep in the RV but don't want to toss? If so, how big of a storage unit, and does it need to be temperature-controlled?
The average 10-foot by 20-foot non-climate-controlled storage unit starts around $100 a month, but could be close to $300 in larger metro areas. Smaller units can be as low as $40 a month, and larger ones can be more than $200.
Maintenance
Because motor homes act as both your home and your car, you'll probably perform more maintenance on one than you would expect to on just your home or just your car. Much like on a car, you'll need to do oil changes, check fluids and change the tires, in addition to typical household maintenance. For both motor homes and trailers, you'll need to address household maintenance, including preventive maintenance such as winterizing.
Based on multiple forums and expert opinions, the average motor home RV maintenance cost appears to be about $120 a month.
Examples of budgeting your RV costs
How do you put all of that information together? Here is an example of how you might budget what you would pay for the cost of ownership over time. We also assumed the fictional Jane Smith bought a relatively inexpensive RV with relatively low insurance costs and average maintenance costs.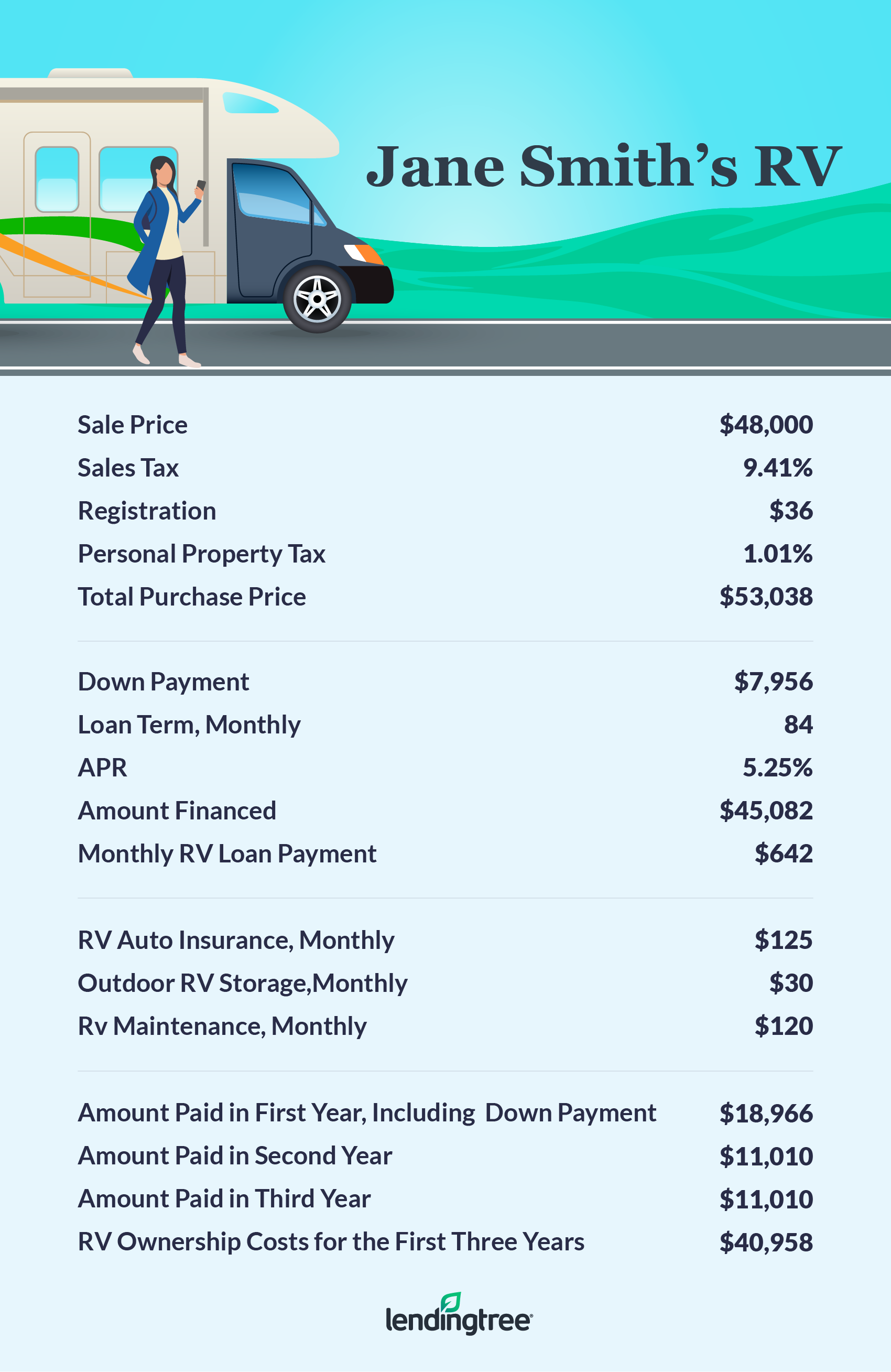 That however only covers owning an RV, not the costs of using it. And isn't using an RV the whole point of owning it? To help you know how to budget those costs, here is an example of what you might pay for using your RV on a single trip and whether that trip would cost more or less if you had stayed in a hotel.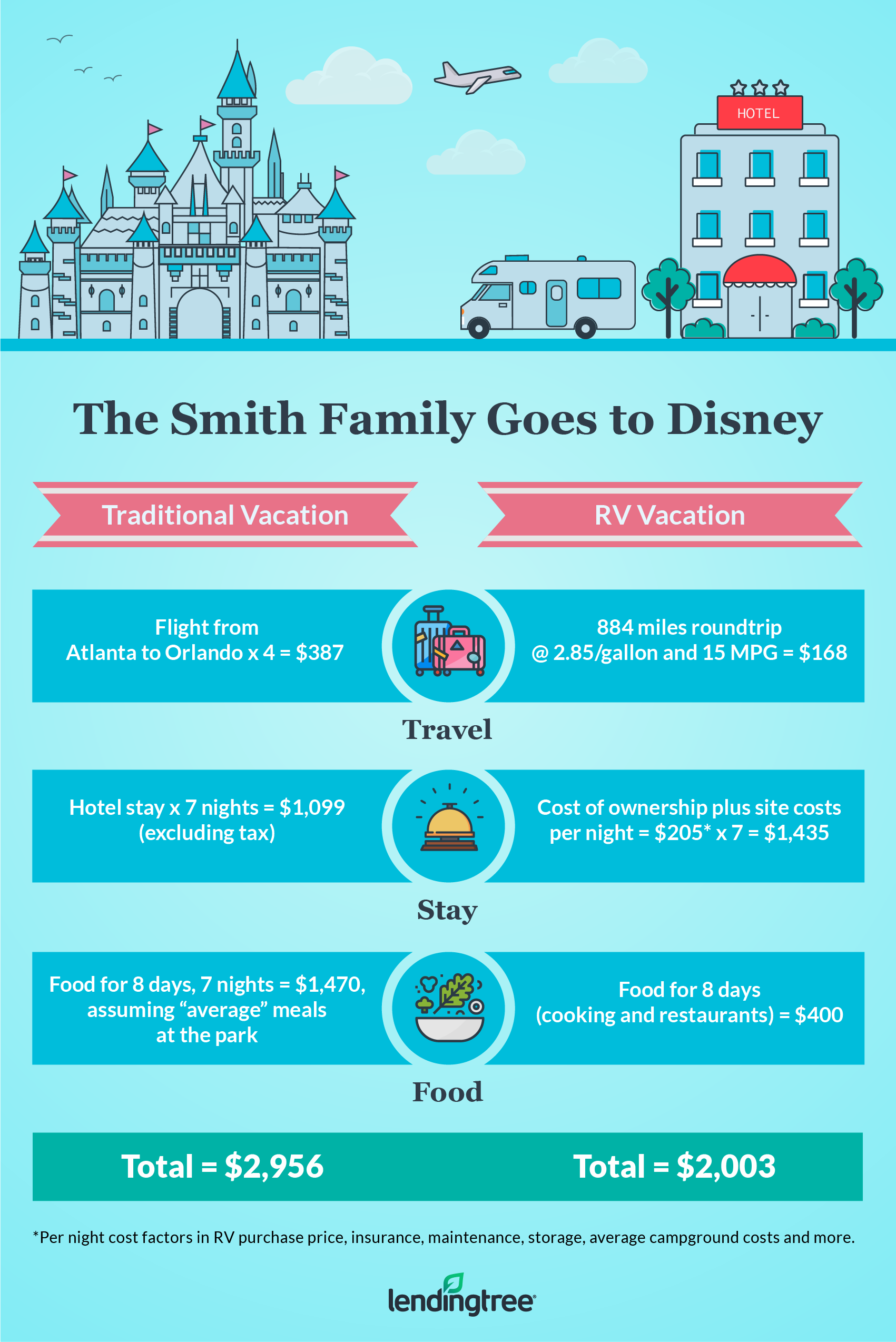 As you can see from the example above, the biggest savings here is in the cost of food — eating out is always going to be more expensive than dining in, especially for our fictional family of four.
Of course, this is only an example. Depending on what you want, there are ways for hotel vacationers to trim expenses, and there are ways RVers might add expenses. Costs can change dramatically based on fuel prices and which hotel or campground you choose, and you may not even need to use a campground.
The bottom line
Deciding whether RVing would be cost efficient for your family may come down to your vacation habits, downsizing or retirement goals. If you vacation often with multiple people, an RV may be a less expensive option to get outta Dodge and have a good time. If you don't vacation often and only go with one other person, a traditional vacation may be the better financial choice.
Rather than get an RV and find out it isn't right for you, consider renting an RV and going on a few trips. This way you can see if you like it, test out several types and double-check that you and your fellow RVers can handle being in confined quarters for extended periods of time. National companies that rent RVs include Cruise America and RVshare.
And if you do decide you want to buy one, consider starting with a used RV on the smaller side and move up as your lifestyle and budget will allow. That way you don't bite off more than you can chew — the bigger the RV, the greater expenses you face.
The information in this article is accurate as of the date of publishing.