How Do Auto Tariffs Affect Car Prices?
Published on: November 13th, 2019
Tariffs are duties charged on imports and are factored into the price of every new foreign vehicle sitting on U.S. car lots. When auto tariffs increase, so do car prices and not just on foreign cars. A raised tariff could increase the cost of what you pay for any type of car — new, used, domestic or foreign — because the automotive market is globally connected with parts and materials sourced from all over the world.
When the U.S. raises tariffs, countries often retaliate by raising their own tariffs on American-made goods. The end result of such trade wars may be even steeper car prices, which have already hit record highs. We'll explain how tariffs work and what you can do when increases hit close to home.
How do tariffs affect car prices?
Not including any increases, U.S. buyers pay a 2.5% tariff on foreign cars. The Trump administration has proposed tariff increases as high as 25%. A 25% tariff could raise prices for all vehicles, as much as $4,400 or more, according to the Center for Automotive Research.
While prices will be higher for foreign cars, raised tariffs will mean raised prices for imported and domestic cars, according to the National Automobile Dealers Association. Why? Because all mass-produced cars are made with at least some foreign parts or labor.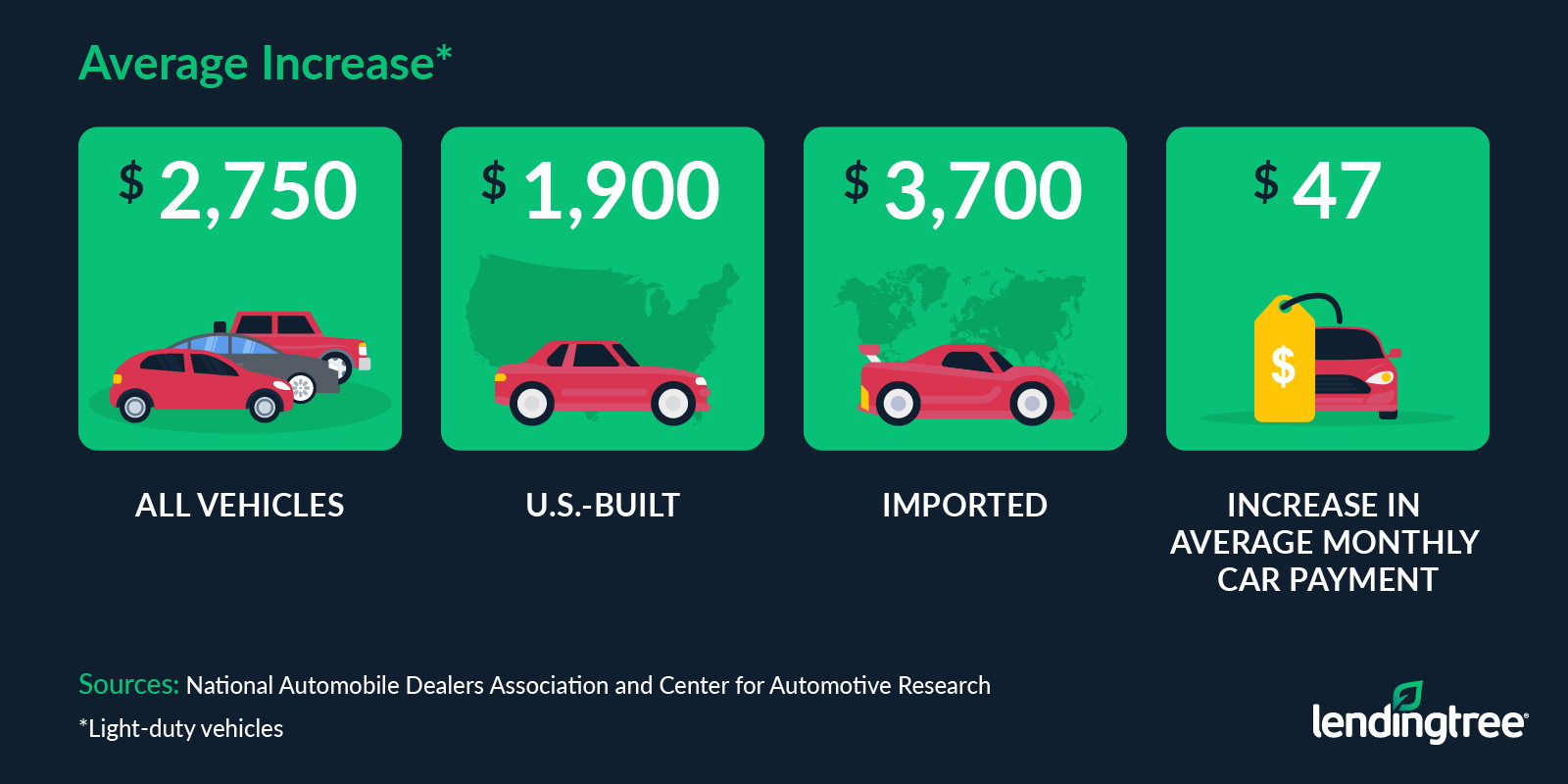 Tariff increases: a closer look
The Trump administration has raised tariffs on certain products imported from China as well as steel and aluminum imports from several countries, known as Section 232 tariffs. President Trump set a November deadline on deciding whether to impose the latter.
When would prices be impacted?
Prices could rise before the end of the year if the Trump Administration decides to increase tariffs come the November deadline. This could put a dent in holiday sales, a typically busy season for car sales.
What car brands would be affected by tariff increases?
It could affect any or all foreign car brands. The Trump administration has the power to choose which countries face increased tariffs under Section 232. But domestic automakers would be affected, too, thanks to the many imported parts used in vehicle assembly. This, in turn, has a trickle-down effect as buyers are forced into the used car market where dealers can charge more thanks to increased demand.
Who else is affected by increased tariffs?
All car owners, not just car buyers, could be affected because tariffs would apply to car parts, not just cars. If a replacement part for your car is 25% more expensive, that will have an impact on your repair bill.
On a large scale, it could affect the entire U.S. economy. International automakers support more than 2.58 million American jobs, according to the Association of Global Automakers and the American International Automobile Dealers Association. A 25% tariff on all automotive imports would drop the U.S. GDP by billions and up to 366,900 people could lose their jobs, according to the Center for Automotive Research.
State and local governments would get less in tax revenue as well, as car sales account for 18% of total retail sales. Economic activity by international automakers generated $73.3 billion in taxes for U.S. federal, state and local governments in 2018.
Tariffs: The basics
If tariffs have such severe economic impacts, you might be wondering why increase them at all. A country may decide to introduce a new tariff or increase existing ones in order to restrict trade from another country or reduce imports of specific types of product. The idea is to protect domestic companies.
What is a tariff?
A tariff is a tax that a government puts on imports coming into its country.
Why are there tariffs in the first place?
The point of a tariff, besides protecting domestic companies, is to raise money for federal coffers.
And domestic companies are protected because you, as a consumer, probably want to save money by buying cheaper goods. A tariff makes foreign goods more expensive. But it can backfire when foreign countries retaliate by increasing tariffs on American-made products arriving on their shores, hurting U.S. companies and their workers.
Why the recent tariff increases? 
The U.S. Trade Representative raised tariffs on certain Chinese products in order to combat unfair trade practices with China. The U.S. Chamber of Commerce implemented tariffs of its own on certain imports of aluminum and steel for national security reasons.
Some argue that relying on foreign countries to develop new technology lessens U.S. military superiority and the competitive edge of American companies. This is one of the reasons that law enforcement agencies always use a domestic brand of vehicle. You won't see a Toyota police car on U.S. city streets.
Who pays tariffs?
While companies importing foreign products have to pay the tariff up front, they typically raise their prices to cover the cost. So the consumer is the one who ultimately pays for the cost of tariffs.
Who decides tariffs?
Congress can decide, collect and regulate tariffs but the president can negotiate international agreements, which includes tariffs. These powers come from the U.S. Constitution.
How can I avoid paying auto tariffs?
To avoid paying the largest bite from tariffs, the best thing might be to buy used. And there are many good reasons to buy used, increased tariffs or not.
For one, used cars tend to be considerably cheaper than new. Most vehicles are worth 50% of their original price after three years, thanks to depreciation.  If you buy that three-year old car, you just saved depreciation costs and may have a car with plenty of years left. Other benefits of buying used versus new are lower insurance costs and fees.
The bottom line on how tariffs affect car prices
Rising tariffs would raise all car prices: new and used, domestic and foreign, because building and repairing cars requires materials from all over the world. You may be able to lessen the impact by buying used. Whatever type of car you're considering buying, make sure it's in your budget. It's not good for you or your wallet to be stressed out by a heavy car payment.