For most of his adult life, Carmine's credit score was 800 or higher. But after 20-plus years as the owner of a successful retail company, his business tumbled, and his credit took a hit. A really big hit.
His score dropped 400 points.
"I fell on hard times," said Carmine, a 64-year-old retiree who lives with his wife and dog, Lulu, in northern New Jersey. "(Business) is cyclical. Every 10 to 15 years, you hit a recession. You lose money. I lost it."
A few real-estate deals went south during the financial crisis, putting Carmine into a deeper financial hole. Negative marks appeared on his credit report, dropping his score even further. He took out a few credit cards with rates so high it would've taken him 18 years to pay them off, he said.
"Everything was hammering me," Carmine said, adding that he managed to raise his score to the low 600s before looking for a company that could help him regain his financial footing. Plus, he wanted to find a fast way to eliminate $4,200 worth of credit card debt.
"I was searching for some company that would actually do the work for me," Carmine said.
He had heard about LendingTree in the past and googled the company for more information. He researched our lender marketplace extensively before answering questions about his financial situation and why he needed a personal loan to consolidate his debt.
He used our marketplace multiple times, searching until he found the most competitive rate. His persistence paid off, and the lender he chose approved him for a consolidation loan to help him handle his debt.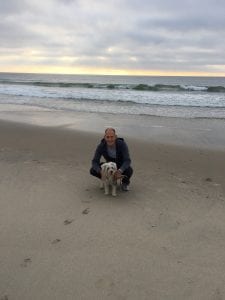 That was three months ago. Carmine, who said he started doubling up his payments to shorten his loan term, will pay off his credit card debt in 18 months.
"I saved a ridiculous amount of money and my credit score's jumped," Carmine said. "My credit score is back in the 700s. I don't know if I'll get back to the 800s, but that's my goal."
Carmine is no financial slouch. He worked for a major mass merchandiser before opening a wholesale distributor of European leather goods. Later, he opened a store. Then, he opened several more. He soon realized he could multiply his profit by purchasing the shopping centers and buildings where his stores were housed instead of just leasing space.
"I started buying real-estate," he said. "It just worked really well. The business model was great."
Until it wasn't. Carmine got sick and took a year off from the business. At the same time, competition intensified, and he lost sight of his company's mission.
"Things started to get away from me," he said. "I was always a big believer that when I started my business, I had to stay focused on what the original business model would be – not change, but make it better."
Things didn't get better. The business crashed. Carmine's taken steps to ensure he doesn't make the same mistakes again, such as researching financial topics and praying about every decision involving money, he said.
"LendingTree has done a tremendous, tremendous job" of helping him recover financially, he said. "You work your whole life to have good credit. When you lose it, you struggle to get it back, but you want to give up.
"I'm just not a person who gives up."
Dealing with too much debt? Consolidate it all into one loan. Get a personal loan and pay down your debt with a single, fixed monthly payment. Shop for debt consolidation loans here.
If you need help with credit repair, check out Ovation Credit Services. They may be able to help you get your score back where you want it to be.
This blog post featured a story from an actual LendingTree customer. Customers were not compensated for their participation in this story.