When Richard Thomas sought funding to keep his startup employment agency afloat in a tough time, he says the banks laughed at him.
Time and again, he was rejected by banks that said they wouldn't loan money to a startup business, says the 48-year-old Richard, who co-founded Peregrine Personnel Solutions in Houston with his sister nearly two years ago.
"(Getting money) was the whole point of getting a bank account," Richard said. "I started looking up (lenders), trying to figure out how I was supposed to get this money."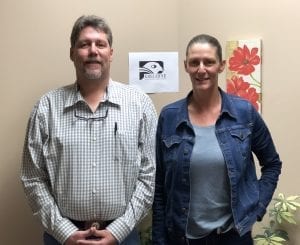 He was in a tight spot. The holidays were fast approaching, meaning many of his clients — an array of employers in the service and construction industries — pumped the brakes on hiring. Plus, Richard had to pay workers he already placed in jobs until clients paid their invoices, which could take up to 30 days, maybe more.
He needed money. Fast.
His younger brother suggested he try LendingTree. Not expecting much, Richard accessed the online lender marketplace, answered a few questions about his business and requested $10,000. Within 10 seconds — and that's no exaggeration, Richard stressed — the phone rang. It was a lender with a loan offer.
Then, the phone rang again. And again. And again.
"While I was on the phone, it rang another good five or six times," Richard said. "I got back to my computer with 10 to 12 emails. This all transpired in less than five minutes!"
It all meant good news for Richard, who was eager to find business funding at a low rate that wouldn't break his budget.
And he did. After narrowing his options to six lenders — and using their rates to negotiate with some others — he chose a business loan he'll be able to pay off in nine months. The money hit his account 24 hours later.
"I was flabbergasted," he said. "I couldn't believe it. [LendingTree] hooked me up with lenders that will actually" fund his business.
"It helped us through a couple of short periods."
It's still helping, he said, and boosting his confidence to scale a business he affectionately calls "small potatoes."
Eventually, he plans to hire employees (right now, it's just him and his sister, JoAnn), diversify his clientele and grow his sales. Peregrine Personnel Solutions doesn't just connect employers with people looking for work. It also operates a van to transport employees to those jobs. That's another long-term expense.
"You have to have the funding," Richard said. "I'm pretty sold on [LendingTree]. It's unbelievable."
Need business funding? Go to LendingTree, where you can shop and compare lenders and find the loan that will take your business to new heights
This blog post featured a story from an actual LendingTree customer. Customers were not compensated for their participation in this story.