Note to our readers: Typically, we connect you with your best deals on loans. But nothing feels typical right now. As we all cope with the effects of the coronavirus, the LendingTree blog is going to connect you with tips, strategies and resources on how you and your family can manage life in times like these. Some will include stories from our employees about how they're adapting to quarantine but still maintaining contact with family, giving back in the community and improving their financial health. We hope their stories encourage and inspire you. Here's one:
Joyce Poole grew up in a big Italian American family, which meant gathering with relatives often included lots of hugs, plenty of kisses and food. So. Much. Food.
But Joyce, LendingTree's senior director of customer relationship management, can't do that with her family right now. That's tough because her elderly parents live just about 10 minutes away in a Charlotte, N.C., neighborhood for seniors age 55 and older.
COVID-19 has changed how we all interact with the people we love. Many have turned to online meeting software like Zoom to maintain contact with family and friends from afar. When it came to their parents, 83-year-old Mary Lou and 84-year-old Jim, Joyce and her sister, Ann, wanted to take it a step further.
"My sister and I wanted to make sure we put our eyes on them," Joyce said. "While they're very technologically savvy, they're not that good."
The sisters developed the concept of "driveway parties." Instead of going inside their parents' home, everyone hauls their chairs to their spacious driveway and garage. They sit together for about two hours, usually on the weekends, with no distractions. On days when the weather's not so great, they all pull their cars into the driveway and talk from there.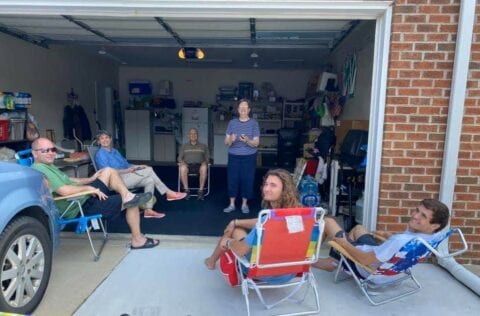 "It was born out of a necessity to see them physically, but not wanting to bring anything into their environment," Joyce said. "It's been beautiful these past few days."
Usually when Joyce's family comes together, there's a lot going on at once: cooking in the kitchen, sports on TV, chatter over here and over there. But in the driveway, "I've found we've all been able to connect," she said. "You're just in the driveway looking at people face to face and talking. We're learning a lot more about each other's weeks and truly asking some more meaningful questions about how everyone is doing during this time."
They plan to keep the parties going, but also check on and shop for their parents' neighbors who are shut-ins, widows or widowers, Joyce said. As recommended by medical experts, they'll maintain a safe distance, but want to ensure that seniors "hungering for engagement" aren't left to fend for themselves.
"Goodness, we all need some fresh air," she said. "Now's a great time to establish a new routine and go sit outside. Let people know you're thinking about them, whether they're related to you or not."
Want to throw your own driveway party? 
Get some lawn chairs, a driveway and people (preferably family members).
Review the Centers for Disease Control and Prevention's recommendations for social distancing and avoid gathering too large a group of people together.
Maintain at least 6 feet of space.
Talk.