LendingTree is getting a new home. By the end of 2020, we'll move our corporate headquarters in Charlotte, N.C., to a spacious, 11-floor office tower that's near the center city and bears the company's name.
Nearly 500 Charlotte-based employees will move to Tryon South End, a new two-building, mixed-use development in the trendy South End neighborhood, less than a mile from the Carolina Panthers' stadium.
The move will centralize LendingTree in an area of the city that's experienced explosive growth over the last decade. It'll also give us greater visibility as one of Charlotte's most prominent high-tech, high-growth companies.
"Proximity to our financial services partners in Uptown and the amenities of South End, combined with convenient light-rail and highway access, make this an ideal spot for our company and the 500 employees who live throughout the metropolitan area," said LendingTree CEO Doug Lebda.
Here's what you should know about LendingTree's big move and new HQ.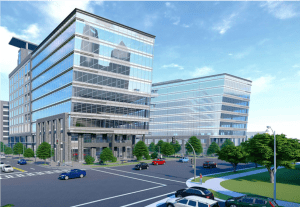 How big is it?
We'll occupy 175,000 square feet of space, which comprises a portion of the sixth floor and all of the seventh through 11th floors in the west tower. The company name will adorn the outside of the building, which will also house a fitness center, conference rooms, collaborative work and meeting space; retail and restaurants on the ground floor; and free parking for employees. We're planning for future growth, meaning there's enough space to accommodate up to 1,000 employees. Other office tenants will occupy the building, as well.
Where is it?
The new building will be on South Tryon Street at Carson Boulevard. That's just two blocks from Uptown, Charlotte's primary financial, commercial and entertainment hub, and within a block of the city's light rail system and interstate, which makes transit convenient for employees who commute.
Who's going there?
All 475 of LendingTree's Charlotte-based corporate employees will move into the new space. Contact Center employees will remain at their office space in south Charlotte.
Who's doing the building?
The Spectrum Companies, a Charlotte-based real estate firm, is spearheading the development at Tryon South End. Plans call for constructing two 11-story office buildings that will include an expansive urban courtyard with event space, restaurants and a 200-room boutique hotel.
In a news release, Spectrum CEO Darryl Dewberry praised LendingTree as the perfect anchor tenant for the project. "They are a dynamic, high-tech company that reinforces our vision of developing a progressive, amenity-rich, class A corporate office environment that will help our tenants attract and retain the best talent," he said.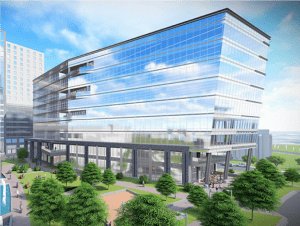 Why now?
For nearly 20 years, LendingTree has run its corporate headquarters from the Ballantyne Corporate Park in south Charlotte. Moving to South End places our company closer to the heart of the city's urban core, where we'll be in close proximity to our financial partners and an array of attractive amenities.
"We believe this area will elevate our brand and show off who we are as a growing and thriving company," said Jill Olmstead, LendingTree's chief human resources officer. "Charlotte continues to grow and is attracting newcomers and young people. We believe we can attract a diverse, well-educated, tech-infused talent pool being in this area."
How will Charlotte benefit?
Because there are only a few tech companies in Charlotte's center city, Olmstead feels LendingTree's presence there will have a tremendous impact. "We plan to do even more in the community to have a positive impact on our neighbors," she said.
That includes providing financial education to students and entrepreneurial opportunities to aspiring business owners and hosting nonprofit groups and meet ups for tech talent across the region.
What's next?
The new headquarters is just the latest in a series of building news for LendingTree. Here are some other real estate projects that have been in the works.
Chicago: In May, we relocated our Compare Cards by LendingTree employees from the Chicago suburb Northbrook to the Chicago Loop, the city's central business district.
Charleston, S.C.: We're expanding space for our SnapCap by LendingTree employees to accommodate for expected growth. 
Jacksonville, Fla.: By mid-August, the contact center housing our Ovation Credit Services employees will get 150 additional seats to meet growth demands.
New York: We are currently evaluating real estate options to consolidate our New York-based employees who work for Value Penguin and Magnify Money.
San Mateo, Calif.: In May, we relocated our business operations in the Bay Area to expand capacity for this critical location. Our California office is the company's second largest.