Despite the pandemic that's changed life as we know it, LendingTree Chief Economist Tendayi Kapfidze has three reminders to stay grateful.
Their names are Vimbayi Camila, Thandiwe Amelia and Anesu Isabella, premature triplet daughters born to Tendayi and his wife, Annibel, in the city that's become the epicenter of the coronavirus in the U.S.
On March 25, Annibel gave birth to the couple's newborn girls at the same time New York City hospitals banned visitors, including expectant spouses, from labor and delivery rooms due to the rapid spread of COVID-19. Over FaceTime, Tendayi watched Annibel deliver their daughters in an operating room staffed with a full medical team. A doctor held the phone so Tendayi could "meet" his daughters, albeit virtually.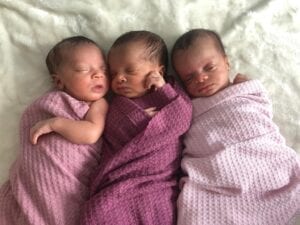 "I was concerned for my wife, that she was alone," Tendayi said. "She was understandably kind of nervous. The way she described it, when she walked in the OR, there was like 25 people in there. I felt confident that the girls were going to get the care that they needed."
The delivery room bans stirred controversy among advocates who felt it was cruel to make mothers give birth without the support of a partner. An executive order from New York Gov. Andrew Cuomo swayed local hospitals to reverse those rules, but the change came a few days after Annibel had already given birth.
Still, Tendayi says he wasn't much bothered by the restrictions. He focused the bulk of his concern on the wellbeing of his wife and children.
"For me…it was a risk assessment," he said. "I was going to trust the medical team that we had been working with for months. If the hospital thought that was the best way to go, I was like yeah, that's the best way to go to get the best outcome for my kids.
"If they'd told me we needed to go to Mars, I'd be like, 'OK, we're going to Mars.'"
The outcome was better than he could've hoped for given that the pregnancy was already complex because the girls were triplets. Once they were born, doctors immediately took the infants to the neonatal intensive care unit, where they stayed for 21 days under incubators that Tendayi referred to as "the spaceship."
As the hospital relaxed its ban on visitation in the pediatric unit, the Kapfidzes were able to visit their newborns. Because of the virus, only one parent could visit one child at a time.
"I was excited and happy, but it was also kind of weird," Tendayi said. "They were hooked up to all kinds of things. There were wires everywhere. I'm looking at them and they're kind of wiggling."
Yes, the situation was stressful. But the new parents stayed upbeat as long as the medical team kept delivering good news. Finally, they were able to take their daughters home, where they're beginning to settle into a routine.
Challenges persist, though. Having triplets is taxing enough. Throw in a pandemic, and it's an unprecedented way of getting acclimated to your children.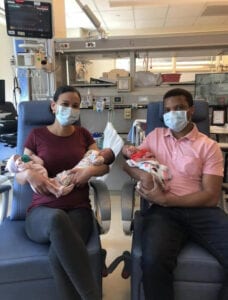 "Nobody's met the girls," Tendayi said. "We were supposed to have some help when they came home, but we don't. It's kind of great because we're getting into our little family groove without other people around."
It's not so great for the grandparents, though, who are chomping at the bit to meet their granddaughters. "The grandparents are going crazy," Tendayi joked.
There is a silver lining. Tendayi and Annibel have kept the girls on the same feeding, sleeping and diaper-changing routine doctors established for them in the NICU. That means the parents can actually enjoy uninterrupted sleep for a few hours.
"It's actually pretty manageable," Tendayi said. "The girls are doing really well. You've got to get into a schedule and routine and stick to it."
Parenting in a pandemic
Tendayi and Annibel are still adjusting to their new normal, but there are a few things their experience can teach us about parenting newborns in a crisis.
Trust medical experts: The Kapfidzes were understandably nervous about having their triplets in New York given the spread of the virus. Someone even suggested they leave town for the birth. But, Tendayi and Annibel liked and trusted their medical team and decided to stick it out with them. Their instincts were spot-on.
Take health precautions seriously: While at the hospital, Tendayi and other visitors had to follow disinfecting procedures to the tee. That included wiping down surfaces and their phones with antibacterial solution and washing their hands constantly.
Leverage your resources: The Kapfidzes have used Tendayi's employer-provided health insurance to consult with a nurse who offers tips and answers their questions.
Focus on the positives: During the last week the girls were in the NICU, the hospital transformed into a "COVID hospital" to treat a growing number of patients. Staff lined beds in the lobby and infected patients were placed on every floor, except for in the pediatric unit. It was an unnerving sight, but Tendayi said the hospital's stringent safety precautions put him at ease. Instead of stressing about what could happen, he focused on the good things, like the health of his daughters.
CNN's Alisyn Camerota interviewed the Kapfidzes. Here's a clip from the segment.