For many, COVID-19's made going outside dangerous, if not downright lethal. But LendingTree's Brett Holzhauer and his wife, Kiersten, are willing to take the risks if it means expectant mothers, elderly neighbors and people with underlying health conditions can get their groceries.
Earlier this month, the Holzhauers, who typically travel throughout the year but now are hunkering down in Los Angeles, began side-hustling as shoppers for Instacart, an on-demand grocery pickup and delivery service. At first, they used it to supplement their income as work for Kiersten, who teaches English to students in China, came to an abrupt halt because of the coronavirus. Over time, however, the side job evolved from a moneymaking endeavor to something much more meaningful.
"We're (doing) something we take for granted: going to the grocery store," said Brett, a credit card writer for LendingTree's ValuePenguin brand. "(We) see how grateful people are for something as simple as groceries."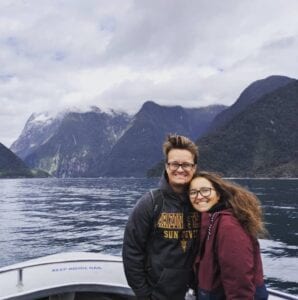 That gratitude comes in thank-you notes, heartfelt messages and even that one happy dance from a customer who celebrated her grocery delivery. Many of these same people are afraid to go outside because of the risk of infection. And while Brett and Kiersten remain cautious, "we're willing to take that risk," Brett said.
Instacart lets customers shop from local grocery stores and sends a personal shopper to retrieve and deliver their items. Given social distancing and stay-at-home orders across the country, demand for Instacart has exploded.
Becoming an Instacart shopper was Kiersten's idea. As her work as a teacher grew more unstable, she mulled getting a second job. "I thought I could get a job at Trader Joe's or any other grocery store, or I could help our community and our local people to get groceries," she said.
So, about eight to 12 times a day, Kiersten jumps in her car, goes shopping for people using Instacart and delivers groceries to their front door. She always wears a mask and gloves. On the occasions when people do walk outside to speak with her, she stays at least 6 feet away. Once he gets off work, Brett joins his wife for a grocery jaunt, patronizing stores on behalf of consumers unwilling or unable to venture out themselves.
The Holzhauers are paid for the orders they take, plus gratuity based on the number of items customers purchase. Some people — "we call them unicorns," Kiersten said — give extra cash tips.
To date, the couple's delivered groceries to about 50 families of all demographic backgrounds and income levels. "It doesn't matter what class you're a part of, everyone is going through something," Kiersten said. "People are like overtly grateful."
They've also reaped a few personal benefits from their Instacart shopping experience.
Because they spend a lot of uninterrupted time together in the car, they said, their marriage is stronger.
They've been exposed to products they normally wouldn't encounter or buy.
And they've earned an extra $1,500 they're using to pay off Brett's student loans.
"I came into this relationship with over $100,000 in debt with student loans, a brand-new car and some credit card debt," Brett said, adding that he and Kiersten have managed to knock that down to $35,000 over the last two years of marriage. "With this influx of income…it's going to be the nail in the coffin with my student loans."
It may also pave the way for talks about growing the size of their family.
"I made the statement that we're not going to have kids till my student loans hit zero," Brett said. "We may be able to soon start having that conversation."
Benefits of becoming a personal shopper during the pandemic
It's personal: Despite social distancing, the Holzhauers have been able to interact with a variety of people — at a distance, of course. Some of their favorites include their elderly customers and pregnant women unable to go to the grocery store.
It's profitable: As mentioned earlier, the extra money is helping the couple pay off lingering debt.
The schedule's flexible: The Holzhauers can choose when they want to take orders and make deliveries.
It helps people: Although personal shopping isn't volunteer work, it's still a way to give back at a time many people need help.