Just a year ago, couples getting engaged had big dreams for their upcoming nuptials. They couldn't wait to get together with their family and friends from afar and party the night away.
Enter COVID-19 – forcing engaged couples across the globe to alter their wedding plans in an unprecedented way during a time of complete uncertainty.
While still working to serve their customers every day, three LendingTree employees successfully planned and executed their weddings in a time of crisis.
Although they each opted for different weddings, throughout the process, they all showed resiliency, patience, and, most importantly, love. Here are their stories.
Jenna (Aihie) & Robert Kidd (est. 8.08.2020)
The Plan
When Robert and Jenna, a sales account manager at LendingTree, moved to Charlotte, N.C., in the fall of 2019, they looked forward to introducing their Floridian friends and family to the Queen City. Robert popped the question on Sept. 28, 2019, and the wheels were in motion for a 2020 spring affair.
The Pivot
As news of the virus intensified, Robert and Jenna knew that asking their guests to travel would be problematic. In March, they decided to push their date back to August. They also dramatically scaled down their guest list and opted for Zoom technology to accommodate their family and friends in the Sunshine State.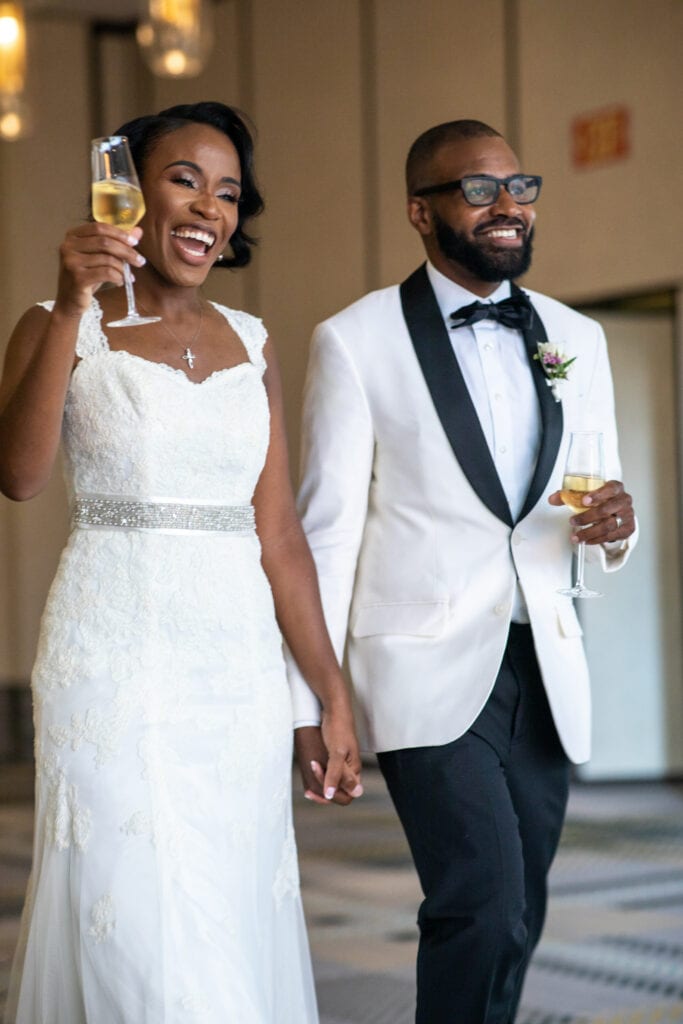 This change meant a new venue, new vendors, and virtual invitations.
"We ended up with about 10 people at our wedding, including the two of us … and we were even nervous about that," said Jenna. "We had no wedding party, and about 50 people joined us on Zoom."
The Peach and the Pit
Jenna and Robert managed their emotions as best they could, but understandably, there were many high-stress moments.
"Trying to get Zoom set up was particularly stressful. We had a few pre-wedding test runs that didn't go very well," Jenna added. "We had to figure out how to arrange multiple cameras and microphones. We wanted to make sure our guests on Zoom could see and hear, without compromising the integrity of the wedding".
At the end of the day, though, the love and support from their families, friends, and church community helped Robert and Jenna stay the course and pull off a pandemic wedding.
"We know we couldn't control COVID, so we focused on our commitment to each other and made it work," said Jenna. "We didn't have the typical day-of wedding stress. And we were able to save money on our very intimate ceremony."
Although it was hard not having their family and friends there in the flesh, Jenna says, "I was at peace."
Alex (Cotton) & Bill Moore (est. 9.03.2020)
The Plan
This time last year, Alex and Bill were celebrating their engagement and looking forward to a May 2021 wedding with family and friends.
Little did they know within six months, the world was about to change.
"Because of my job, I'm constantly looking at COVID numbers," said Alex, LendingTree's benefits analyst. "We realized quickly that this would not be over by our original wedding date."
The Pivot
Instead of moving forward with their plans of inviting 150 guests to the ceremony and reception, Alex and Bill decided to elope.
"I've been ready to marry this man since our third date," Alex said. "We decided just to do it!"
Both Alex and Bill consider themselves easygoing, so the idea of a smaller wedding was appealing – as was the idea of getting married sooner.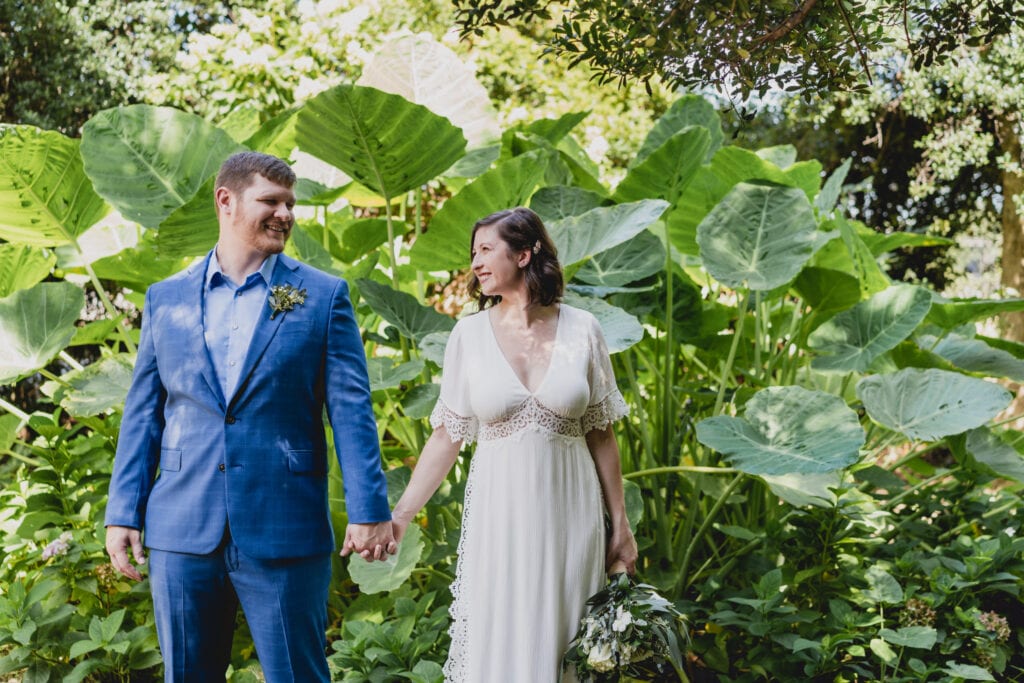 In August, they made the call and set a date for a few weeks out. The 150 guest list was cut to parents only – no siblings, no friends, no extended family. The ceremony was outdoors and was followed by a private dinner.
"Logistically, our wedding day was much easier to manage. It was a weight lifted off our shoulders. We didn't have to meet societal standards of planning a traditional wedding."
The Peach and the Pit
Telling all their family and friends that they were eloping wasn't easy, but the highlight of their day was the intimacy.
"We did our wedding photos with just the two of us. We took our time and took all the photos we wanted – that's something you're not able to do with a traditional wedding. We got to enjoy our first couple of hours married together, just the two of us."
Alex and Bill also used their wedding day as an opportunity to give back. "My husband and I created a nonprofit gift fund in lieu of a registry," said Alex. "All donations benefit Continuing the Mission, an organization that provides fully-trained assistance dogs at no cost to veterans."
So far, they've raised nearly $3,000 – thanks in part to their coworkers at LendingTree.
Yvonne (Pringle) & Jonathan McFadden (est. 11.06.2020)
The Plan
Nov. 17 had always been a special date for Jonathan and Yvonne, aka 'Jon and Von.' So, when it came time to propose, Jon knew November 17, 2019, was the day. His perfectly planned proposal when off without a hitch. Within two months, their wedding date was set, and the venue was secured.
With only a few final details to flesh out, Jon and Von planned to coast into 2020 finalizing details and enjoying their pre-wedding festivities.
And then… COVID happened.
Their original plan of celebrating with 150 of their closest family and friends shifted to cutting their guest list to less than 60.
"It was agonizing," said Jon, a senior content strategist at LendingTree. "Our original guest list included the people who had been in our corner since the 'Dawn of Jon and Von.' We wanted to celebrate with them."
The Pivot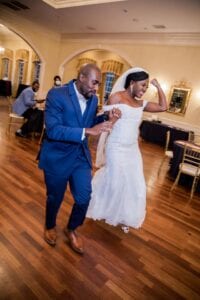 Jon and Von decided to move forward with a ceremony, knowing modifications were needed to keep everyone safe and well.
They mandated masks, set up sanitization stations, and nixed traditions like guestbooks, receiving lines and garter/bouquet tosses, and more – all to keep their wedding day from becoming a "super spreader" event.
And for the family and friends who couldn't come in person, Jon and Von created a private Facebook group and shared a video of their big day for all to enjoy from the comfort of their couch.
"We put a lot of thought into our wedding. We did absolutely everything we could to keep our guests safe," Jon said.
The Peach and the Pit
For Jon and Von, like most couples, planning a wedding during this pandemic was incredibly stressful. They had all the usual wedding planning anxiety, plus the uncertainty of it all.
"It was tough looking at the news each day, watching cases rise, and people die. We knew it would affect our day, but it was completely out of our control," Jon said.
And for better or for worse, pandemic wedding planning can expose what your relationship is made of.
"My wife and I have proved that we are a team," Jon said. "We were so in sync throughout our engagement – it was like we were already married. This situation has definitely brought us closer together."
"Plus, our wedding makes for a good story," he added. "We got married during the great pandemic of 2020. It'll be a great story for the grandkids!"