Getting hitched? The average wedding in 2018 cost $33,931, putting 45% of newlyweds in debt and causing major marital woes, according to a survey of 14,000 couples by wedding planning website The Knot.
Knowing this might help you limit your spending. Still, your preferences and choices along the way can push the budget to deviate substantially from the average. There may even be costs you haven't considered yet.
Here's a breakdown of all the costs you need to consider if you're ready to tie the knot.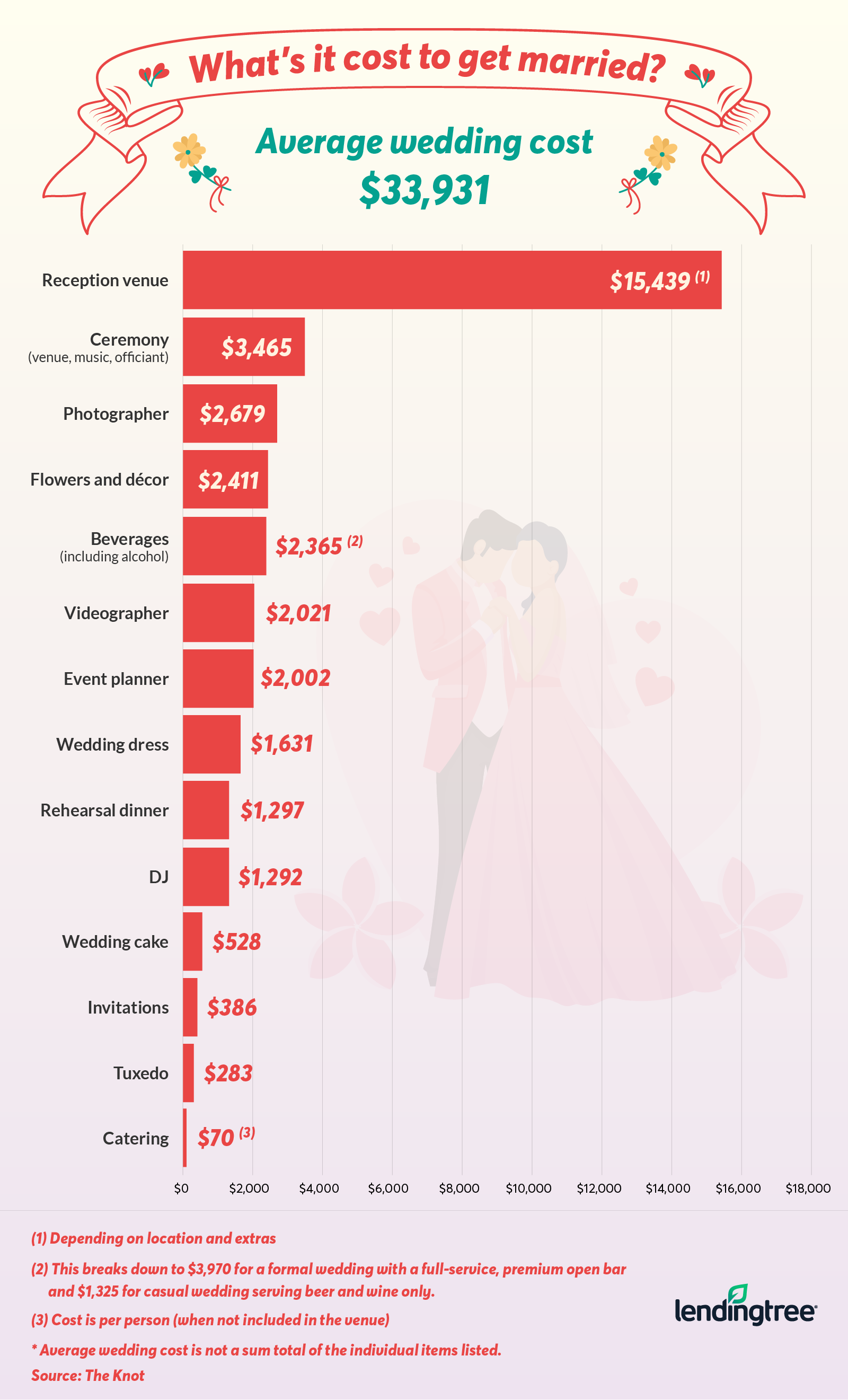 Reception venue
For most couples, the reception makes up almost 50% of their total wedding spending, at an average cost of $15,439. This includes an average of $30 per plate of food supplied by the reception venue and $1,700 for renting equipment and furniture. According to ValuePenguin, a LendingTree-owned site, couples spent an average $3,100 on renting the venue alone. Bar service at the venue can vary widely, with averages between $1,325 for a bar serving only beer and wine to $3,970 for a full-service open bar.
"Across the board, venue eats up a lot of your budget and ancillary costs," said Jessica Bishop, author of "The Budget-Savvy Wedding Planner & Organizer" and founder of TheBudgetSavvyBride.com. She said couples should think about the cost in relation to services they get from the venue.
"[When you choose] an all-inclusive [venue] with tables and chairs and caterers, you don't have to worry about bringing those things yourself." That, she said, contrasts with a venue that's just an empty space where you have to bring in all the furniture.
Ceremony
The actual ceremony can be pricey, too. Couples spent, on average, $2,382 for the ceremony venue; $797 for music; and $286 for an officiant.
You may be tempted to gloss over the cost of an officiant if you plan to ask a friend or relative to take up the honor. Some experts say you might want to reconsider.
"[The officiant] is always a second thought," said Amy McCord Jones, a wedding planner and owner of Flower Moxie, which sells wedding flowers. She cringes, she said, whenever she hears that couples have asked a friend to officiate. "I've seen so much flaking out because of that. I've seen [the officiating friend] totally bomb or get up there and struggle, and then it's really awkward."
Flowers and decorations
Decor and flowers are no small cost, sitting at an average $2,411. The kind of decorations and flowers you choose will influence the price tag. If you seek an empty rental space to save money on the venue, you may need to account for the cost of renting furniture from an outside vendor. That could put you well over the average cost.
Food
Couples who opt for a catered wedding as opposed to getting food through the venue should expect to pay an average $70 per person. But your costs will vary based on the types of food you serve. And don't forget the wedding cake: It adds another $528, on average, according to The Knot.
Live DJ or band
Entertainment costs depend on whether you want a DJ or a band. DJs tend to cost less, averaging $1,292 whereas bands average $4,247. The fewer the band members, the lower the cost might get.
Wedding dress and tuxedo 
Attire costs are impacted by how formal couples want their event to be. When it comes to getting dressed, grooms come in cheaper with an average attire cost of $283. Brides average $1,631 for the wedding dress. Many brides don't quite feel complete without hair and makeup, adding an average of $123 and $102, respectively.
Add-on costs
There are a lot of extra charges you may rack up for your wedding. Consider these additional wedding costs many couples opt for:
Event planner: $2,002
Photo booth: $325
Videographer: $2,021
Rehearsal dinner: $1,297
Transportation (from the ceremony to the reception): $856
Wedding favors: $245
We threw a lot of facts and figures at you. Don't feel overwhelmed. Remember, the wedding is yours and, ultimately, you decide how much you will or won't spend on it. We plan to write more about this topic soon, so you can get tips for how to budget for your wedding and start your married life without a mountain of debt.