How to Write a Business Proposal for Clients
Published on: February 22nd, 2019
Editorial Note: The content of this article is based on the author's opinions and recommendations alone. It may not have been previewed, commissioned or otherwise endorsed by any of our network partners.
For some small business owners, writing a business proposal is one of the best ways to land contracts and win over customers.
Ulrica Jones, the Georgia-based owner of consulting company Eventual Success LLC and a SCORE mentor, prepares business proposals to outline what type of training and staff development services she can provide to specific companies. She also shares pricing and how clients stand to benefit from working with her.
Writing a business proposal makes sure you and your clients are on the same page regarding the services you're offering and how much it will cost, Jones said, adding that the process of sending a proposal and collaborating with a client to meet their needs could also help you strengthen your business relationships.
In this guide, we'll help you understand how to write successful proposals that stand out and win clients.
Why do you need a business proposal?
In all likelihood, your business is not the only business capable of solving a problem for a client. The way you approach the solution is what sets you apart from the competition, and your business proposal is where you can outline your strategy.
Here's an example. Say a homeowner calls two roofing companies to address a problem. The first company simply gives the homeowner a price quote and a date when they could complete the work. The other company explains the cause of the problem to the homeowner and presents their repair strategy before quoting a price and outlining a timeline for the repair.
The homeowner is likely to go with the second company because of the details provided, which were probably written in a business proposal. When choosing a company to do business with, people often go with the most transparent business, said Tom Sant, partner at consulting firm Hyde Park Partners in San Luis Obispo, California, and author of "Persuasive Business Proposals."
"What business people want to do is skip right to 'Here's what I propose and here's what it's going to cost you.' Or worse, straight to the cost. Those are losing strategies," Sant said. "If someone comes in and has a better proposal, you're dead in the water."
Nearly any business can make use of business proposals for clients, Sant said. Service-based businesses are most likely to write proposals for clients, but others, such as equipment sales companies, can send proposals as well. The purpose of a proposal is to communicate how your business can provide value to your client, no matter what product or service you're offering, he said.
Are you looking for small business funding? Learn more about business loans here.
What to include in your business proposal
These days, business owners tend to send proposals digitally, Sant said, though you may be required to submit a paper document as well if you're sending a proposal to a large company.
In general, Sant said, a business proposal should address the following topics:
Needs: Indicate the client's needs in the proposal and the problems you plan to address in your work.
Outcomes: Discuss the return on investment for the client, indicating the value that would result from hiring your business.
Solution: Break down what your business is offering to do and your strategy for solving the problem at hand.
Evidence: Provide examples of past work you've done to prove you are qualified to meet the client's needs.
Sant calls this the "NOSE pattern" and uses this device to help business owners remember what to include in their business proposal and how to organize the information.
Where you discuss costs would depend on the length of your proposal, Sant said. If the proposal is brief, you could put costs in the "solution" section, he said. But if the proposal is more complex, you may want to consider making a separate page for pricing.
The cost of your service can sometimes be hard to gauge, said Jones, and you may have to go back and forth with clients to adjust your pricing. Consider researching similar services or businesses in your area to see what competitors charge. Then, be sure to include all of your expenses, such as materials, in the business proposal to show the reasoning behind your price, she said.
Jones often asks clients ahead of time if they have a budget in mind, then tries to stick to that amount in her proposal. The gesture lets the client know she is prioritizing their needs, she said. You could negotiate the price until the client signs a formal contract, which would finalize the deal.
"It's something you have to adjust sometimes," she said. "But there are ways to build relationships when you're not stuck on a cost."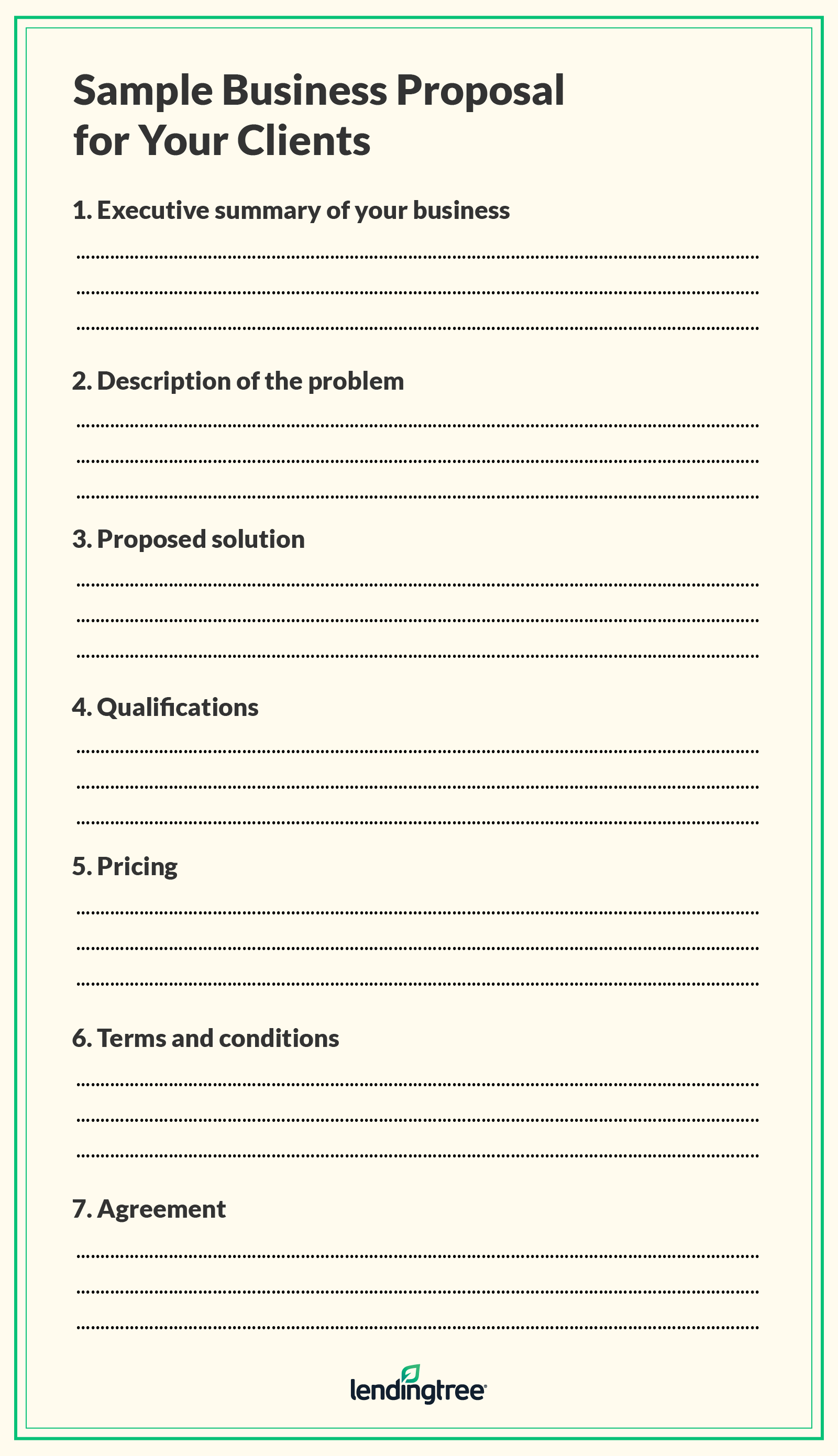 Tips for writing a winning proposal
Many business proposals are poorly written, said Sant. However, he noted, if you take the time to polish your proposal, you'll likely be steps ahead of your competition.
Give your proposal a creative title.
Rather than using a bland title such as "Proposal," incorporate the key benefits for the client, Sant said. For instance, if a phone system company wants to sell equipment to a client, the title of the business proposal could be "Reducing call handling time for [client's name]."
"You want to try to personalize the message, so they feel it's about them and they're not getting a generic quote," Sant said. "Generic doesn't persuade."
Add relevant graphics.
In longer proposals, graphics and photos can make the document more appealing, Sant said. Adding these illustrations would also be another way to personalize the proposal.
You could use industry-related stock photos or photos of your client's business, Jones suggested: "Make sure you put something on the proposal that shows you're going to cater to the audience you're working with."
Avoid cliché opening and closing statements.
You want to avoid any common, tired phrases when writing your business proposal, Sant said. Many business owners open their proposal by saying "We would like to thank you for the opportunity to submit this proposal." Instead, skip the impersonal formalities and jump right into the potential benefits for your client, Sant said.
Business owners also tend to close the proposal with a statement such as "If you have any questions, feel free to call," Sant said. That puts the responsibility to follow up on the client when you should be the one to take the next step. End your proposal with a date and time you plan to call the client to discuss the proposal.
If you don't feel confident in your writing skills, you could hire outside help to craft your proposals, Sant said. However, a business proposal doesn't need to be a long-winded composition, he said. In some cases, short sentences and bullet points may suffice.
"You don't have to be Hemingway to do it," he said.
Proofread, proofread, proofread.
In addition to proofreading the proposal yourself, have someone else read it with fresh eyes to catch any errors, Jones said. You may want to ask as many as three different people to review the proposal to make sure it's reader-friendly. Ask readers if any areas need clarification or corrections, and if they would say yes to the proposal.
With time, you'll sharpen your proposal writing skills and rely less on help from others, Jones said — "The more you do it, the better you get at it."
Don't forget to follow up
A key part of the business proposal process is following up with clients to secure the deal. You would want to establish your next steps at the end of your proposal, so the client knows what to expect, Sant said.
The complexity of the proposal would determine how long you wait before contacting the client, according to Sant. A simple pitch could warrant a next-day follow-up, while a client could take a few weeks to review a detailed document.
Keep in mind that you don't want to write an extensive proposal that may lose the client's interest. But don't compromise too much information, as your attention to detail could be what wins you the deal, he added.
"If you demonstrate inside knowledge of the problems and the business and how you can help them, they get really interested," Sant said.