Hotel Financing: 5 Loans for Your Business
Published on: November 13th, 2019
Editorial Note: The content of this article is based on the author's opinions and recommendations alone. It may not have been previewed, commissioned or otherwise endorsed by any of our network partners.
Hotel financing from banks or online lenders can help you purchase, build or renovate a hotel to grow your hospitality business.
There are more than 88,000 hotels and motels in the U.S. as of 2019, according to IBISWorld, a market research company.
Your profit would mainly depend on the number of rooms you sell. But if occupancy isn't high enough to cover regular expenses, hotel financing could help you close the gap.
Hotel financing: 5 loan options for your business
We've compiled a partial list of lenders that cater nationwide to businesses in the hospitality industry. Some hotel business loans are designated for franchise owners, while other loans are available to a broader variety of hotel operators.
Live Oak Bank
Live Oak Bank, which is based in Wilmington, N.C., issues loans to hotel business owners across the country. Loans can be used to buy an existing hotel or build a new property.
Live Oak Bank is a preferred lender of loans backed by the U.S. Small Business Administration. The bank is the most-active lender of SBA 7(a) loans, which is the SBA's primary general financing program. Loans are available for up to $5,000,000. The SBA could guarantee 85% of loans up to $150,000 and 75% of loans exceeding $150,000.
Repayment terms for 7(a) loans span seven to 25 years. Interest rates could be fixed or variable. The maximum fixed rate is 12.75%, while the maximum variable rate would be the prime rate — which is 4.75% as of Nov. 7, 2019 — plus 4.75%.
Balboa Capital
Balboa Capital is an online business lender based in Costa Mesa, Calif., offering loans nationwide. It is a qualified vendor for Choice Hotels franchisees. The Choice Hotel portfolio includes brands such as Comfort, Sleep Inn and WoodSpring Suites.
Loans for hotel franchisees are available up to $1,000,000, while business lines of credit are offered up to $500,000. Repayment terms span 24 to 84 months. Interest rates are not available online, so you'll need to contact the lender for more information.
To be eligible, franchise owners must be in operation for at least one year and generate at least $300,000 in annual revenue. If approved, you could use a loan to purchase furniture and equipment, make property improvements, take care of mandatory brand updates or cover daily expenses.
Access Point Financial
Access Point Financial is an online lender that specializes in hotel financing. Both franchisees and independent boutique hotel owners could obtain loans through the Atlanta-based company. Financing could be used to cover new construction, capital expenditures, furniture, fixtures and equipment, or as a short-term commercial mortgage.
Capital expenditure and furniture, fixture and equipment loans: You can typically borrow between $200,000 and $25,000,000, with terms often between 36 and 120 months. Interest could be between 7.00% and 10.00% depending on your credit profile and funding needs. Depending on your cash flow, you could be eligible for an interest-only period up to 18 months.
New construction loans: You can typically borrow between $5,000,000 and $40,000,000, with 36– to 60-months repayment terms. The first two years of your term would be interest-only, and interest rates are based on the Libor rate plus 450 basis points. When the term expires, owners could refinance and get traditional financing with a lower rate and 25-year amortization.
Short-term mortgage financing: You can typically borrow up to $25,000,000, or 70% of the value of a hotel acquisition, refinance or discounted or note purchase. Terms are typically 36 months. Interest rates are generally around 8%, depending on your credit review.
Credibly
Credibly, an online lender, provides financing nationwide to hotel and motel owners. You could use funding to cover the cost of repairs, upgrades or daily operations.
Credibly, which has offices in Arizona, Michigan and New York, offers a working capital loan up to $400,000 with terms between 6 and 18 months. It collects automatic payments each day or week, depending on your payment schedule.
It uses factor rates, which are written as decimal figures rather than percentages, to express interest. You would multiply the factor rate by your loan amount to determine the total amount that you owe. Credibly's factor rates start at 1.15 as of Nov. 7, 2019. If you take out a loan for $100,000 with a factor rate of 1.15, you would owe a total of $115,000.
ARF Financial
California-based ARF Financial is another alternative lender that provides short-term loans and lines of credit to business owners across the country. It caters to businesses in the hospitality industry, including hotels, motels, bed and breakfasts, inns and hostels.
You could borrow $5,000 to $1 million through ARF Financial, as of Nov. 7, 2019. Unsecured loans for hotel owners are available up to $725,000, meaning no collateral would be required. Terms are available up to 18 months. Interest rates are not available online, so likewise with Balboa Capital, you'll have to reach out to the lender. If approved, you could use a loan to pay for equipment, inventory, renovations, expansions or other business costs such as signage or licenses.
ARF Financial's line of credit is also available for hotel owners who want access to funding on an as-needed basis. Lines of credit are available between $5,000 to $750,000. No collateral is required, and you could be approved for financing in as few as three days.
How to get a business loan for a hotel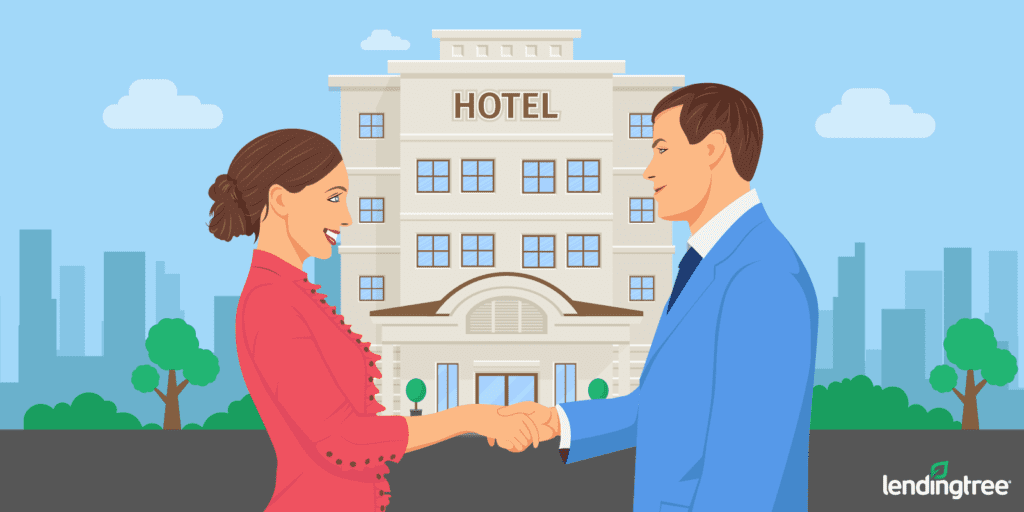 When applying for a loan for your hotel, both your personal and business financials would impact your eligibility. A lender would need to determine whether your business would be capable of repaying debt before lending you money.
There are various types of financing for which hotel owners could apply:
Term loans: Short-term or long-term loans can be used for large or small purchases. These loans usually come with fixed monthly payment schedules. The shorter the terms, the more accessible the loan may be.
Business lines of credit: Lines of credit, which we've touched on, provide revolving access to cash on an as-needed basis. Once you pay back what you borrowed, your full credit line would become available again.
Equipment financing: Equipment can be used as collateral on loans to pay for assets you can't or don't want to purchase outright.
Invoice financing: You can borrow against unpaid invoices, which serve as collateral for financing.
Once you know what type of loan you want, you should consider typical business loan requirements, including:
Credit history: Lenders may rely on your credit profile more heavily if you have yet to establish a financial history with your business. Check your credit score before submitting a loan application.
Business plan: Your business plan would illustrate your strategy to make your hotel profitable, which would indicate to lenders how you'd repay a loan.
Balance sheet: A list of your assets and liabilities would provide a current snapshot of your hotel's financial standing.
Cash flow history and projections: These figures would show lenders if your hotel is growing or declining. If the business has not yet built up cash flow, accurate projections may be acceptable.
Resource management: Details regarding your accounts payable or methods for processing payments could be required to show how you manage your business resources.
Collateral: Some lenders require borrowers to provide assets to secure a loan, and the lender could seize those assets if your business defaults on payments.
Personal investment: Showing that you've invested your own money in your hotel could encourage lenders to approve your loan application.
Revenue per available room index: The hotel's average daily rate multiplied by the occupancy percentage would provide lenders with an idea of how the property is performing. Aim for an index of at least 100%.
Capitalization rate: The hotel's value or the return percentage that an investor would receive indicates the capitalization rate. This rate informs the maximum loan-to-value ratio, which can be a main factor in the loan amount you could borrow.
Going deeper, the costs of running a hotel could include linens, furniture, payroll for front desk, guest services and reservations employees, equipment, cable television, wireless internet and other contract services. Additional variable expenses could include supplies, cleaning services and commissions to outside parties such as travel agents and credit card agencies. The actual costs you incur would vary depending on your specific hotel, and could exceed this general roundup.
Like any business owner, hotel owners need to prove their profitability when applying for financing. If you're a franchisee connected to a nationally-recognized brand, you may be in a better position than an independent hotel owner.
Brand-name hotels may be at an advantage over smaller operations because lenders who are familiar with the company could be more willing to issue loans. New, independent hotel owners may need to provide a detailed marketing plan to show how they expect to fill rooms.
The bottom line
Your success as a hotel owner is often tied to the number of guests who book rooms at your establishment, which can be difficult to control. Outside factors often affect businesses in the hospitality and tourism industries, and your hotel could see a change in the reservation rate because of weather or time of year.
Hotel financing could help you keep the doors open if you experience a dip in cash flow. However, lenders could consider your business risky because profitability may not be consistent.
Before applying, make sure your credit history and financial statements are solid. If you can demonstrate your hotel would be profitable enough to repay debt, you could be on your way to receiving a loan to improve and grow your business.