How to Start a Business in Georgia
Published on: September 4th, 2019
Editorial Note: The content of this article is based on the author's opinions and recommendations alone. It may not have been previewed, commissioned or otherwise endorsed by any of our network partners.
Georgia is a popular place to start a new business. According to the state's 2019 Small Business Profile by the Office of Advocacy, 99.6% of all businesses in Georgia are considered small businesses, and they employee over 43% of the state's workers.
Georgia also has been ranked by the Tax Foundation as the eighth best state when it comes to corporate taxes (though be aware that it doesn't rank as well when it comes to other forms of taxation). Additionally, the state government offers numerous tax initiatives, including credits and exemptions, to help grow and expand Georgia-based businesses.
Still, starting a business in the Peach State is no small task. Beyond getting funding, you'll have to establish a legal business entity, obtain business licenses and permits, get set up with numerous tax entities and purchase necessary insurance, among other requirements. Here's what goes into officially starting a business in Georgia.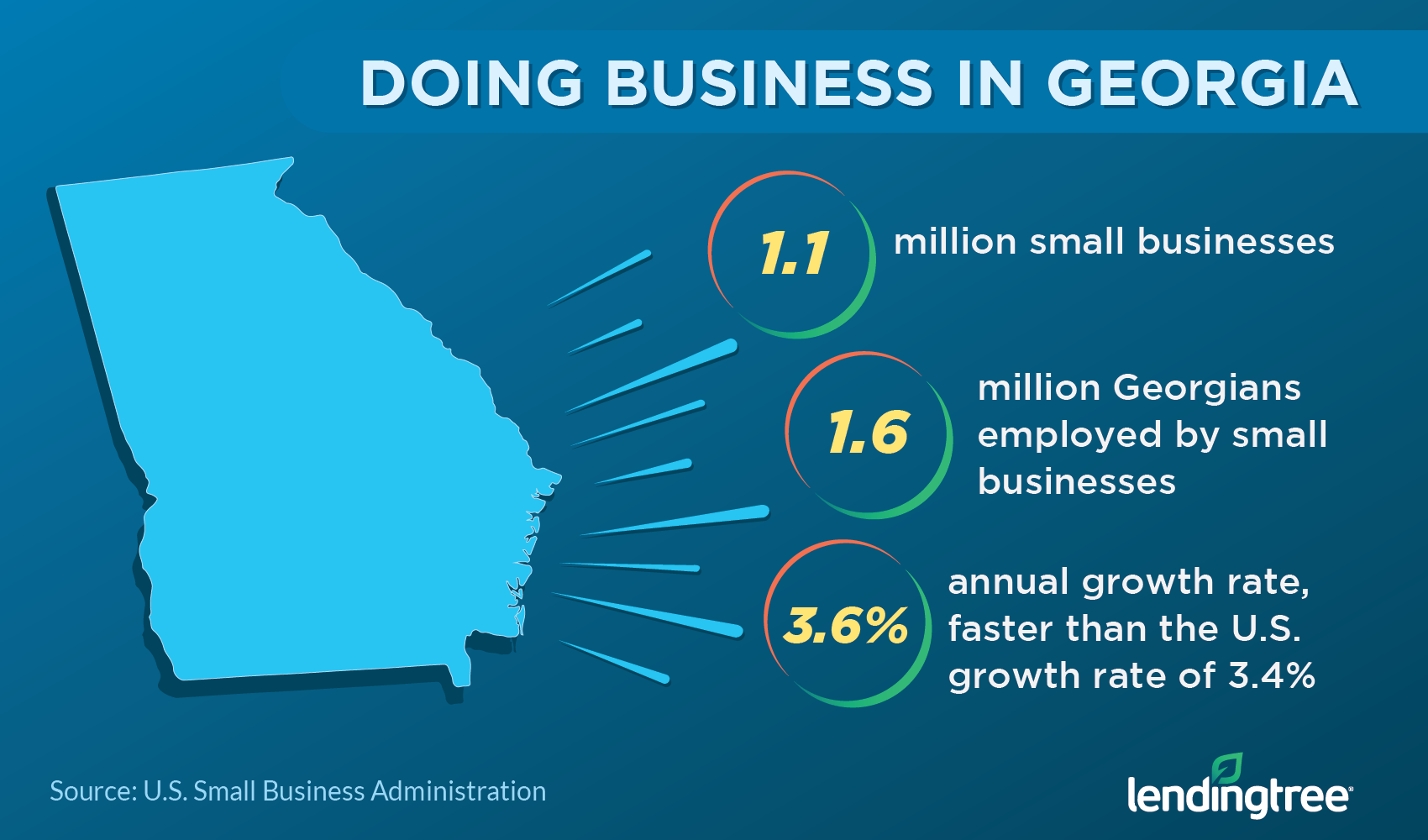 How to establish a business entity in Georgia
If you're ready to get your business off the ground, there are important legal steps you have to take before you can begin operating. While the exact steps will vary depending on your industry and business size, here's what you might be required to do.
Choose your legal structure
When you are starting a business, one of the most important decisions you'll make is choosing which legal structure you want for your business. The business entity you choose impacts your taxes, finances and liability differently.
In Georgia, the most common type of small business is a sole proprietorship, meaning you have sole control of the business, and you only pay personal income tax on your earnings. The only administrative tasks you have to do as a sole proprietor is obtain a state business license, so it's easier to get off the ground than other business entities. However, both your personal and business assets are at risk to creditors.
If you're going in on the business with others, there are also general partnerships and limited partnerships, which have differing requirements. You can also opt to form a corporation or limited liability company — these options give you far less personal liability, but they also have more formal administrative requirements than the others. If you opt to form a corporation, the fee for filing articles of incorporation in Georgia is currently $100.
Name your business
When you file your paperwork to form a corporation, limited liability company or limited partnership with the Georgia Secretary of State, you'll list your business name, which will officially be yours once your forms are processed.
However, if you want to reserve it ASAP, you can submit a name reservation form online or via mail for $25. This can ensure that no other businesses take the name before your paperwork processes, and it can also expedite your application. However, you can't make any actions using the name with just the reservation alone.
If you're planning to do business under any other names than the owner's full name, you'll have to file a Trade Name Filing in your county.
Register any business trademarks
If you have a trademark or service mark you want to register with the state of Georgia, the fee to file it with the Secretary of State is only $15. This can help protect your company name, product name or process name by showing you legally had it first, which will more easily resolve any disputes.
Obtain necessary business licenses
Nearly every business in Georgia will need some type of business license or permit to operate legally at the local, city, county and/or state level. Georgia's First Stop Business Information Center can help you determine which permits or licenses you need and where to obtain them. You can also find information on licenses and apply for them through the Secretary of State's office.
Some professions in Georgia that require state licenses include massage therapists, cosmetologists and barbers, veterinarians, architects, librarians and residential and general contractors.
Find a location
If you plan to open a brick-and-mortar business, you'll have to consider your local zoning laws, in addition to building and occupancy permits, as you look for locations. Contact your city or local government to find out what you need to do, or hire a small business lawyer to help you navigate the process.
If you plan to run a business out of your home, be aware that some cities require you to obtain a permit and have restrictions on what you can and can't do.
Other costs of starting a business in Georgia
In addition to the steps above to get your business legally formed and named, you also have to get set up with your small business taxes at the state and federal level (and potentially city or county level as well). You also have to purchase some forms of insurance and consider whether you need some optional forms of insurance coverage. Here's what it entails.
Taxes
Businesses in Georgia are taxed in numerous ways. Most small businesses in Georgia will need to pay some form of state tax on income and employees, in addition to sales taxes for any goods and services they sell. You'll need to submit a "State Tax Registration" application to register your business and get a Georgia sales tax number and withholding tax number.
You also have to pay a property tax on any physical property, equipment and inventory you own each year. You'll also have to obtain a tax certificate in the county or city where your business is based.
In addition to these state tax obligations, you're also responsible for obtaining an Employee Identification Number (EIN) and paying federal taxes on your income and employees. An accountant can help you if you're not certain how to tackle your taxes.
Insurance
As an entrepreneur in Georgia, you might need a few different types of insurance:
Workers' compensation insurance: In Georgia, if you have three or more employees, either full-time or part-time, you are required to offer workers' compensation coverage that helps an employee financially if they're injured on the job. You can either obtain coverage, or you can self-insure if you're certified.
Auto insurance: If you own or operate any vehicles in connection with your business, you're required to carry auto insurance or be a qualified self-insurer. If you go the insurance route, your policy must contain both bodily injury and property damage liability. Most businesses are eligible for a business auto policy. Check with an insurance agent to see what's best for you.
Other forms of insurance: The state of Georgia doesn't have any other insurance requirements necessary to operate your business. However, there are other types of coverage you might want to get to help protect your business and assets:

Property insurance: You can obtain property insurance, which helps protect your physical buildings and equipment. You can get specific property insurance, like fire insurance, or an "all risk" policy that covers multiple types of events.
Liability insurance: You may also want to obtain liability insurance, which protects your business from loss if you're sued.
Specialized insurance: There are also specialized forms of insurance, like key employee life insurance in case you lose someone critical to the business, or business overhead expense insurance, which helps the business survive financially if the owner or operator of the small business becomes disabled.
Employee benefits: You can choose to offer life insurance, disability insurance and health, dental or vision insurance to your employees, as well.
How to get help covering costs
If you need help obtaining funding for your business, there are several places to look. While Georgia doesn't typically offer any business grants, the state does provide some funding through a federal program that helps lenders provide funding to small businesses.
You could try to obtain a Small Business Administration (SBA) loan, a small business loan that's partially guaranteed by the government but provided by a regular lender like a bank. These have competitive terms, though they do require tons of paperwork and usually require the business to be established. You can also look for non-SBA loans, like business term loans or business lines of credit, at either a traditional financial institution or an online-only one.
If you're struggling to get approved for a business loan, Georgia Micro Enterprise Network is a nonprofit that can help fund very small local businesses. There are numerous other microlenders and Community Development Financial Institutions (CDFIs) that can help; this list from the state of Georgia can get you started. If you live in Atlanta, be aware that the city also offers several lending programs, such as low-rate loans for creative entrepreneurs.
The bottom line
Starting a business is hard work, and the state of Georgia has plenty of requirements to get started. Before you can begin making sales, you'll have to make sure you've gotten properly set up with your business entity, taxes, insurance and any licenses. But experts like lawyers and accountants can help you, and there are plenty of other valuable resources.
For entrepreneurs in Georgia who could use assistance, the University of Georgia's Small Business Development Center has 17 locations statewide. It offers free one-on-one business consulting services, in addition to both free and paid trainings for entrepreneurs. Some of the training covers finances and funding.
If you're feeling overwhelmed, know that thousands of entrepreneurs who have come before you have successfully gotten their Georgia business off and running. And don't forget there are numerous resources out there specifically to help small business owners like you.