How to Start a Business in Michigan
Published on: October 24th, 2019
Editorial Note: The content of this article is based on the author's opinions and recommendations alone. It may not have been previewed, commissioned or otherwise endorsed by any of our network partners.
If you're an aspiring entrepreneur in the Wolverine State, you may be wondering how to start a business in Michigan. There are plenty of reasons why Michigan can be a great option for a new entrepreneurial endeavor: the state currently ranks within the top 15 states for businesses, according to the Tax Foundation. Plus, startup incubators and accelerators across the state are available to help emerging businesses gain their footing.
You may have to work through some paperwork and planning in order to get started, but with the right know-how, you'll be well on your way to opening up shop.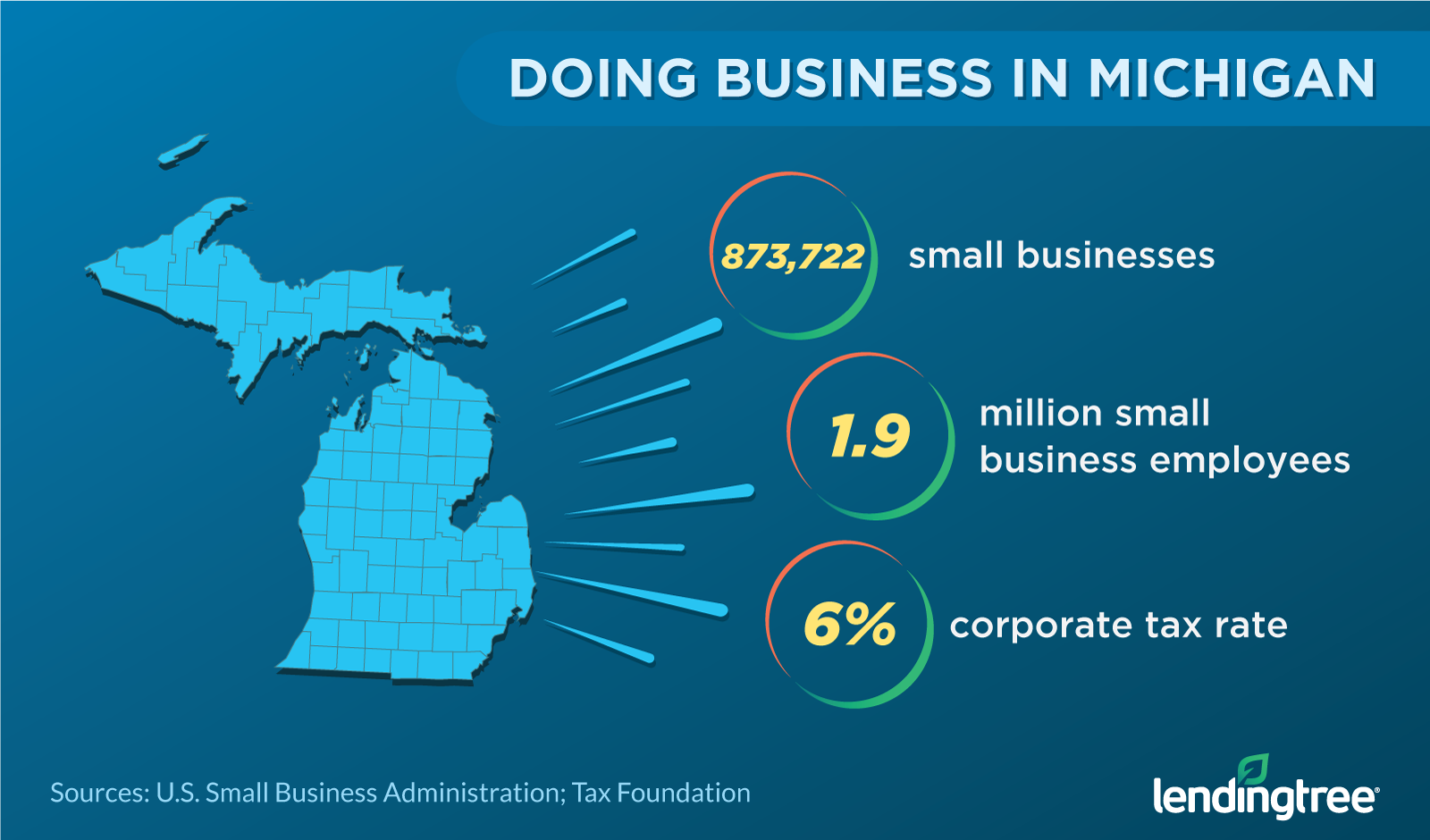 How to establish a business entity in Michigan
While there are a few tasks that may vary depending on your industry, such as business licenses and permits, here are a few of the most important things you'll need to do when you establish any business entity in Michigan:
Pick the right business structure
Name and register your business
Obtain necessary business licenses and permits
Pick a location
Pick the right business structure
There are several business structures available to would-be entrepreneurs. Each determines how much you pay in taxes, paperwork you'll be required to file and your personal liability. Here are some of the common types:
This guide from Michigan's Small Business Development Center discusses the advantages and disadvantages of each type. We'll discuss the fees you must pay for each entity, below.
Name and register your business
Once you've determined what kind of business entity works best for your needs, you'll want to think of a name for your company and make sure it is one that is not already being used by another business. You can search the Michigan Department of Licensing and Regulatory Affairs database and then go about filing the necessary paperwork as described above.
It's also a good idea to register for a Federal Employer Identification Number. Your EIN helps identify your business, and is required for any business that intends to hire employees and open a business bank account.
Obtain necessary business licenses and permits
The state of Michigan requires several kinds of businesses to obtain permits and licenses in order to lawfully operate. For example, if you plan to open a plumbing company or a coffee shop, you'll need to make sure you're properly licensed. Michigan provides a list of business types — click on yours to see if it's one requiring state licensure to operate.
The state of Michigan requires several kinds of businesses to obtain permits and licenses in order to lawfully operate. For example, if you plan to open a plumbing company or a coffee shop, you'll need to make sure you're properly licensed. Michigan provides a list of business types — click on yours to see if it's one requiring state licensure to operate.
Bear in mind that even if the state doesn't require a license, your county or city might. You'll need to register for any necessary licenses and permits with the municipality in which your business resides, and may need to make sure you're properly covered if providing services across county lines.
Pick a location for your business
It's important that you pick the right location for your Michigan-based business. If you intend to serve a large metropolitan area, be sure that your business is headquartered within the same county. Alternatively, if you plan on operating across county lines, you'll want to be strategic with the primary county out of which you base your company.
Costs of starting a business in Michigan
As you might imagine, starting a business in Michigan costs money. How much money, and where you need to spend it, depends on your industry and specific entity. There are the typical filing fees that typically come with registering a new business, but there may also be other payments that you'll have to make as you get off the ground.
Business filing fees
Reserving a business name in the state costs between $10 and $25 and will prevent other businesses from using the name for up to six months while you go about registering your company. Here are the specific fees for registering each type of entity:
LLCs: $50 and usually takes about three to five working days, though you could pay more for expedited services. You'll also have to file a yearly statement for as long as your business is operational. This costs another $25 per year.
Corporations: $50, more for expedited service. Like LLCs, corporations will have to pay a $25 fee to submit their annual report.
Limited partnerships: $10 — there are no annual reporting requirements.
License fees
As we mentioned earlier, while Michigan does not have a statewide "business license," your particular type of business may require one. Costs vary by industry and location — for example, a new restaurant owner in western Allegan County may be required to pay the $30 state fee plus the county fee, up to $630. A restaurant in Detroit might pay up to $266 for a business license in that city, while Marquette, in the Upper Peninsula, may charge up to $185 for a sidewalk cafe that serves alcohol. If your business requires a license, you may also need to pay for renewals on a regular basis (as determined on a license-by-license basis).
The best advice here is to check with your city or county to determine which licenses require renewal, how long they last before having to be re-upped, and the specific costs involved in keeping your licenses intact. The city of Grand Rapids, for example, has a checklist on its website for business owners operating in that city. It's vital to keep on top of your licenses and to make sure that they haven't lapsed. Should you forget to renew your license, it's possible that you may have to re-file entirely.
Local and state taxes
Michigan requires businesses to pay several kinds of taxes. Here are a few of the most common:
Income taxes: Michigan has a 6% income tax on corporations. For most taxpayers, this corporate income tax (CIT) has replaced the Michigan Business Tax (MBT), set at 4.95% of a company's income; however, some companies still use the older MBT if they have tax credits remaining from before 2012. LLCs and other types of businesses pay income tax through their personal taxes.
These taxes are in addition to federal income taxes levied against your business, as well as any city taxes, making it all the more vital to seek out professional tax advice for your business. Calling on a skilled tax team early into the business creation process is a savvy move that can help you avoid making mistakes early into the process of building out your venture.
Sales and use taxes: Michigan has no city, local or county sales tax. The state sales tax rate is 6%. Businesses that sell tangible personal property need a sales and use tax license — you may apply for one online with the Michigan Department of Treasury. A companion to Michigan's sales tax, almost every business has a use tax liability. Also set at 6%, use tax must be paid to the state on the total price of all taxable items brought into Michigan.
Property taxes: If you own property as a small business owner, you will also have to pay taxes on that. Michigan has an online tool to see how much you pay have to pay in your particular city or county.
Employee taxes: If your small business has employees, you will be required to pay withholding taxes, as well as unemployment insurance taxes to the state of Michigan.
Insurance
Some insurance, such as unemployment insurance (mentioned above) and workers compensation (which we'll discuss in a minute), is mandatory. Others are merely good business practice, and should be considered as part of the safe operation of a company.
Workers compensation insurance: Though there are exceptions for partners or corporate officers who may exempt themselves, private employers regularly employing one or more employees 35 hours or more per week for 13 weeks or longer during the previous year must provide it.
Health insurance: Companies with 50 or more employees are required to provide health insurance, per the Affordable Care Act. However, businesses with between one and 50 employees may choose to provide health insurance and may even qualify for tax credits if they have fewer than 25 employees.
These policies aren't required but may be a smart business move:
Liability insurance: Business liability insurance helps companies protect themselves against claims of personal property damage, physical and bodily damage, reputational harm and other kinds of common issues that may happen as a part of operating a company. This is not mandatory in Michigan, but may still be a worthwhile investment.
Commercial auto insurance: If you need to operate a car or a fleet of vehicles as part of your business, a commercial auto insurance policy can protect you in the event of an employee accident. These policies help pay for medical expenses, physical damage to vehicles, and towing expenses.
Business income insurance: No one can anticipate when business disruptions might happen. This is as true for fire and flooding as it is for burglary or property damage. Business income insurance helps businesses cover expenses while grappling with these kinds of issues, offering assistance with payroll, business income, and even rent payments.
How to finance a small business in Michigan
These expenses only cover the basic costs of getting your business up and running — you may also have regular recurring expenses for things like rent, raw materials, shipping, and payroll. The good news is that there are plenty of options available to help you make these costs more affordable.
Michigan offers several small business grant programs, including:
The Michigan Business Development Program is designed to help businesses that add new jobs to the state, or that have made investments within the state as well.
The Creative Corridor Incentive Fund provides grants for businesses that renovate working spaces in downtown Detroit, hoping to attract new businesses to the area.
Invest Detroit, and its venture capital arm, ID Ventures, supports tech startups in that city.
These are only a few examples of the various grant programs that can be found across the state.
If you don't qualify for these grants, or have more specific financing needs, there are always plenty of other loan options to help you get the money you need. These include:
Term loans: You can also pursue a standard short-term or long-term loan, which provides your business with cash in exchange for collateral and repayments of your loan total (plus interest) on a recurring basis.
Small Business Administration loans: SBA loans are guaranteed by the federal government for up to 85% of the loan's total value and can help small businesses get access to favorable interest rates.
Equipment financing: If you need money specifically in order to purchase tools and equipment for your business, you can consider an equipment financing loan. These loans cover the fair-market value of a piece of machinery and do not require the borrower to produce a down payment, as the equipment purchased serves as collateral.
The bottom line
Starting a new business in Michigan can be an exciting and rewarding experience. Sure, there is a fair amount of paperwork (and fees) involved in the process, but the overall process in the state is comparable to most others. The fact that there are grant programs available only sweetens the deal, and can make your choice between Michigan and another state easier to determine. No matter where you decide to start a business, be it in Michigan or elsewhere, the most important thing you can do is stay informed and know what your needs are before taking the plunge.