How to Start a Business in Tennessee
Published on: October 25th, 2019
Editorial Note: The content of this article is based on the author's opinions and recommendations alone. It may not have been previewed, commissioned or otherwise endorsed by any of our network partners.
Entrepreneurs interested in starting a business in Tennessee will find a launching point at Tennessee SmartStart, the Department of Economic and Community Development's interactive guide for pursuing entrepreneurship in the state — but you'll still need to decide on your business structure, location and more in order to finish all of the steps.
We'll help you navigate some of these decisions, as well as the process of registering your enterprise, obtaining the proper licenses and filling out the proper paperwork. The hard work will hopefully pay off: business owners may benefit from the state's lack of income tax on wages and salaries and relatively low property taxes, two reasons Tennessee is No. 16 on the Tax Foundation's State Business Tax Climate Index.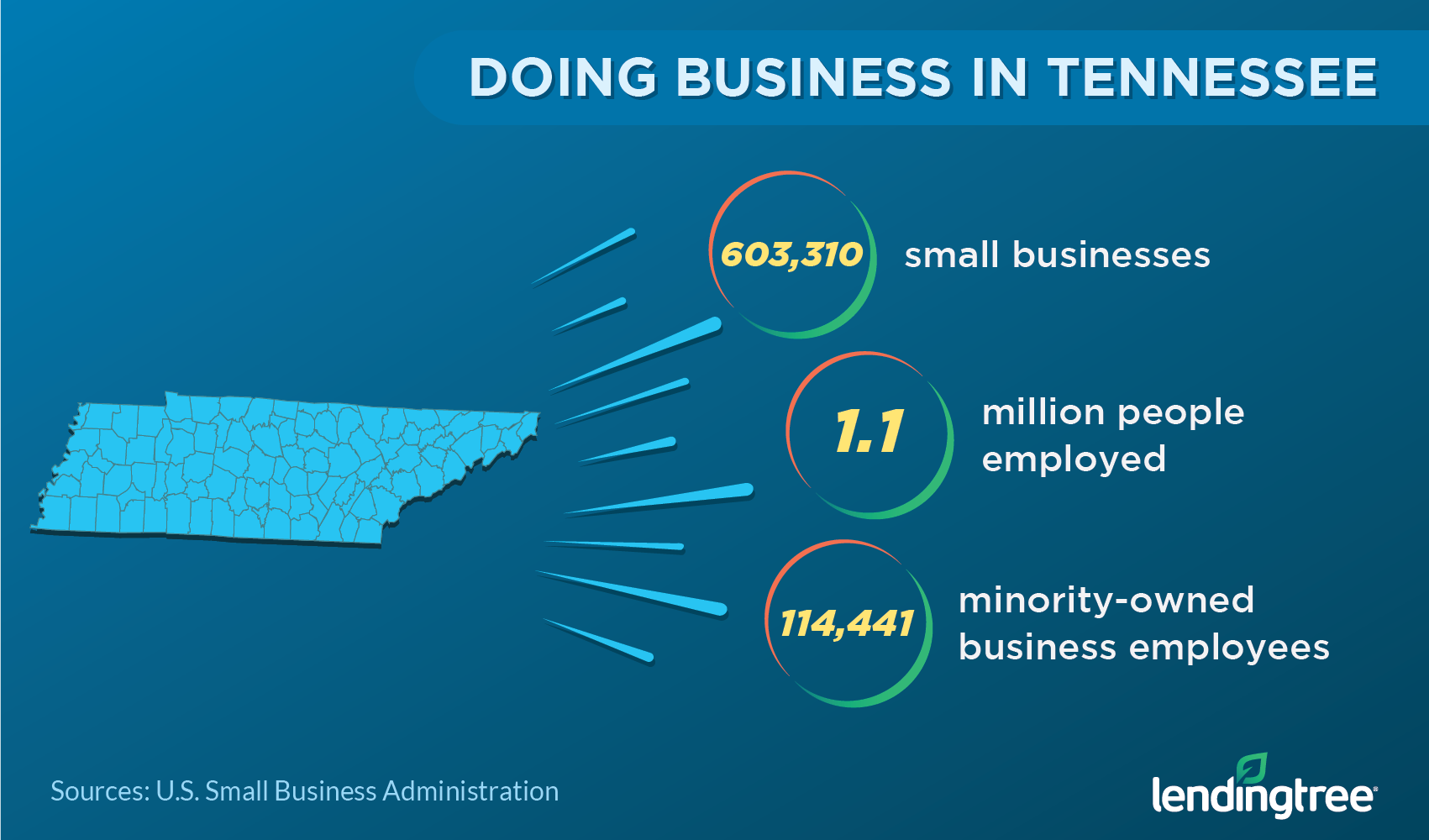 How to establish a business entity in Tennessee
Establishing a business in Tennessee involves various steps including:
Determine your business structure
Register your business
Get a business license
Find a location
Follow regulations
Determine your business structure
The first step to starting a business in Tennessee, as elsewhere, is to decide what kind of business entity you will run, whether it's a sole proprietorship, limited liability company (LLC), partnership or corporation. You could read more about the differences between an LLC and a corporation or the different types of partnerships.
Next, choose a name. Make sure that the name you choose is not already being used in Tennessee. You can use Tennessee's online lookup tool to see whether someone else is already using the name you have in mind and reserve it if it's not. If you're a sole proprietor, think about whether you want to do business under your own name or under a different name known as a DBA.
Register your business
All types of business entities, save for sole proprietorships, must register with the Tennessee Secretary of State's Division of Business Services (sole proprietors will have to obtain a business license from the city of county where they plan to operate). Once that is complete, corporations must also file a business charter with the Register of Deeds in the county where the business is based, while LLCs will file their articles of organizations with the Secretary of State's office.  We'll discuss business licenses in a minute.
Next, register with the Tennessee Department of Revenue. If you plan to pay employees, you'll also need to register with the Tennessee Department of Labor & Workforce Development in order to get an employer number to pay unemployment taxes.
After you have registered your business with the state, get a Federal Employer Identification Number (EIN) from the IRS. This can be done quickly and for free online.
Get a business license
Most businesses in Tennessee need to obtain an annual business license from the clerk in the county in which they're based, and some cities will also require a business license. County clerks issue two kinds of business licenses:
Standard Business License: Applies to those businesses that gross more than $10,000 every year.
Minimal Business Activity License: Applies to those that gross more than $3,000 but less than $10,000.
The registration fee for each of these licenses is $15.
If you are working in a regulated profession or activity, you'll also need to obtain a permit or license for that specific kind of work. This may require taking a particular exam, completing a certain number of hours of work, and/or paying a fee.
Find a location
Identifying a location is an essential part of setting up and registering your business. You need a physical address, even if that address is your home, if you work out of your back room as a sole proprietor. Check zoning laws in locations you are considering to see if the activities inherent in your business are permitted in that area.
Working out of your home can create some unique challenges, so make sure you look around to see if your city, county or homeowners' association imposes any restrictions on running a business of your type out of your home. If you don't want to use your home address to register your business in the public record, hire a registered agent with a physical Tennessee address who can serve as your official business address.
Follow regulations
There are many state and federal regulations that govern businesses of various types, and it's important to make sure your operations comply with them. Regulations often change, which may cause you to spend extra energy, time and money making sure you're on the right side of the law. Seek the advice of an attorney, tax adviser or industry association when you launch your business to make sure that you're doing everything you should. We include some helpful resources in a later section.
Costs of starting a business in Tennessee
The costs of starting a business in Tennessee begin with the fees you must pay to register your business and get business licenses. We'll break them down by entity:
LLC: Starts at a minimum of $300 and is determined by the number of members, with each one adding $50 to the price. The fee is capped at $3,000. You may apply and pay the fees for your articles of organization online, by mail or in person.
Corporation: $100 to file a charter, which may be done in person, by mail or online.
Partnerships: The fee depends on the type of partnership you plan to start:
License fees
Fees for obtaining a license or permit for a regulated profession vary quite a bit. To get a cosmetology license, for example, you'll need to pay examination fees of $140 and a licensure fee of $60. A home inspector's license costs $300, while licensure for a funeral director costs $435. This is in addition to any fees you may be required to pay to your county clerk.
Taxes
You'll need to pay state and local taxes, including a "privilege tax" to counties and municipalities for the privilege of doing business in that area, as well as federal taxes. Counties usually levy privilege taxes in the form of a business license tax. State taxes may include:
Business tax: The amount varies by entity, but most businesses will pay a state business tax and, if applicable, a city business tax.
Franchise and excise tax: Franchise tax is based on net worth or book value, whichever is greater, of tangible personal property owned or used in Tennessee. Excise tax is based on net earnings or income for the tax year.
Sales tax: Tennessee levies a 7% sales tax, but local tax rates may be higher — they can vary by city or county.
Hall Tax: Tennessee does not have a state income tax on wages or salaries, but it does charge a tax on interest and dividend income. However, that tax, known as the Hall Tax, is being phased out and will be completely repealed for tax year 2021.
Corporate taxes: Some business owners will pay taxes through their personal income taxes, but corporations will pay a flat 6.5% corporate tax in Tennessee.
Insurance
We mentioned unemployment insurance earlier, but all businesses with five or more employees are also required to carry workers compensation insurance; all employers in construction and coal mining with at least one employee must carry this kind of insurance as well. They can do so by purchasing a policy from a private insurance carrier or by self-insuring through the Department of Commerce and Insurance.
You may want or need to carry other types of insurance, such as:
Health insurance is required for all companies with 50 or more employees, per the Affordable Care Act. However, if you have 25 or fewer employees, you could still offer health insurance to your workers and perhaps qualify for tax credits as a result.
Commercial liability insurance protects you from claims made by others related to injury or property damage stemming from your business operations.
Automobile insurance would be required if your business has commercial vehicles.
How to finance a business in Tennessee
Starting a business comes with costs we mentioned above but others we didn't: You may need to buy equipment or purchase raw materials. There are several types of financing for small businesses, including:
Term loans are one of the most common types of small business financing, used to buy machinery, vehicles, real estate and more. In exchange for collateral, lenders provide borrowers with a set amount of money in exchange for set payments and terms. Loan terms can range from just a few months to decades. Short term loans will usually need to be paid back in 3 to 18 months, while long term loans usually last between 3 and 10 years.
Small Business Administration (SBA) loans offer a range of choices to qualifying small business owners at more competitive interest rates than conventional loans thanks in part to the fact that the federal government guarantees up to 85% of a loan's value. Qualifying may be difficult — here's a checklist for navigating the process.
Equipment financing is helpful when you need to borrow money in order to purchase machinery or tools for your business. The equipment backs the loan without the need to put down additional collateral.
The state of Tennessee also provides various resources that may help with the costs of starting a business including:
The bottom line
Starting a business in Tennessee doesn't have to be difficult, though there are many steps to check off as you navigate the process.
Start by signing up for Tennessee SmartStart to get guidance and access resources as you go. Next, choose an entity type and a name, and then register with all the appropriate authorities: Secretary of State, Department of Revenue and Labor & Workforce Development, if appropriate. Register for an EIN with the IRS. Apply to the county clerk and city authorities for a business license, and obtain any specialty licenses you need in your line of work. Then find a location or hire a registered agent.
While there are many steps to launching a business in Tennessee, none of them need be daunting. You can always call on state authorities with any questions.