How to Start a Self-Serve Craft Beer Bar
Published on: August 21st, 2019
Imagine going to a bar that doesn't have a mob of waiting customers competing for the attention of one or two bartenders. Instead, self-serve craft beer taps line the walls so you can try as many beers as you want.
That was the dream Dusty Snethen and Ryan Cavanaugh had when they decided to start Brew Bank, a self-serve craft beer bar in Topeka, Kan. Brew Bank is scheduled to host a soft open Aug. 30 before opening Sept. 9. The bar will boast 30 self-serve taps, allowing customers to pour as little or as much as they'd like.
"We were always looking for a place that had the local beers on tap and you didn't have to wait" Snethen said. "We wanted to be able to bring it to people."
Brew Bank is among an increasing number of bars embracing self-serve technology. Growing self-serve bar chain Pour Taproom, for instance, has 10 locations, from North Carolina to California.
If you have similar aspirations, keep reading to find out what you need to know to open a self-serve craft beer bar.
What is a self-serve craft beer bar?
A self-serve bar enables customers to pour their own beer from accessible taps. Companies such as PourMyBeer and iPourIt install screens that explain what's on each tap — plus the price per ounce — as well as software and wiring that monitors each pour.
Customers usually need to open a tab to receive a card to scan at various taps. Using the cards, the taps can keep track of your running bill, as well as how much you drink. You could also prepay a certain amount upfront as a cutoff point.
Snethen and Cavanaugh decided to use PourMyBeer technology when starting a craft beer bar. PourMyBeer doesn't provide a point-of-sale (POS) system, so they set up Square, which is compatible with the PourMyBeer system, to accept payments from customers, Snethen said. The iPourIt tap system is compatible with other POS systems, although the company does offer a POS service if you have a small beer menu.
San Diego-based restaurant WhipHand has 24 self-serve beer taps using the PourMyBeer system, co-owner Albert Runzel said. The self-serve system has proved beneficial for the business, as it reduces waste and helps track inventory.
"You don't have samples," he said. "Every ounce that comes through gets billed. Also, it's a good way to document how much customers have consumed."
Self-serve taps are set up in a way that reduces beer foam and blown kegs, Snethen said. Compared to a standard bar, the waste is significantly less.
"We're not even going to lose a pint a day to beer loss or overpour," Snethen said. "And if you dump it out, we've still been paid for your ounce."

Opening a self-serve craft beer bar
Here are a few steps to follow when opening a self-serve bar in your area.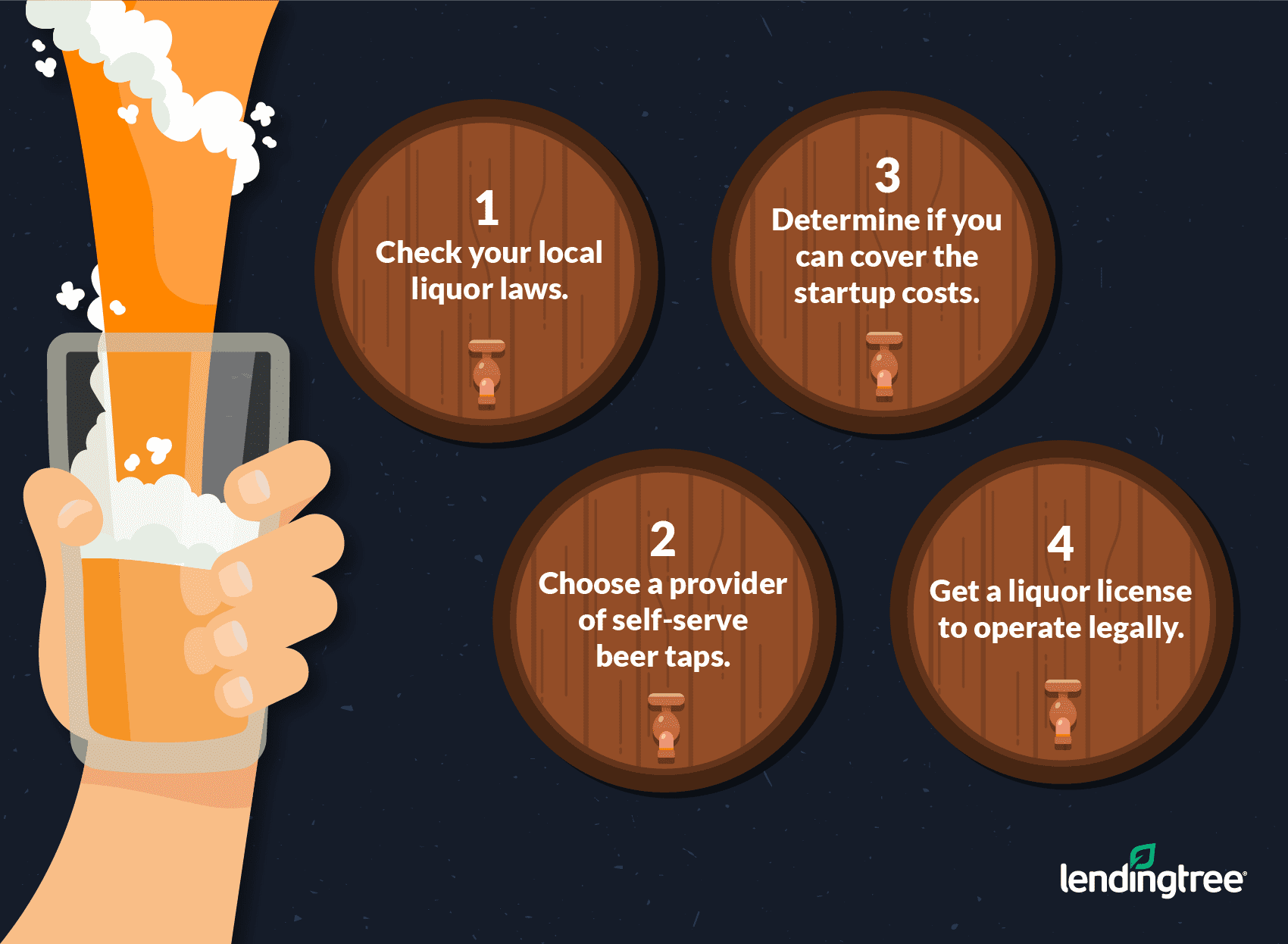 Check your local laws
When Snethen and Cavanaugh first had the idea for Brew Bank, the self-serve concept was illegal in Kansas. The Brew Bank team worked with lobbyists to promote a law change that would allow self-serve bars to operate. The bill was signed by the state's governor in May 2018.
"It was an uphill battle," Cavanaugh said. "But if we want this kind of industry in our state, we have to loosen up."
The law requires Brew Bank customers to prepay their tabs, Snethen said. It also limits customers to 32 ounces of beer before the card deactivates. Customers must then speak to a staff member, who would evaluate their sobriety before reactivating the card for another 32 ounces. Brew Bank must also have video surveillance on all its the taps.
Some states still outlaw self-serve taps or do not let certain companies operate. For instance, PourMyBeer is not permitted in Connecticut, Montana, New Mexico, Oklahoma, Oregon, Utah or Vermont. A few states outlaw self-serve taps altogether, including Montana and New Mexico. Make sure you understand what's legal in your state before moving forward with a self-serve bar.
Choose a provider
PourMyBeer and iPourIt are two popular companies providing self-serve taps for those starting a craft beer bar, although others such as Table Tap operate in the market. The company you choose would depend on whether the technology matches your vision for the bar, Runzel said.
He considered iPourIt and PourMyBeer, ultimately choosing the latter because it allowed him to put multiple beers on one tap, he said. Runzel also found the mechanics of PourMyBeer to be more compatible with the design of the restaurant.
Determine if you can cover the costs
High-tech self-serve taps don't come cheap. Although pricing would be specific to your business, iPourIt estimates that each tap could cost $1,100 to $1,600.
Snethen and Cavanuagh paid about $1,700 for each PourMyBeer tap at Brew Bank – $1,000 for the keg setup and $700 to $800 for the screens and scanning system, Snethen said.
"You've got to decide if you can meet the extra cost to put these in," Snethen said. "By putting in the technology, are you going to sell more beers or are you going to be losing money because it's expensive? It's certainly not for every pub."
Brew Bank is in a historic building in Topeka, Kan. that needed an upfit. A self-serve beer bar doesn't call for any extra construction or building renovations compared to a regular bar, although Brew Bank has a kitchen, Snethen said.
"We're just running the lines from the cooler to the taps," he said. "So that's pretty standard with any building you're going to rent."
Brew Bank's menu will consist of a variety of salads, flatbread pizzas and internationally inspired charcuterie boards. The bar will also serve signature cocktails, low-alcohol cocktails and alcohol-free mocktails.
In all, the business has cost $500,000 so far, Snethen said. Brew Bank won a local startup competition in 2018, earning the top prize of $100,000 to launch the business. To finance the remaining amount, Snethen and Cavanaugh have taken out a number of startup loans. (We'll discuss financing options later.)
Obtain a liquor license
After self-serve bars were OK'd to open in Kansas, Snethen and Cavanaugh needed to get a liquor license. Kansas is a control state, meaning the state's Alcoholic Beverage Control division regulates alcohol sales. The duo needed to apply for a liquor license through ABC to serve beer.
The cost of a liquor license varies by state, ranging from $300 to $14,000, depending on the type of license you're seeking. The process to obtain a liquor license when starting a craft beer bar can be lengthy, sometimes taking five to six months.
WhipHand in San Diego has a liquor license designated for eating establishments, Runzel said. To legally sell alcohol, WhipHand must maintain kitchen facilities and make substantial meal sales, based on the requirements of the license.
Depending on your state and your bar's offerings, you could be required to get a liquor license that correlates to your type of business, such as a specific tavern or restaurant liquor license or a license to serve beer. Some states issue a limited number of liquor licenses each year. Be sure to start the process early to avoid delaying the opening of your bar.
How to finance a self-serve bar
The costs of starting a restaurant or bar can easily reach the six-figure mark. Adding self-serve technology can make it an even pricier endeavor. Startups generally have a hard time securing financing since many lenders are hesitant to take a risk on new businesses. However, you're not out of luck. Check out these options for funding a self-serve craft beer bar.
Crowdfunding
Crowdfunding platforms such as GoFundMe, Kickstarter and Indiegogo provide a way to legitimize donations from family, friends and the general public. For example, GoFundMe lets you accept donations for your business without offering anything in return. Others require you to provide products or a stake in the business in exchange for funds.
Unlike a loan or line of credit, crowdfunding doesn't require a specified time in business, and you could raise money to get the bar off the ground. However, you would need to dedicate time to creating a compelling campaign. And it could take a while to generate the amount of funding for which you're hoping.
Local grants or loans
Your city or state may provide economic incentives for new businesses. Snethen and Cavanaugh found startup funding through the Greater Topeka Partnership, a government-backed effort to promote economic development. Brew Bank was approved for low-interest startup loans through the partnership.
"When you start doing all the research, you start to realize how much money is out there for places like this," Snethen said.
You could find incentives in your area through the State Business Incentives Database. You may be able to apply for grants or loans designed for startup businesses.
SBA microloans
Microloans backed by the U.S. Small Business Administration are typically reserved for community-focused ventures, which could include your self-serve bar. These loans are available in small amounts up to $50,000 and could have competitive interest rates and repayment terms because of the SBA's ability to cap rates and lengthen terms. Additionally, microloans are earmarked for certain types of business owners, including women, minority, veteran and low-income entrepreneurs.
Is the self-serve niche right for you?
To get into the craft beer industry, you may think you need to start a brewery. But you don't have to take on the burden of brewing. A self-serve bar would give you the ability to sell craft beer to customers who are interested in tasting and learning about new brews.
Because customers would be serving themselves, bar staff would be free to interact with patrons, either helping them pour from the taps or providing education about different beers, Snethen said. And the self-serve system would help you keep employment expenses down since you wouldn't need to hire as many bartenders and bar backs as a traditional bar, he said.
However, it's important to keep costs in mind when opening a self-serve establishment, Runzel said. You should be confident that the business can recoup software and equipment expenses, he said.
"The biggest thing is know your market," Runzel said. "Make sure you have plenty of operating capital to cover unforeseen expenses."
Before getting started, consider the advantages and drawbacks of running a self-serve craft beer bar:
Pros
Cons
Efficiency: Reduced beer waste and employee costs, as well as improved inventory management.
Cost: Tap installation and a liquor license could be expensive.
Speed: No long wait times for beer.
Malfunctions: Equipment could fail or break down.
Experience: Customers control the amount of beer purchased.
Learning curve: Customers may take time to feel comfortable with the technology.
At WhipHand, customers have responded positively to the self-serve taps, Runzel said. People enjoy the freedom to choose their own beer and pour size. The taps often become a place to congregate to share recommendations or thoughts on different brews, he said. Runzel expects self-service to become more common in the beverage industry.
"I think it's the way of the future," Runzel said. "If I had more taps, I would put some mixed drinks on the tap. You can definitely do more than beer."