5 Signs It's Time to Sell Your Business
Published on: July 5th, 2019
Editorial Note: The content of this article is based on the author's opinions and recommendations alone. It may not have been previewed, commissioned or otherwise endorsed by any of our network partners.
After years or decades of owning and operating a company, you may be looking for a change of pace and wondering when to sell your business.
Many entrepreneurs start new businesses with the intent to sell them and make a profit, said John Bartelme, a SCORE mentor based in Durham, N.C. SCORE is a national organization that provides business education and mentorship in partnership with the U.S. Small Business Administration. "They start and sell businesses routinely, never with the goal to run the business because that's not what they're good at or what they like to do," Bartelme said.
But a number of business owners don't have that same goal and end up selling for various reasons. Oftentimes, business owners want to retire or can no longer meet the physical demands of the job because of health issues, Bartelme said. Or, starting a company didn't meet their expectations and might have been a mistake.
"A combination of things like that might suggest to somebody that they should move on," he said.
Whatever your reason for wanting to sell your business, continue reading to learn what signs would indicate it's time to put an exit strategy in place.
5 signs it's time to sell
If you're considering selling your business, here are a few signs that might reinforce your decision.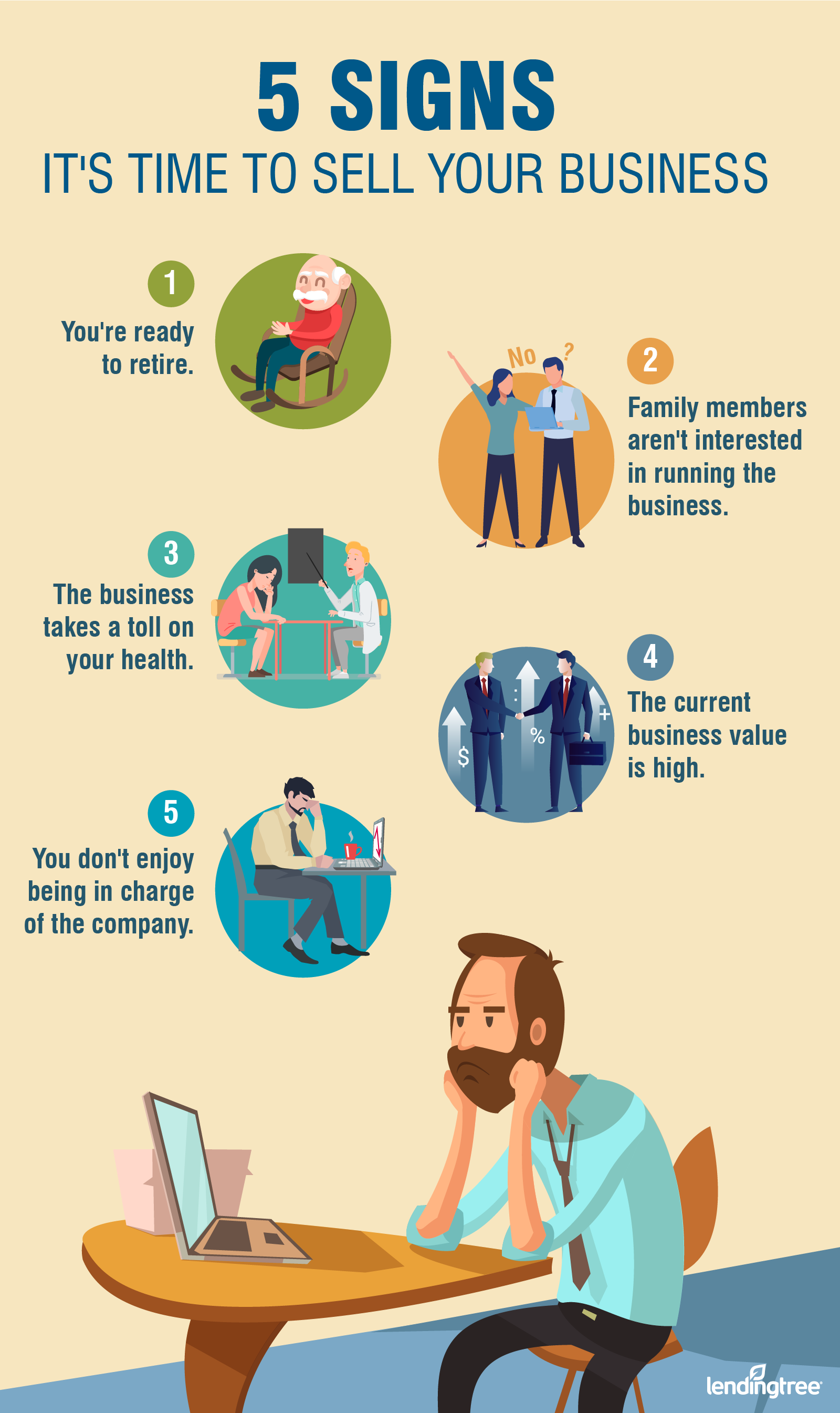 1. Retirement is on the horizon.
If you're ready to transition out of ownership, selling the company would allow you to step away without closing the business, Bartelme said. Once you find a buyer, you could determine how you'd like to make your exit. You may be able to gradually reduce your hours and stay on as a consultant until you're ready to fully let go of the business, he said.
2. No family members want to take the reins.
Although the business may be a major part of your life, your family members may not feel the same attachment to the company. If your relatives are not interested in running the business, you may need to find a buyer whether retirement is looming or not, Bartelme said. It could be emotionally challenging to sell the business to someone outside of the family, but it would save you from closing up shop.
3. The business takes a physical toll.
Health problems could force your hand into selling the business, Bartelme said. Some businesses require more physical labor than others. If you can no longer keep up with daily demands, you may want to step away. The job could begin to take a mental toll as well, as many business owners become more anxious about the business as time goes on, Bartelme said. Selling the company could let you better focus on your health.
4. The value of the business is high.
You would likely have a better chance of finding a buyer when your business is doing well than when it's struggling, Bartelme said. If you're thinking about selling, consider hiring a valuation firm or an accountant to determine what your business is worth. The resulting figure could either persuade you to make a move and sell the business, or take steps to improve the value.
5. You don't like running the company.
Some entrepreneurs aren't cut out to handle daily operations and responsibilities. If you find the experience of running your own business isn't what you thought it would be, you should consider finding a buyer and moving on, Bartelme said. Whether you're not making as much money as you expected, or you have to devote too much time to your work, selling the business would allow you to get out before the situation worsens.

When should you consider hanging on to the business?
Although you may be thinking about selling your business, you don't have to let it go if you're not under pressure to do so, Bartelme said.
The value of your company would inform your decision. If the current value is high, you may want to make a profit before the market changes. However, a valuation expert, such as an accountant or a valuation firm, could advise you to wait another year or make certain changes to increase the value, Bartelme said.
"I think selling a business is a little bit like the stock market," Bartelme said. "Trying to time the market is very difficult, if not impossible."
You wouldn't want to sell when the market in which you operate is in a downturn, as that would negatively affect your valuation. If you can, wait for the market to rebound. Selling a failing business is another story — you might not be able to find a willing buyer and instead be forced to declare bankruptcy or liquidate your assets.
Additionally, you don't have to take the first offer you receive if you're not being pressed to sell. Research each potential buyer to make sure your company would be in good hands when you step away.
If you decide not to sell right away, consider setting up a buy-sell agreement if you haven't already. This document would serve as an instruction manual of sorts when an owner or partner leaves the business. It would detail what should occur if an owner retires or is unable to continue working because of injury, death or other unforeseen circumstances. It may seem grim to think about such events, but you can rest easy knowing there's a plan in place if anything happens.
Next steps when you decide to sell you company
When you've made the decision to sell your business, you would need to find a buyer. Just as you would ask a real estate agent to market your house when putting it up for sale, you could hire a business broker to identify potential buyers and promote your business, Bartelme said.
Here are a few other steps to take as you prepare to sell your business.
Settle on the value of the business.
Although you would solicit an expert to determine the worth of your business, a buyer would likely complete their own evaluation. They may hire a third-party valuation firm to appraise your business, and they could come up with a different number than you. Be prepared for a seller to offer less – or more – than you expected for your business.
If your sales and profits have dwindled in recent years or your business's technology is outdated, the overall value may be low, Bartelme said. You may want to consider selling just your real estate or other business assets instead if the business itself is not worth as much as you hoped, he said.
You may also want to investigate potential buyers' plans for financing the deal. In some cases, you may be able to finance the sale yourself and have the buyer pay the total cost in periodic installments.
Get ready for the due diligence process.
A prospective buyer would analyze all areas of your business, including your financial history, sales trends or environmental impact, Bartelme said. The buyer could hire a single lawyer or accountant to review your business or bring in a full team of professionals.
Depending on what's discovered, the buyer could ask you to make changes to the business before the deal is finalized, Bartelme said. The closing process could take between 30 and 60 days. You may want to take a proactive look inward and make any fast fixes before a buyer starts their due diligence to speed up the timeline.
"The more the current owner can do to get their house in order, the better off for both parties," Bartelme said. "If I put myself in the buyer's shoes, what might I see here that might be a problem for them?"
Once you sell the business, the IRS would categorize each asset of the business as a capital asset or property, rather than treating the business as one whole asset. Each asset would be treated as a separate gain or loss.
Ongoing negotiations during the due diligence period sometimes deter business owners from carrying out the sale process. Because of personal ties to the business, it can be difficult for business owners to accept a price lower than what seems fair, Bartelme said, though the other options would be staying on board or dissolving the company.
"I do believe a lot of business owners clearly have emotional connection to the business," Bartelme said. "But, I think, when they decide to sell is when they've been able to make selling it the better option."