Small Business Loan Checklist: What You Need to Apply
Published on: August 8th, 2019
Applying for business financing may seem overwhelming, but a small business loan checklist could help you simplify the process.
Some application requirements are inevitable, no matter where you apply or what type of loan you want. A lender would likely ask for information about your business and personal finances.
"Most lenders will give the businesses a checklist of documents that they need from them to get funding," said Grier Melick, a business consultant at the Maryland Small Business Development Center. But "these checklists are not suggestions. Businesses need this information, and the more quickly they can get it to a lender, the better."
Continue reading to put together your small business loan checklist so that you can feel prepared when applying for financing.
Small business loan checklist
Several types of loans — short-term and long-term loans, working capital loans and Small Business Administration (SBA) loans, to name a few — are available to business owners. The kind of business loan you seek would determine the complexity of your application.
Whether you apply online or at a bank would also impact how much information you need to provide. Online alternative business lenders typically have a faster application process than banks.
Before filling out your business loan application, gather these documents.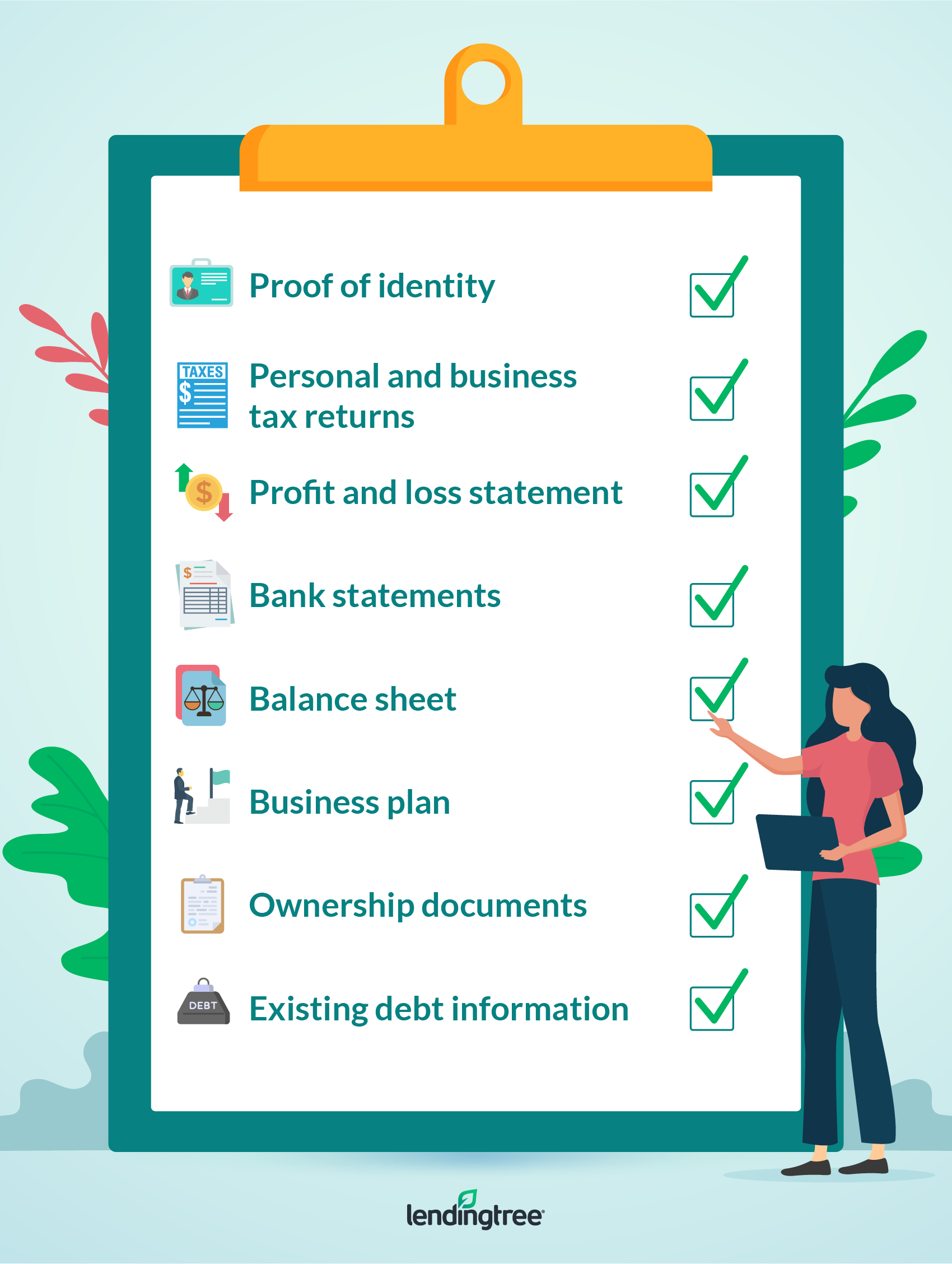 Proof of identity
A valid form of identification will be necessary to be approved for financing. A driver's license, state ID or passport should suffice. In some cases, you may be required to submit two forms of ID, plus your birth certificate.
Personal and business tax returns
Expect lenders to ask for your personal and business federal tax returns from the past two or three years. These tax returns would illustrate whether your business revenue exceeds expenses — and if you have the means to repay a loan.
Profit and loss statement
Your profit and loss statement should show your revenue, costs and expenses in a specified period. Lenders would use this sheet, also known as an income statement, to assess your business' financial health. You may need to provide profit and loss statements for the past two years.
Bank statements
Prepare three months' worth of recent bank statements. Bank statements show all transactions on your business bank account and would further illustrate your annual revenue and expenses. If your bank statements show the business is profitable, some lenders may overlook less favorable information, such as a low credit score.
Balance sheet
Your balance sheet would give lenders a look at your business' finances for a certain period. It's not as dynamic as your profit and loss statement, which shows your financial activity over a longer time frame, but your balance sheet would help lenders analyze your resources. If your business is financially overextended, lenders would see that on your balance sheet.
Business plan
Each aspect of your business should be described in your business plan, including marketing processes, cost factors and financial projections. How you plan to operate and grow the business would influence a lender's decision.
If you've set up a meeting with a banker or lender, you may want to send your business plan and an additional pitch deck explaining your funding request in advance, SCORE mentor P. Simon Mahler said. (SCORE is a national organization that provides business education and mentorship in partnership with the SBA.) This could give you a leg up and provide the banker or lender time to prepare follow-up questions.
Ownership documents
To prove you own your business, you may need to submit documents you received when registering the company. Documents such as articles of incorporation or articles of partnership would outline the ownership structure of the business and show lenders how much of a stake you own. Current business licenses may also be required.
Existing debt information
Lenders would need to know if you already owe money elsewhere. Be prepared to disclose current obligations, including any loans, leases or contracts. Your liabilities, both personal and professional, may impact your eligibility for additional financing.
"If you have received funding in prior years, show them exactly what it was used for, how it was used and the results that came from it," Mahler said.
What do you need to get a business loan?
Lenders will analyze your business performance and your credibility as a borrower before approving you for a loan. Expect lenders to take a close look at the following.
Cash flow
Your cash flow illustrates whether your business is growing or falling behind. Lenders usually prefer to work with businesses that have been open long enough to generate a cash flow history that shows the company's ability to repay debt. However, credible cash flow projections could be acceptable for newer businesses.
"You need to have explanations for all line items on your cash flow statement, as well as strong reasonings that are realistic as to why your business will do so well," Mahler said.
To give your application an edge, you may want to include your global cash flow. This is a combination of all the money coming into and going out of your household, regardless of whether the source is business-related or personal.
"Some business owners may have other businesses or side hustles, such as driving for Uber or Lyft, or have other types of household income that can really help them to get qualified," Melick said.
Business history
Your time in business is typically a deciding factor during the loan application process. Lenders tend to favor established businesses over start-ups, sometimes requiring at least two years in operation. If you don't have a substantial track record, a lender may instead consider your personal financial history and ability to pay off debt. However, you would also need to convince the lender of the long-term viability of your business if you haven't been open long.
If a lender does turn you away because you have fewer than two years in business, don't sweat it, Mahler said. Several alternative online lenders cater to newer businesses that can't qualify for traditional bank financing.
Solid personal credit
Many business lenders rely heavily on personal credit scores when approving borrowers. As the business owner, you would be responsible for the loan, which puts pressure on you to have good credit and a clean financial history, Melick said. Without that, you may have trouble securing funds.
"If those aren't up to the lender's standards, it can be a very short conversation," he said.
A score of 670 is considered good credit — and the higher, the better. You could also receive more favorable interest rates if you have a higher credit score.
"They will also review your entire professional history," Mahler said. "They want to see when adversity hits, what have you done in the past? What risks have you been able to eliminate?"
What to expect after applying for a business loan
After submitting your application for a business loan, the lender would begin the underwriting process. Underwriting typically takes a few months when applying for financing from a traditional bank, while alternative online lenders often use algorithms to instantly review your application. Also, lenders are often quicker to approve those who aren't desperate for the money, Melick said.
During the underwriting process, the lender would analyze the documents you submitted with your application, as well as your credit score, time in business and cash flow, as mentioned before. Lenders could also take your personal reputation into consideration, as well as ancillary business details such as social media presence.
"When it comes to borrowing money, there are no questions that are off-limits," Melick said. "Lenders often ask what happens to the business if something happens to you. Not having a plan for events like that can make getting funding more difficult."
If collateral is required for the type of financing you're seeking, the lender would also place a value on the assets you're offering. Lenders could ask for collateral to see if you're willing to put "skin in the game," Mahler said, and presenting valuable assets could increase your chances of being approved. But not offering collateral wouldn't necessarily hinder your prospects.
"This is not the death of your loan application," he said. "The banks will be easier on this more than you think."
If approved, the lender would then present an offer that includes your loan amount, interest rate and repayment terms. Before signing off, make sure you're comfortable with the details of your loan agreement.
The bottom line
Now that you've got your small business loan checklist, you should feel comfortable applying for financing to find the right lender for your business.
"Have all your ducks in a row," Mahler said. "The [fewer] questions that need to be asked, the better."