How to Start a Business in Arizona
Published on: October 13th, 2019
Editorial Note: The content of this article is based on the author's opinions and recommendations alone. It may not have been previewed, commissioned or otherwise endorsed by any of our network partners.
If you're looking to start a small business in Arizona, the Grand Canyon State is known for low property taxes, as well as personal income and corporate taxes. If you're an entrepreneur starting a venture in Arizona, you're in good company: 571,495 small businesses here employ 1 million people who make up 44% of the total employees within the state.
Here's what you need to know about starting a small business in Arizona, as well as a few tips that can help save time and prevent headaches down the road.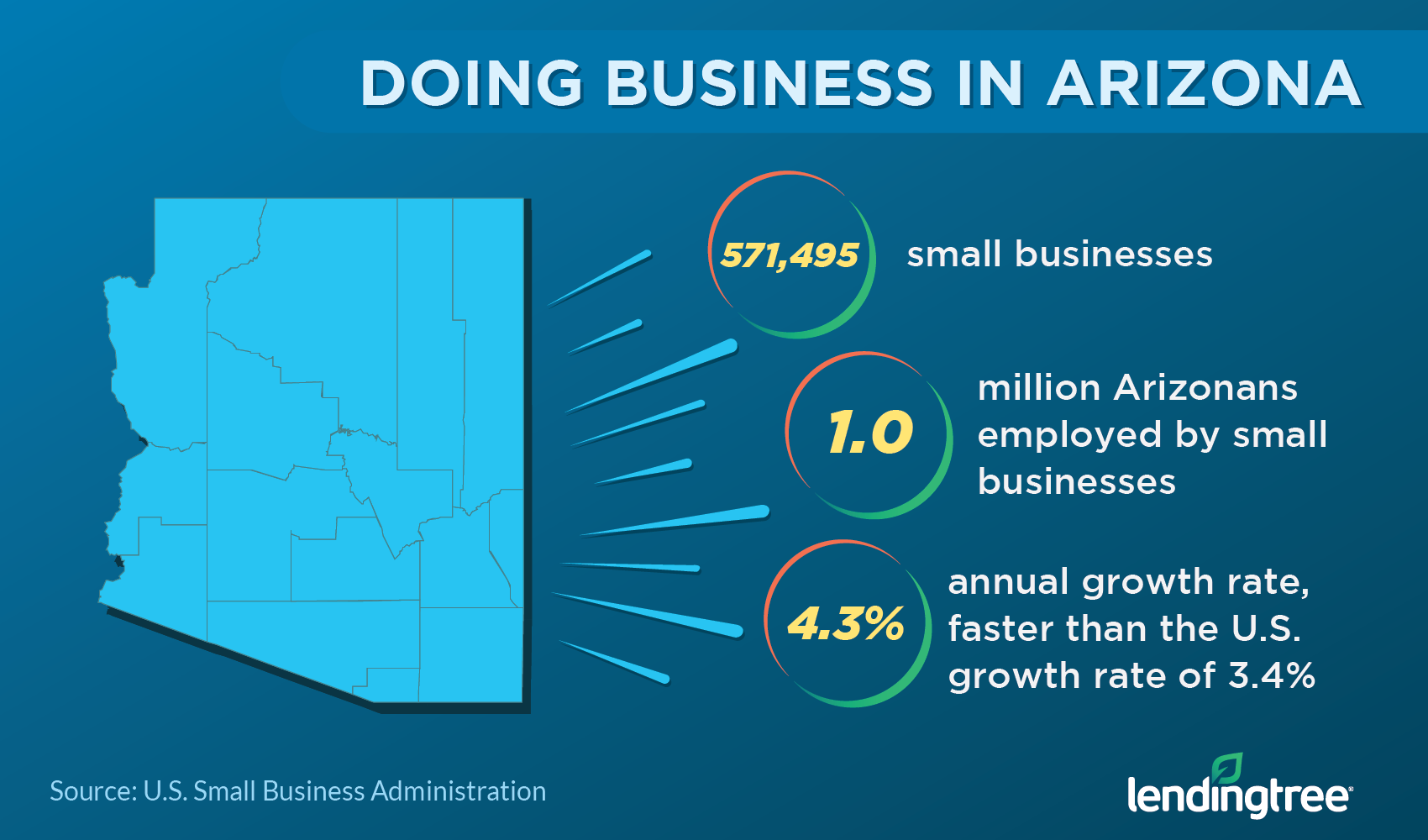 How to establish a business entity in Arizona
Establishing a business in Arizona involves various steps including:
Determining your business structure
Choosing a name and checking its availability
Registering with authorities and obtaining necessary licenses
Applying for an employer identification number (EIN)
Opening a business bank account
Here's the full rundown on how to establish a business entity in Arizona with the proper authorities, complete with federal requirements, and a few best practices thrown in for good measure.
Determining your business structure
Arizona limits entity types to corporations, non-profit corporation or limited liability companies (LLCs). Other states allow businesses to file under more specific organizational structures, including additional type of corporations or partnerships.
You will, however, still have to determine the right kind of business entity you want to use for your company under federal law. This will play a part in how you file federal income taxes based on what you choose. For example, here are two common types of corporations recognized by the Internal Revenue Service:
C Corporations are the standard and most common business type, requiring owners to pay taxes on their company's income (and, in the event that business owners take a salary, their personal income as well).
S Corporations handle taxes differently than C-Corps. These are often called "pass-through entities," as the profits and losses incurred by the business are passed through to an individual's tax return, rather than requiring business owners to file a separate return for their venture.
You could read more about the differences between C-corps and S-corps here.
Naming your business
Naming your new business can either be a fun part of the process where your creativity shines or something dreaded if inspiration just isn't striking or a name is already taken. Check for similar names by searching the Arizona Corporation Commission (ACC).
There are some restrictions: for example, your business name may not contain specific words such as "bank," "trust" or "credit union" without proper registration as a financial firm. You will also need to make sure to include terms such as LLC or incorporated in your business' name, based on the kind of entity you've established.
Registering your business
After checking your name with the Arizona Corporation Commission as we mentioned earlier, you have three options:
Reserve your business name. The ACC allows applicants to reserve names for up to 120 days before filing a business entity with the state. The cost is $45.
Register your business name as a trade name. This may be done with with the Arizona Secretary of State and is similar to establishing a DBA, short for "doing business as" and otherwise known as a fictitious business name. DBAs are a popular way for sole proprietors to conduct business under a name other than their own without forming a corporation. If you establish a trade name, it is not necessary to reserve a business name with the ACC. The cost is $10.
File your entity paperwork. If you're ready to roll and don't need to reserve your name first, you can also fill out the business entity application. Remember that you'll also need to include the articles of incorporation for your company in most cases, too. You can find the ACC form for your articles of incorporation here, which may be returned in person or by mail. Here are the filing costs for each type of entity in Arizona:

Corporation: $60
Nonprofit corporation: $40
LLC: $50 with your articles of organization application.
Obtaining necessary business licenses
You may need to secure business licenses in Arizona, depending on your company's line of work and where you operate. Though Arizona does not require a statewide business license, you will most likely have to pay attention to three different types of licenses:
Transaction Privilege Tax is akin to what most other states consider a sales tax license. This allows businesses to collect sales tax on their products and may not be required by all kinds of companies. You would obtain this license from the Arizona Department of Revenue.
Professional licenses or permits may be required specific to your industry. For example, if your business deals with environmental health, safety or other services, you may need to register for a license with the state Department of Environmental Quality or Department of Health Services. Alcohol-related businesses may need a federal license from the Alcohol and Tobacco Tax and Trade Bureau. You could use the Arizona Commerce Authority's Small Business Checklist, which can direct you to most of the forms you may need and information for contacting licensing agencies.
Local business licenses may be required by some Arizona cities and municipalities. Be sure to check with your local government for up-to-date regulations.
Costs of starting a business in Arizona
In addition to the filing fees we mentioned earlier, there are a variety of costs associated with starting a business in Arizona.
State taxes
As a corporation, you will also have to pay federal and state corporate income taxes, which is currently 4.9% per year or a minimum tax of $50. The actual amount businesses are required to pay will depend largely on income, deductions and losses. LLCs that pay taxes as "pass-through" entities will pay taxes through their personal income tax returns. This is in addition to the Transaction Privilege Tax we mentioned earlier, plus:
Employer withholding taxes must be paid if your business has employees. Employees must elect a withholding percentage by completing Form A-4.
Unemployment taxes are another responsibility of small business owners with employees. You can find any necessary forms with the Arizona Department of Economic Security.
You can read more about your federal business tax obligations here.
Insurance costs
Arizona requires business owners to provide workers' compensation coverage to their employees. Business owners may want to purchase other types of insurance, too.
Workers compensation insurance is required for Arizona businesses with one or more employees. This is true even if your employees are part-time (but domestic servant coverage is optional).
You may also want to consider these policies:
Commercial liability insurance covers businesses in the event of a variety of incidents including property damage, bodily injury, personal injury and losses due to advertising or legal action. You may want to get a commercial liability policy regardless, depending on your line of work.
Automobile insurance would be required if your business has commercial vehicles.
Health insurance would be required for businesses with 50 or more employees. If you have 25 or fewer employees, you could still offer health insurance to your workers and perhaps qualify for tax credits as a result. You could find out more at the Arizona Department of Insurance.
How to finance a business in Arizona
Getting registered and licensed is only the beginning of starting your business. You'll likely have to consider financing equipment, purchase orders and paying for things like raw materials and utilities.
Thankfully there are a range of options available for entrepreneurs, including grants, loans and other financing options. For example, Arizona STEP grants are tailored for small businesses that are looking to export their wares for the first time and provide financing as well as expert assistance through the international sales process. There are other efforts available that are designed to assist Arizona business owners, including:
Arizona Tech Investors accepts applications from early stage information technology and life science startups in Arizona.
Desert Angels encourages companies with projected aggressive growth revenue to submit a business plan in order to be considered for funding.
Thunderbird Angel Network allows early stage companies to pitch investors at its quarterly TAN dinner meetings. Entrepreneurs could learn more by reading its fact sheet.
The Arizona Commerce Authority provides a full list of programs on its website, and the Arizona Small Business Development Center provides tools and resources online to help entrepreneurs with assistance in starting up their businesses.
Alternatively, you may want to consider financing via loans. There are several options available, including:
Term loans are the most common (and commonly known) type of financing for businesses. In exchange for collateral, lenders provide borrowers with a set amount of cash and expect recurring repayments of the total lent (the principal) as well as interest on the balance.
Small Business Administration (SBA) loan offers a slate of choices to qualifying small business owners at more competitive interest rates than conventional loans typically provide, due in large part to the SBA guaranteeing up to 85% of the loan's total value. Because of their competitive terms, SBA loans can therefore be difficult to qualify for — you can find a checklist for navigating the often complicated process here.
Equipment financing is helpful when you need to borrow money in order to purchase machinery, tools or other large tools for your business. With equipment financing, you get a loan for the total invoice price of a piece of equipment without needing to put down additional collateral.
When you add it all up, there are more than a few costs involved in getting your business off the ground in Arizona. So long as you have a plan in mind, however, you can get started in no time.
The bottom line
Arizona can be a great place for entrepreneurs to start their next venture, as well as a promising destination for people looking to relocate or expand their business. The relatively low corporate tax rate, straightforward registration process and grant opportunities within the Grand Canyon State all add up to a business-friendly destination for people looking to start a new business.