How To Start a Business in Massachusetts
Published on: October 13th, 2019
Editorial Note: The content of this article is based on the author's opinions and recommendations alone. It may not have been previewed, commissioned or otherwise endorsed by any of our network partners.
With 1.5 million people in the state employed by a small business, Massachusetts is a great place to launch a new enterprise.
And the state's economy is growing quickly: in 2017, the economic growth rate was 2.6%, compared to 1.7% in 2016, according to data from the U.S. Small Business Administration. Plus, the state's economy is growing slightly faster than the U.S. at large, at 3.5% in the third quarter of 2018, opposed to 3.4% nationwide. The state also has countless resources available for new business owners, as well as venture capital funding options designed specifically for Massachusetts founders.
If you're starting a new business in Massachusetts, here's a step-by-step guide for how to start a business in the state, as well as a look at the various costs you may face.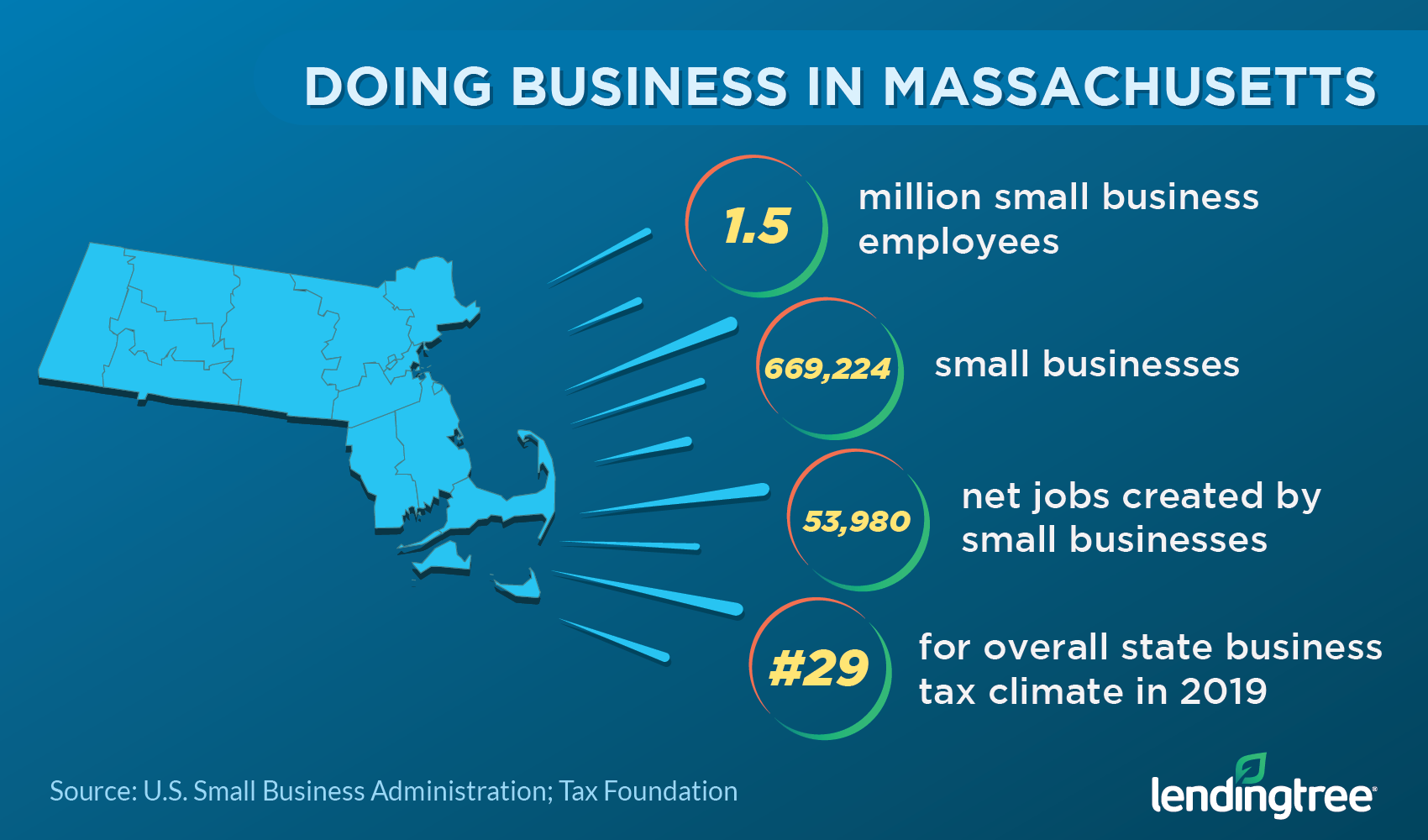 How to establish a business entity in Massachusetts
When establishing a new business entity in Massachusetts, there are a handful of crucial steps that you will need to take. Once you've created your business plan and decided you're ready to dive in, these are the six steps you'll want to take to officially launch your business.
1. Select your business structure
There are several different business structures, from limited partnerships and LLCs to corporations and S corps. It's important to figure out what type of business you'd like to start before you officially register your business.
Each business structure varies in terms of ownership, liability and taxes, and there are benefits to choosing certain business structures over others. It all depends on your specific situation.
Sole proprietors, for example, have complete control of their business, while limited partnerships involve two or more owners. LLCs offer protection when it comes to one's personal assets, while a sole proprietorship does not. C Corps can be subject to double taxation (company profits and shareholders' dividends), while S Corps can avoid this potential roadblock.
This guide can help you further identify which business structure is ideal for you, based on what you're looking for in terms of tax requirements, liability protection and ownership stake.
2. Name your business
Once you name your small business, there are several ways to go about protecting the name you choose. You can file for an entity name, file for a trademark, register a domain name or fill out a Doing Business As (DBA) certificate. Each method of registering serves a different purpose, and the requirements for your business will likely depend on the structure you choose for your business and its location.
Massachusetts recommends filling out a DBA. This allows you to legally start conducting business under a trade name and take the first steps towards registering your business with the town or city in which you'll be doing business. Although some states conduct DBA filing on the state level, Massachusetts does it on the local level. A DBA isn't always required, however, so be sure to check with your town or city to see what the specific requirements are.
Filling out a DBA doesn't protect your business legally, nor does it prevent multiple companies in the state from having the same DBA. (To actually own your business name, you need to file for a trademark.) Still, you might want to fill out a DBA if you want to practice business under a name that differs from your legal name, which offers an element of privacy for your business. Plus, if you have both a DBA and a federal tax Employer Identification Number (EIN), you can open a business bank account.
If you determine that filling out a DBA isn't right for your business, or you want additional legal protections, look into the other available options. For instance, filing for an entity name in Massachusetts will require a $30 filing fee, which will hold that name for 60 days as you go through the incorporation process; if necessary, you are able to extend this reservation for 60 more days by paying an additional $30 fee.
3. Obtain an employer identification number from the IRS
Once you've officially named your business, you should obtain an EIN from the IRS. Having an EIN is necessary in order to file taxes on behalf of your business each year. And while sole proprietors who don't pay additional employees typically do not need an EIN, all other business structures do. In addition to filing taxes, an EIN is necessary for taking out business loans and opening business bank accounts.
To obtain an EIN, you must be able to prove that your business is located within the U.S., and you'll need to provide your Social Security number. If you meet these requirements, you can proceed with filling out the online application.
If you plan on opening a business bank account, this is a great time to do so.
4. Register your business with the state of Massachusetts
Once you've selected your business structure, named your business and obtained your EIN, the next step is to officially register your business online with the state's Department of Revenue (DOR). All business entities must officially register with the Secretary of the Commonwealth before they begin practicing business in the state.
When registering your business, you will need to provide the following:
your Social Security number (if you're a sole proprietor)
your EIN
your legal name
our business's mailing address
the starting date of your business
If you plan on registering as a corporation, you'll also need to provide contact information, titles and Social Security numbers for all business officers. Nonprofit organizations will also need to provide an IRS Determination Letter stating that the company is recognized as a 501(c)(3).
5. Obtain any relevant permits and licenses
Depending on the type of business you're starting, you might need to obtain certain permits and licenses to legally conduct business. In Massachusetts, licenses are required for the following types of businesses:
health care
building and other trades
career development and professional training
environmental-related businesses
real estate
cosmetology and barbering
commercial transportation
Registry of Motor Vehicles (RMV) professional certifications (include school bus drivers and driving instructors)
There may also be further licensing requirements specific to certain locales and/or industries. For example, you might need additional licenses to run a lodging business in Boston, or a live entertainment license to run events in nearby Cambridge.
Get started acquiring your permits or licenses using the Massachusetts Permit Regulatory Office's (MPRO) online form.
6. Find a location for your business
If you plan on starting a business that needs a brick-and-mortar outpost, now's the time to find a spot. When securing a building for your business, there are several things you'll want to take into consideration. Is there decent foot traffic? Are competitors nearby? Is there ample parking for customers?
Once you've found a place that seems to fit your needs, check the local zoning laws and ordinances to make sure your business can operate in the designated space. You should also check the Massachusetts State Building Code to ensure the spot is up to code. In addition, you should make sure you have the required building and occupancy permits needed to officially conduct business in this space.
If you're running your business out of your home, it's important to know that some cities have zoning restrictions on operating a business out of your home. Check with your municipality before you begin conducting your business there.
Costs of starting a business in Massachusetts
In addition to the fees that may accompany reserving a business name and applying for certain licenses and permits, there are additional costs you will have to consider when setting up a business in Massachusetts.
Although costs will vary depending on the type of business you're starting, below are certain expenses to keep in mind.
Registering your business. In Massachusetts, you'll face certain fees when you register your business. For example, registration for a limited partnership costs $200, while registration for a limited liability company (LLC) is $500. The Secretary of the Commonwealth of Massachusetts offers a full list of fees associated with registering one's business in the state.There are also fees for other things, like articles of amendments and annual reports, which can run up to $100 and $500, respectively. When you register a corporation in Massachusetts, you also have to file articles of organization, which cost a minimum of $275 for corporations.
Taxes. There are several state-level taxes you need to consider before starting a business in Massachusetts.If you plan to hire employees, you'll need to pay unemployment insurance (UI) taxes, which help pay for benefits of unemployed workers. In Massachusetts, UI taxes are a whopping 18.55%, the highest maximum rate in the nation for UI taxes, according to the Tax Foundation.Massachusetts also has higher state-level taxes for corporations than many other states. For example, business and manufacturing corporations in Massachusetts have a tax rate of 8% on their net income. The Tax Foundation also ranked the state 37th in the nation when it comes to corporate taxes.If you will be selling physical products as part of your business, you will likely also need to register with the state for sales tax. Sales and use tax in the state is 6.25%. Keep in mind that you will also need to pay federal taxes when you start a business in Massachusetts.
Insurance. There are different types of insurance you might need to carry before starting a business in Massachusetts.If you plan on hiring employees, you are legally required to acquire worker's compensation insurance, which covers lost wages and benefits for employees who are injured on the job. You also likely will want to carry liability insurance, regardless of your company type or size, which will offer protection in the event of an accident. In addition, you might want to carry health insurance, depending on the number of employees you have, as well as property insurance if you have a brick-and-mortar business.
Upfront financing. Depending on the type of business you're starting, you will likely need some form of financing to fund your upfront costs, which could include necessities like a space for your business, furniture, equipment, marketing, inventory and a professional website.
Where businesses can find financing help in Massachusetts
If you need help financing your business, there are some grants available from the state. Figuring out if there are any you qualify for could save you a decent amount of money in the long run.
Here are two options for grants available in the state:
In addition to financial assistance, the Commonwealth of Massachusetts also has myriad resources available for new small business owners looking for community, advice or expert guidance. The state itself can help with permit assistance and employee recruitment. Plus, the state's DOR offers specialized small business workshops.
Beyond state-sponsored grants and programs, there are also the following resources where business owners can turn for help, financial and otherwise:
If you need a loan to start your business, visit your local credit union or banking institution and check out online lenders to inquire about traditional business loans and SBA loans, which are business loans guaranteed by the Small Business Administration. You can find a database of lenders that offer SBA loans here.
The bottom line
If you're interested in starting a business in Massachusetts, the most important thing is to be organized. By following the steps above and using the resources available to you for guidance, you'll be primed to launch your business without any surprises or roadblocks.
If you run a business in another state and are interested in moving it to Massachusetts, you can consult this guide from the Secretary of the Commonwealth of Massachusetts. Just keep in mind that if you do hire employees, Massachusetts has the highest UI tax rate in the country.
Still, with nearly 50% of the Massachusetts workforce employed by a small business, starting an enterprise in this state could be a great way to not only launch your dream venture, but also employ others searching for work.