How to Upgrade to Hawaiian Airlines First Class Without Paying Full Price
Updated on: April 17th, 2019
Editorial Note: The content of this article is based on the author's opinions and recommendations alone. It may not have been reviewed, approved or otherwise endorsed by the credit card issuer. This site may be compensated through a credit card issuer partnership.
Hawaiian Airlines has one of the better first/business class cabins for its long-haul flights, with lie-flat seats, gourmet island cuisine and exclusive amenities, so an upgrade is an excellent way to get your vacation started right.
Upgrades using HawaiianMiles loyalty program miles aren't an incredible bargain, but for a special occasion, they're often better than paying full first/business class fares. We'll show you the best ways to upgrade on your next Hawaiian Airlines flight with both miles and cash.
Click below to learn more:
What miles will you need?
If you want to upgrade to a Hawaiian Airlines first/business class flight, you'll need HawaiianMiles to do it. Since Hawaiian Airlines is one of 18 American Express Membership Rewards® partners, you can transfer those points to HawaiianMiles at a 1:1 ratio. These transfers are instant; sometimes there are even bonuses that make your points go further.
Marriott Bonvoy™ points also transfer to 40 airlines, including HawaiianMiles, at a 3:1 ratio. Moreover, each time you transfer 60,000 points, you'll receive 5,000 bonus points. You are allowed to move between 3,000 and 240,000 points a day. Bonvoy points are automatically transferred to an airline loyalty program, but it may take up to six weeks for them to post to your account.
How much do upgrades cost?
Hawaiian Airlines offers two classes of service – main cabin and first/international business class for interisland, U.S. domestic and international flights. It also offers two levels of miles-based upgrades. Saver offers a discount on first/business class upgrade awards, while Flex costs twice the miles and is available when Saver is not available. Both are based on availability. Upgrade prices are below:

*Stopovers not permitted. Award levels based on redemption from a single account. U.S. citizens traveling to an international destination must present return ticket at time of check-in.
Upgrade pricing between regions is calculated per flight segment. For example, if you fly from the mainland U.S. to Hawaii and then on to Japan, you would pay 25,000-50,000 miles for the first segment and 45,000-90,000 miles for the second segment.
Although you can redeem HawaiianMiles on five airlines — Japan Airlines, JetBlue, Korean Air, Virgin Atlantic and Virgin Australia — you can't use them for premium cabin upgrades.
Hawaiian Airlines' fleet of long-haul Airbus A330 and A321 jets include Extra Comfort seats that come with five or more inches of legroom, priority airport screening and boarding, in-seat power outlets, the "Unlimited TV & More" entertainment pack, an amenity kit and other treats to make your travel experience more comfortable. Below is a sample fare on a flight from San Francisco to Honolulu:

If you have HawaiianMiles Pualani Platinum or Gold elite status, you receive free upgrades on flights to and from North America and international destinations, when available. This benefit applies to the elite member only. However, you can't use HawaiianMiles for an upgrade to Extra Comfort seats.
What fares can you upgrade?
Any paid fare can be upgraded with miles, availability permitting, except fares booked with a companion voucher. However, award tickets are not eligible for upgrades. Keep in mind that if you paid for an Extra Comfort seat before deciding to upgrade with miles, you won't receive a refund of that fee.
How to know upgrade space is available
The easiest way to find out if there's open upgrade space available for mileage upgrades is to call Hawaiian Airlines. You can also go to HawaiianAirlines.com and search for a first/business-class award ticket, which is the same as upgrade space. You'll need to set up a HawaiianMiles account, log in and see what flights have first/business class awards available.
An upgrade on the flight below from San Francisco to Honolulu — based on the HawaiianMiles needed for a ticket — shows that there is space available for upgrades to first class. Knowing that, it would cost between 25,000 and 50,000 miles, depending on whether it's a Saver or Flex upgrade.

Expert Flyer®, a paid service that allows you to check awards, upgrades, flight availability, seats and fares, allows you to check for some upgrade space with Hawaiian Airlines, but unfortunately, only for the more expensive Flex upgrades. Since Expert Flyer doesn't provide access to the lower Saver space and it costs money to use, you're better off calling Hawaiian if you're not already a HawaiianMiles member.
If you would rather upgrade with money instead of miles, Hawaiian offers options to upgrade with cash including an upgrade auction (explained below) and a cash buy-up on the day of departure. You can view day-of-departure upgrade options online when you check in or at the airport via a kiosk check-in.
Can you waitlist if no upgrades are available?
Hawaiian Airlines does not offer a waitlist for mileage or cash upgrades, only for paid fares. Once you pay cash for an upgrade on the day of departure, that seat is yours. If a mileage upgrade is not available at the Saver or Flex level, it is likely that there's no chance for an upgrade. If Hawaiian decides not to offer Saver upgrades, usually a Flex upgrade will be available unless the first/business class cabin is already fully booked.
How to book an upgrade
If you want to book with miles, call Hawaiian Airlines at 800-367-5320 at least 26 hours before departure. Last-minute upgrades with miles are not possible.
If you prefer to use cash to upgrade your booking, you can do so online after making your reservation or at the airport between 24 hours before your flight and until check-in closes.
Do upgrades come with lounge access?
If you upgrade, your fare gives you lounge access. If you're on an international flight in first/business class, that gets you into the Plumeria Lounge. For all other flights, you can relax in the Premier Club.
How much do cash upgrades cost?
Hawaiian Airlines offers two ways to pay for an upgrade in cash, and it often costs less than buying a first/business class ticket.
One is a program that sells confirmed upgrades at check-in or 24 hours in advance of the flight and the other is an option to bid in an auction for an upgrade that's confirmed between 26 and 48 hours before a trip.
For upgrades at the 24-hour mark, the price to upgrade with cash is fixed, depending on the route and sometimes your status level: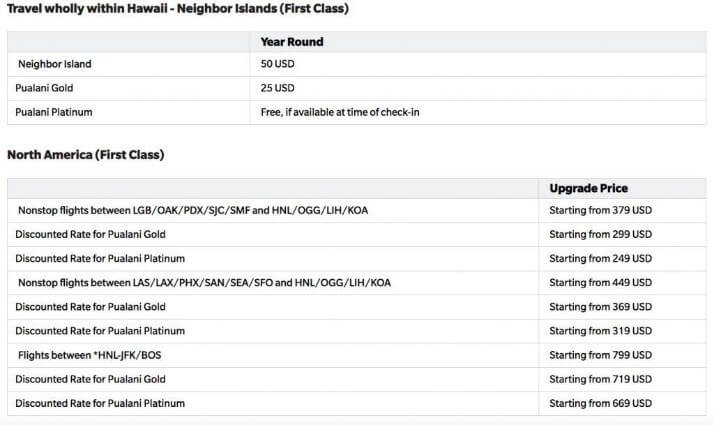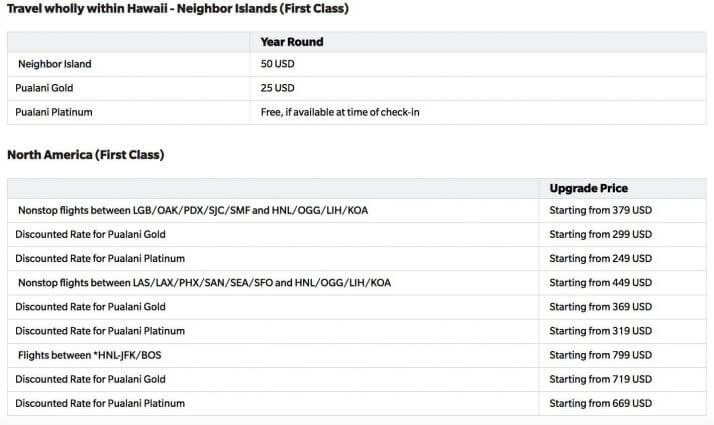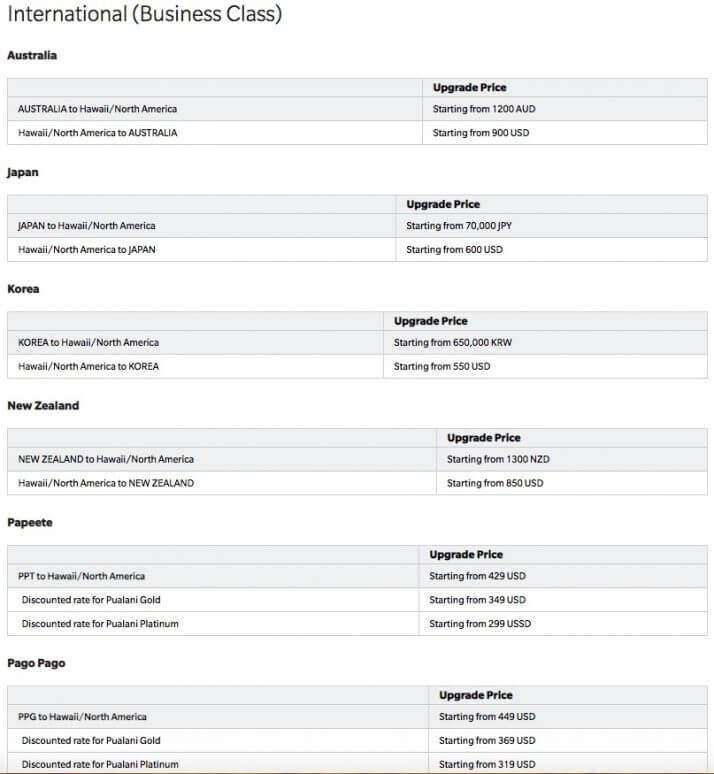 Bidding for upgrades
Go for a first/business class seat under Hawaiian Airlines' Bid Up program using this form right up until 48 hours before your flight. First, check your eligibility to bid by typing in your reservation confirmation code and last name, and click the "Check Eligibility" button.
Then you submit your offer, as illustrated below: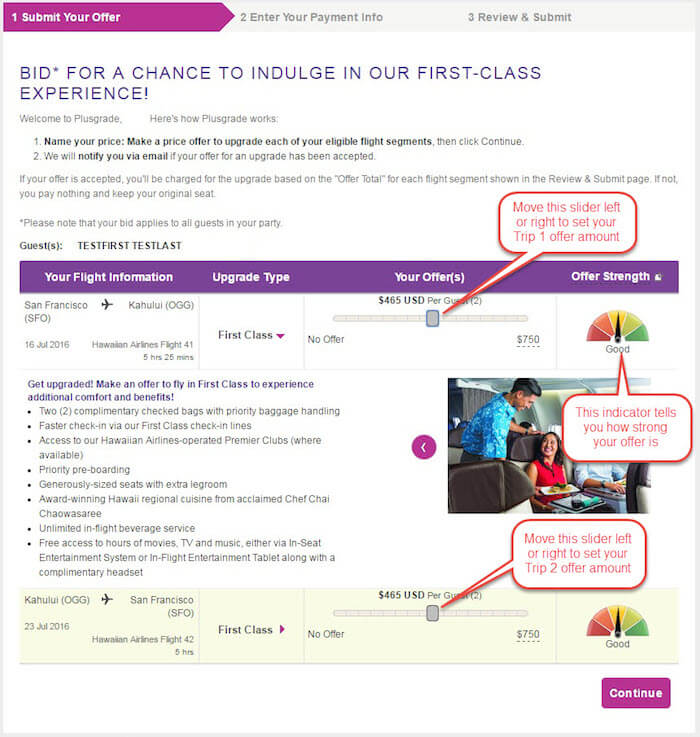 Next, enter your payment information: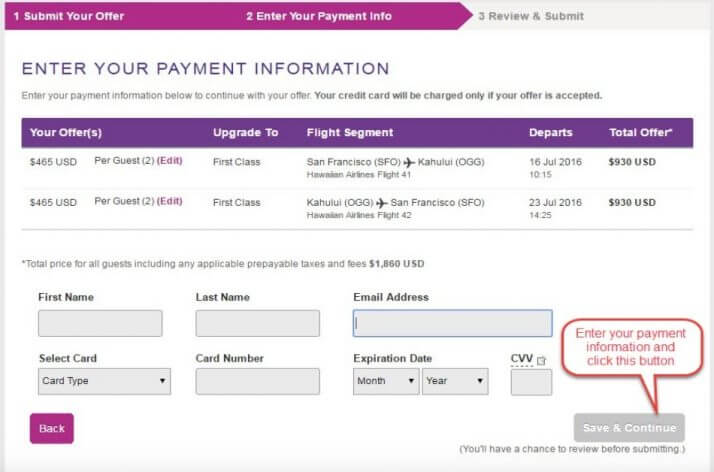 After reviewing your submission, cross your fingers and hit the "Submit Offer" button. You'll receive this confirmation email: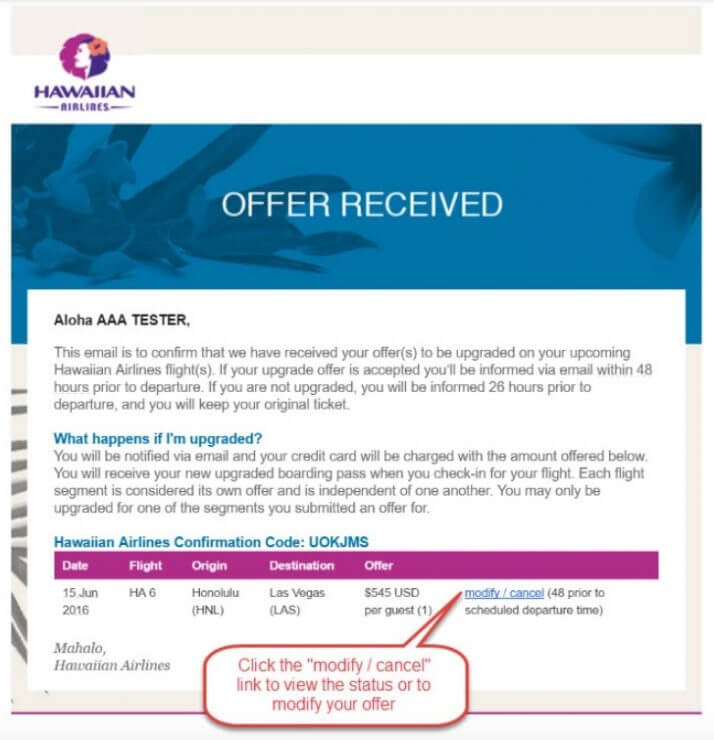 You'll be notified within 48 hours before departure whether your offer was accepted. You can cancel or change your offer anytime up to 48 hours before the flight. However, you won't be able to choose your seat once you win the upgrade since they are assigned based on availability.
Tip: With advance planning, you can find first/business fares from the West Coast that cost about $200-$250 more than a coach fare each way. These fares can save you from the uncertainty of the bidding process.
The bottom line
Now that you know all the ways to get an upgrade on Hawaiian Airlines, you might want to consider going for one on your next trip to the Aloha state. If you're willing to spend some money or HawaiianMiles, you're guaranteed to get a seat in the airline's first/business class.
However, if you want to sit in the front of the plane at a discount, Hawaiian Airlines gives you several options to do it. Just be aware that you may not know if you got it until the last minute.