Mixed-Cabin Awards on United: Tactics to Ensure You Sit in Business or First Class
Updated on: November 25th, 2020
Editorial Note: The content of this article is based on the author's opinions and recommendations alone. It may not have been reviewed, approved or otherwise endorsed by the credit card issuer. This site may be compensated through a credit card issuer partnership.
United.com is one of the more accessible airline sites to search for award flights and premium cabin upgrades.
However, if you're on the hunt for the hardest-to-score MileagePlus® loyalty program awards — business and first class seats — you'll eventually run into the frustrating 'Mixed Cabin' message, as illustrated on the Chicago-Berlin flight below: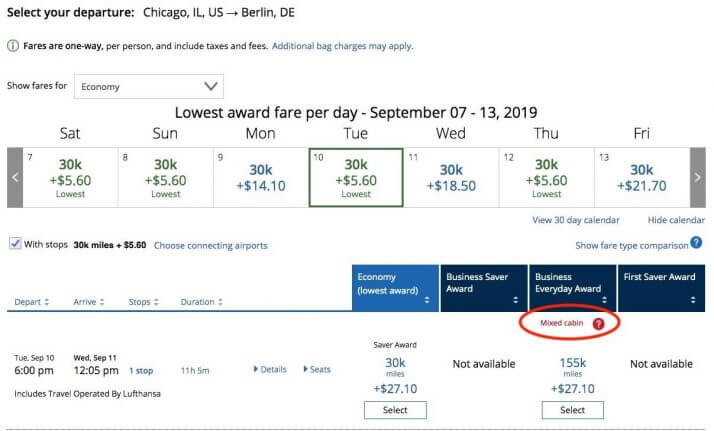 Mixed cabin means that while you're paying the full miles price for a first or business class award ticket, part of your award travel will be in economy. Most people who book these awards merely resign themselves to sitting in economy class for that segment of their flight.
Know that you don't have to settle, and that you could be missing out on the chance to upgrade to business or first class with a mixed-cabin award — without spending on change fees or using extra miles. Below are two mixed-cabin award situations and how to deal with them.
The economy class portion is on a United flight.
Call United and ask to be put on the waitlist for first or business class. Unfortunately, this isn't an automatic process and is by request only, so make that call. After hanging up, wait a few minutes, then check your reservation at United.com.
If you see the 'class requested' message below your chosen flight, you'll have priority for first or business if an award seat opens up. Moreover, if it doesn't open up before the day of departure, your waitlist request will transfer over to the airport, which will give you priority over others trying to upgrade.
So unless first or business class sells out entirely with paid cash tickets or United's more expensive Standard MileagePlus awards, you'll be sitting up front on both legs of your flight.
The economy class part is on a partner airline flight.
This case is a little tougher, as shown below on this United-Lufthansa flight from Chicago to Berlin.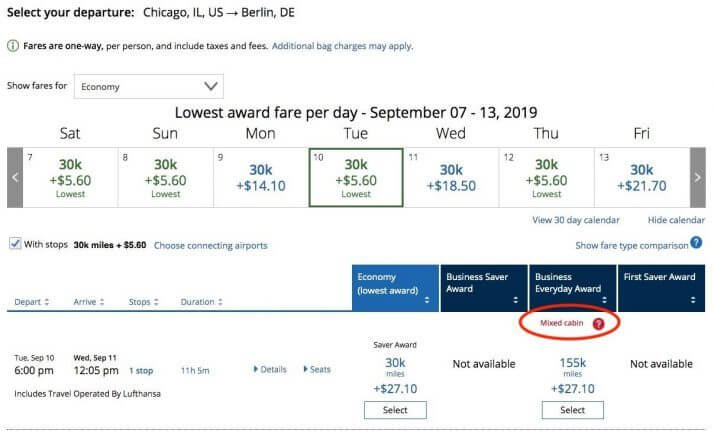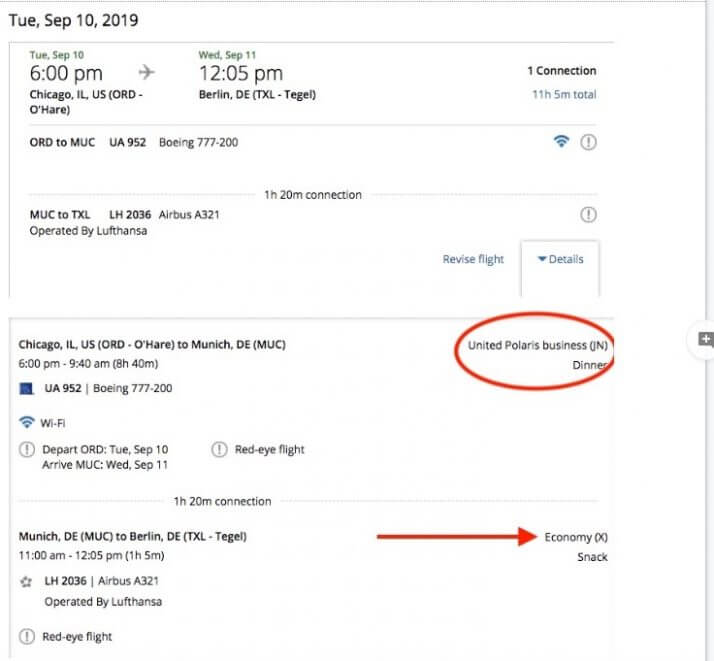 United can't waitlist you on partner flights such as Lufthansa, but it can move you from economy to business if an award seat opens up. And they'll do it for free if you've already paid the full business class price for your award.
In this situation, keep checking award availability at United.com. If the flight you're on opens up, call the MileagePlus Service Center at 800-421-4655 and ask to be moved to the cabin you paid for.
Knowing these tips can make you feel more confident when you're faced with choosing a mixed-cabin award in the future, with a reasonable hope of ending up in first or business class for your entire trip.