Using Chase Credit Journey To Check Your Credit Score
Published on: October 15th, 2020
Chase Credit Journey is a free online tool available to both Chase customers and noncustomers that provides access to your credit score and credit report from the credit bureau Experian.
For those looking for an interactive credit-monitoring tool to help keep track of your credit standing, we'll walk you through the features offered by Chase Credit Journey.
What is Chase Credit Journey?
Chase Credit Journey is a free credit-monitoring tool which offers the following:
Your VantageScore 3.0 based on Experian data.
An analysis of factors that are impacting your credit score.
A chart tracking your credit usage over time.
Access to information on your credit report.
Alerts on credit activity and your personal information.
A simulator to help estimate changes in your credit score.
Restoration services in cases of identity theft.
Offers such as preapproved Chase credit cards.
Be aware that preapproval for a Chase credit card does not guarantee that you'll be approved, but it can be a good indicator of qualification chances.
How to use Chase Credit Journey
If you have a Chase credit card, you can access Chase Credit Journey through your credit card's online dashboard via chase.com. Those without a Chase card can sign up for Credit Journey for free with this link.
Here's where to find Credit Journey after logging in as a cardholder: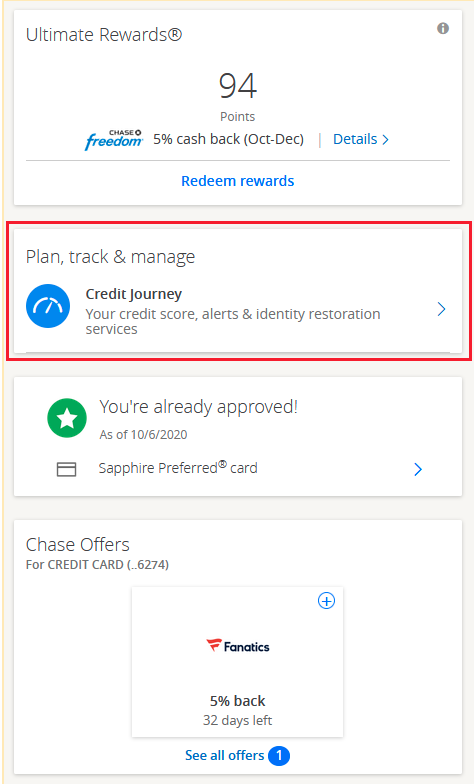 The first time you access Chase Credit Journey, you'll be taken to an enrollment webpage where you must select "I've read and agree to the above" and then click "enroll."
Then, you'll be directed to a page that highlights your credit score, factors that are impacting your score, your current credit usage and balances.
Useful Chase Credit Journey features
Check your credit score
Credit Journey lets you check your VantageScore 3.0 (which ranges from 300 to 850) based on Experian data and denotes where your score falls within one of four ranges:
Excellent: 780 to 850
Good: 720 to 779
Fair: 660 to 719
Poor: 300 and 659
The score is updated monthly and includes a note on when your score will update next.
What's also included below your credit score are the factors impacting your credit score, so you can make a plan of action if you need to improve your score. For example, if you have too many credit checks on your report, that indicates you should stop applying for new credit for some time, or if your credit usage is too high, that indicates you need to pay down your balance.
Be aware that the credit score lenders typically use when deciding whether or not to extend credit to you is your FICO Score, which is similar to the VantageScore, but uses somewhat different ranges:
Exceptional: 800 to 850
Very Good: 740 to 799
Good: 670 to 739
Fair: 580 to 669
Poor: 300 to 579
However, many of the same factors impact your FICO Score and your VantageScore — so if you're managing your finances well and have a good VantageScore, you're on the right track.
Review info on your credit report
Chase Credit Journey also offers the option to review your Experian credit report, where you can review:
Open accounts
Closed accounts
Credit checks
Derogatory marks
Collections
Public records
Consumer statements
Personal information
Checking what's on your credit report allows you to spot any inaccurate information and file a dispute with the credit bureau. Note that you can also get your credit reports directly from each of the bureaus (Equifax, Experian and TransUnion) for free by using annualcreditreport.com.
Get alerts when something changes
Credit Journey can send you email alerts when something changes on your Experian credit report, such as when a new account is opened or if a new hard inquiry of your credit report is recorded.
If you have a Chase credit card, you can also set up alerts based on a wide variety of triggers, such as when your available credit is less than a certain amount, when your payment due date is approaching, and when transactions of certain types are charged to your credit card.
You can also opt in for Chase's free identity monitoring, which includes:
Dark web monitoring (checks if your personal info is on various unsafe places online).
Data breach monitoring (checks if someone has accessed your personal info).
Social Security number (SSN) trace monitoring (looks for new names, aliases and addresses linked to your SSN).
Identity verification (keeps track of when your info is used to confirm your identity).
Simulate changes to your score
The score simulator tool available through Credit Journey lets you plug in a wide variety of financial actions and see how they might affect your credit score.
For example, you can simulate:
Being approved for a new credit card.
Consolidating credit card debt onto a new card.
Being approved for an installment loan.
Getting declined for a loan.
Taking out a mortgage.
Paying off all your credit card balances.
Maxing out your credit cards.
Paying off all your installment loans.
Making on-time payments for 6 to 24 months.
Missing a payment on a credit card.
Having an account in collections.
Declaring bankruptcy.
The tool estimates the number of points that will be added or subtracted from your score based on the actions you input into the simulator tool.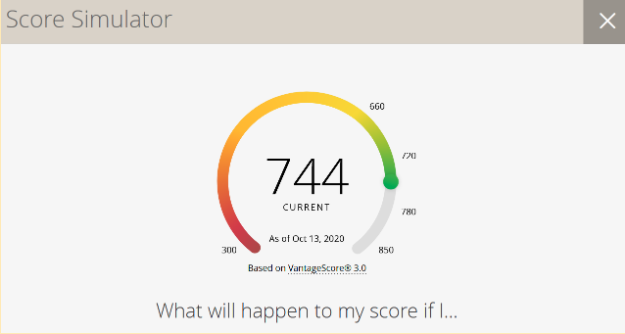 6 Things That Can Hurt Your Credit Score
Other ways to check your credit score
For those who want to check their credit score, monitor cash flow and get suggestions on ways to save – can also consider a free My LendingTree account, which can provide those services. LendingTree offers access to your VantageScore 3.0. You'll also get alerts if something changes with your credit and a Dispute Center tool which can help get incorrect information taken off your TransUnion report.
Another way to check your VantageScore and monitor your credit is with CreditWise by Capital One. CreditWise is available to anyone for free, whether or not you have a Capital One credit card. The tool lets you check your credit score, keep up with changes to your credit report from TransUnion, and get alerts if your Social Security number or email address is found on the dark web.
If you want to access your FICO Score, one way to do that is through the Discover Credit Scorecard. Even if you don't have a Discover credit card, you can sign up and get your FICO Score 8 pulled from Experian data for free.
Another way to get your FICO Score 8 is directly from the credit bureau Experian by signing up for the online tool Experian Boost — aimed at helping those with thin credit files bulk up their credit history by linking a bank account and building credit with recurring payments such as utility bills, phone payments and Netflix subscriptions, which don't normally contribute to your credit score.
Learn more about your credit score!