You've Cleaned Up Your Credit Reports. Now What?
Published on: January 18th, 2019
Editorial Note: The content of this article is based on the author's opinions and recommendations alone. It may not have been previewed, commissioned or otherwise endorsed by any of our network partners.
You've tackled the tough task of cleaning up your credit report.
All errors have been fixed, all late payments have been addressed and all accounts listed on your credit report are checked off as legitimate. Now that you've got a better grip on your credit, how can you build on that hard work and really improve your score?
It's a good question, and one any consumer should ask if they want to get their best possible credit score. In technical terms, the highest FICO credit score one can earn is 850, but that's a deceiving figure. No creditor or lender insists on an 850 credit score to approve you for a loan. Having a credit score of 800 is just as effective and fairly attainable if you follow several key credit-strengthening steps and practice them diligently.
Here are the steps to take your credit score from mediocre to stellar.
1. Know the 5 factors that build your credit score
While there is no shortage of action steps to improve your credit health, starting with the five factors that influence your credit score should be at the top of the list.
Think of your credit score as a machine with multiple moving parts. If any one of them is moving slowly, or not at all, that's a problem that could easily cause your credit score to decline.
Conversely, if all the parts are moving forward smoothly and efficiently, your credit score should climb upward. The more that happens, the better your credit health.
These five factors are the main components that drive credit score performance, based on the FICO credit scoring model. Get to know each of them, and how much they can influence credit health, if you're serious about improving your credit score over the long term.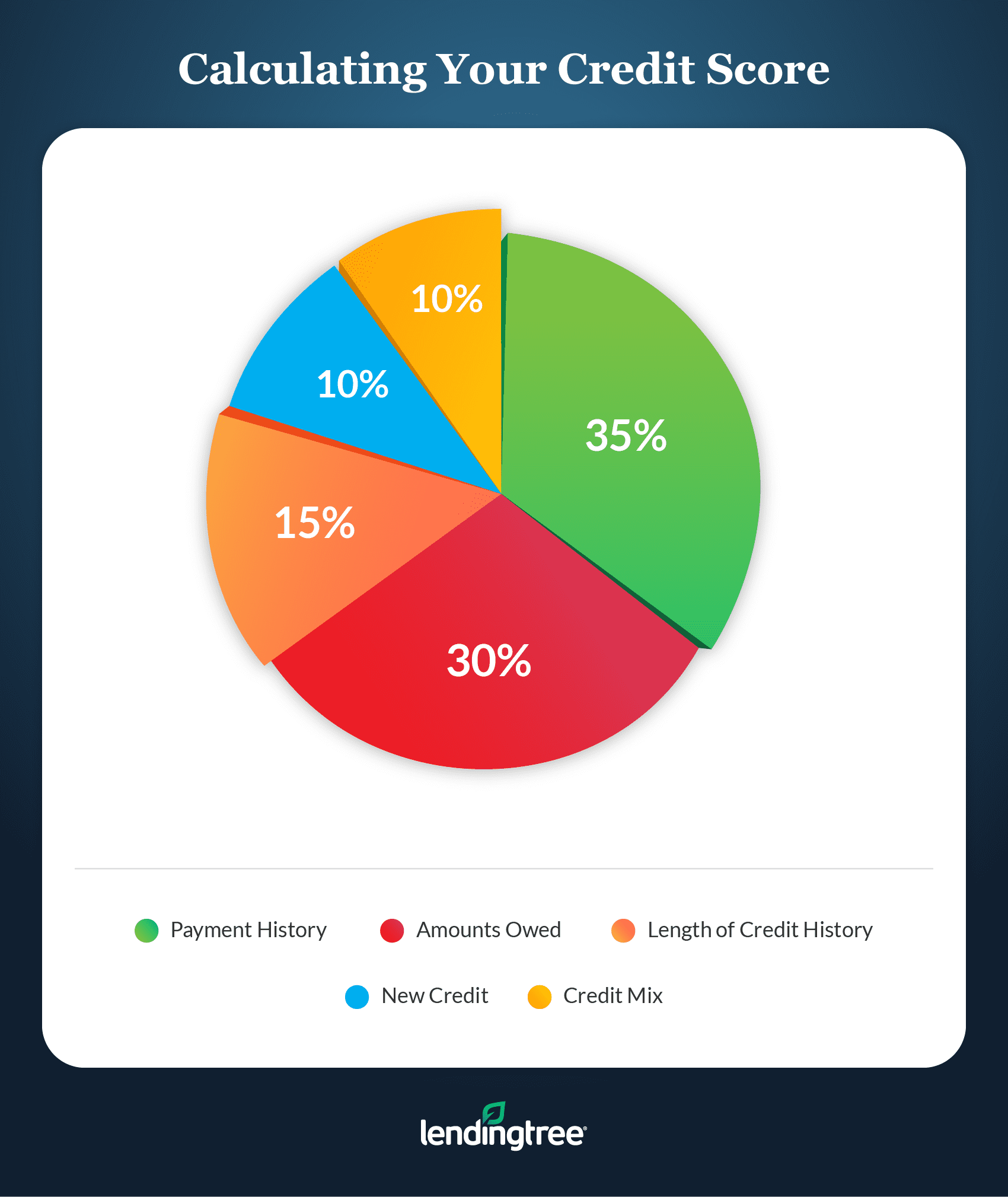 Credit and loan repayment history. Payment history comprises 35% of your total credit score. A steady stream of on-time payments can really help you boost your credit score.
Amounts owed. The amount of money you have outstanding (i.e., the money you owe) makes up 30% of your credit score. This factor looks at your credit utilization rate, which is your current balances divided by your available credit.
Length of credit history. The age of your credit history comprises 15% of your credit score. Lenders and creditors love consumers with a long and strong history of paying their bills, in full and on time.
Credit mix. Your credit mix makes up 10% of your total credit score. It's perfectly OK to have several different forms of credit open. These may include revolving credit lines like credit cards and lines of credit, as well as installment loans, mortgages and student loans. Creditors like to see consumers with a reasonable balance of open credit accounts across multiple areas. For example, a consumer with one or two credit card accounts, an auto loan, a mortgage and a retail account, with all accounts being paid on time, will likely be viewed favorably by creditors. That shows you are being approved for multiple credit accounts and paying them back on time.
New credit. The timetable used to open new credit accounts comprises 10% of your total credit score. Creditors view consumers who open multiple credit accounts in a short period as a higher credit risk. That's especially the case with younger personal finance consumers who have a short credit history.
Lenders don't mind new lines of credit being opened. They just want those account openings spaced out so that you can more easily handle multiple debt repayments on an ongoing basis.
2. Monitor your credit report
Personal credit reports are dynamic in structure, and credit scores can change at any time. That's why it's a good idea to regularly monitor your credit reports from all three major credit bureaus. You want to ensure all current information is correct and fix any errors you see.
Anyone with a credit score can obtain a free credit report annually from each of the three credit reporting agencies — Equifax, Experian and TransUnion. Just visit AnnualCreditReport.com.
When you get your report, focus on any data or activity that you don't recognize, like an incorrect address or accounts that aren't familiar to you. If you notice any errors, contact the credit reporting agency where the information appeared and dispute the credit report mistakes.
3. Set up auto-payments to help ensure you never have a late payment again
Setting up text alerts that notify you when bills are due is a good way to avoid paying bills late. An even better way is to set up auto-payments linked to your bank account so that your bills are automatically paid on time, every time.
Most creditors and businesses will be glad to accommodate you. After all, they want to get paid on time.
Remember, bill payment history is the biggest factor in calculating your credit score. Consequently, when you make automatic payments on a regular basis, you're helping to maintain or build a good credit score.
4. Consider new credit card offers
Conventional wisdom notes that having multiple credit cards can be a negative factor for one's credit score. The theory is that the more credit cards you own, the more debt you'll pile up.
Actually, occasionally opening new credit card accounts can help hike your credit score — if you can make your payments on time. New credit can also help you raise the denominator in your credit utilization rate — the amount of credit you have available.
The key is applying for extra credit cards on separate timetables. If you apply for two credit cards on the same day, creditors may view that negatively. Multiple requests for credit at the same time could be a red flag to creditors and lenders that you may be in financial trouble.
But if you space the credit card applications out — say, two or three months apart — that won't negatively impact your credit score. Don't open new accounts and run up high balances, though. To boost your credit score and save yourself interest charges, keep your balances low or nonexistent.
5. Ensure all positive information is on the credit bureaus' reports
Other information besides your payment of credit cards and loans can go on your credit reports. For example, you can request that your landlord report on-time payments to the credit bureaus. If they won't, you can also enroll in a third-party rent payment service.
A new service from Experian may also help. If you enroll in Experian Boost, you can give permission to Experian to access your bank account to prove that you're making on-time utility and telecom bill payments. Those payments can then be factored into your credit score.
Another approach is to write a Letter to Request Addition of Information Showing Stability. It includes demonstrable proof of a positive credit report item, like a new, better-paying job or solid proof that you're paying your rent on time.
6. Build a solid credit utilization ratio
As we mentioned above, your credit utilization ratio (your financial debt divided by your available credit on hand) comprises 30% of your total credit score.
A study by MagnifyMoney, a LendingTree company, found that consumers who have great credit scores have very low utilization ratios. As a rule of thumb, you want a credit utilization ratio of no more than 30% to boost your credit score. If you have a credit card balance of $3,000 and you have a credit card spending limit of $10,000, your credit utilization ratio is 30%.
Ideally, you'll keep your credit utilization ratio even lower. The lower, the better.
7. Keep credit accounts open
Creditors love consumers who have built long and stable credit histories with minimal late payments and a great track record of reliability. Granted, this tip doesn't take shape overnight, but if you really want to improve your credit score, demonstrating you're a steady and stable financial risk over a long period goes a long way in improving your credit score.
That could mean keeping accounts open that you were considering closing, especially if they have a high credit limit. Anytime you close an account like that, you risk losing ground credit score-wise. Closing an account with a high credit limit takes something positive (a good credit utilization ratio) off the table.
The bottom line
Assessing your credit report, checking for account accuracy and fixing errors are all vital to your credit health.
If you really want to build a robust credit score — maybe somewhere in the 800 range — follow the tips above to start the serious construction that can lead to a steady and significant rise in your credit health, bringing you all the perks and benefits that strong credit offers.
Once you get rolling and start seeing the fruits of your labor paying off in the form of higher credit scores, you'll want to keep going — as far and as high as you can.
Learn more about your credit score!