Types of Credit Scores: Understanding the Differences
Published on: April 9th, 2019
Editorial Note: The content of this article is based on the author's opinions and recommendations alone. It may not have been previewed, commissioned or otherwise endorsed by any of our network partners.
One of the most important things to know about credit scores is that you don't have just one, fixed credit score.
"People are under this impression that you have a credit score as in, there is this one number that follows you around and that one number is your credit score, which is incorrect," said John Ulzheimer, a consumer credit expert in Atlanta.
It's important to understand the different types of credit scores, as they can vary greatly depending on the scoring model used, who you receive your score from and what you're going to use your score for.
The different types of credit scores
You may be expecting to receive just one credit score, but there are many different scores you'll likely receive over the years. FICO Scores and VantageScores are the two you're most likely to encounter. "If you look at all the credit scores calculated by either a FICO-branded model or VantageScore model, that's about 100% of the credit score market," Ulzheimer said.
If there are only two major providers of credit scores, why are there so many different versions? There are three main reasons why your scores may vary:
Credit report data: Scores may differ from one credit bureau to another because they may have slightly different data.
Timing: Scores are not calculated on a set schedule. Therefore, they may vary based on when data is uploaded by a reporting company or when the score is calculated.
Scoring models: Companies may have different versions of their scoring models that are updated frequently. The credit bureaus also compete against each other and will create "very customized solutions" at the request of specific lenders, said Jeff Richardson, vice president and group head, marketing and communications at VantageScore Solutions in New York City.
FICO Scores
A common misconception is that your FICO Score is your credit score. The terms "FICO Score" and "credit score" are often used synonymously, but they are not the same thing. There are many different types of FICO credit scores, which are developed by FICO (Fair Isaac Corp.), a company that specializes in developing credit scoring systems.
The term "FICO Score" refers to a popular credit scoring model. FICO estimates that nine out of 10 lenders use its scoring model. Lenders use FICO Scores as one factor to help estimate the risk of lending you money.
How is a FICO Score calculated?
Even though FICO offers multiple scores, they are calculated using the same five factors. The following factors include percentages to reflect the typical weight of each factor in the FICO scoring algorithm: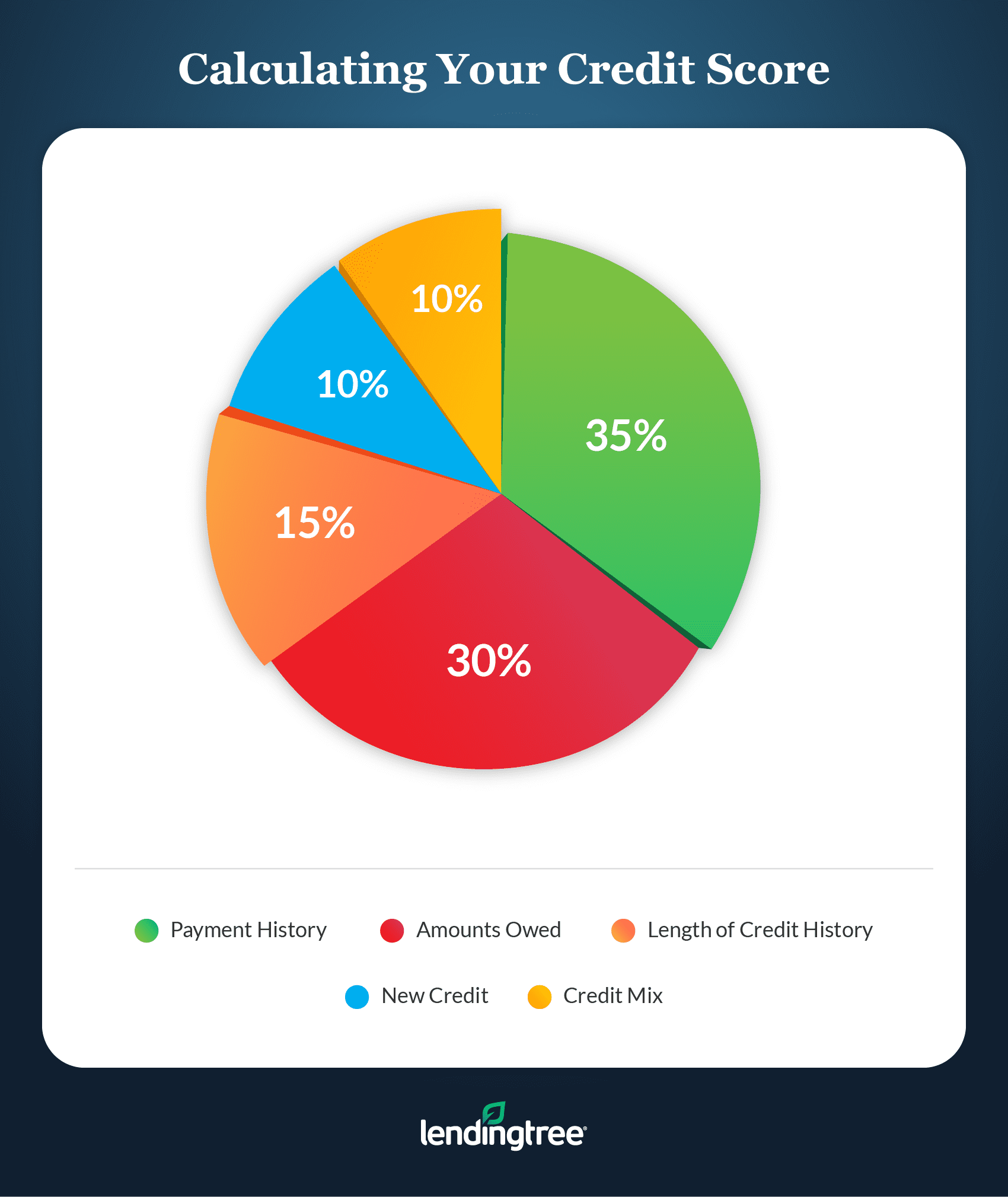 Payment history (35%)
Amounts owed and credit utilization (30%)
Length of credit history (15%)
New credit (10%)
Credit mix (10%)
What is a good FICO Score?
Your FICO Score is important because the lower your score is, the less likely lenders are to believe you'll repay your debt. This makes you riskier in their eyes. The credit scores lenders are willing to use vary, but the following will give you a general idea of how the scores are viewed by lenders.
FICO Score rankings
FICO Scores range from 300 to 850: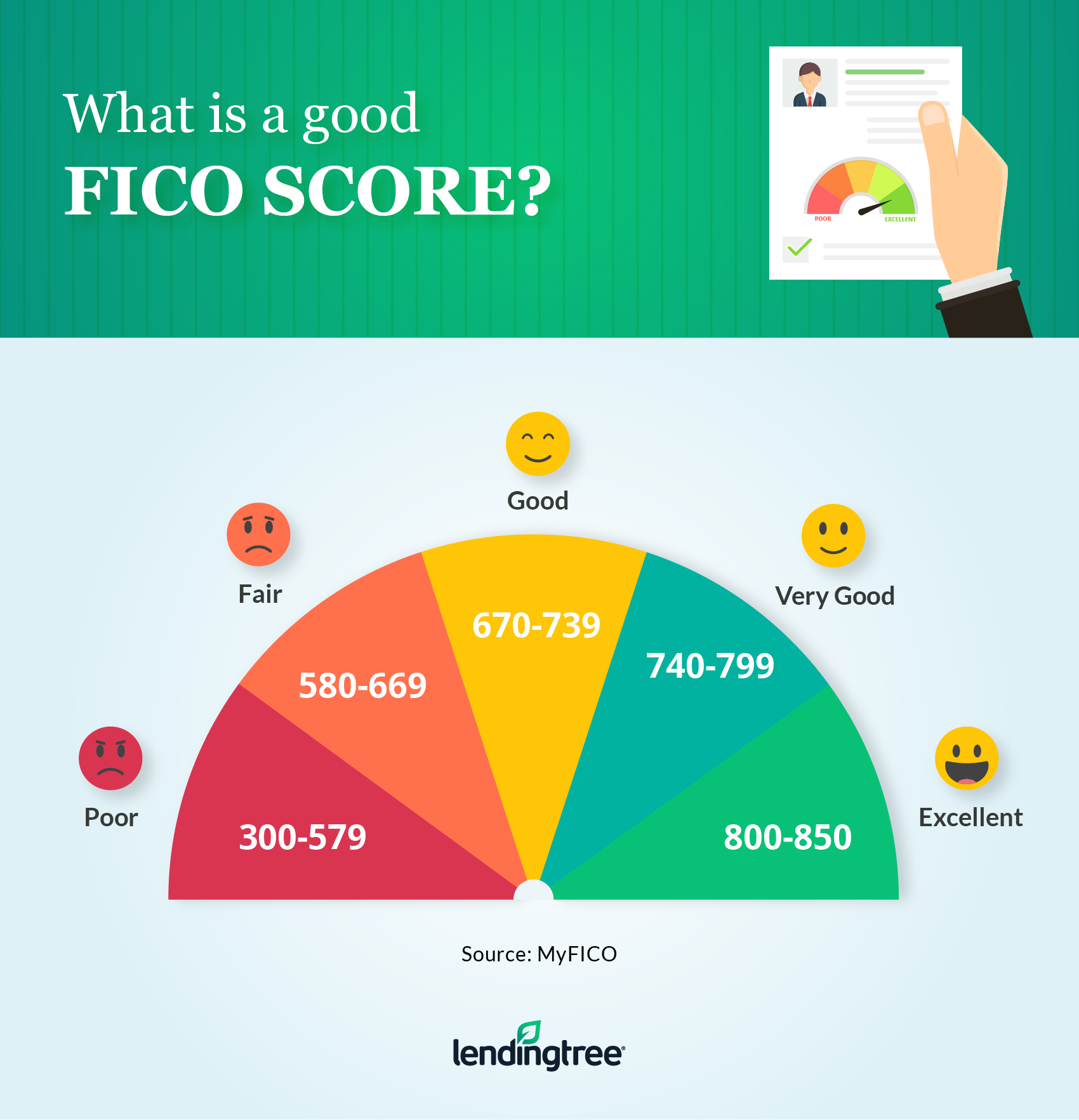 Excellent: 800 to 850
Very good: 740 to 799
Good: 670 to 739
Fair: 580 to 669
Poor: 300 to 579
VantageScores
The three major credit bureaus created an alternative to the FICO Score in 2006. Their model, called VantageScore, is currently in Version 4.0.
VantageScore claims that seven out of 10 of the top financial institutions use the model. Federal regulators such as the Federal Housing Finance Agency (FHFA), the Federal Trade Commission (FTC) and the Consumer Financial Protection Bureau (CFPB) recognize the VantageScore as a legitimate credit scoring model.
How is a VantageScore calculated?
Similar to FICO Scores, your credit report is used to provide VantageScore the necessary information to judge your repayment reliability. The VantageScore 4.0 is calculated based on the following factors: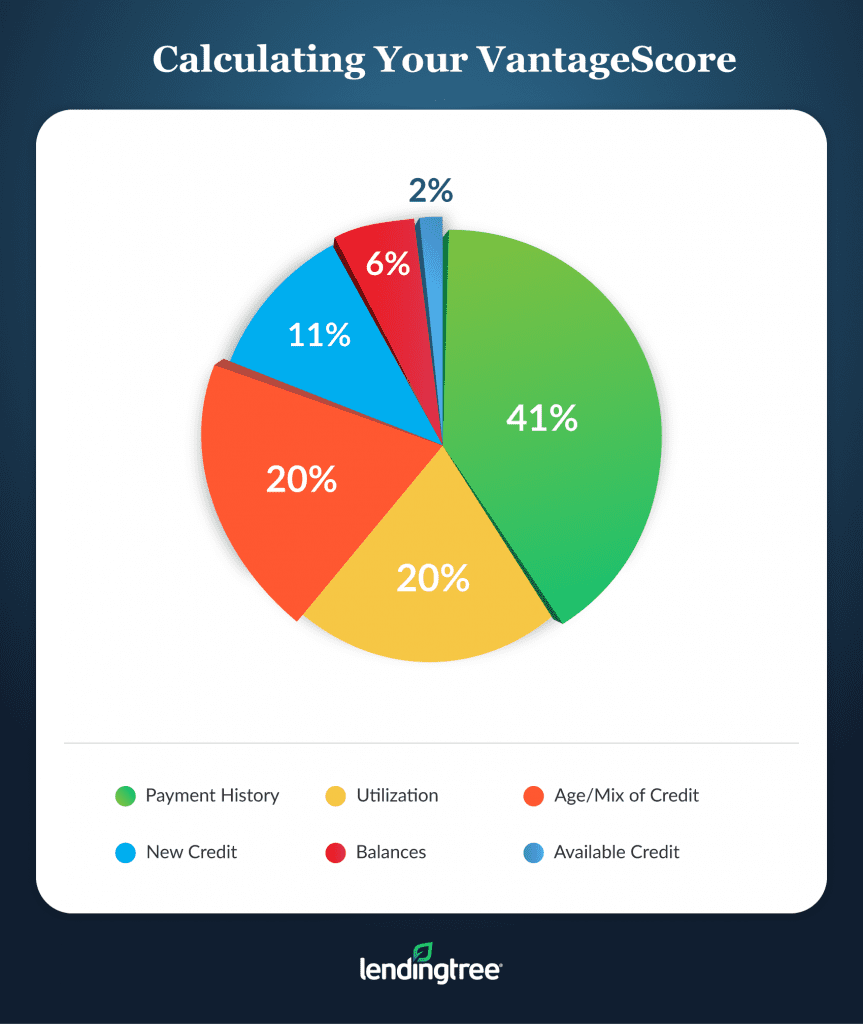 Payment history (41%)
Utilization (20%)
Age/mix of credit (20%)
New credit (11%)
Balances (6%)
Available credit (2%)
What is a good VantageScore?
What is considered a "good" VantageScore may differ from a good FICO Score. As lenders determine their own credit scoring standards, there is no uniformity in how scores rank. But generally, this ranking will give you an estimate of where your score will fall.
VantageScore rankings
VantageScore 3.0 and VantageScore 4.0 credit scores range from 300 to 850: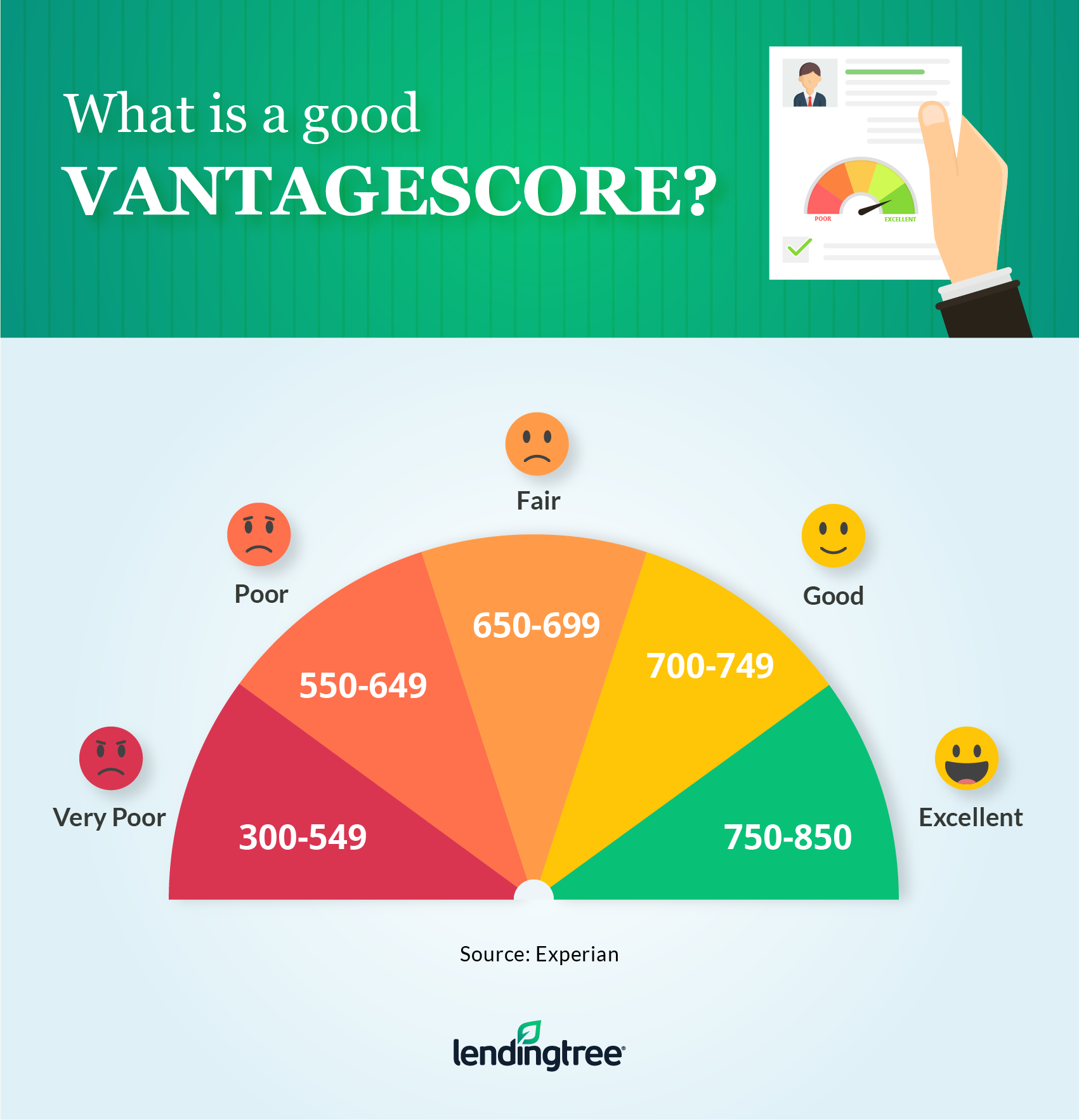 Superprime: 781 to 850
Prime: 661 to 780
Near prime: 601 to 660
Subprime: 300 to 600
Credit bureau scores
Each of the three nationwide credit bureaus keeps a file on your financial history. The scores determined by each bureau are decided based on the information they have in your file. If their data about your credit history differs, so will their scores.
Because credit scores can vary across the bureaus, it's important not to value only one specific score, but to evaluate the range your scores fall under. If one of your scores varies dramatically from the others, it's worth investigating if any mistakes have been made on your credit report. If you do find a mistake, or discrepancies caused by incidents such as filing for credit under a different name (maiden name, nickname, etc.), here are steps you can take to remedy an error:
Contact the credit bureau you think is mistaken and whichever organization provided them your information.
You can file a dispute online at all three credit bureaus.
Identify each item you'd like to dispute in your report.
Explain why you'd like to dispute those items.
Make your request of either deletion or correction.
If you decide to complete this process via mail, send your request via certified mail (with a return receipt requested) so you have proof that the credit bureaus received your letter. Send copies, not originals, of any supporting documents.
The credit bureaus must investigate the issue within 30 days, unless they have reason to believe your dispute is frivolous.
Industry-specific scores
FICO offers a few scoring models that lenders use for different needs. The industry-specific models allow lenders to be very particular with their prediction models. That way they can gauge more accurately based on your history if you're likely to repay your debts. One example of a scenario in which you would need an industry-specific score would be when you want to buy a car. The FICO Auto Score is one of the most commonly used scores in auto lending. That score will help lenders determine more specifically if you will repay an auto loan.
The following examples illustrate how different financial needs are evaluated by FICO:
Mortgage lenders pulling Experian credit reports use the FICO Score 2.
Mortgage lenders using Equifax information use the FICO Score 5.
Credit card issuers using Experian data may look at the FICO Bankcard Score 8, FICO Score 3 or FICO Bankcard Score 2.
Custom scores
Some companies create specialized versions of credit scoring models. Custom scores are created for specific lenders with a specific purpose. Specialized risk algorithms are tailored to their needs. Custom scoring models place different weights on score factors, based on the type of credit that will be extended. An auto loan, for example, may have different potential risks than a home loan.
How to check your credit score
When it comes time to check your credit score, you can get your VantageScore 3.0 through My LendingTree for free or explore other options for free credit scores, including FICO Scores. You can also pay to receive a range of FICO Scores from companies like Experian that offer packages of scores from the three credit bureaus.
Richardson said he doesn't feel purchasing scores is necessary. "I'd be hard-pressed to come up with a really good reason why consumers should purchase their scores because of all of these great resources" where you can get credit scores for free.
The bottom line: Credit scores aren't one-size-fits-all
Depending on where you're getting your scores from, it's normal to see varying numbers. For example, you may see a difference in scores provided by your credit card company versus an auto lender.
"We only see them [credit scores] on one day of the month. A lender can pull it any of the other 29 or 30 days of the month and your data might be different. Therefore, the score is going to be different," said Ulzheimer, who advised against worrying about minor fluctuations in your score.
"Chasing the score like that is almost like trying to herd cats, it's not something that's really realistic," he warned.
Ulzheimer recommended focusing less on your credit score and more on your credit report.
"The better way to think about it is to not marry yourself to one number but instead to become more engaged with your credit report," he said. "Even though there are dozens and dozens of scoring systems, you only have one credit report."
You can access your credit report with each of the three credit bureaus — Experian, Equifax and TransUnion — for free every 12 months. You can order these reports online at AnnualCreditReport.com.
Be aware that lenders use many different scores for different types of loans. The key for consumers is understanding where to find the credit score you need, how the score is determined and the steps you can take to improve your score.
"Otherwise, you're just looking at a random three-digit number," Richardson said.
Learn more about your credit score!