Best Budgeting Apps
Published on: March 29th, 2018
Hoping to take charge of your money? Possibly trying to budget for a debt consolidation loan? Tracking your expenses and creating a realistic budget are two important steps in gaining control of your finances. Thankfully, mobile budgeting apps have made it easy for you to manage your money with ease.
With so many apps on the market, it can be tough to decide which one best fits you. That's why we've tested the most popular budgeting apps in iTunes and Google Play. Using this review, you can decide which app makes the most sense for your financial goals.
How we picked the best budgeting apps: For this review we picked the three highest-rated, free budgeting apps as of Feb. 22, 2018 in iTunes and Google Play. We reviewed the app based on its usability, key features and the frequency of updates.
The best budgeting apps for Apple devices
Mint
(250K reviews, 4.7/5 stars)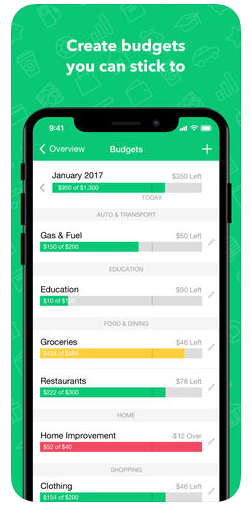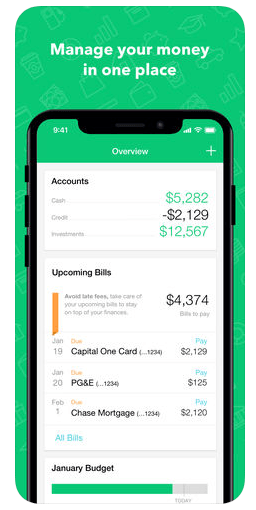 iOS, Screenshots via iTunes
Mint.com (owned by Intuit) is one of the oldest and most trusted online budgeting and financial tracking tools. Mint is the app that allows you to connect to your Mint.com account from your mobile devices. It allows you to track your spending, analyze your cash flow, manage your bills and create a budget from your phone.
Notable features:Mint is the Swiss Army knife of financial apps. It's got a tool for most financial situations. The standout feature on Mint is the bill pay feature. You can pay bills (including credit cards, electric, internet and more) directly from the app. Paying from the app makes it easy to manage cash flow.
Mint also gives you a budget planning feature. You can set budgets for things like restaurants, clothing, gas, groceries, home repairs and other variable expenses. Throughout the month you track your spending compared with the plan you set. Mint even gives you the option to roll "leftover" money in the budget to the next month. This makes it easy to manage budgets for unwieldy categories like home and car repair.
Who will love Mint: Mint allows you to go deep with your finances. If you love charts and numbers, Mint is ideal for you. Additionally, people managing multiple accounts or loans will appreciate how easy it is to manage your finances in Mint.
What we like: Mint allows you to pay bills in the app. With a few taps, you can pay your credit card bill, utilities and more. Anyone who struggles with financial organization will appreciate seeing and paying all their bills in one place.
Mint does a great job categorizing spending for you. That means you don't need to waste much time reviewing individual transactions. Instead, you can spend time creating your budget and reviewing your spending.
What we didn't like: Compared with other apps, we had a hard time setting up Mint. Other apps we tested automatically categorized accounts correctly (as credit cards, checking accounts or investment accounts). Mint struggled with this task — some investment accounts with a particular bank showed up as savings accounts — and it took some poking around in the Mint Help search engine to find a solution.
In addition to setup problems, Mint didn't have an intuitive interface (at first). It took several minutes to learn the app navigation and to adjust the settings. To have a good experience with Mint, you need to take the time to customize it to your needs — if you don't want to spend 30 minutes upfront, you won't see the benefit down the line.
Mint also has an overwhelming and annoying push email setting. You can opt out of all emails by changing the settings. However, you cannot change the settings from the app. You have to log into Mint.com to change the email settings.
Update frequency: Mint sends out updates for bug fixes and enhancements as often as every week. Despite the frequent patches, some user issues persist. For example, some users report having trouble having bank accounts connect to the app. Other users report that some transactions don't post to Mint in a timely manner.
Superlative: Best app for in-depth financial analysis.
Penny
(5.4K reviews, 5 stars, iOS)
Penny is a simple, conversation-based app that helps you understand your money without overwhelming you with jargon. Penny uses an automated financial coach to keep you focused on your spending and saving habits. We're mentioning Penny here because it had the second-highest rating in iTunes, but it was recently acquired by Credit Karma and will shut down its independent service June 1, 2018. The app is expected to be integrated into a Credit Karma app in the future.
Goodbudget
(4,113 reviews, 4.7/5, iOS)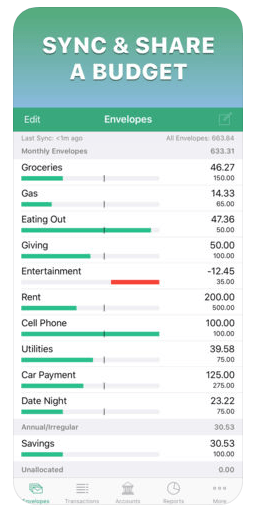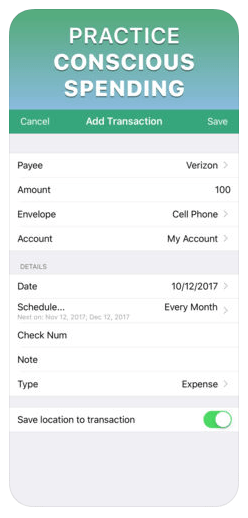 Screenshots via iTunes
The "envelope system" is a method of budgeting where a person uses cash for different categories of her budget. They stick cash into different envelopes and use money from the "grocery" envelope to pay for food purchases.
Goodbudget
brings the envelope system into the digital era.
Used correctly, Goodbudget can help you track your income and expenses, curb impulse spending and even enjoy some indulgences without guilt or fear of blowing your budget.
Notable features: Goodbudget separates itself from the pack by making the budget the focus of the app. It's easy to create and adjust your budget on the fly. Plus, the app allows you to share the household budget with another user. We tested, and you can even share a budget with someone who has an Android device.
Goodbudget allows users to create 10 monthly budget categories, and 10 annual categories for free. This will allow many users to capture their spending and savings goals in their budget.
Who will love Goodbudget: Goodbudget is an app for people who want to create a spending plan, and have the app to hold them accountable to the plan. Goodbudget requires you to manually input every transaction. If you overspend in a category, you have to reallocate money from a different category or from your cash reserves. For some people, reconfiguring a budget when they overspend may seem like an annoying hassle, but others will appreciate how the app keeps them accountable to their plan. Goodbudget is especially helpful for couples who share their finances but need help sticking to their budget.
What we like: Some budgeting apps that require manual transactions are confusing and tough to start using. Goodbudget made the first budget easy. We also loved how easy it was to add transactions, change the budget on the fly and create savings "envelopes" for irregular expenses. Goodbudget also has a great getting started guide — budgeting isn't always intuitive, so this guide was a real help.
What we didn't like: It would have been great to have the budgeting features integrated with our actual bank accounts. That would make it much easier to be sure that we didn't miss a transaction. We also struggled to understand how to manage an irregular income stream (though Goodbudget has a user guide that helped us through it).
Another drawback to Goodbudget is that it only allows you to track one account (either checking or credit) for free. To track the balance on multiple accounts, you have to pay for an upgrade which costs $6 per month or $50 annually. You also have to upgrade if you want more than 10 regular and 10 irregular envelope categories.
Update frequency: Goodbudget makes infrequent updates, averaging just three or four per year.
Superlative: Most intuitive budgeting option.
Clarity Money
(16K reviews, 4.7/5 stars, iOS)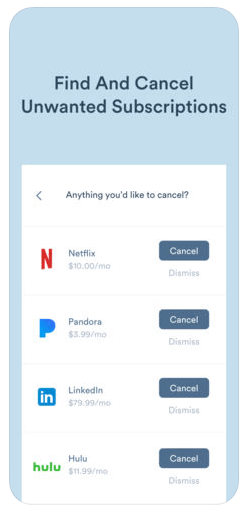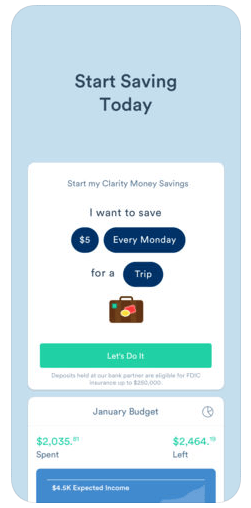 Screenshots via iTunes
Clarity Money
helps you change your financial behavior. It not only reviews your spending habits, it actually allows you to start a savings account, begin investing or cancel subscriptions from the app.
Notable features: The most notable feature within Clarity Money is the "cancel and save" feature. With a few taps, you can unsubscribe from monthly subscriptions like cable TV, Hulu, Netflix, Birchbox and more. By canceling subscriptions that you no longer want, you can free up cash to save for experiences you actually care about.
Clarity Money also gives you the chance to start a savings habit. To start, simply opt to save $1 or more via a daily or weekly draft to an FDIC-insured account. This feature makes it easy for anyone to start saving money.
Who will love Clarity Money: Clarity Money is the app for people who want to take action more than they want to analyze the past. The automated savings (and investing via Acorns) makes it easy to start great financial habits. Add the bill cancellation service, and you can see how Clarity makes it easy to save.
What we like: Clarity Money offers a ton of useful information, but the app is streamlined, so it doesn't overwhelm. Clarity Money gives you three ways to look at your spending history. Between the recent spending widget, the monthly spending pie chart and the spending-compared-to-budget chart, most people should be able to make sense of where their money is going.
We also loved the automated saving feature that makes it simple for anyone to start saving money. Automation is one key to saving over the long haul, and Clarity Money makes it simple.
What we don't like: Clarity Money's focus on automation seems to come at the expense of giving you the tools you need to master your cash flow. For example, Clarity Money didn't give us the option to create forward-looking budgets in the app.
Clarity Money also fails to give insights into earnings, which makes it difficult to plan spending and saving for people with variable incomes. People with irregular paychecks need some automation, but they also need good information to manage their money well. Clarity doesn't provide that information.
Update frequency: Clarity Money releases updates every two or three weeks, on average. Some of the updates include enhancements, but many of them aim to fix bugs.
Superlative: Best app for starting a savings habit.
Best budgeting apps for Android devices
Money Manager Expense & Budget
(118,2783 reviews, 4.6 stars, Android)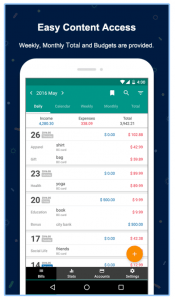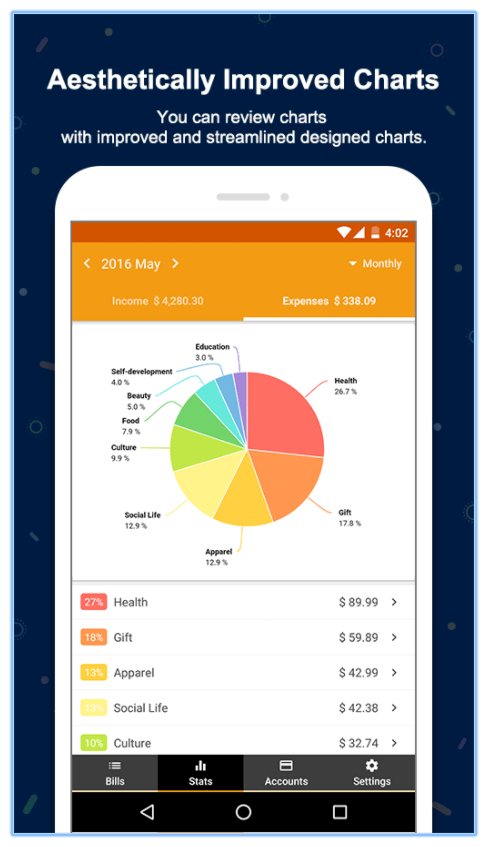 Screenshots via Google Play
Money Manager Expense & Budget
is cash flow planning and budgeting app that helps you develop absolute control over your spending. You can't connect the app to your bank accounts or loans. That means it's up to you to record all your income and expenses in the app. For some people this may seem too unwieldy, but others may appreciate how manual recording gives them money mastery.
Notable features: Money Manager Expense & Budget offers far better visualizations than most other apps. One of the more innovative visualizations is a cash flow calendar. The calendar allows you to look at your spending and income over the coming month, to be sure you won't run out of cash.
The budgeting feature also allows you to set and monitor your monthly budgets. We especially liked that the app tracks expenses against the budget using a thermometer visualization.
Who will love Money Manager Expense & Budget: To make proper use of Money Manager Expense & Budget, you need to be a detail-oriented planner. It took us quite a while to understand how to use the app. Once we got a hang of it, we saw how you could use it to break a paycheck-to-paycheck cycle, stop paying late fees and become a more conscious money manager.
What we like: Money Manager Expense & Budget offers an incredible resource for planning your budget, your cash flow and your spending. It's one of the few apps that helps you manage variable incomes and expenses.
What we don't like: Becoming acquainted with the app was a huge pain. Even after studying the user manual, we had some trouble figuring out how to record credit card and loan payments. On top of that, Money Manager Expense & Budget only works if you're vigilant about recording every single transaction. We tried to do this for just four days, and we could not do it. If the app could connect to actual bank accounts to record income and expense transactions, this app would be a lot more user-friendly for the average person.
Update Frequency: The app updates as often as once every week to fix minor bugs, and create new features.
Superlative: Best cash flow calendar.
Mobills: Budget Planner
(152,154 reviews 4.6 stars, Android)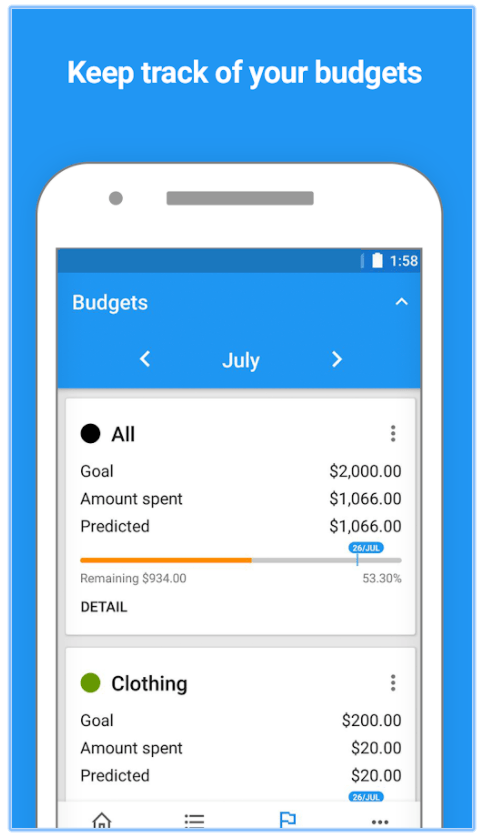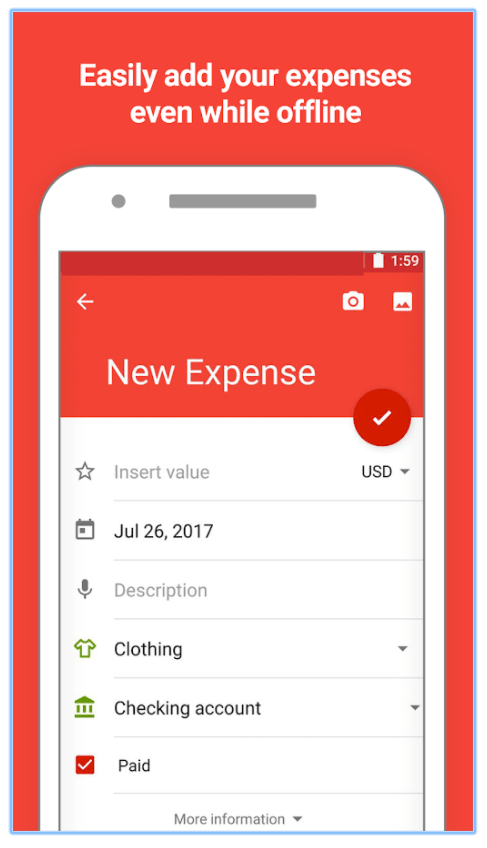 Screenshots via Google Play
Mobills
is an expense management app that helps you track income and spending in one place. The app requires you to manually enter your income and expenses, but it ostensibly allows you to stay on top of your finances in a single app.
Unlike the other apps in this review, Mobills didn't seem easy to use or particularly helpful. The free version of Mobills limits you to just two budgets (e.g. home and groceries). Plus, the free app offers just one chart (a pie chart of total spending). It seems likely that the high rating for this app was driven by "Mobills Pro" users who pay $24.99 per year for upgraded services.
Notable features: Mobills gives you the flexibility to manage your expenses and income using multiple accounts. You do all of this manually (Mobills doesn't connect to your bank accounts), so it keeps you accountable for tracking your income and expenses. The interface is clean and easy to interpret. (However, it was a struggle to figure out how to use the app at first).
Who will love this app: Mobills works best for the person who wants to develop the discipline of manually enter his income and expenses. Manually recording transactions can help develop a greater level of financial awareness.
What we like: The interface on Mobills was cleaner than most other financial apps. The app cut out all the unnecessary information, so you can focus exclusively on cash flow.
What we don't like: The free version of Mobills limited us to just two budget categories. With just two categories to use, creating a budget is nearly impossible. The free version also doesn't give you the flexibility to track their credit card balances and debt loads.
Despite the clean interface, Mobills proved difficult to use. It took about twenty minutes of working in the app to figure out how to get started, even after starting, we didn't see the value in the app until we recorded expenses for several days.
Update frequency: Mobills releases updates and minor tweaks as frequently as once per week. Many of the enhanced features are only available to paying customers.
Superlative: None.
AndroMoney
(224,043 reviews 4.7 stars, Android)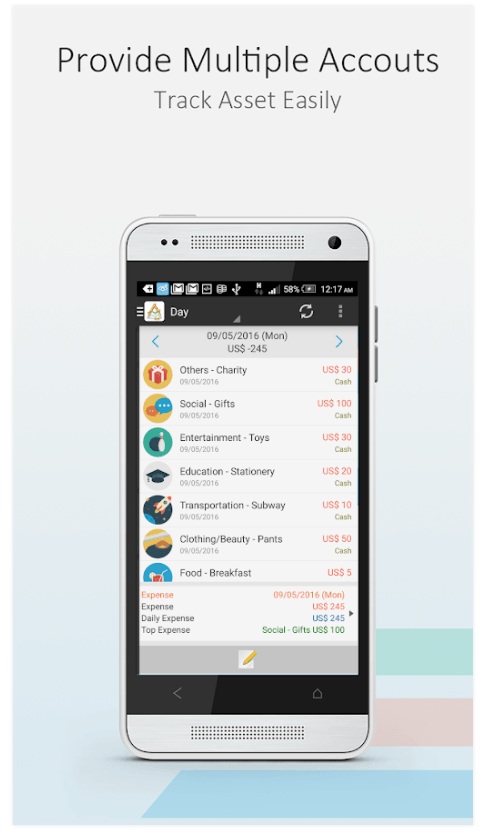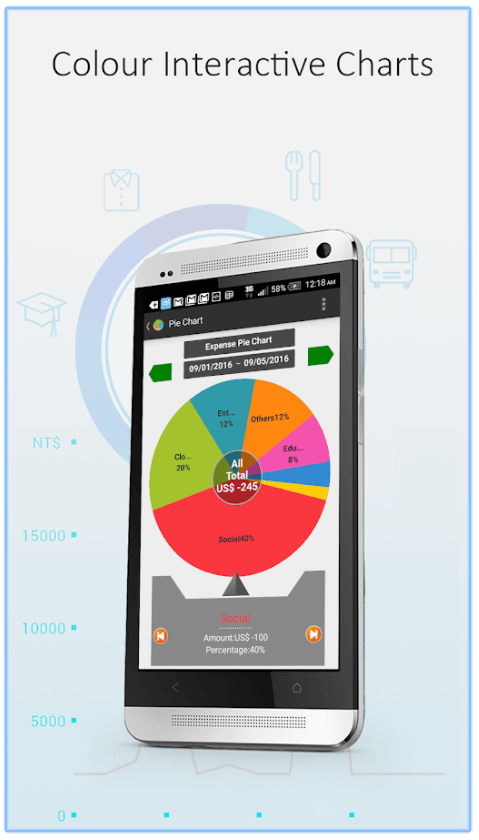 Screenshots via Google Play
AndroMoney stands out as one of the most flexible budget and expense tracking apps on the market. While you have to enter your income and expenses manually, the app rewards your efforts with stunning visuals and flexible reporting options. This is an app that you can use to manage both your personal and business finances at the same time.
In our testing, we found one bug related to the "account balances" option. When checking the account balances, future income is automatically added to the current account balance. Since most users seem to rely on the expense tracking and calendar function, this doesn't cause many issues, but it is a red flag.
Notable features: AndroMoney has one of the best budget planning interfaces around. You can plan your budget based off of daily, weekly, monthly or annual spend goals, or plan based off monthly category spending targets. AndroMoney makes it easy to set up recurring income and bills, so you know exactly when you have money available.
AndroMoney also allows you to export data to a CSV file or to a file in Google Drive. This gives you the freedom to analyze your data any way you want.
Who will love AndroMoney: AndroMoney is for the person who wants to spend time in the fine details of their finances. The budgeting and calendar features make the app perfect for financial planning, and the app's outstanding flexibility with filters, multiple accounts and credit card management options make it great for recapping past expenses.
What we like: We love that AndroMoney allows you to separate your income and expense activity by "projects." This gives you the flexibility to manage business and personal expenses separately. It also allows you to plan and track personal projects (like a home remodel) in a space outside of the everyday money management space. The ability to export (and import) data also makes the app more flexible.
What we don't like: To get value from AndroMoney, you must be willing to update your financial transactions in real time. Establishing the habit of recording transactions can be too burdensome for many people looking to manage their money for the first time.
Superlative: Most flexible app.
Should Android users consider top iOS apps?
The most highly rated Android apps didn't give us the option to connect the app to our bank accounts. Manual entry can help users carefully control their finances, but they can't guarantee accuracy. The most highly rated iOS apps allowed us to connect the app to our bank accounts, and the apps have Android equivalents. We decided to try out the Android equivalents to see if Android users should consider them.
Mint for Android
(128,546 reviews, 4.3/5, Android)
We had high hopes for the Mint experience on Android devices, and we were not disappointed. If you've got a Mint account online, you can simply log in to your account via the Android app. We enjoyed the same excellent visuals, easy budgeting tools and in-app bill pay on Android as we had in the iOS app.
We also tested setting up a new account on the Mint app for Android devices. The process took a few minutes, but we ran into a small bug again. As in the iOS version, some investment accounts showed up as savings accounts. However, once we had the account configured, we enjoyed the app experience. Even several days into testing we had no issues with account connectivity.
Just because we had an easy time with Mint on Android, doesn't mean everyone will. In reading customer reviews, we noticed that many users had trouble connecting (or staying connected) to accounts from smaller banks or banks that require multifactor authentication. Users also called out larger banks including TD Bank, USAA and Capital One as having specific issues on Mint. On top of that, users in the Google Play store reported that Mint constantly disconnected them from their bank accounts (which required re-entering their username and password).
If you want a ton of functionality from your budgeting app, we cautiously recommend Mint for Android.
Clarity Money for Android
(839 reviews, 4.2 /5, Android)
Clarity Money has only been on the Android Market since November 2017, but the Android version is as compelling as the iOS app. Using Clarity Money you can cancel unwanted subscriptions, set up automatic saving and investing plans, check your credit score and track your spending. The app lacks budget-planning and cash-flow features, but it's excellent for tracking your spending and setting up great habits.
We were able to set up our account in just a few minutes, and we got great insights right away. We did not experience any issues connecting our Clarity Money account to our bank accounts.
Clarity Money only has less than 1,000 reviews in the Google Play store, but most reviewers seemed positive. A few had trouble setting up their accounts or keeping their bank accounts connected to the app. The remainder seemed excited about their experience.
Goodbudget
(17,972 reviews, 4.4 /5, Android)
Goodbudget is one of the best cross-platform apps. You can actually sync a household budget across an Android and iOS device. The Android app shares an almost identical user experience with the iOS, but we actually found that the Android version was somewhat easier to use. For example, tracking income in Android required just a few taps and no tricky navigation.
While Goodbudget requires you to do the heavy lifting (manually entering all your transactions), it can be an effective tool to help you create a budget. Be sure to review the getting started guide before using the app.
Which app will work best for you?
The app marketplace is filled with money management apps for every type of person, but it's clear from our review that an app's ratings in Google Play or the App Store aren't the only thing to consider. Before you download a budgeting app, decide what you really want. Do you want to manually enter all of your transactions? Do you prefer an app that helps you plan your budget? Do you want a super simple financial solution?
None of the apps we reviewed "does it all," but most of the apps offer a great solution for the right person.
Whatever app you choose, make a habit of using it at least a few times per week. Installing an app won't give you financial clarity, but using it will.