Should I Pay Off Debt Before Having Kids?
Published on: July 25th, 2019
Editorial Note: The content of this article is based on the author's opinions and recommendations alone. It may not have been previewed, commissioned or otherwise endorsed by any of our network partners.
Having a child can make your financial situation more challenging even under the best of circumstances. Paying off as much debt as possible before having children is ideal – doing so can free up money that you can use to cover child-rearing expenses. But this may not work for everyone.
Here's what to consider when you're juggling debt and thinking about having children.
Your cost of having children
Before you consider whether or not to pay off debt before having kids, you first need to understand the cost of child-rearing. That way, you can get a better sense of how child costs will affect your financial situation and whether you'll need to pay off debt in order to make room in your budget.
For a middle-income married couple, the total estimated cost to raise a baby through age 17 is $233,610, according to a 2015 study from the Department of Agriculture.
Here's a look at how the Department of Agriculture breaks down its total: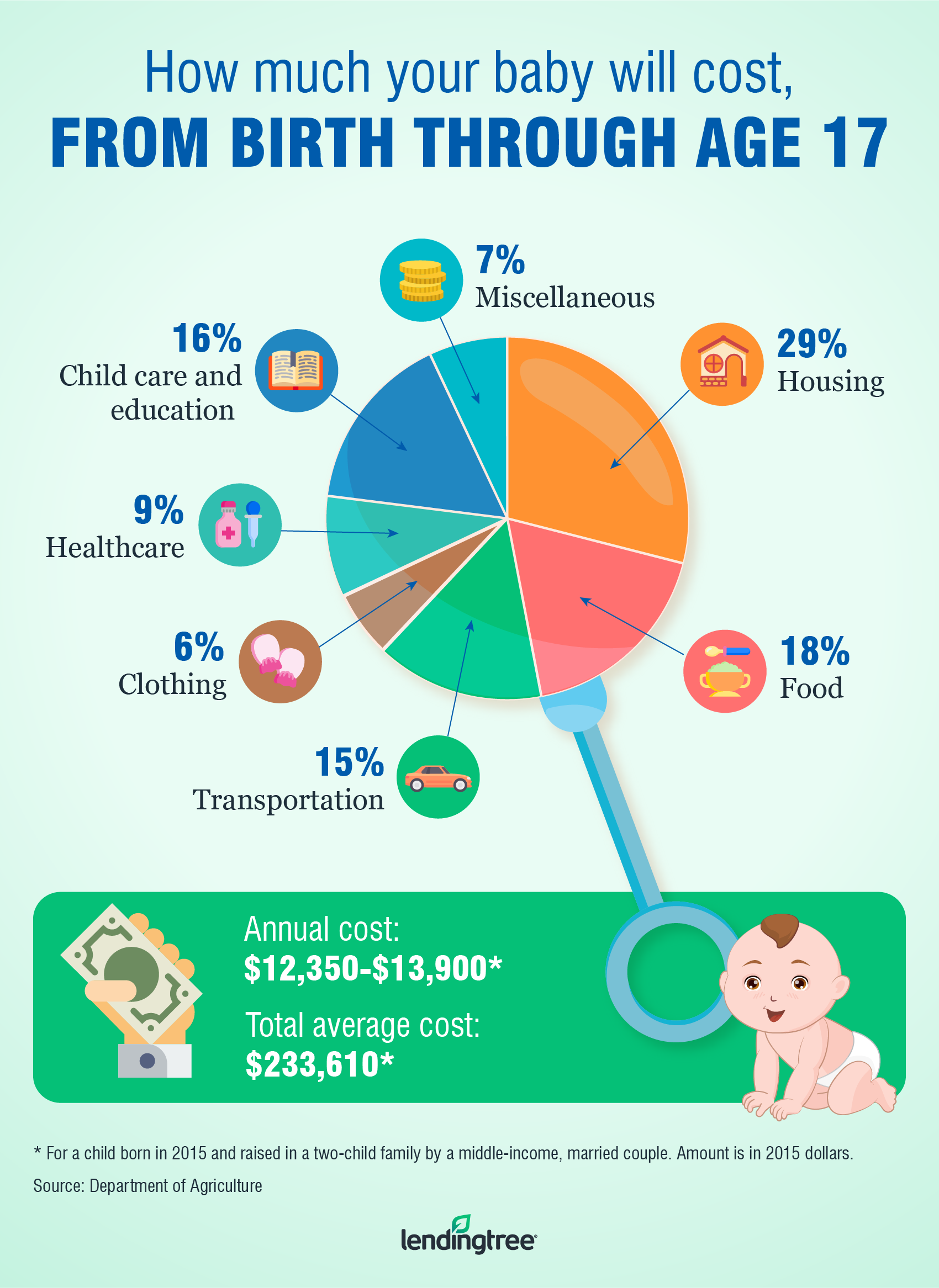 Although the total estimated cost is scary, it does make assumptions that may not be relevant to you. For example, it assumes you'll have to move into a space with an extra bedroom to accommodate your child. For that reason, housing accounts for 29% of the overall estimated amount but may be smaller for you.
While many parents can and do raise children with significantly less funds and with lower costs, kids undoubtedly introduce additional expenses to a household.
Should you pay off debt before having a child? It depends
There's no clear yes or no when it comes to whether you should pay off your debt before having kids. However, having a clear view of your financial situation could help you come to an answer.
First, determine your monthly costs and income
To assess your level of debt, add up the balance on your credit cards, student loans, mortgages and any other kinds of debt you owe. Your minimum payments should be factored into your monthly budget, in addition to the money you spend on utilities, groceries and other necessary expenses.
Then, you'll want to compare your total expenses with your income. Any money that's left over after accounting for your expected expenses should go toward paying down your outstanding debts as quickly as possible. This will likely cut down the number of payments you have and give more wiggle room for adding a kid to the mix.
Then, ask yourself these 5 questions
Once you have a clear picture of your finances, you can ask yourself a few questions to help you better grasp what parenthood may look like and how comfortable you'd be with debt.
When approaching these questions, assume your income won't change in the next year. You shouldn't hope for a raise at work or windfall in order to make future expenses and debt repayment work.
If I were to have a child, would I be able to provide them with all of the necessities, such as food and diapers, without falling behind on debt payments and other financial obligations?
How would child-rearing costs affect my ability to save money for retirement and for emergencies?
Will there be a loss of income after my child is born? (For example, if you need to take unpaid time-off to care for your baby in the first few months.) If so, do I have enough savings to cover costs?
Do I have any debts with extremely high interest rates that could make repayment a burden if I need to make only minimum payments for a time?
If I have a child, will I need to take on new debt? If so, am I comfortable with that new debt considering my current debt?
In the end, these questions should help you determine: whether you can provide for your child with your current debt, whether you'll be able to save money while covering child-rearing costs, and whether you'd be comfortable carrying debt or taking on new debt in parenthood.
9 tips when you're in debt and want kids
1. Determine your debt repayment plan, if any
If repaying your debt before having kids is a priority, you'll need to determine how you'll go about it. Assuming you have a budget in place and understand where your money is going and coming from, you might choose a repayment strategy to bake into your budget.
Consider, for example, the debt snowball repayment strategy. With this repayment strategy, you'll make extra payments on your debt with the lowest balance. Over time, this will free up cash you can put toward your next-highest balance. The debt avalanche method works similarly, except you'll make extra payments toward your debt with the highest interest rate. In doing so, you'll reduce your overall costs of repayment.
If you're OK with carrying debt into parenthood, make sure you understand the interest rates you're paying and how long you'll be in repayment with your current monthly payment. That can help you understand how you financial situation will look once you enter parenthood.
2. Work more to temporarily boost cash flow
A debt repayment strategy may sound nice – and so might saving up for future baby costs – but it may be unrealistic if you don't have cash flow to make it work. The hard truth is that you may have to find ways to make extra money until you can repay debt that creates more cushion in your budget.
You don't have to quit your day job or even change your daily routine to increase your income. Consider filling in a few spare hours per week by picking up an easy side hustle that you can work into your schedule. Easy ways to make a side income include:
Becoming a driver for a ride-sharing service
Marketing your creative skills as a freelancer online for websites such as Fiverr
Picking up miscellaneous jobs on TaskRabbit, which may include assembling furniture and being a handyman
Renting out your parking spot
3. Refinance or consolidate your debt
Whether you want to repay your debt or not, you may increase your cash flow by refinancing or consolidating your debt. In each case, you'll take out a new loan or line of credit in order to pay off your existing debt. The new loan or line of credit should have a lower interest rate than your old debt.
By refinancing your debt, you may:
Combine multiple balances through consolidation, reducing the number of creditors you're making payments to each month.
Get a lower interest rate to reduce your overall cost of borrowing.
Lengthen your repayment period to decrease monthly payments but at the cost of a higher overall cost of borrowing.
Shorten your repayment period, increasing monthly payments but getting you out of debt sooner.
Land a 0% interest rate for a promotional period (in the case of a balance transfer card), making repayment more affordable for a window of time.
In many cases, refinancing is done using a personal loan. These are unsecured loans that borrowers with good credit may get with a low interest rate. With fixed rates and fixed terms, repayment is predictable. However, some borrowers may opt for a home equity loan or line of credit, which can come with lower rates but at the cost of using your home as collateral.
4. Prepare for emergencies
If you don't have an emergency fund, you may consider prioritizing building one over debt repayment. Because being a parent can be expensive, a rainy day fund can help you avoid taking out new debt in an emergency. You may even find you have to tap those funds in you have to take unpaid time off from work for your child.
Even if you have an emergency fund, there are other contingencies you could put into place. Insurance could safeguard your family in case of death, disability, sickness or other liabilities that could suddenly decrease your income. You might plan your estate and write a will, allowing you to appoint a legal guardian for your children.
5. Understand your future baby costs
Use a baby budget calculator to estimate future costs such as diapers, child care, food and medicine, clothing and toys and other expenses you'll want to start saving up for early such as your child's education.
Don't forget to factor in one-time expenses associated with breastfeeding, childproofing supplies and putting together your child's nursery. Altogether, you could expect to spend around $10,616 in the first year of your child's life alone, according to BabyCenter, a digital parenting resource.
6. Call up your health insurance
All health insurance plans cover maternity care and childbirth. But if you don't know what costs you'd be responsible for before and after childbirth, you should speak with your health insurance. Since having a baby qualifies you for a special enrollment period on your insurance, you'll want to consider whether a different plan would lower your out-of-pocket costs.
No matter what you decide, better understanding your health insurance can prepare you for future costs. Consider, for example, your copays for medical visits and deductibles. Comprehensive knowledge of your coverage can help you avoid being surprised by a medical bill in the mail.
7. See how you might trim current and future expenses
Once you have a better understanding of your future expenses, you could brainstorm ways to cut current expenses and potentially trim future expenses.
For example, you may negotiate with your cable and internet and cell phone provider. If you've decided against refinancing, you could call your credit card issuer and request they lower your interest fees. You could even switch banks to one that has fewer fees and pays higher interest rates on your savings. These small ways to saving money can add up over time.
When you're a soon-to-be parent, your first instinct may be to buy everything new. But not everything has to be purchased brand-new for your child. Tap into online parenting networks for lightly used clothes and furniture you can buy at affordable prices. Ask friends or family for hand-me-downs and explore local thrift stores to see if there are safe, clean and affordable options for your child.
8. Beware putting retirement savings on the backburner
When looking at your budget and future costs, it may be tempting to stop saving money for retirement. But doing so could be a financial misstep. That's because you'll miss out on compounding interest, likely during your younger years.
Instead, look elsewhere to make cuts in your budget. If you already have a healthy emergency savings fund, for example, you might consider decreasing how much money you put into it each month in order to stow away cash for child care costs or pay down debt.
9. If money is tight, research nonprofits and government programs
If you're having a child but are or will struggle financially, research nonprofits and government programs that can help you.
Benefits.gov has a list of financial programs, some of which specifically help needy families. For example, Alabama's Family Assistance Program provides temporary financial support to families with children under 18.
FamilyPromise is a nonprofit that helps low-income families through programs offering shelter, food, health care services and job training. Cars for Moms, meanwhile, helps single-parent families become self-reliant by providing them with free vehicles, car repairs or public transportation.
These are just a few programs that could provide you with assistance until you're better able to manage costs.
This article contains links to CompareCards, an affiliate of LendingTree.