Right of Rescission: Is it Possible to Cancel a Mortgage Refinance?
Published on: September 30th, 2019
Editorial Note: The content of this article is based on the author's opinions and recommendations alone. It may not have been previewed, commissioned or otherwise endorsed by any of our network partners.
Refinancing your mortgage is a lot like applying for a new loan — there are a lot of moving parts. If at some point during the process you realize the mortgage refinance no longer makes sense for your situation, you have the legal right to cancel a refinance, known as your right of rescission.
In this guide, we'll cover:
What is the right of rescission when it comes to canceling a refinance?
Your right to cancel allows you to back out of the refinance of your home if you decide it's not in your best interest. You'll most likely receive a form called a "right of rescission" in your loan package, or it may be called a "right to cancel." If you're refinancing your primary residence, you have the right to cancel the loan by midnight the third business day after you sign. So if you sign your loan on a Monday, your rescission period begins at midnight and expires by 11:59 pm Thursday night.
Below is an example of how the right of rescission works if you sign on a Monday, with no banking holidays during the week.
Monday
Tuesday
Wednesday
Thursday
Friday
Refinance paperwork is signed
Rescission period starts at midnight
(Day 1)
Rescission period continues
(Day 2)
Rescission period expires at 11:59 pm
(Day 3)
Loan funds or is canceled by sending signed right to cancel to lender before midnight on Friday
You won't be eligible for any refunds of fees you paid for upfront, like credit reports or appraisal inspections. The lender fees and title fees are usually paid upon closing of a mortgage loan — therefore you aren't generally charged a fee if you cancel your loan.
The three-day rescission period only applies to the refinance of a home you use as your primary residence. Second homes and investment property refinances don't have a rescission period — the deal is final once you sign. However, under the new regulations that went into effect in 2015, you must receive your closing disclosure at least three days before you closing, which gives you time to review and resolve any issues with your loan officer before the deal is final. If you don't sign your closing disclosure, the lender cannot issue closing documents, and your loan will be canceled.
When does right of rescission apply?
You can cancel your refinance on a primary home the first business day after you sign your closing paperwork. Sundays and legal public holidays don't count as business days, so if you are refinancing around one of the banking holidays, you'll have extra time to make your decision.
You can cancel anytime up to midnight on the third business day after you sign your mortgage by putting a live signature on the right to cancel and faxing, or emailing, or delivering it in person to your lender. No fees can be charged for canceling, but you won't receive a refund of any upfront fees you might have spent on an appraisal or credit report.
The table below provides the timeline for canceling a refinance on a primary residence, second home or investment property.
Type of property
Closing disclosure date
Right to cancel expires
Primary residence
3 business days before signing
Midnight of 3rd business day after signing
Secondary residence
3 business days before signing
Same day as signing
Investment property
3 business days before signing
Same day as signing
How to cancel your mortgage refinance
The process to cancel a mortgage loan is very simple, but it's important to follow the correct steps within the timeline. The graphic below shows the steps you need to take to cancel your refinance.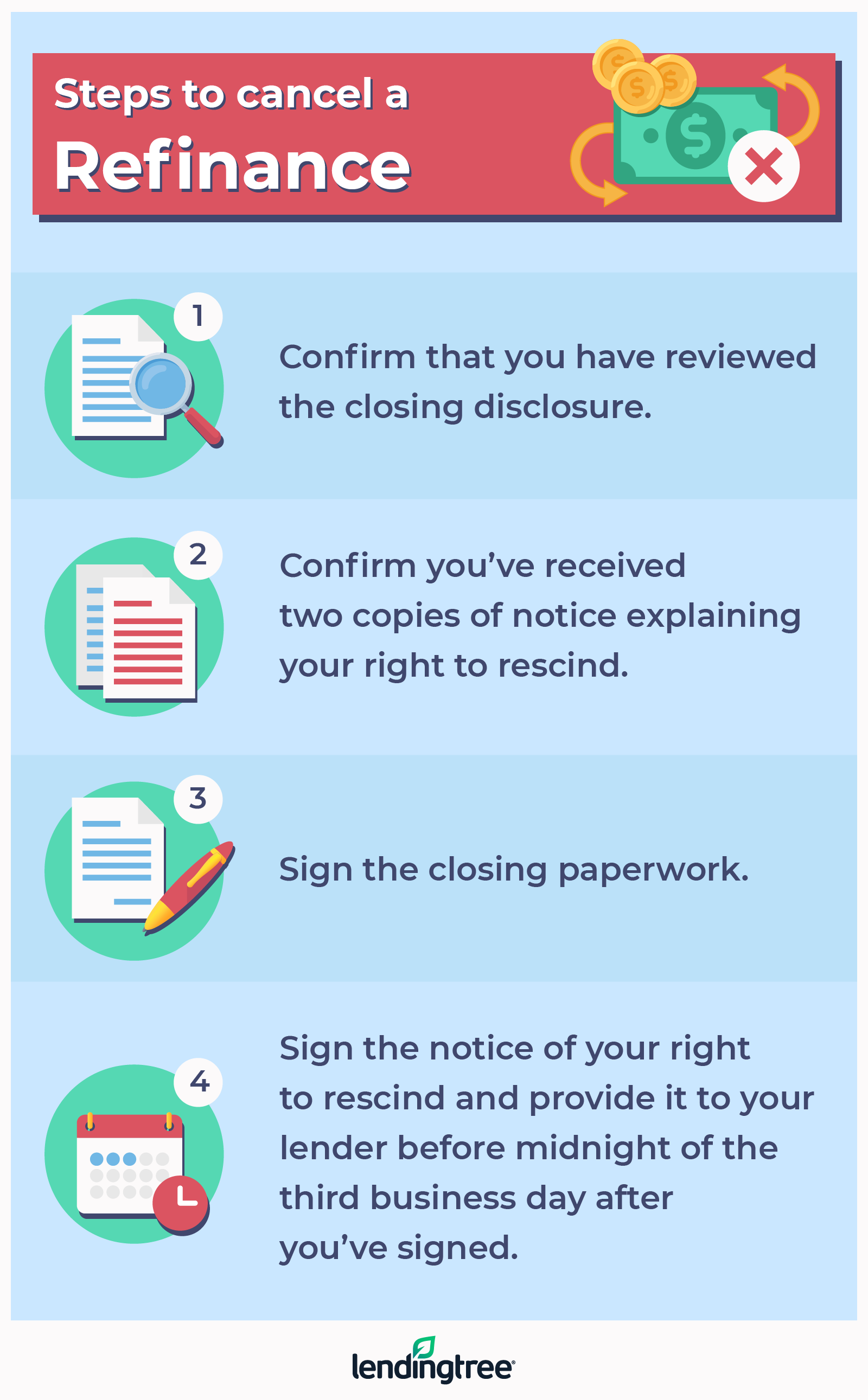 Reasons you might want to cancel your refinance
When you fill out a refinance application, the terms a lender offers you are based on the information you provide. Once the lender starts to verify information by pulling your credit report, or obtaining an appraisal to verify your home's value, sometimes the numbers change, making the refinance less financially attractive. All of these can be valid reasons to exercise your right of rescission.
Your appraisal comes in lower than expected
A low appraisal is one of the most common reasons a refinance becomes less worthwhile. If you are applying for a conventional refinance to lower your payment or to get extra cash out to pay off some high-interest debt, the value of your home will have a very big impact on the rates and terms you are offered.
For example, let's say you are doing a cash-out refinance for $200,000, and estimate your home will appraise for $335,000, but the value comes back at $265,000. The more equity you take out compared to your value, the more lenders charge.
At your estimated value, you would have been borrowing 60% of your home's equity. However, the lower appraisal pushes you to borrow more than 75% of your home if you need the $200,000, and the lender charges an extra 0.5%, or $1,000, to cover the risk of loaning you more of your equity for cash-out. That might not be enough to make you want to cancel, but it adds a good chunk of money to your closing costs.
Alternatively, if you need money to pay off your credit cards and your appraisal comes in low, it might not make sense to finish the refinance.
Your credit score dropped significantly
If you are self-employed or have credit issues such as bankruptcies or disputed credit accounts, it could take some time to get a full approval. When a lender pulls your credit report, that information is valid for 90 days. If you need an updated credit report because the process is taking longer than 90 days, it's possible that the information in your report and thus your credit score could change. A lower credit score might drive up your rate and costs so high the refinance doesn't benefit you.
As your credit score drops, the markup for your rate gets higher, increasing by nearly $4,500 by the time you drop below 680. Lenders typically won't charge you the credit score markup. Instead, they will raise the interest rate to absorb the charges for the credit score. The increase could make it less beneficial for you to refinance, especially if the goal is a lower payment.
The table below shows the markups on a regular refinance of $200,000 to lower your payment borrowing more than 75% of the value of your home. Even with an excellent credit score above 740, lenders consider it risky to loan you more than 75% of your homes value, and charge you a half percent ($1,000). The markup is higher as the scores drop below 740.
Loan amount
FICO Score
Charge for credit score borrowing more than 75% of value
Closing cost increase for $200,000
$200,000
740 or higher
0.5%
$1,000
$200,000
720-739
.75%
$1,500
$200,000
700-719
1.125%
$2,000
$200,000
680-699
1.75%
$3,500
$200,000
660-679
2.75%
$5,500
Your income or employment has suddenly changed
If you've been notified of a pending layoff, or your income is about to drop substantially, you may want to cancel the loan until things stabilize. This is especially true if you were thinking about reducing the term of your loan from a 30-year to a 15-year mortgage, which raises your monthly payment but cuts the time it takes to pay your home off in half.
You may need to cancel term-reduction refinance to avoid having a monthly payment that won't be affordable.
Final thoughts
Under the new regulatory guidelines that went into effect in 2015, besides the 3-day right of rescission period you have to review your paperwork to cancel, you also have the right to review your closing paperwork at least three days before you even get to the closing table. If you don't sign the closing disclosure, the loan documents won't be prepared for closing.
If you find mistakes with the closing disclosure, or the costs look higher than you expected, have a conversation with your loan officer to discuss whether costs can be reduced. If you won't recoup your costs within a reasonable timeline, you should cancel the refinance. Be aware of the limited 3-day rescission period when making your decision.