The Best Way to Save for Your Down Payment
Ready to make a down payment on a home? Your best bet may be to build your savings and multiply your money with a high-interest savings account.

With annual percentage yields (APYs) higher than what you find at traditional banks, these accounts are specifically built to help your savings go farther, quicker. That means you get more out of what you invest, making it easier for your to reach your goal of buying a home.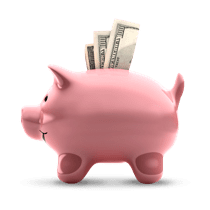 What's a down payment?
A down payment is a lump sum of money you pay upfront when you plan to purchase a home. It's basically your way of telling a lender you're serious about homeownership, so you're putting some of your own skin in the game. (Side note: Lenders hate risk. Think of your down payment as a way of easing their fears that you'll back out of the purchase or don't have enough money to complete the transaction.)
Affording the down payment is often one of the most challenging aspects of home buying because it's a percentage of the home's total sales price. For example, if your home costs $300,000 and you're prepared to make a 3% down payment, that's $9,000 you'll need to pay your lender. Naturally, as the down payment percentages increase, so does the amount of money buyers pay.
4 benefits of a large down payment
Larger down payments may sound scary, but they offer several benefits.
Lower monthly payments

More money down reduces the amount of money you'll have to borrow from a lender. And, of course, less money borrowed means a smaller mortgage payment.

No PMI

If you put down at least 20% on your home, you won't have to pay private mortgage insurance. This type of insurance protects lenders in case you default on your loan. PMI can be .5% to 1% of your loan amount, which translates into thousands of dollars per year tacked onto your mortgage payment. PMI drops off once you pay down 80% of your home loan balance, but a 20% down payment helps you avoid it altogether and save a lot of money over the life of your loan.

Better rates

Lenders get excited when they see borrowers ready and able to make a large down payment. It shows you're financially dependable, which means the likelihood is high you'll make your mortgage payments in full and on time. That means lenders may be apt to offer you lower rates, knowing there's a good chance they won't suffer any losses on their investment.

More bargaining power

In this hot housing market, bidding wars aren't uncommon. A home you adore might have offers from multiple buyers, placing the onus on sellers to decide who's going to get the house. Savvy sellers will pay close attention to the down payment, because it shows which buyer will have the most success closing the deal. Plus, just like it does for lenders, a hefty down payment shows sellers you're serious about buying a home and chances are low your financing will fall through.
Affording a down payment isn't as hard as you think
Over a third of Americans overestimate the cost of a down payment, assuming it's way too expensive to make homeownership affordable. That's not the case with a high-interest savings account, which can help you grow your money faster with bigger returns on money you invest.
BIGGER RETURNS ON YOUR MONEY
Rates on high-yield savings accounts are typically higher than what traditional banks offer. That means you get more out of the money you put in.
MORE OPTIONS AT YOUR DISPOSAL
Some online savings accounts offer returns as high as 2%. Shop, compare and choose the bank with rates that give you the savings advantage.
BETTER CONTROL OVER CASH FLOW
It's okay to use more than one bank or credit union. Having one dedicated solely to your savings could reduce your chances of dipping into it before you need to.
High-interest savings accounts keep your money safe and growing
Putting money into a high-interest savings account for safekeeping is a smart way to save for a down payment without exposing your money to a ton of risk. Unlike investing money in the stock market, you won't lose a bulk of your down payment savings if the market dips. Our partners offer accounts insured by the Federal Deposit Insurance Corporation. That's an official way of saying that the government will make sure you get your money back even if the bank you choose goes out of business.
The savings are automatic & guaranteed, too
Ever struggle with remembering to move money into your savings account? That's not a problem when you can automate your savings. Use the rate table above to find savings accounts that let you automatically transfer money on a schedule. That way, you don't ever have to worry about whether you're regularly saving for your down payment. It's an automatic guarantee.
3 ways to get the most out of your down payment savings account
Choosing a high-interest savings account to accumulate money for your down payment is a great first step to achieving your homeownership goals. But, there's more to it than that. Here are some best practices for getting the most out of your savings account, so you'll be ready for your down payment and more.
Choose the best type of account


Decide what kind of savings account best serves your needs. For instance, will a traditional high-yield savings account bring you the most benefit or should you consider a certificate of deposit (CD), which allows you to save a lump sum of money without withdrawing it for a certain period of time? Money market accounts let you use checks and a debit card connected to your savings, although they do come with some restrictions for online transfers and payments. Both CDs and money market accounts usually offer higher interest rates than typical savings accounts. Figure out which account will help you reach your target down payment amount on your timeline.

Strategize your savings goal


While saving extra money is always a good thing, when you've got a down payment to think about, it's best to keep a figure in mind. That's why it's imperative you calculate your down payment for a home before you open your savings account and then work towards that goal each time you deposit money.

Keep building for the future


Once you hit your down payment goal, don't stop saving. While savings accounts aren't the best long-term strategy for your retirement, they do come in handy for short-term goals related to your home, like moving costs, building an emergency fund or paying for future home repairs and upgrades.
Can't put down a full 20%? Not a problem.
For years, lenders recommended that borrowers save 20% of the cost of their home for a down payment. That can be a lot of money. Take a look at these home loans that don't require that much down.
FHA

These loans insured by the Federal Housing Administration require 3.5% down.

HOMEPOSSIBLE® + HOMEREADY®

Both these conventional mortgage programs, from Freddie Mac and Fannie Mae, respectively, only require a 3% down payment.

VA + USDA LOANS

If you're a veteran or move to a rural area, you don't need a down payment. Use your savings for other things you'll need, like furniture or a maintenance budget.

GOOD NEIGHBOR NEXT DOOR

If you're a teacher, law enforcement officer, firefighter or emergency medical technician, this down payment assistance program lets you buy a home with as little as $100 down as long as you. The biggest requirement is that you buy your home in a community designated as a revitalization area.

HUD DOLLAR HOMES

This program, offered by the U.S. Department of Housing and Urban Development (HUD), helps low- to moderate-income families buy HUD-owned homes for $1 each, plus any closing costs. The homes for sale are foreclosed homes purchased by the FHA and made available when the government is unable to sell them for six months.

YOUR CITY OR STATE

Many state and local governments offer down payment assistance grants, loans and programs for qualified borrowers. Check with your city or state's housing authority, or local nonprofits, to see what benefits are available.