9 Mortgage and Housing Market Predictions for 2020
Published on: December 19th, 2019
Editorial Note: The content of this article is based on the author's opinions and recommendations alone. It may not have been previewed, commissioned or otherwise endorsed by any of our network partners.
As 2019 comes to a close, mortgage and housing market predictions for 2020 will be a mixed bag of opportunities and challenges. Whatever your real estate goals are for the new year, knowing what to expect can help you better navigate your local housing market.
Here are nine mortgage and housing market predictions to watch in 2020:
1. Mortgage rates will continue to stay low
Mortgage rates defied all expectations in 2019, falling more than 100 basis points from this time last year, which is roughly where they remain going into 2020. The 30-year, fixed-rate mortgage average interest rate is forecasted at 3.8% in 2020, below the average rate of 4% for all of 2019, according to Freddie Mac.
The 2020 housing market will get a boost from low mortgage rate predictions amid doubts that the ongoing trade war between the U.S. and China will be resolved.
"Lingering uncertainty about the economy because of the U.S.-China trade war could escalate in an election year," said Tendayi Kapfidze, LendingTree's chief economist. "Significantly lower rates don't seem likely but can't be ruled out if the trade war continues."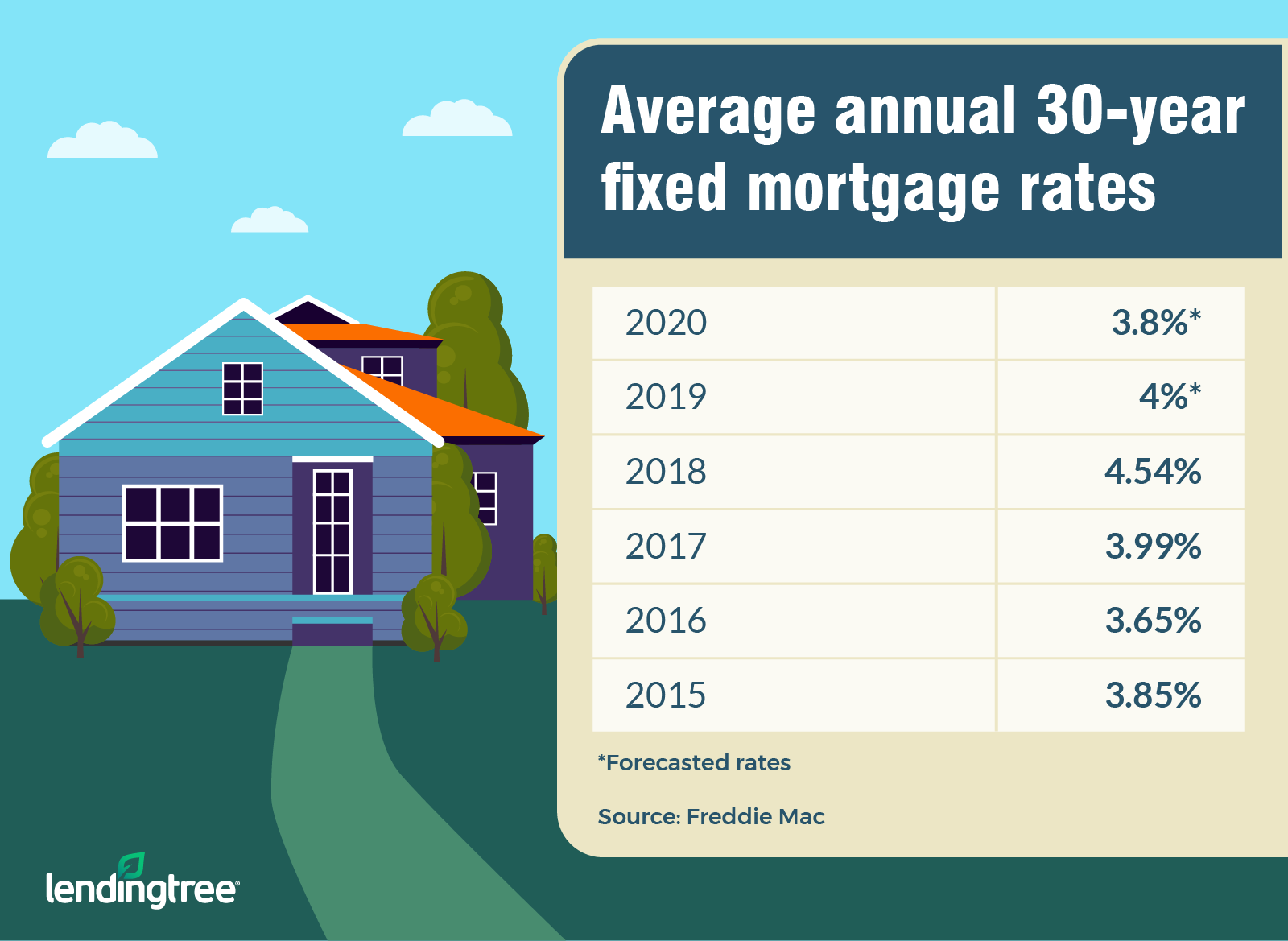 2. Homeowners can still benefit from refinancing (if they haven't already)
The odds are strong that you'll get a thumbs up on a refinance loan — 75% of refinance applications were approved, according to a recent LendingTree study. A borrower who took out a $300,000 loan amount with a 4.75% rate in 2018 could save roughly $200 per month and $50,000 in interest over the life of their loan by refinancing to the current interest rate of 3.75%.
If you didn't hop on the refi bandwagon in 2019, there's still time to reap savings. And with home prices still expected to grow next year (albeit more slowly), you may be able to tap more equity through a cash-out refinance.
3. Borrowers will see higher loan amounts as home prices edge up
Homebuyers and homeowners thinking about refinancing can access more mortgage credit with conforming loan limits increasing to $510,400 for most areas of the country in 2020. Higher loan limits reflect the continued growth in home prices seen throughout most of the country.
The National Association of Realtors (NAR) predicts the median existing-home price in 2020 will rise to $280,200, up 3.6% from the expected 2019 average of $270,400. That's a smaller gain than the 4.3% jump in median existing-home prices from 2018 to 2019, but an increase nonetheless. While affordability, especially for entry-level homes, will continue to be a hurdle for first-time buyers, low mortgage rates and rising incomes may help boost home sales in 2020.
4. FHA loans will be easier to get
More good news: Access to FHA loans increased for the first time in nine months, according to the latest Mortgage Credit Availability Index from the Mortgage Bankers Association (MBA). FHA reserves have doubled since 2018, giving FHA-approved lenders more flexibility to approve FHA borrowers with lower credit scores than conventional lending guidelines permit.
In 2020, FHA loan limits will increase in most areas to $331,760. That's encouraging for many aspiring homebuyers as the national median existing-home price jumped to $270,900 in October, up 6.2% from a year ago, according to NAR.
5. Homeowners will hold onto their equity as access tightens for some borrowers
U.S. mortgage holders are sitting on $6.3 trillion in tappable home equity, but they're not accessing it like they used to, according to a report by Black Knight. The boom in unsecured personal loans, which are easier to take out and don't rely on using your home as collateral, may be one reason why.
Personal loan balances jumped 19.2% as of first quarter 2019 from the previous year, and loan balances have exploded to $143 billion in first quarter 2019, up from $72 billion in the first quarter of 2015, according to a recent report from TransUnion.
Homeowners with government-backed loans won't be able to cash out as much in 2020. FHA cash-out refinance borrowers will be capped at 80% of their home's equity — 5% less than they were able to obtain in the first half of 2019. Meanwhile, VA cash-out refi borrowers will be limited to borrowing up to 90% of their home's equity in 2020, down from 100% previously.
6. Housing market prediction: Sales will continue to strengthen, but not everywhere
Housing is expected to be a bright spot in the economy in 2020. The purchase of homes and rental properties grew in the third quarter for the first time in more than a year and a half, and the trend is expected to continue into the first half of 2020, according to Fannie Mae.
"We expect that new and existing home sales will be good — in the ballpark of 1.5% to 2% [in 2020] over 2019," said Doug Duncan, Fannie Mae's chief economist. "This is closer to the 2017 level, which we saw as the peak of the home-sale cycle."
However, some areas of the country are at risk of a housing downturn if the local economy weakens, according to Redfin. Miami, Phoenix and Riverside, Calif. could see the biggest initial impact, spelling opportunity for buyers on the hunt for affordable homes in those areas. Cities with a strong job market will likely see continued home-price appreciation while areas that don't have a solid labor market could see home values stagnate or even fall, Duncan said.
7. Inventory will continue to be scarce
With prices rising and sellers staying in homes longer, one clear housing market prediction is there won't be a lot of new homes going up for sale. And that could put a crimp in plans for many homebuyers.
"Inventory is especially tight for first-time homebuyers and downsizers, with very little available in higher-priced coastal areas like California and Massachusetts," said Jessica Lautz, vice president of demographics and behavioral insights with NAR.
What's driving the inventory crunch? One factor, according to Lautz, is that more adult children are moving in with their parents, presumably because wages aren't keeping up with higher costs of living. In addition, homeowners are also staying put longer. In fact, homeowners who sold a home in the first quarter of 2019 had an average ownership tenure of 8.05 years, nearly double the 4.21 years averaged prior to the housing crisis, according to ATTOM Data Solutions.
8. Millennials will look beyond big cities
As millennials continue to age and reach key life milestones, they're leaving bustling urban areas for more affordable suburban digs.
The skyrocketing cost of downtown living is driving some of the oldest millennials out of expensive coastal "hipsturbia" markets like San Francisco and New York City, and into more mid-sized cities in states such as Arizona, Nevada, Texas and Florida, to name a few, according to Realtor.com's 2020 housing forecast.
Lower interest rates will continue to motivate millennials to step up their home-search efforts.
"The decline in interest rates in 2019 opened the door for millennials at entry-level prices, as they were able to buy more houses without spending more than 30% of their income on housing," Duncan explained.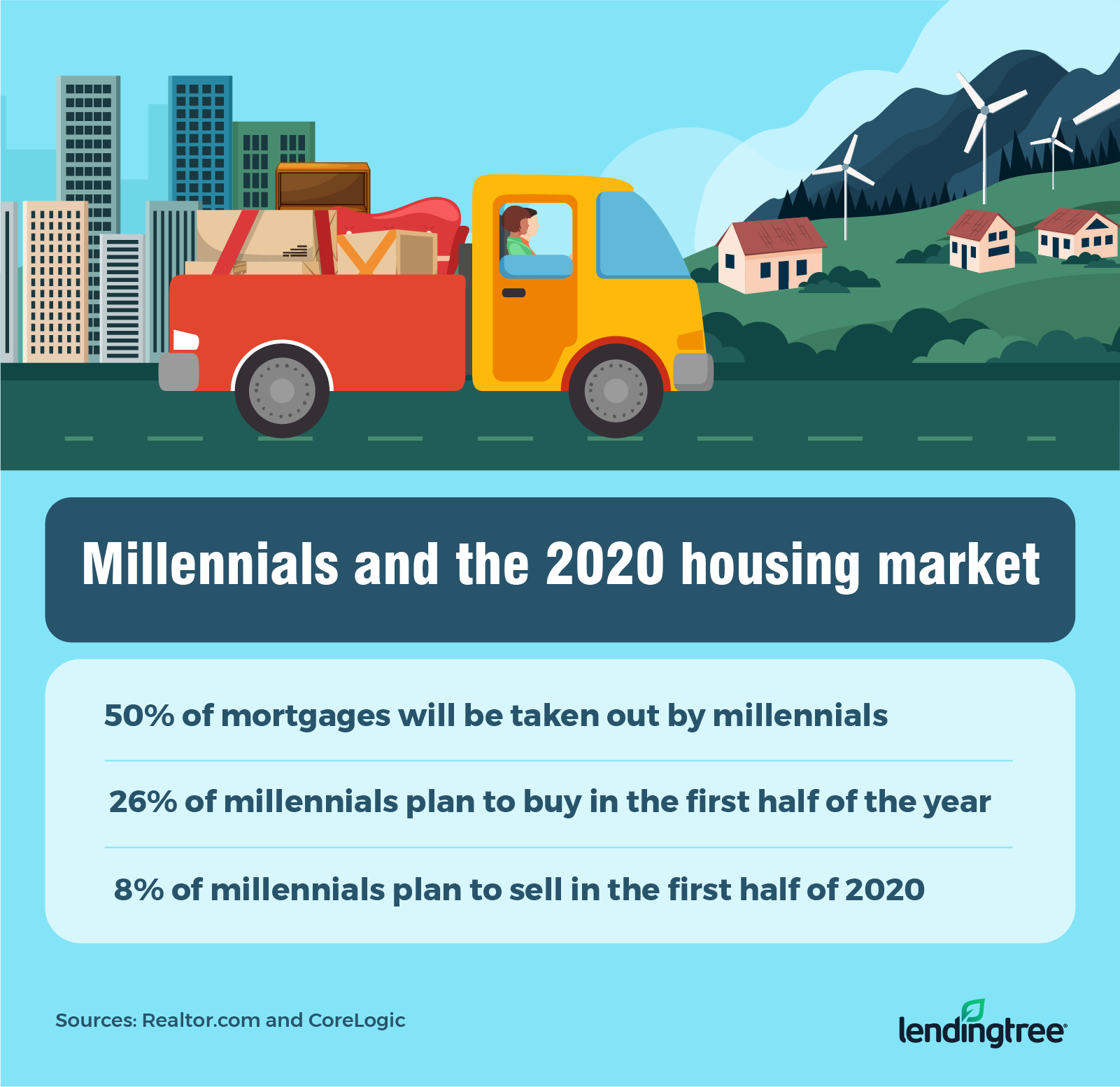 9. New construction will continue to lag buyer demand
Home builder confidence in the new-construction market is at a 20-year high as 2020 approaches, according to the latest National Association of Home Builders (NAHB)/Wells Fargo Housing Market Index. Builders have reason for optimism.
"New-home sales rose 9% in 2019 after a rough start in 2018," said Robert Dietz, NAHB's chief economist. The NAHB expects single-family housing starts in 2020 to jump nearly 4% to 920,000, up from 886,000 in 2019.
Skilled labor shortages and ongoing regulatory obstacles will make it hard for builders to meet the growing demand for new homes. Improvements in the job market bode well for potential new-home growth, but price increases in many housing markets will continue to hamper affordability, Dietz said.