7 Things That Can Increase the Cost of Selling a House
Published on: November 20th, 2018
Selling your home can be an expensive process riddled with hidden fees and expenses you may not even be aware of. Staging, pre-sale inspections, real estate commission fees and closing costs are among the many costs that can easily add up to a few thousand dollars that you'll either have to pay out of pocket or deduct from the proceeds from your home sale.
These costs also vary significantly depending on where you're selling. For instance, some states require sellers to hire a real estate attorney, while others don't. Real estate transfer taxes also differ by state and, in some cases, by city; some states don't have them at all. Fees also can vary by mortgage lender.
"You have to look at where the variations are bank to bank, municipality to municipality and state to state," said Linda Page, the 2018 National Association of Realtors (NAR) regional vice president for New York, New Jersey and Pennsylvania.
If you're selling your home, you should be aware of the various potential expenses. We've broken down some of the most common costs associated with selling a home so you know what to be prepared for.
How much does it cost to sell a home?
It's important to note that some costs don't need to be paid upfront and out of pocket — many expenses come out of the sale proceeds. But it's still worth paying attention to each expense, as every penny saved can go toward your next home.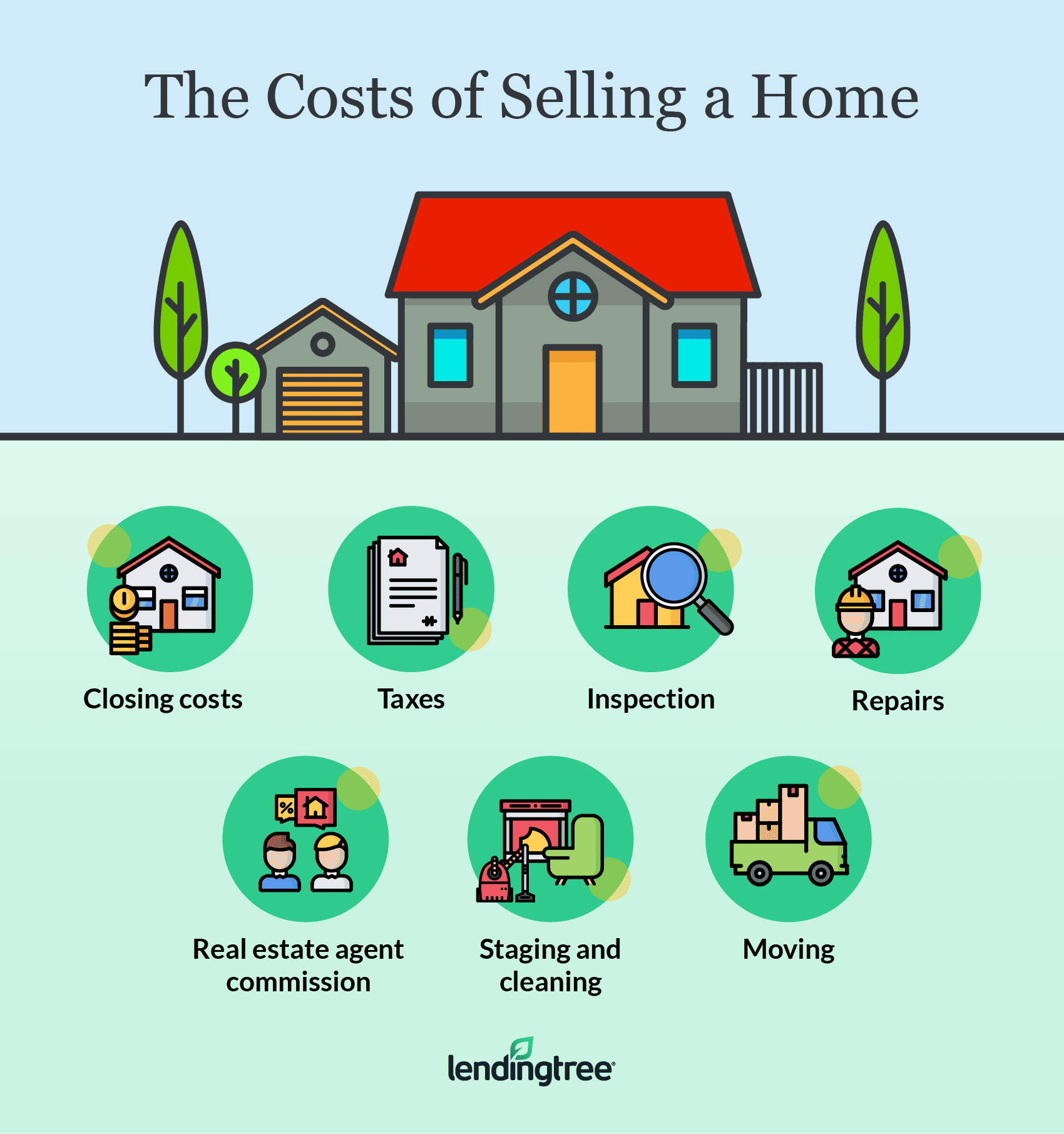 Closing costs
In a home sale, buyers always pay more than sellers in closing costs. But some closing costs are still paid by the seller and what those costs are depends on the state of the sale.
Closing costs paid for by the seller can include expenses like real estate transfer taxes, appraisal fees, title insurance fees, water and sewer transfer fees, homeowners association transfer fees and attorney fees. Typically, these costs are deducted from the total sales price of the home at closing.
Closing costs vary because of differences in state laws. For example, Page said that in New York state, where she's based, sellers can expect to pay 7% to 10% of their mortgage in closing costs. But in Colorado, a conservative estimate of what sellers will spend on closing costs is around 1.5% to 2%, said Renee Cohen, a realtor based in Englewood, Colo.
Taxes
In addition to prorated property taxes (if applicable in the state of the sale), many sellers will pay real estate transfer taxes, which cover the transfer of the deed, according to Page. Transfer taxes vary by state: In Pennsylvania, the transfer tax rate is 1% of the sales price, while it's only 0.16% in Iowa, according to the National Conference of State Legislatures. In states like Texas, Alaska and Indiana, there is no real estate transfer tax.
"Every state has different requirements when you transfer property," said Page.
Pre-sale inspection
Although pre-sale inspections are not mandatory, Cohen said that sellers can benefit from conducting them. Doing so allows a seller to know the condition of their house and what repairs, if any, need to be done before putting the house on the market.
"Many sellers do it, because it's nice to be able to say to a buyer, 'Here's my pre-inspection report, take it and do with it what you want,'" she said.
The cost of a pre-sale inspection varies depending on the area, but Cohen said sellers can expect to pay between $500 and $600.
Home repairs
Even if a home is in seemingly good condition, an inspection still can turn up issues that require fixing. Some repairs, such as those that affect the safety and structure of the home, are required to be fixed before the sale.
Other problems, such as those that are cosmetic, won't need to be repaired by the seller, while repairs that fall in the middle severity-wise, can be negotiated between the buyer and seller.
Real estate agent commission
Real estate agent commissions can be one of the biggest expense associated with selling one's home. Just keep in mind that the rate varies by realtor and location — according to Cohen, in Colorado, for example, sellers typically spend between 5% and 7% of the total sales price on real estate agent commission fees.
"Realtors can charge different amounts," Cohen said. "They may charge flat fees, they may charge percentages. And that may vary depending on where you are, and who the realtor is that you actually work with."
Keep in mind that not only are realtor fees negotiable, but that you can sell also your home yourself, said David Demming, a certified financial planner and founder and president of Demming Financial Services Corp. of Aurora, Ohio.
"A lot of people fixate on the realtor and think, 'Oh, maybe I can negotiate down the commission on that,'" he said — "Yes, you can." At the same time, Demming encourages home sellers to sell their home themselves because they can offer a discount to buyers during negotiations.
Selling one's home without a real estate agent is called "For Sale By Owner," or FSBO. Although it can save on commission fees, it does require work and expertise. If you are not experienced in real estate or don't have ample time for home showings with prospective buyers, meetings with lawyers and other administrative tasks, the FSBO route might not be right for you.
Staging and cleaning costs
Staging is done to make a home appealing to buyers, so the seller can land a higher sales price. Staging a home is not mandatory, but it's worth considering if a home is vacant or if the décor and furniture are outdated.
Staging costs vary greatly, and depend on how much needs to be done, according to Lisa Bohlken, a listing agent based in the San Diego area.
"Some houses, you go to put them on the market, and the people live like they're in a magazine already, and there's not much to do," she said — other times, she's had to do everything from hire landscapers and contractors to photographers and cleaners.
"It really depends on the seller, what their budget is and what their motivation and timing is," Bohlken said. "You can spend almost nothing, or you can spend a lot of money if you have it, and that will net you a lot more money."
Even if you don't hire someone to stage your home, you may need to hire a cleaning service, a window-washing service and landscapers. You can do many of these tasks yourself by renting a carpet shampooer, carpet steamer or lawnmower, if you don't have them already.
Moving costs
Once you close on your home, it can be tempting to sit back and relax, ideally pleased with how much money you netted. But before counting your cash, remember that you still have to move.
If you're moving across the country, the expenses can be staggering. The national average to move across the country is $2,976, according to HomeAdvisor, a website that provides tools for home improvement and maintenance. Even if you rent a truck and do the move yourself, you're still looking at several hundred dollars in gas and truck rental fees, as well as the cost of hiring movers.
How to minimize the cost of selling your home
If money is tight and you're looking to save as much as possible when selling your home, keep these tips in mind.
1. Don't be afraid to negotiate.
People tend to focus the most on negotiating their realtor commission fees, Demming said. But sellers should also focus on negotiating other aspects of the home-selling process, such as attorney fees and inspection fees.
"A lot of people think those costs are fixed," Demming added. "They're not."
2. Consider when you're selling.
Depending on the state you live in, it can be wise to wait to sell until a certain month. "There's a seasonality behind selling," Demming said. "Prices go up in the spring, and down in the fall." If you put your home up for sale during an off-peak season, be prepared for fewer buyers.
This seasonality isn't quite as common in cities like Miami or Phoenix, where the weather is warm all year. But in colder states, Demming said the selling market typically starts in March and ends in August. Many people want to get into their homes before the school year starts.
3. Submit repair invoices directly to the title company.
In some areas of the country, you can have repairs done, submit the contractor's invoices to the title company and have them deducted from the proceeds of the home sale at closing, Cohen said. Sellers can avoid shelling out cash upfront to make repairs that they may not be able to afford.
4. Spend a little extra money upfront.
Consider purchasing items like nice hand towels, plants and placemats, or borrowing nice accessories from friends to make your home pop.
"It doesn't have to cost a lot of money, but the effect will be worth more than the cost of the items," said Cohen. "Little things go a long way."
5. Apply a coat of paint.
Sometimes all a home needs is paint to freshen it up.
"A coat of paint is very easy to buy, and very easy to do," said Cohen. "Sometimes just changing the color of the wall can really bring a lot of bang for the buck for the seller."