Best Cities for Refinance Approval and How to Increase Your Odds
Published on: February 3rd, 2020
Editorial Note: The content of this article is based on the author's opinions and recommendations alone. It may not have been previewed, commissioned or otherwise endorsed by any of our network partners.
LendingTree studies the reasons mortgage refinance applications fail — and what borrowers can do to improve their odds of getting approved.
Low mortgage rates are continuing into 2020 after economic uncertainty in much of 2019 pushed mortgage rates down by more than 1 percentage point.  This means that current homeowners are well-positioned to save on their monthly mortgage payments by refinancing into a loan with a lower interest rate.

LendingTree found that nearly 75% of refinance applications are approved. This high success rate means that homeowners should consider the potential savings they'd reap with a mortgage refinance.  And because 25% of applications aren't approved, how could a homeowner increase their odds of success?  
Lenders are required to report the reason a loan application is denied. An analysis of more than 10 million mortgage applications, using the latest Home Mortgage Disclosure Act (HMDA) data for 2018, revealed the main reasons loans are denied in the nation's 100 largest cities. 
Key findings:
Nearly 75% of mortgage refinance applications were approved nationally in 2018.

 

For the 25% of applications that were not approved,

the top four reasons were debt-to-income ratio, credit history, incomplete application and insufficient collateral.

A too-high debt-to-income (DTI) ratio accounted for 26.1% of denials

and is a huge barrier for borrowers living in expensive cities. San Jose, Calif., Honolulu, Bridgeport, Conn., San Francisco and New York City were the top cities for refinance application denials based on this factor. 

Credit history held back 24.3% of failed applicants,

with the highest proportions in Winston-Salem, N.C., Louisville, Ky., McAllen, Texas and Birmingham, Ala. These cities all have household incomes below the national median of $63,179 which may be making difficult for residents to meet their financial obligations.

 
Incomplete applications were a problem for 17%

of unsuccessful refinance applicants, with California cities Stockton, Sacramento and Fresno leading the way. The data doesn't say why borrowers abandon applications, but some may have initially applied to multiple lenders and then proceeded with just one.

Bad collateral caused 16% of rejected refinance applications

and were particularly a problem in old industrial cities. Scranton, Pa., Syracuse N.Y. and the Ohio cities of Toledo and Akron lead the way. "Bad collateral" means the home's appraised value was too low for the requested loan amount.
U.S. metros where borrowers are most (and least) likely to get approved for a mortgage refinance
There is a wide range in approval rates across the 100 largest metros, from 83.8% approval in Ogden, Utah to 62.9% in El Paso, TX.
The metros where borrowers are most likely to get approved for a mortgage refinance
Ogden, Utah
Approval rate: 83.8%
Leading cause of denials: Credit history at 25.6%.
 
Madison, Wis.
Approval rate: 82.9%
Leading cause of denials: DTI ratio at 31.4%.
 
Provo, Utah
Approval rate: 82.9%
Leading cause of denials: DTI ratio at 26.8%.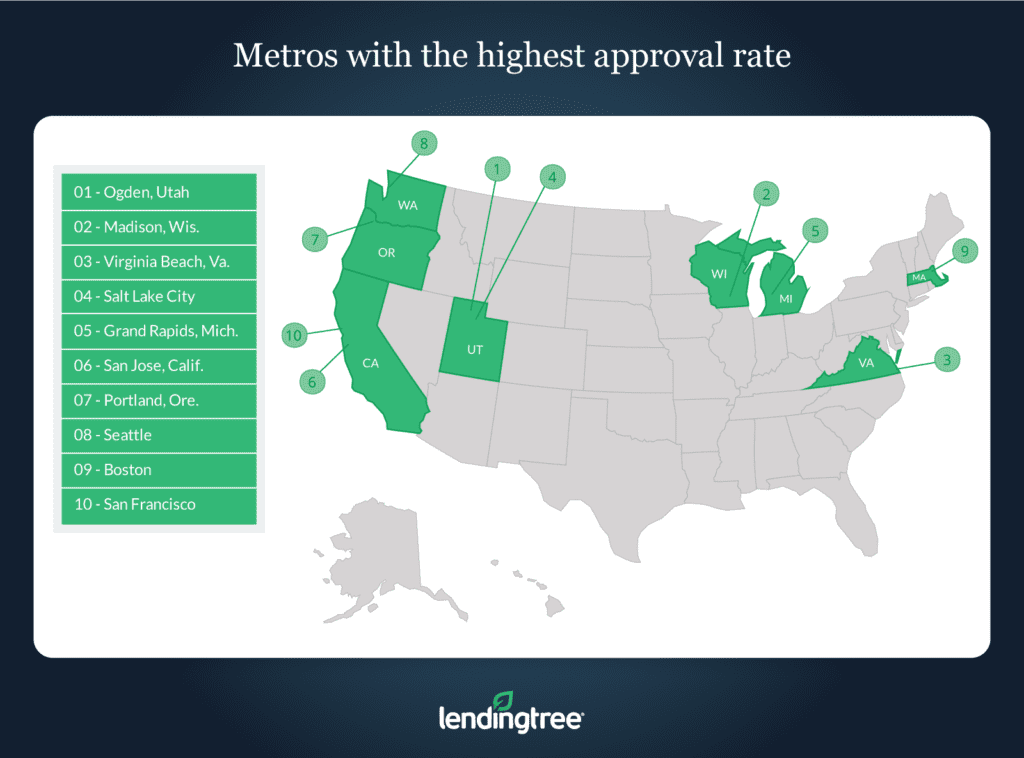 The metros where borrowers are least likely to get approved for a mortgage refinance
El Paso, Texas
Approval rate: 62.9%
Leading cause of denials: Credit history at 28.0%.
McAllen, Texas
Approval rate: 64.4%
Leading cause of denials: Credit history at 31.2%.
Miami
Approval rate: 65.6%
Leading cause of denials: DTI ratio at 32.6%.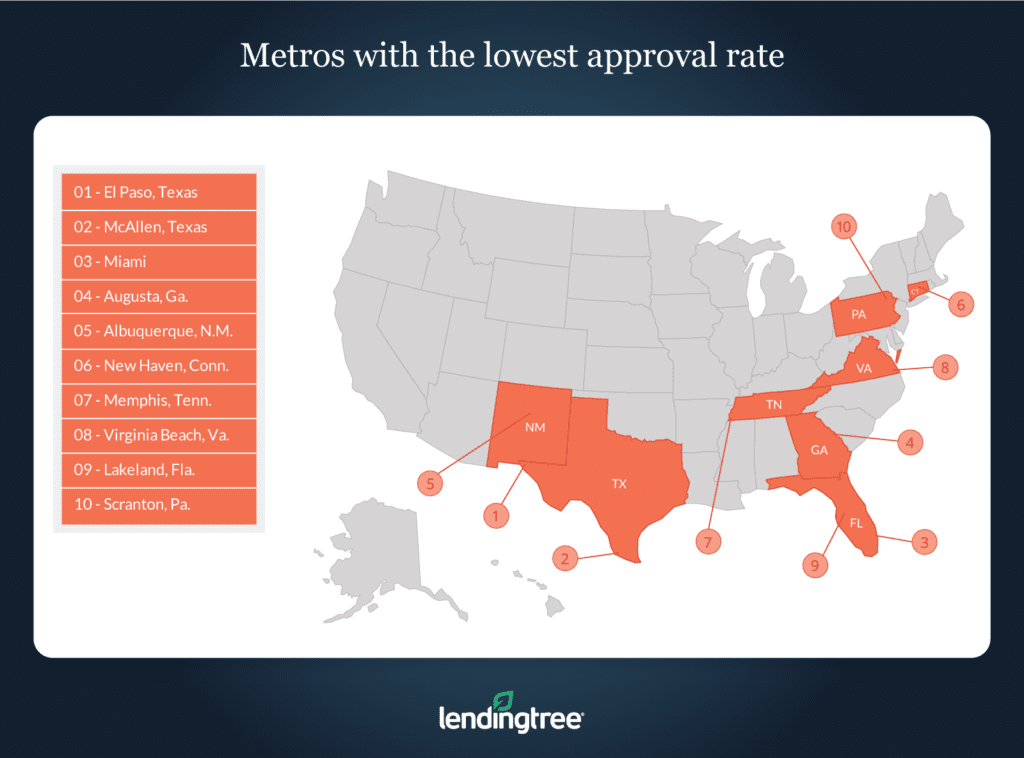 How to get your refinance mortgage application approved
If you're concerned that you might not be approved for a refinance because of your debt, credit or other financial issue, here are ways to improve your chances. 
Credit history. Review your credit report on a monitoring site like My LendingTree and ensure it's accurate. Examine and dispute credit errors before applying for a refinance.
Debt-to-income ratio. Don't take out a new loan that stretches your ability to repay. Pay down debt prior to applying for a loan, and limit spending.
Collateral. While underwriting a new loan, the lender will order an appraisal to find the current market value of your home. The appraised value is an important part of the loan-to-value calculation. Most refinance lenders want an LTV of 80% or below. If the appraisal is not high enough to meet this threshold, you need to apply for a lower loan amount or wait until you build up more equity. If you have savings, paying down your principal balance could be worthwhile if refinancing gets you a lower rate and/or eliminates mortgage insurance.
Verifiable information. Make sure everything in your refinance application — from your tax records to your employment history — is accurate and you have paperwork to back it up. Be proactive and gather all of the documentation you'll need for a refi application so your loan approval isn't derailed. 
Many borrowers who don't take advantage of refinancing might be leaving money on the table. For example, a borrower who took out a $300,000 loan in November 2018 at 4.75% could save about $200 per month on their payment and more than $50,000 in lifetime interest by refinancing at 3.75%. 
Methodology: LendingTree analyzed more than 10 million mortgage application records from the Federal Financial Institutions Examination Council's Home Mortgage Disclosure Act 2018 data set, the most recent available. The data represents mortgage applications from more than 5,000 financial institutions.