How a Home for Sale by Owner Works
Updated on: November 27th, 2019
Editorial Note: The content of this article is based on the author's opinions and recommendations alone. It may not have been previewed, commissioned or otherwise endorsed by any of our network partners.

Some home sellers want to net the most profit they can from their home sale. To do that, a "for sale by owner" (also known as FSBO) strategy may be worth considering. You may save thousands of dollars you'd normally spend on real estate commissions, but you'll need a good grasp of what's involved before selling a house without a real estate agent.
In this article we'll cover:
How to sell a house by owner
When you sell a home by owner, you represent yourself in the sale without the help of a real estate professional. You'll handle home showings, marketing and negotiating all the terms of the contract, including who pays what fees.
Any repair negotiations are handled between you and the buyer, or you and the buyer's real estate agent. If a buyer is represented by an agent, you'll need to decide how their commission will be paid. In a FSBO transaction, you're responsible for complying with all real estate laws of the state you live in.
Pros and cons of selling your home by owner
With real estate commissions averaging between 5% and 6%, a home for sale by owner could net you much more cash than a traditional sale. But there are also drawbacks to selling your own home. Here's a list of advantages and disadvantages of selling a home without a real estate agent.
Pros 
Cons
Houses tend to sell more quickly
No legal representation (unless an attorney is required by your state)
Save on listing agent commission
Potentially more liability
Use the agent commission savings to negotiate closing costs, repairs or the sales price
Time-consuming to take on all of an agent's responsibilities
Manage showings and how your house is marketed
Average sales price tends to be lower
A few important notes about some of the pros and cons:
Houses tend to sell more quickly. In 2018, more than half of FSBO homes sold in less than two weeks, according to the National Association of Realtors. Why? The home was usually sold to someone the seller knew. If you're selling a home to a friend or family member, you'll save time on tasks like marketing, setting up showings and back-and-forth contract negotiations.
More legal liability falls on sellers. Sellers are still bound by state laws to disclose any known material defects with the home in the real estate disclosure form. FSBO buyers may request a copy of your title insurance policy (in addition to buying their own coverage) to ensure there are no liens or title issues that could affect their ownership in the future.
Lower FSBO selling prices. The commission savings may not be worth the equity you might be leaving on the table by bypassing an agent-assisted sale. In 2018, the median price of a home sold with an agent was $280,000, compared to $200,000 for a FSBO sale.
For sale by owner tips
Selling a home by owner takes a lot of organization and time management, so we've prepared a graphic with some helpful tips to follow.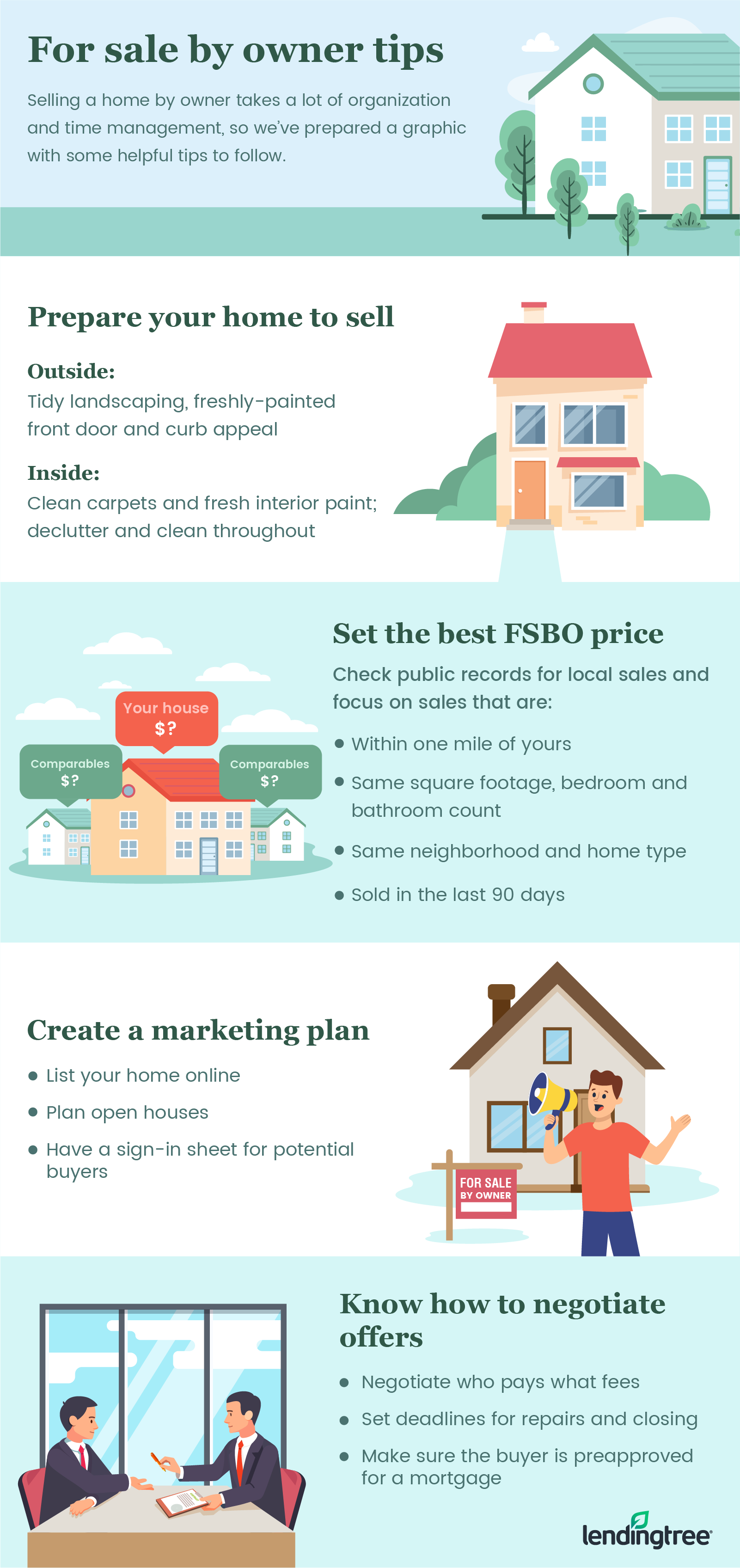 Prepare your home to sell
One of the first things prospective buyers will do is get a home inspection. You can avoid any  unforeseen issues by getting a  pre-sale home inspection. The $500 to $600 fee may be worth it to address and fix items you can't see, like a water heater or air conditioner that's about to die or a roof in need of repair.
First impressions are important, and that's where curb appeal comes in. Adding a fresh coat of paint on your front door, pressure cleaning the exterior and sprucing up landscaping are low-cost ways to make your home look inviting from the outside.
The inside of your home should be model-home clean. Kitchens and bathrooms, as well as master living areas, are important to buyers, so consider some low-cost improvements to make those spaces stand out. Declutter your home by taking down personal photos and knick-knacks so potential buyers can envision your house as their home.
Price it right from the start
You only have one chance to make a first impression, and that's especially true when pricing a FSBO for sale. House listings get the most views within the first 30 days on the market, so spend extra time collecting data so you don't under- or over-price your home.
For sale by owner websites offer the following tips to price your home right:
Research similar homes. Be sure to research homes near yours, with similar square footage and features. The neighborhood features are important — don't compare homes sold in a nearby gated neighborhood or in a custom-built subdivision if your home is in a tract-built subdivision.
Pick the right mix of homes. Compare the prices of five homes that have sold, and five that are for sale. The sold homes should carry the most weight in your pricing decision since they represent the final price a buyer was willing to pay for a home similar to yours.
Get a home appraisal. For an unbiased, third-party opinion of your home's value, hire a licensed home appraiser to prepare a residential home appraisal report. It may cost $300 to $400, but the appraisal will provide a detailed analysis of the house sales in your area.
Create a marketing plan for your listing
Houses for sale by owner need to compete with homes offered by professional real estate agents. Your home's marketing plan should include at least the following.
Professional photos. Studies have shown that homes listed for sale with professional photographs net a higher sales price than homes listed with amateur photos. On average, you'll pay $200 to $280 on professional real estate photos, according to Thumbtack. That small investment could net you more money at the closing table.
Describe the house in terms that appeal to the most buyers. Provide details about your home that separates it from the competition. Be sure to include details about recent upgrades, new appliances/systems or other property features. It also helps to mention any noteworthy neighborhood amenities.
Make sure you have a communication plan. Selling a house without a real estate agent makes you the primary contact for interested buyers. Consistent communication is key to a successful real estate sale. Make sure you're available for showings and have a plan for what to do with kids and pets. Respond to offers quickly, be open to feedback and consider an open house to see the reaction of agents and buyers touring your home
Pick several different real estate sales tactics. Besides a for sale by owner sign, mix up your marketing plan with ads in local papers, word of mouth and open houses. The most powerful tool real estate agents use to sell homes is a private database called a Multiple Listing Service, or MLS. We'll discuss how you can get access to MLS listing by owner options that might be available in your area next.
Consider an MLS listing by owner
Selling a house without a real estate agent means you don't have direct access to the local MLS in your area. Real estate agents share information about properties for sale through the MLS, and maintain and pay for these private databases to help clients buy and sell homes.
Access to the MLS is free-of-charge, assuming you're represented by a participating agent. Sellers have access to MLS listing by owner options in many areas of the country.
For example, FSBO.com features a flat-fee MLS program that allows your property to be listed for a flat rate of $399.95, plus the buyer's broker commission paid at closing. MLSMyHome.com offers a number of flat-fee listing options starting at $39, plus a $296 fee paid at closing. The programs allow you to create a listing with a designated webpage, add photos and listing descriptions that appear on popular online real estate search portals like Zillow.com and Realtor.com. Paying a flat fee upfront for this kind of exposure can give your FSBO listing the reach it needs to find the right buyer.
Get your paperwork in order
In order to sell your own home, you'll need the proper real estate contract forms for your state. Also, have a copy of the completed seller disclosure form on hand. This form is required by most states.
Ask for a preapproval letter if the buyer didn't include one with their offer. Depending on the state you live in, you may need to hire a real estate attorney for contract preparation. Who pays what fees, the closing date and any inspection or repair contingencies should be clearly outlined.
Here's the information that should be included in a home for sale by owner purchase contract:
Address and legal description of the property
Seller's name and address
Buyer's name and address
All the parties who will get a copy of the title paperwork (including the lender)
Termite or inspection reports and who will pay for them
The time period for repair contingencies
How much earnest deposit is required
Financing information
Projected closing date
What to do if selling your home by owner doesn't work
If selling your own home doesn't produce offers or it's too cumbersome, contact an experienced real estate agent to discuss your options. The extra time you'll save letting a real estate agent market and sell your home may be beneficial to your sanity and overall bottom line.
Another option: consider getting an iBuyer offer. An iBuyer is a company that makes a cash offer on your home through an online request platform, and can close within a few weeks rather than the typical 30 or more days a traditional sale takes. While this route offers speed and convenience, you may end up paying more in fees and net a lower sales price after iBuyer fees and the cost of repairs are factored in.