Home Renovation Loan Options
Published on: October 16th, 2018
Editorial Note: The content of this article is based on the author's opinions and recommendations alone. It may not have been previewed, commissioned or otherwise endorsed by any of our network partners.
Houses require continual upkeep, so at some point, you'll need to figure out how to pay for improvement projects. But sometimes renovations take on a life of their own, demanding attention when you're not quite ready to give it. Perhaps a particularly brutal winter wreaked havoc on your roof, forcing you to replace it immediately. Or maybe the bathroom renovation you've been putting off needs to be done today because a pipe burst.
Whether you decide to renovate based on aesthetics or urgency, the main question you need to answer is, "How am I going to pay for this?" Depending on the scope of your plans, home renovations can become quite costly, as materials and contractor labor add up quickly. Fortunately, there are several different avenues you can take to fund your remodel.
Pre-renovation decisions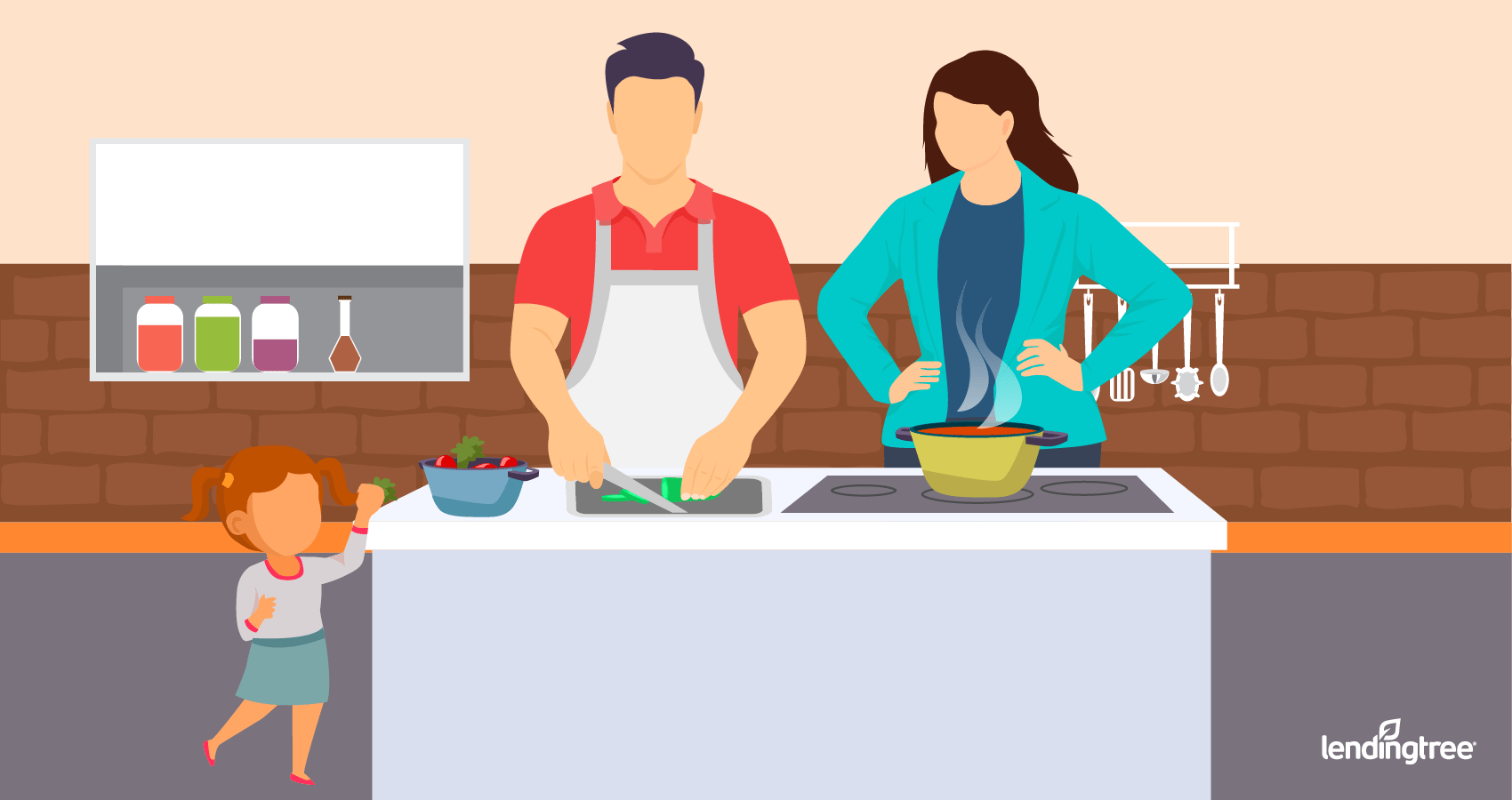 While financing is the primary question underlying your renovation strategy, there are a few other issues you'll need to work out before you start weighing loans versus lines of credit, versus savings, including:
What are my goals? Renovating for your own enjoyment and renovating to sell the house are two very different things.
"If you're renovating for yourself, go crazy. Do whatever it is you fancy," said Tendayi Kapfidze, chief economist at LendingTree. "But if you're renovating more with an eye to putting your house on the market, you need to consider whether your renovation is something attractive in the market."
Understanding what the average buyer is looking for can help you maximize the financial return on your remodel. If exposed brick is all the rage, you may want to showcase your original walls rather than cover them up. Same goes for floor plans. If you're trying to do a lot with a small amount of space, you may want to hire a contractor to open up your living area to make it more attractive to prospective buyers.
Kapfidze recommends talking with local real estate agents who can brief you on the types of houses that are in demand in your area. He also suggests checking out new construction areas to get a sense of what builders are doing right now. Simply visiting a recently-built development can give you some ideas as to what your renovation should include.
How much money do I need? Renovation costs vary depending on the extent of the projects and whether you'll do the remodeling yourself or plan to hire a contractor. If you're hiring a contractor, it's a good idea to get quotes from at least three different companies, said Marguerita Cheng, CFP and CEO of Blue Ocean Global Wealth in Gaithersburg, Md. By meeting with several, you can get a sense of the cost range for the project and find out if any of them are outliers in their pricing estimates. In addition to labor costs, you'll have to pay for materials, so it's worth pricing those out before deciding how large of a loan you'll need.
Dennis Nolte, a CFP and vice president at Seacoast Investment Services, recommended you budget a buffer amount into your total estimate, because renovations often cost more than you expect, especially when undertaking significant changes such as putting a second story on a house. As the construction progresses, you may be caught off guard by expenses you hadn't anticipated, but at least prepared.
"A $100,000 project quickly turns into a $150,000 project and of course, when you're in the midst of it, you don't ever want to stop or slow down, so you start expanding your comfort zone and that's probably not a good thing," Nolte said.
How much extra you should budget depends on the initial estimate, Nolte says. You may want to add $10,000 to a $50,000 loan, or $20,000 more on a $100,000 application, he said. The larger the project, the more costly those unexpected expenses are likely to be.
Before deciding how much you want to put into a renovation, particularly if you plan to put it on the market, Kapfidze advised doing a cost-benefit analysis to ensure the investment makes sense. Weighing how much you plan to spend on the renovation against how much more you can sell the home for will prevent you from losing money.
Cheng echoed Kapfidze's perspective. "When you're doing home improvement, you don't necessarily want to have the most expensive home on the block because you might not get that money back," Cheng said. "If you're OK not getting that money back, that's OK. But [in that case], you want to do these improvements for yourself."
Timing matters, too. Cheng said that if there's a particular improvement you want to make — say, installing granite countertops in the kitchen — and you plan to be in the home for several years but not forever, you may want to upgrade sooner rather than later. That way, you get to enjoy the countertops and get value out of them, even if the investment doesn't net a higher sale price in the future.
How's my credit? If you expect to apply for a loan or a line of credit, your credit score will significantly factor into how much you'll be approved for and what it costs to repay the debt. In urgent cases, such as a flooded basement or leaky roof, you'll likely need to work under your current circumstances, whatever they may be.
However, if you know you'd like to remodel parts of your home but don't need to do so immediately, you might consider holding off while you improve your credit. Paying down existing loans and lines of credit can boost your score and ultimately make your renovation project more affordable.
Cheng said good credit also puts you in a better negotiating position. Let's say you're ready to purchase materials for the renovation, and the store offers 0% interest financing for qualified buyers. Applicants with good credit might automatically be eligible for six to 12 months of no-interest financing, though Cheng said it's worth asking for more.
Compare Home Equity Loan Rates
Financing your remodel
Once you're clear on your goals and how much you'll need to achieve them, you can start thinking about how to obtain that money. There are several options, and you should think carefully about which ones match your circumstances:
Home equity loan: A home equity loan allows you to borrow up to 85% of the equity in your house, depending on how much you still owe on your mortgage and how your lender structures their home equity products. These are typically fixed-rate loans, so they provide some predictability in how long they'll take to repay and how much you'll owe each month.
Home equity line of credit: Like a home equity loan, a HELOC allows you to borrow based on the equity in your home. But rather than taking a lump sum, you can leave the credit line open until you need it, paying for different renovation expenses as they arise. HELOCs have variable interest rates, which means your payments may change over time. If you take out a large HELOC and find yourself in a rising interest rate environment, you may consider refinancing into a fixed-rate loan to secure stability in your payments.
Cash-out refinance: In a cash-out refinance, you essentially take out a new mortgage that is larger than your existing loan. You can take the difference between the two balances out as cash, which you can then use to pay for your renovations. Bear in mind that a cash-out refinance may extend your repayment period and may carry a higher interest rate than your original mortgage, in addition to being subject to costly closing fees. Cash-out refinances are only an option if you have at least 80% equity in your home.
In-store financing: As Cheng suggested, in-store financing can help you cover the cost of renovation materials through zero- or low-interest plans. Although this option only applies to materials and not to labor, she said it can complement other financing methods and keep expenses to a minimum. For instance, if you finance materials at 0% interest for 12 months, you may be able to take out a smaller HELOC or home equity loan, reducing the amount of interest you'll pay on the total project.
Special renovation programs: There are several loan programs that help borrowers with their renovation needs, many of which are backed by government agencies like the Department of Housing and Urban Development (HUD) and the Department of Veterans Affairs. Government-insured loan programs tend to have less stringent lending requirements, according to Kapfidze, making them a potential option for borrowers who have low credit scores or other risk factors that might prevent them from securing financing under private programs.
FHA 203(k): Under the Limited 203(k), you can borrow up to $35,000 for minor and non-structural renovations. The Standard 203(k) applies to repairs that cost $5,000 or more and include significant structural and accessibility improvements. How much you'll be approved for depends on the estimated post-renovation value of the home.
Energy Efficient Mortgage (EEM) program: The EEM allows borrowers with mortgages backed by the Federal Housing Administration (FHA) to add financing for energy-efficient upgrades to their existing loans. You must undergo an energy assessment prior to taking out the additional amount to determine what types of renovations make sense for your home and whether the potential upgrades are cost-effective. There's a similar program for qualified VA loan borrowers to finance energy-efficient upgrades.
Title I loans: A fixed-rate loan insured by HUD that can be used to cover renovations that "substantially protect or improve the basic livability or utility of the property."
HomeStyle Renovation® loans: Fannie Mae offers this loan program that allows you to finance renovations as part of your mortgage when you buy a home or when you refinance.
Section 504 Home Repair program: The USDA offers loans of up to $20,000 for very low-income homeowners and grants of up to $7,500 for senior citizens who would be unable to repay a loan. Loan recipients can use the funds to make home improvements and repairs, while grantees are required to use the money "to remove health and safety hazards."
Housing Improvement Program (HIP): The Bureau of Indian Affairs administers this grant program, which provides funds for very low-income residents living in tribal service areas. Applicants must be Alaskan Natives or members of federally recognized Native American tribes, and their incomes cannot be more than 125% of the Department of Health and Human Services' poverty guidelines.
Specially Adapted Housing (SAH) Grant for veterans: The Department of Veterans Affairs provides several grant programs for military members who suffered disabilities as a result of their service. The Specially Adapted Housing Grant allows qualifying veterans to use the money to build a home adapted to their needs or pay down a mortgage on a specially-adapted house they've already purchased. The VA also offers a Special Housing Adaptation Grant to adapt a home or buy a home adapted to the veteran's needs. There is also a Temporary Residence Adaption Grant that service members can use to adapt a relative's home if they plan on living there.
Personal loans: From an interest rate perspective, personal loans should be your last resort. You're all but guaranteed to have a higher rate on a personal loan, which will make it harder to pay off than a home equity loan or a lower-interest form of financing. However, the benefit of using a personal loan for home renovations is that unlike a HELOC or refinance mortgage, the loan isn't backed by your house. If you find yourself unable to manage the payments, your credit score will suffer and the account may eventually be sent to collections, but you won't be at risk of losing your home.
Alternative financing options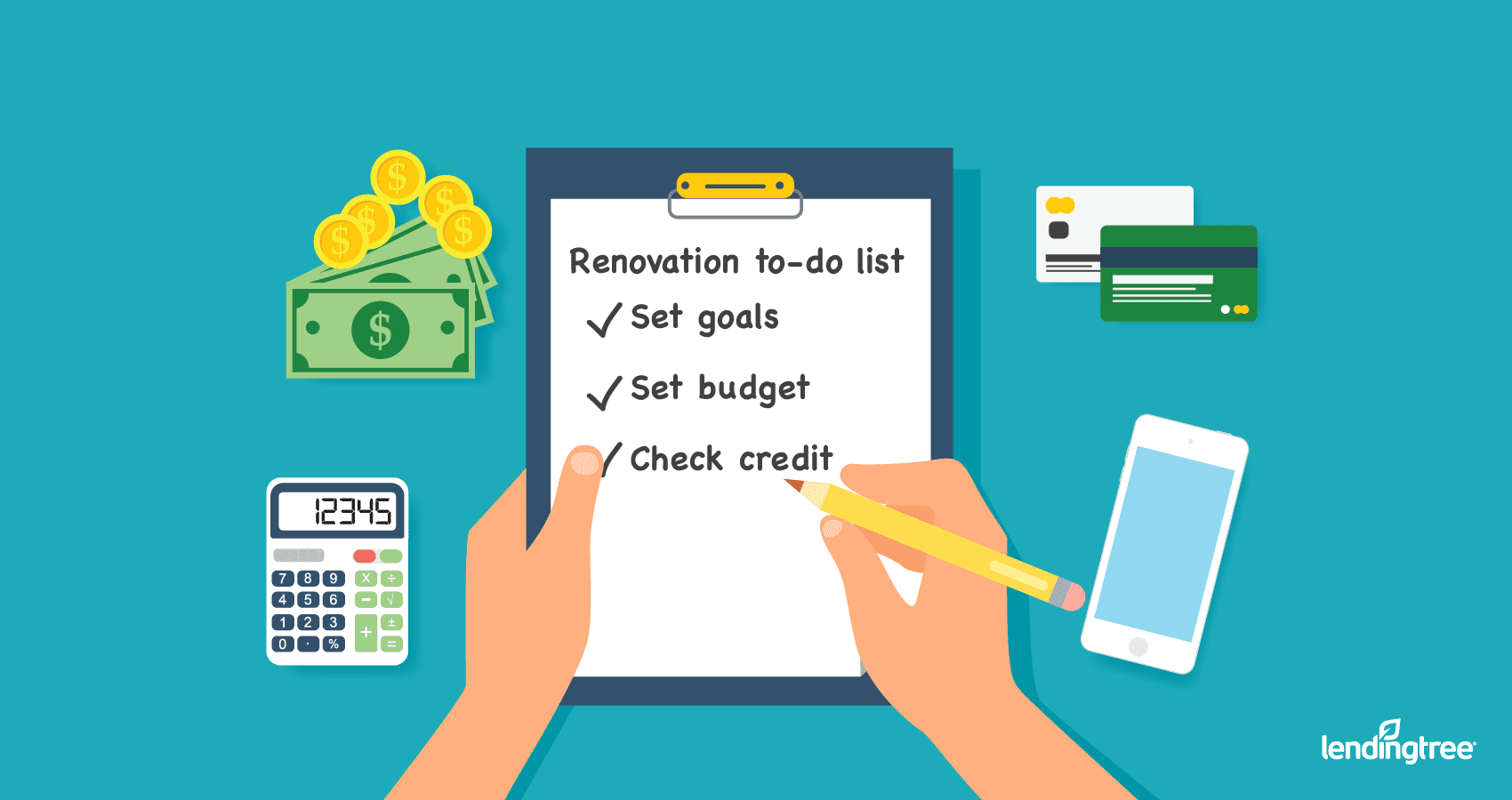 If you're unable to take out a home equity loan or line of credit and don't qualify for other funding programs, there are other ways to meet your renovation needs.
Unless something must be fixed urgently, you might consider opening a high-yield savings account and setting aside money regularly until you're ready to remodel. Maybe you've always wanted to add a deck onto the house or daydream about modernizing your kitchen. Putting funds in a high-yield savings account can help you remodel your house into your dream home without going into debt.
You can also use credit cards to cover some expenses. These are similar to personal loans in that while they aren't secured by your house, they generally have higher interest rates, so a significant balance can become difficult to pay off.
However, if you already have credit cards with available funds, you can begin the renovation immediately instead of going through the loan application process, Kapfidze said. If you expect to pay off the card balance quickly, you may be able to leverage the benefits without incurring substantial high-interest debt.
Nolte strongly cautions against using credit cards for renovations except in that instance. "I would never do that unless you know you're going to be able to pay that off [because] you've got something coming in a month or two, an inheritance is coming or a gift is coming that you know you can wipe that out in short order," Nolte said. "But if you don't have that, you don't have a certainty that [you'll be able] to pay that off, then I would absolutely not do that."
As far as credit cards go, you may also want to consider a credit card with a lengthy 0% APR introductory period for purchases, provided you can pay off the balance before the end of the intro period. Keep in mind that using a lot of your available credit isn't good for your credit score (a credit utilization rate of less than 30% is a good goal to have), so putting expensive renovations on a credit card could damage your credit.
Personal assets can serve as a favorable alternative to personal loans and credit cards as well, according to Nolte. He said that borrowing from your 401(k) or taking money out of a Roth IRA can be more cost-effective and safer than taking out high-interest personal loans or large amounts of credit card debt because you'll repay the loan and be paying interest to yourself.
However, this step should not be taken lightly, so consider it only as a last resort. If you need to make emergency renovations, then drastic steps may be warranted. But it's unwise to pull from retirement savings for aesthetic or non-urgent repairs, even if you're going to put the money back. You may face early withdrawal tax penalties associated with the loan, and as long as the money is withdrawn, you won't benefit from compound interest accruing on that amount. If you default on the loan, you've not only lost money from your retirement savings, you may also have to pay an additional 10% tax penalty because it is counted as regular income.
Nolte also recommends turning to friends and family for help. A low-interest loan from parents or relatives can help you get the money you need without overextending yourself or using your house as collateral. He said discussing financial gifts can be worthwhile as well, depending on your family's circumstances and your relationship to the person you're asking. If a grandparent or elderly relative has told you they intend to leave you a large sum of money after their death, you might consider asking them to give part of the gift now.
Not only would this help you achieve your short-term goals, it would also allow them to see you benefit from their generosity before they've passed. Of course, legacy gifts can be an emotional topic, so this isn't the right approach for everyone. But if you're in a situation in which you feel comfortable asking a relative these questions, Nolte suggests at least opening up the conversation.
What's the right fit for me?
As with most financial decisions, the right option for financing your home renovation comes down to your personal circumstances. If you have a lot of equity in your house and a great credit score, a HELOC might be the right fit. But if you're risk-averse, you might go for a fixed-rate home equity loan to ensure your payments remain stable.
On the other hand, a home equity product might not be necessary at all. Cheng said that for smaller renovation projects, such as having the interior of the house painted or putting in new flooring, you may want to use a combination of in-store financing and your regular cash flow to avoid taking out a large new loan altogether.
She said life circumstances should also factor into the decision. For instance, a retiree who wants to remodel their home so they can age in place may not be well-served by taking out a HELOC. Instead, they might consider using a reverse mortgage to make the necessary updates while avoiding potentially high monthly payments.
In some cases, borrowers have plenty of cash on hand but take out a HELOC or home equity loan to create flexibility. Cheng gave the example of a client who received a large annual bonus that would have covered the cost of his family's new kitchen. However, he also has two kids in college and they were waiting to hear whether they'd receive financial aid for the coming school year. He and his wife opted to open a HELOC in case the kids' financial aid fell through. If it did, he'd be able to use the cash to pay their tuition while using the HELOC for the renovation. Because he received consistent annual bonuses, he was confident he could pay down the HELOC before his monthly payments got too high.
If you do opt to take out a new loan, Kapfidze suggests talking to several lenders to compare fee structures and offers. Ask about closing fees, interest rates and the annual percentage rate (APR) to get the full picture of what you'll be paying.
Renovations are investments
Whatever your motivations for remodeling your home, remember that it is an investment. Even if you plan to stay in the home for the foreseeable future, renovations may increase the value of your house, which in turn, could improve your equity, borrowing power, overall net worth and flexibility when it comes time to buy your next property.
Treat home renovations as you would any other investment. Do your due diligence on the options available and know your appetite for risk. A successful remodeling should help you sleep easier, not put you into a financial situation that keeps you up at night.