86% of Homeowners Are Friends With Their Neighbors
Published on: July 18th, 2019
Editorial Note: The content of this article is based on the author's opinions and recommendations alone. It may not have been previewed, commissioned or otherwise endorsed by any of our network partners.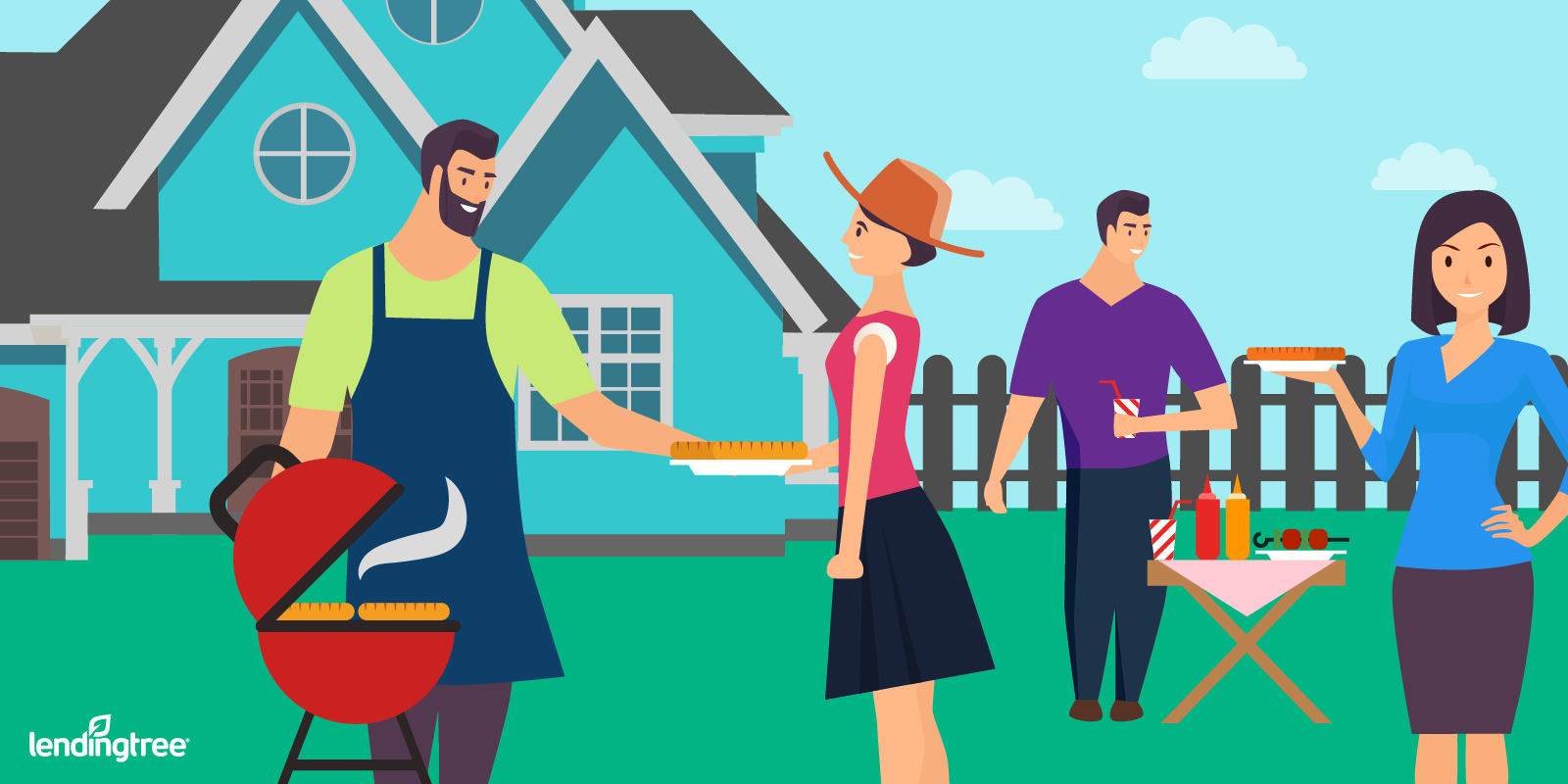 When you buy a home, you generally have a say on your dwelling type, some of its interior and exterior features and the location. What you most likely don't have control over is the group of neighbors surrounding you for years to come.
LendingTree commissioned a survey to gather homeowner attitudes about neighbors, including whether they've made friends with them, how they interact with them and what they perceive to be poor etiquette. Below, we dive into the results.
Key findings
More than 8 in 10 homeowners (86%) are friends with their neighbors. Broken down further, 43% of homeowners say they're friends with most of their neighbors, and another 43% are friends with a few neighbors. Only 14% say they aren't friends with any of their neighbors.
Millennials are more likely to be friends with their neighbors. More than half (53%) of homeowners ages 22 to 37 are friendly with most of their neighbors, compared with 39% of Gen Xers (ages 38 to 53) and 36% of baby boomers (ages 54 to 72). Additionally, homeowners with children younger than 18 are more likely to be friends with most of their neighbors than those without children younger than 18 (50% versus 38%).
More than half (55%) of homeowners say it took less than six months to make friends with neighbors after moving in. Another 29% of homeowners reported that it took between six months and a year to establish their neighborhood friendships.
More than two-thirds (71%) of homeowners haven't shared alarm codes or keys with any of their neighbors. Despite their neighborhood friendships, just 29% of homeowners have swapped alarm codes and/or keys with at least one neighbor friend. Millennials are more likely to have swapped keys and/or alarm codes with neighbors than older generations.
Social media and etiquette
While a majority of homeowners have neighbor friends, many of those friendships haven't crossed over to social media. More than 4 in 10 (44%) homeowners say they aren't Facebook friends with any of their neighbors, while only 21% say they're Facebook friends with most or all of their neighbors.
Nearly a third of homeowners (31%) think the best way to be a good neighbor is making an effort to be friendly. Other neighbor best practices include:
Maintaining your home's curb appeal: 23%
Keeping courtesy top of mind: 23%
Keeping noise to a minimum: 11%

Poor neighbor etiquette means different things to different homeowners, but the top three responses are (note that respondents could select all that apply):
Playing loud music: 70%
Not respecting property lines: 50%
Pet-related nuisances: 50%
Other sources of neighbor no-nos include not maintaining the exterior appearance of their home (46%), unruly children (45%) and borrowing tools without returning them (45%).

Nearly a third (30%) of homeowners say their neighbors haven't committed any of the aforementioned offenses in the last year. For the other homeowners who do have neighbors with poor etiquette, playing loud music (28%), neighbors parking cars in front of their home (27%) and pet-related nuisances (22%) top the list.
The most common issues homeowners report having in the past year with a neighbor's pet are excessive dog barking (37%) and a dog using their yard as a bathroom (24%). Only 9% of survey respondents report experiencing aggressive behavior from a neighbor's animal.
When greeting a newcomer to the neighborhood, most homeowners (60%) simply say hello if they see the new neighbor outside. Another 37% stop by and introduce themselves, 14% bring a housewarming gift and 8% invite the new neighbor over. (Respondents could select all that apply.)
Millennials are more likely to stop by and introduce themselves than older generations, and they're also more likely to bring a housewarming gift.
Handling conflict with neighbors
When homeowners have a conflict with a neighbor, more than half (59%) of them speak with their neighbors face to face to try to resolve the issue. However, nearly a quarter (24%) of homeowners choose to ignore the problem.
Below are some tips to help you handle neighbor-related conflicts:
Reach out to your neighbor directly. Whether it's a phone call, text message or an in-person conversation, try communicating with your neighbor first before taking any action. Be respectful but straightforward.
Contact your homeowners association. If speaking with your neighbor doesn't lead to a resolution, call your HOA — if you have one — to determine next steps. Be sure to review the association bylaws and covenants to see if there's any recourse for the issue you're experiencing.
Consider enlisting the help of a mediator. If you're still experiencing issues, it might be time to consult with an unbiased third party such as a mediator. Give mediation a try before involving an attorney or law enforcement.
Methodology
LendingTree commissioned experience management firm Qualtrics to conduct an online survey of 811 homeowners, with the sample base proportioned to represent the general population. The survey was fielded from May 31-June 7, 2019.
We defined generations using the following age ranges:
Millennials: ages 22-37
Gen Xers: ages 38-53
Baby boomers: ages 54-72
Silent generation: ages 73+
---
Featured Articles