How to Dispute A Home Appraisal
Published on: May 31st, 2019
Before you can buy a home or refinance a loan, you have to get the home appraised to determine how much it's truly worth. This is more than just a formality: The value of a home you are buying or refinancing can make or break your loan approval. If the home isn't valued enough to justify the sales price, you likely won't get a mortgage — or you'll be forced to put a bigger down payment upfront.
Although home prices have steadily risen over the last five years, there are inevitably periods when prices will start to slow down or even drop. If you believe that a recent home appraisal came in lower than what you believe is reasonable, you have options to dispute the value.
We'll cover:
Reasons a home appraisal might come in low
It's important to understand that an appraisal represents one appraiser's opinion of value.  Appraisers go through an extensive amount of education, apprenticeships and training to learn the best methods for determining fair market value of homes — but they're not infallible.
Like anything that is based on an opinion, not everyone may agree on the final conclusion.  Homeowners can often take an appraised value personally, or draw inaccurate conclusions about what their value "should" be based on trends in a hot neighborhood.
Many times what a homeowner thinks their house is worth and what it will actually appraise for are two very different numbers. However, there are some very simple reasons why an appraisal might come in low.
Distressed properties in the neighborhood recently sold
If you've seen any foreclosure sales in the neighborhood, or know that one of the less well-kept homes on the block recently sold, you'll want to find out what the final price was. While these distressed sales are often not given as much weight as a home that is sold under normal conditions, if there are more than a few in the surrounding areas, appraisers may reduce your home's value.
Your house needs maintenance or is outdated
If your home has some maintenance needs like an exterior paint job or comes with outdated kitchen appliances or countertops, or has a very basic landscape package, it may not fare as well as other homes in the neighborhood that have been consistently upgraded.
The appraiser listed incorrect square footage or room and bathroom counts
It doesn't happen that often, but sometimes measurements can be taken wrong at an appraisal inspection. Or the square footage of an addition like a garage enclosure or basement renovation may not be counted as livable square footage, because the appraiser cannot locate the building permits for the addition.
Having any and all information regarding upgrades and even receipts for how much it cost can help avoid this type of discrepancy.
The original offer was too high
In "hot" neighborhoods, there may be a bidding war on a home that drives up the sales price, but that doesn't always bode well when the home is appraised.  If there aren't any closed sales in the same price range, chances are you'll end up paying extra on your down payment if you don't want to miss out on buying the home.
Your home is over-improved
If most of the homes in your neighborhood have a specific type of countertop or flooring, and you come in and decide you're going to put down the longest-lasting, most stain resistant material there is regardless of how expensive it is, don't count on seeing the money you put into those improvements represented in the sales price.
While an upgraded floor may help bring the value up on a property that is inferior to other homes in a given neighborhood, over-improving often only provides personal benefits to the owner, but doesn't help the market value.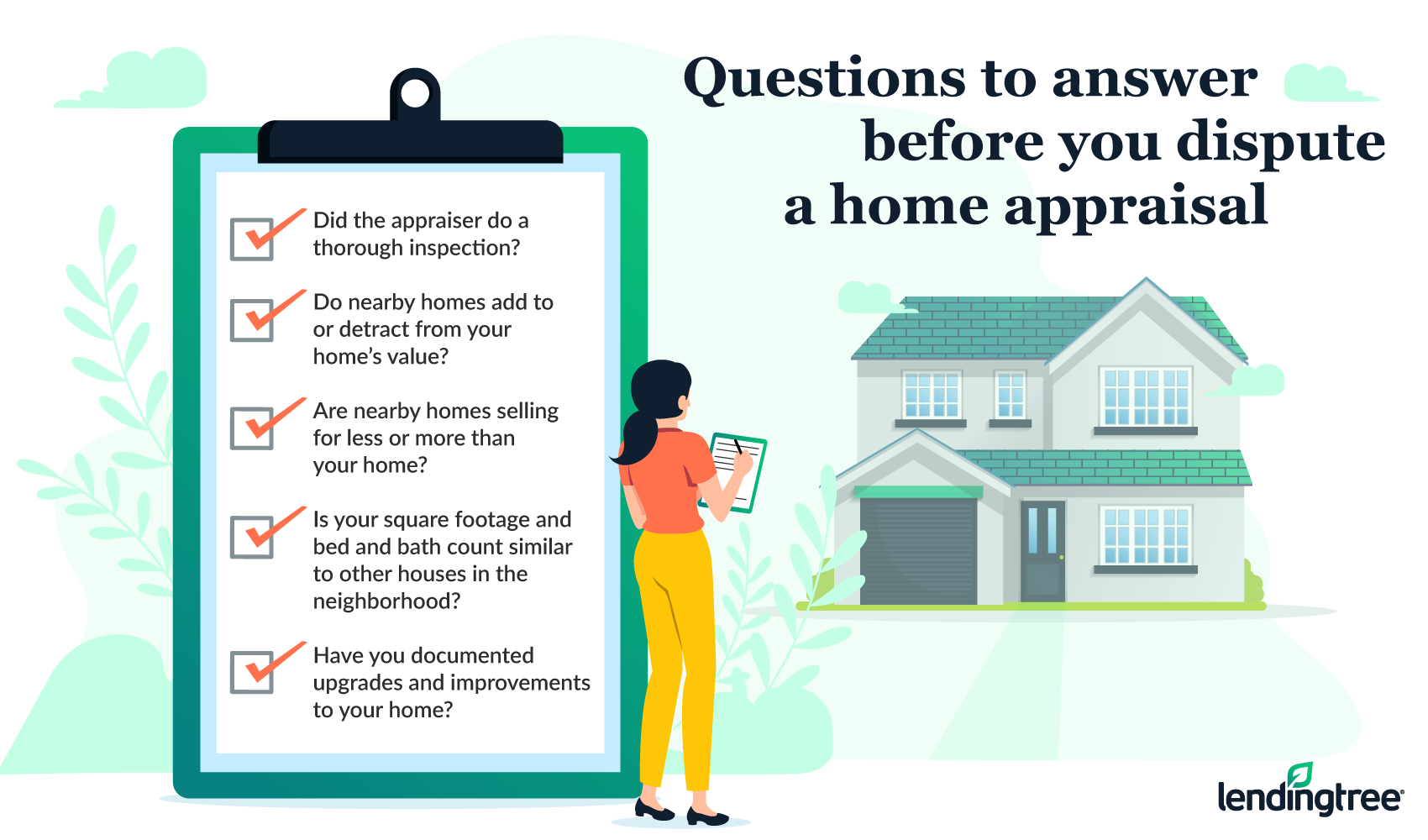 Steps to disputing an appraisal
If you decide to challenge an appraisal you feel is too low, it is important that you follow specific steps during the dispute process. In many cases, lenders will call this process a "reconsideration of value," and you'll have one chance to make your argument.
Following the steps below will ensure you have the best chance of getting a fair review of your value challenge.
At no point in the process should you communicate with the appraiser directly. A set of "appraisal independence requirements" were developed by Fannie Mae, Freddie Mac and the Federal Housing Finance Agency to provide important protections to make sure that parties to a homebuying transaction are not trying to influence the outcome of an appraised value. An appraiser can refuse to complete an appraisal if he or she believes a real estate agent, homeowner, lender or any other party has exerted some sort of pressure on them to come in at a specific opinion of value.
Most lenders hire appraisers on a random rotation through an appraisal management company, and your loan officer should be handling all of the information related to a dispute of value, not you.
1) Request a copy of the appraisal
The Equal Credit Opportunity Act requires you to receive a copy of the appraisal you paid for within three days of its completion in a refinance or purchase mortgage transaction. In certain cases, you may be entitled to a copy of a buyer's appraisal if you are the seller of a property that has been appraised lower than an agreed upon sales price.
2) Make sure the details are right
Appraisers generally work on valuing a number of different properties every month, and sometimes data can get mixed or an error can be made. Start by verifying the square footage, room count, bedroom and bathroom count, and make sure any additions or improvements are referenced in the report.
Be sure the lot size is correct, and all of the features of the home are accurately reflected throughout the report.
3) Begin preparing for your dispute appeal
Different lenders will have their own reconsideration of value processes, but most of them involve providing your loan officer the following items to complete the appeal request.
Find similar homes that have sold at higher prices
You can't tell the appraiser what you believe the market value should be, but you have the right to provide comparable sales that you believe are a better representation of the market value of a given property.  The comparables should be reasonably close to your home, and have similar characteristics, and generally should be recent sales — within at least the last 90 days.
Real estate agents are the best source for comparable sales, and can provide you with something called a comparative market analysis to support your dispute.
Provide documentation and receipts for any upgrades and improvements you've made
There is always the chance an appraiser did not include square footage for an addition because public records didn't have enough information to verify that the additions were done according to the standards of your local housing authority.  Be sure to have a list of upgrades and receipts for upgrades for the appraisal appeal, and any permits you obtained for room additions, and garage or patio enclosures.
Be sure the appraiser is from the area
Appraisal management companies hire appraisers from all over the country, and generally they keep a roster of local appraisers to make sure homes are appraised by inspectors with first-hand knowledge of local real estate. Real estate truly is about location, location, location, so if you see an out-of-state address for the appraiser who inspected your property, you may have a better case to argue for a second appraisal if the first one comes in low.
4) Explain why the information you provided is a better gauge of value
Once you have all the data above, the final step is to prepare your argument. Most of the time your lender will do this on your behalf, but you have the right to provide any input based on your knowledge of the others homes you've presented as a better indicator of your home's worth.

Options if your dispute doesn't work
If your dispute efforts don't result in any movement in the price, or not enough to make the transaction worthwhile, you have several different choices.
Get a new appraisal
Besides incurring the cost of a new appraisal, you may also have to switch lenders. Some lenders have policies that don't allow for a new appraisal to be ordered just because the first opinion of value was too low.
Renegotiate the sales price
Your second choice if you are purchasing a home is to pay the difference between the sales price and the appraised value, or try to negotiate for the seller to meet you halfway.
Cancel the transaction
In most cases, if the appraised value doesn't come in at the sales price, you have the option to cancel the purchase without risking the earnest money you put up when you made your initial offer. FHA and VA loans have specific sections called "amendatory clauses" that require that your full earnest deposit be refunded in the event the house appraises for less than the contract sales price.
While conventional loans don't offer that same built-in protection, most contracts will be written with a provision for you to be able to cancel without penalty if you end up with a low appraisal.
Re-evaluate the cost-benefit of a refinance
One of the calculations that has a big impact on your interest rate and payment on a refinance loan is something called loan-to-value. Loan to value calculates how much loan you are borrowing compared to the value of your home.
For example, if you take out a loan for $90,000 on a property that is valued at $100,000, dividing the loan by the value will give you an LTV of 90%. In general the higher the LTV, the more expensive your rate is going to be, and the higher your payment will be.
If you received an initial rate quote on a refinance based on an 80% LTV and your appraisal comes in lower, you'll need to be sure the refinance still makes sense by looking at the total payment and savings based on the higher LTV.
Final thoughts
While it's never a pleasant experience to have to deal with a low appraisal if you're refinancing or buying a home, the appraisal system is designed to protect you from over-borrowing. The last thing you want to do is be stuck a house that is worth less than your mortgage balance, and appraisers have to weigh a lot of important criteria to determine a property's value.
Don't forget the fact that the word "opinion" is the first word in the appraiser's determination of value.  But a lot of data and analysis — over 30 pages worth — goes into the average appraisal, so most of the time the appraisal is a good barometer of whether the property your buying is really worth the price you're paying.
---
Featured Articles