How to Use a Mortgage Calculator
Published on: July 29th, 2019
Mortgage calculators are a powerful tool to help you see the dollars and sense of applying for a mortgage. They can help you with decisions about renting versus owning or how much of a monthly payment you can afford. They also allow you to compare payments on a variety of available mortgage types.
However, the calculators are only as accurate as the information that's entered, making it important to understand how to use one efficiently.
We'll cover the benefits of different mortgage calculators in this guide on how to use a mortgage calculator.
What is a mortgage calculator?
A mortgage calculator helps you make mathematical calculations related to a home loan.
Mortgage calculations used to be made by inputting numbers based on complex formulas on a hand-held calculator, but online mortgage calculators make the process much simpler by doing that math for you.
The most important things you need to know when using a mortgage calculator are how it can help you, what information you'll need to input and what the results mean.
How a mortgage calculator can help you
Before we discuss how to use a mortgage calculator, it's important to understand how a mortgage calculator can benefit you. You may need to use more than one type of mortgage calculator to get the desired information.
Unlike a hand-held calculator, online calculators are designed to help with specific decisions. Here are some of the questions that mortgage calculators may help you answer: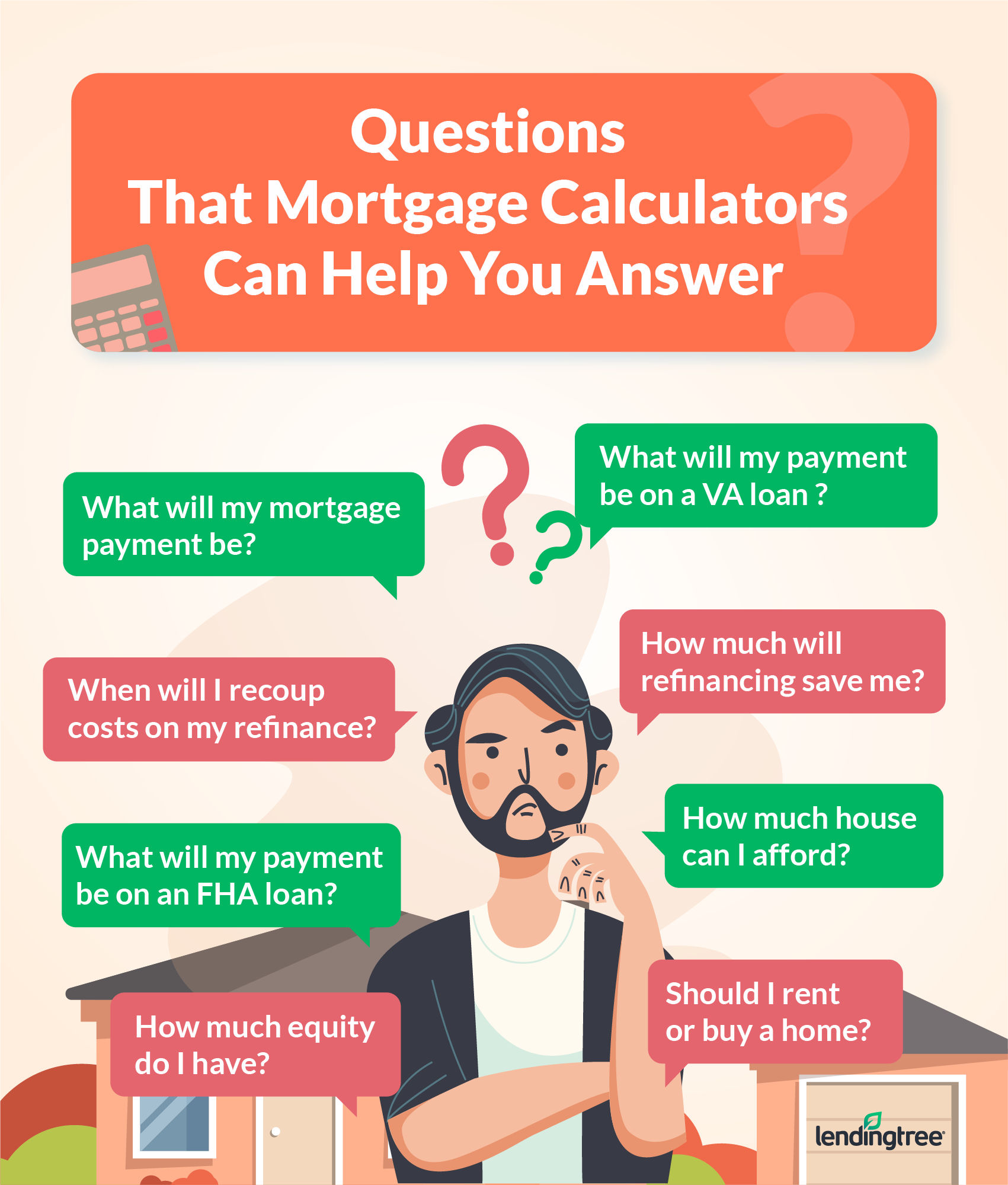 What you'll need to get the most out of your mortgage calculator
With any type of mortgage calculator, the quality of information you get is only as good as the quality of the information you input. You'll need to gather different information depending on whether you're looking to buy a home, refinance a home or apply for an FHA or VA loan.
Information you may need for homebuying mortgage calculators
Information you may need for refinance mortgage calculators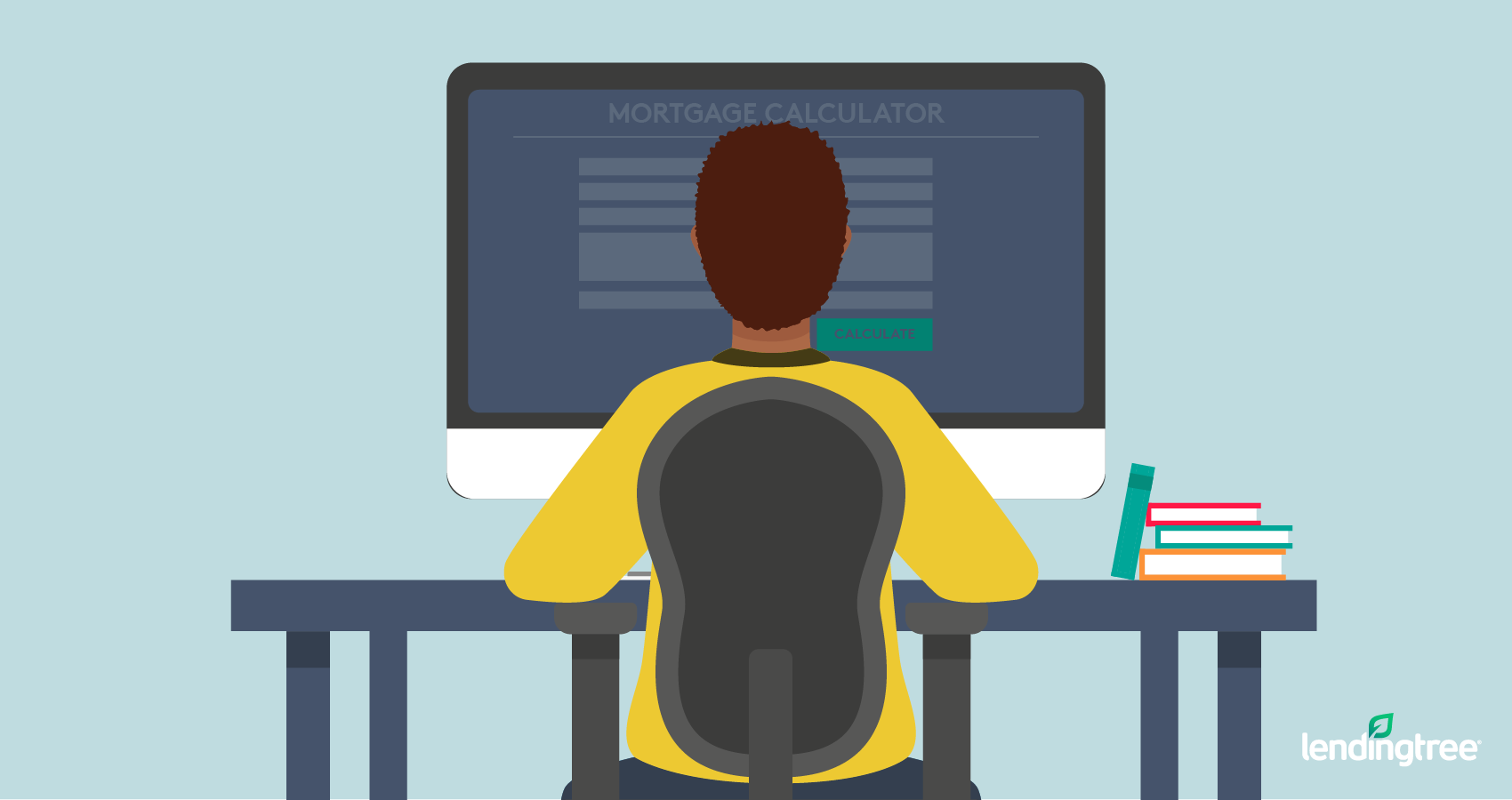 How to use a mortgage calculator for a purchase
Rent vs. buy
Before you start crunching numbers on homeownership, you need to look at the benefit of renting versus owning. A big part of this will require a good grasp of how much money you can put down on a house.
The less you put down, the higher your mortgage payment will be — but you'll also need to have a good idea of how much rents go up every year. One of the drawbacks to renting a home is your landlord can increase the rent every year. In some places, there are no limits on how big the increases can be. (You can look at average rent increases across the country here.)
The other big factor to consider with a rent versus buy calculator is how long you plan to live in your home. If you make a large down payment, it will take longer to recoup the cost versus renting. However, every payment you make on your mortgage will pay down your loan balance, whereas rent payments only benefit the owner of the home you're renting.
While the financial aspects of homeownership are important to consider, there is also an emotional investment many people make when buying a home. The freedom to paint your walls any color you want or watch your kids grow up with friends in the neighborhood can influence the decision to purchase a home more than the results of a rent versus buy calculator.
Home affordability
Once you've taken an honest look at buying versus renting, it's time to take an honest look at what's affordable. Besides your credit score, one of the most important factors lenders consider when determining if you can repay a loan is your debt-to-income (DTI) ratio.
DTI is a measure of how much total debt, including your mortgage payment, you have compared to your before-tax income. In most cases, lenders prefer to keep this ratio below 43%, but you won't have to make the calculation if you use a mortgage calculator — recommended DTIs are built in.
Some calculators, such as our Home Affordability Calculator, also provide you with a calculation of what's left over each month based on your take-home pay. This can be valuable information to figure how much money you'll have for other expenses such as your cellphone, cable, electric, child care, groceries — all expenses that you pay every month but lenders don't consider when approving your loan.
The calculator will produce a recommended maximum sales price based on your down payment and income. Make sure you compare the payment to what you're paying now for rent. Most lenders recommend that you don't take on a house payment that represents more than 28% of your total income. For example, if you make $5,000 a month, your monthly mortgage payment should stay below $1,400.
How to use a mortgage calculator for a refinance
There are many calculators that will help you decide whether a refinance makes sense.
Refinance breakeven
The most common reason to refinance is to lower your monthly payment by getting a lower interest rate. However, every refinance loan has associated closing costs, even if they are advertised as no-cost refinances.
One of the best ways to determine if a refinance makes sense is to use a refinance breakeven calculator. You'll start by gathering the data mentioned above, including your home's value, current mortgage balance, when you took out the loan, the term of the loan and your interest rate.
You can get a quick look at current rates that might be available, then input a rate that looks good into the calculator. There should be a place to add a percentage for closing costs — 2% is a good place to start, although costs may be higher or lower depending on how your lender is quoting your closing costs. The next — and most important — number to enter on a breakeven calculator is how many years you plan to stay in your home.
Once you've entered that information, you'll get an idea of the savings — and how many months it will take to recoup. If you can't recoup your costs in the remaining time you'll be in your house, the refinance doesn't make sense.
Home equity
One of the great benefits of homeownership is being able to build equity in your home. Home values tend to increase over time, and each mortgage payment reduces the balance of your loan.
You can access your home equity by getting a home equity loan or HELOC. A home equity calculator gives you an idea of how much equity you can take out based on the estimated value of your home, your current balance and your credit score.
Usually you'll be limited to around 80% of your home's value, but you don't have to stress about the calculations because the calculator will have the limits built in.
Cash-out refinance
One of the drawbacks to home equity loans and HELOCs are that they often come with higher interest rates than first mortgages. They are considered second mortgages, which means they are second to your current mortgage.
If you want to avoid the confusion of first and second mortgages but want to access some of your equity, you can do a cash-out refinance. This type of refinance replaces your current mortgage with a new mortgage that is bigger than your loan balance, then you pocket the difference.
A cash-out refinance calculator will give you an idea of how much you can take out based on your home's current value, your loan balance and how much cash you want to take out.
How to use mortgage calculators for government loan programs
Government loans are backed by the U.S. to provide easier qualifying options for current and aspiring homeowners. FHA and VA loans are the most common government loan programs, and we'll discuss the importance of using a mortgage calculator made just for these programs.
VA loans
The most competitive government mortgage loan program is offered to veterans of the military through the VA. Veterans and active-duty service members can apply for a loan with no down payment, no minimum credit score requirement and no mortgage insurance premiums. If you're refinancing, the VA allows you to borrow up to 100% of the value of your home or refinance to reduce your rate with no income or appraisal required.
VA loans do require a funding fee, which is charged to some veterans and varies based on down payment and whether the veteran has used VA loan benefits before. Disabled veterans may be exempt from the funding fee.
If you are eligible for VA financing, it's important to use a VA mortgage calculator, because it is designed to take the special qualifying features of VA loans into consideration. For example, a regular mortgage calculator will likely assess mortgage insurance if you input less than a 20% down payment — and won't add in the funding fee.
FHA loans
FHA-approved lenders can lend to borrowers with credit scores as low as 500 with a 10% down payment and scores as low as 580 for a 3.5% down payment. First-time homebuyers often choose FHA loans because of the flexible lending guidelines.
One of the big differences between FHA loans and other types of home loans is that mortgage insurance is required regardless of your down payment. There are two types of mortgage insurance involved in FHA lending: an upfront mortgage insurance premium paid as a lump sum and an annual mortgage insurance premium paid as part of the monthly payment.
Because the upfront premium is usually added to your loan amount and the annual premium is calculated on top of that, it can be hard to manually calculate the total for which you could qualify. An FHA mortgage calculator does the mortgage calculations for you so that you can see what your total payment is with the correct mortgage insurances added.
If you already have an FHA loan, you may be eligible to borrow up to 85% of your home's value and take cash-out, or reduce your interest rate without needing any income documentation or an appraisal.
Final thoughts
When you're considering buying a home that requires a mortgage or thinking about a refinance, you'll get the most accurate answers when you speak to a loan officer. Loan officers have the education and experience to walk you through the process and provide you with options to help you achieve your mortgage financing goals.
However, it's good for you to have a basic knowledge of how mortgage numbers work before you fill out a loan application so that you're equipped with the information you need to make good financial decisions about the complex world of mortgage financing.
Learning how to use different mortgage calculators will help you see how a mortgage payment is impacted by down payments, credit scores and different loan programs, helping you to make the most informed decisions.
---
Featured Articles