Mortgage Options for Foreign Nationals
Published on: May 23rd, 2019
Editorial Note: The content of this article is based on the author's opinions and recommendations alone. It may not have been previewed, commissioned or otherwise endorsed by any of our network partners.
Buying a home in the United States as a foreign national can be challenging  — especially if you need mortgage financing.
Unlike immigrants who are living and working in America with the eventual goal of making it their permanent home, foreign nationals live, work and reside in their home countries, with short stays in the U.S. for business or vacations only.
Foreign nationals purchased 266,754 homes on American soil between April 2017 to March 2018. That's down 21% from the year before, according to the National Association of Realtors.
The vast majority of these purchases, 72%, were made with all cash. This may indicate that buyers want to avoid the cumbersome lending obstacles in this more heavily-regulated lending environment since the housing crisis.
Stringent federal requirements for lenders to prove a consumer's ability to repay their loan make mortgage lending to foreign nationals more difficult. Verifying the credit history, income and assets for a borrower who resides in another country requires a level of risk many mortgage lenders haven't been willing to take until recently.
Even then, lenders have often required down payments over 50%, extensive foreign credit report verification requirements, and the added scrutiny and cost of multiple appraisals.
This is slowly changing. Alternative lenders with more aggressive foreign national lending terms are providing new programs, making financing a home purchase in the U.S. more agreeable.
In this article, we'll discuss how foreign nationals can buy homes in the United States. We'll cover:
What do lenders mean by "foreign national"?
The mortgage industry's definition of foreign national is much more narrow than the legal definition used for immigration purposes. It's an important distinction to understand.
The legal definition of a foreign national is "a person who is not a citizen of the United States and who is a citizen of a foreign country."  That can include green card-holding immigrants, more commonly known as permanent resident aliens. These immigrants are eligible for regular mortgage financing and don't require specialized mortgage programs to buy residential real estate in the United States.
For the purposes of mortgage lending, a foreign national is defined as someone who lives in another country and visits the U.S. for brief periods to conduct business or for vacation. To be eligible for a foreign national loan, the borrower must be a legal resident of another country and live and work there.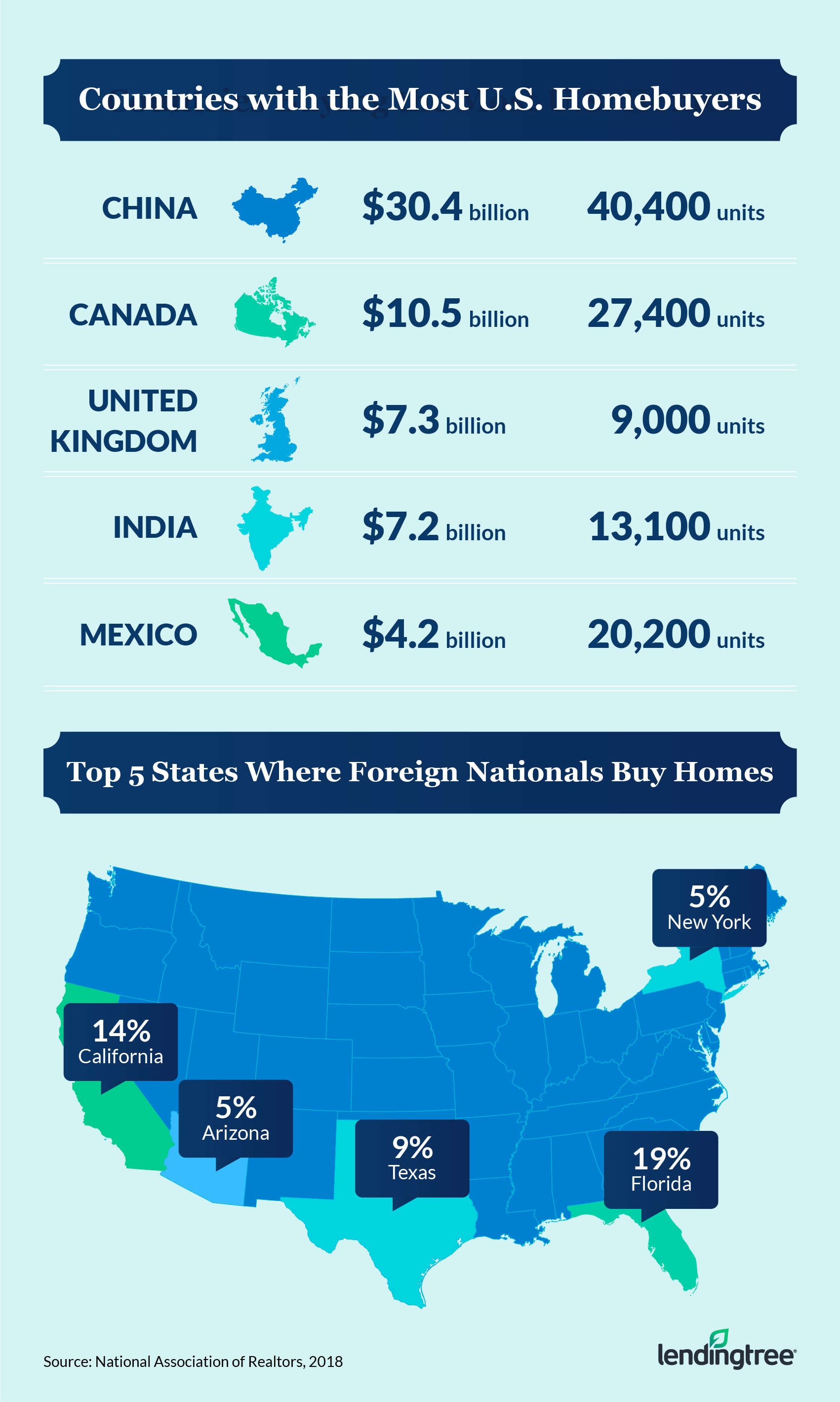 Minimum requirements for foreign national loans
The minimum requirements for foreign national loans have changed in the past couple of years as more non-bank and wholesale lenders enter the market. That means more competitive rates and terms than what institutional banks had offered in the recent past.
In general, the lower the down payment, the higher the rate. And the more sparse the documentation, the higher the down payment requirement.
Here's what you can expect from foreign national loans.
Higher down payment minimums
While there may be a few foreign national programs with down payments as low as 10%, the bulk of them now require between a 20% and a 25% down payment. In some cases, you'll need documentation of where the money comes from.
Some lenders will require the funds to be "seasoned" in an American account for at least 30 to 60 days, which means the money has to have been there for at least that long for the funds to be used toward the down payment.
Fixed rates, adjustable rates and interest-only options
Fixed rate loans are likely to come with the highest interest rates. Adjustable rate foreign national mortgages generally offer a lower rate and payment.
Interest-only options are also available, allowing for much lower payments during a specified period where only the interest on the loan is paid. You should take extra care if you select the interest-only option since the minimum interest payments will only cover the interest every month, and not pay down any of the loan balance.
Additional appraisals
It's not uncommon to end up paying for two appraisals. Because the lender is taking a risk lending outside of traditional guidelines, there may be extra scrutiny of the property being financed to make sure the price is well-supported at the time the loan is made.
Prepayment penalties
Because foreign national loans don't fall under standard lending guidelines, there is a possibility you'll see a prepayment penalty on your loan estimate. This is a fee of usually three-to-six months of interest payments that you have to pay if you pay off the loan within a preset time period — usually one-to-three years after closing.
Lenders may give you an option to "buy the prepay out," by paying a fee, so be sure to ask your loan officer if you are offered terms that include a prepayment penalty on a foreign national loan.

Why you might need a foreign national mortgage loan
To get a traditional mortgage, you have to meet some minimum credit, income and savings requirements. But if you're a foreign national, you likely don't meet those same criteria.
Here is a quick list of things that would likely disqualify you from a mortgage under traditional lending guidelines. They might be reasons you need a foreign national loan instead.
No Social Security number
You have to have a valid Social Security number to obtain a loan backed by any of the major lending agencies like Fannie Mae, Freddie Mac, Federal Housing Administration, or Veterans Administration.
All immigrants looking to work in the U.S. must acquire a Social Security number. But because foreign nationals are not residents of the United States and may only visit the country occasionally, there is often no reason for them to obtain a Social Security card.
No U.S. credit score or credit history
Most traditional lending programs require a credit score to buy a house. If you don't have one, you can piece together a non-traditional credit history using information from landlords, utilities companies and other monthly accounts like cell phones and car insurance over the past year or two.
Foreign nationals often have no U.S. credit history and are not in the U.S. long enough to have a 12-month payment history on any accounts, and therefore don't meet the traditional or non-traditional credit requirements.
No verifiable income in the U.S.
Loans made to U.S. citizens have to meet federal guidelines verifying that the borrowers have the ability to repay a loan. The primary method lenders use to do this is to look at paystubs, W2s and tax returns for the last several years to determine whether the borrower's income is stable enough to buy a home.
Foreign nationals work and live in another countries and don't file U.S. taxes. Traditional loan programs don't normally accept income derived from another country unless it is received through the U.S. tax reporting system.
Foreign national loans often accept documentation of income from the borrowers' home country, or offer options that don't require any income documentation at all.
No way to verify down payment
Although there are several traditional lending programs that require little to no down payment, it's still not uncommon for them to check whether their borrowers have assets like checking and savings accounts. Foreign national borrowers often have all of their accounts in foreign banks, which may need to be translated into English and converted to U.S. dollars in order to verify their cash equivalency.
The United States also has passed anti-money laundering laws that restrict the amounts and types of deposits that can be made, making it very difficult to use funds transferred from foreign accounts into United States banks. Foreign national lending programs have far fewer restrictions on where the money comes from, although they do require significantly higher down payments.

What you'll need to qualify for a foreign national loan
The rules for getting a foreign national loan will vary from lender to lender, but the guidelines that follow are fairly standard for foreign national loans.
Citizenship in another country
This may seem obvious, but it's important to understand this applies to all borrowers on the loan. One borrower can't be a non-permanent resident alien applying with a foreign national. Often all that is needed is a passport and a valid visa or some other proof that you are legally in the country to be approved.
Credit reference letters
The lack of a credit score doesn't mean that lenders won't want you to show some form of creditworthiness. It's not uncommon for lenders to request a credit reference letter or two from a bank or financial institution in the borrower's home country to verify their account history.
This is mostly to verify that the borrower is, in fact, conducting business in that country. It also shows that the borrower is used to using financial institutions to manage their money. However, if the down payment is high enough, some programs may only require that the funds show up in a U.S. bank by closing day.
No primary residences
Since foreign national borrowers live and work in another country, they are not permitted to buy a primary residence. Instead, lenders will treat the purchase as in investment property.
Rates and down payment requirements for investment properties tend to be higher than purchases made for second or vacation homes.
Proof of employment, income or assets
Fully-documented foreign national loans will require letters from tax preparers and employers to verify a two-year history of income, as well as proof of income converted into U.S. dollar denominations and translated into English as applicable by a third party translator.
Some lenders will instead require at least 12 months of bank statements to analyze the flow of deposits that can be used as qualifying income.

How to find a mortgage loan if you're a foreign national
Real estate experts and mortgage brokers have previously claimed that a big challenge facing foreign nationals is finding a lender that is willing to take on extra risk and work with them.  The past year has seen a number of new alternative lending options that will give foreign nationals more choices for financing a home purchase in the U.S..
1. International banks with U.S. branches
For some borrowers, a solid bet is to try to find a bank operating in both their home country and the U.S. These lenders are likely more familiar with both sides of the potential transaction. Buyers who already have accounts with branches in their home country may find the loan process faster, but they may be required to deposit substantial amounts of cash in the U.S.
Institutional banks lending to foreign nationals in the U.S. include Citibank, HSBC, BBVA Compass, and Quontic Bank.
2. Private non-bank and wholesale lenders
The competition in the home lending business has grown fiercer as non-bank lenders have taken an increasingly big slice of the business. Many of these programs are pitched under the nomer of "non-QM," which mean non-qualified-mortgage.
For borrowers that don't fit into a particular non-bank lender's foreign national guidelines, very often there is an option to "broker-out" the loan to a wholesale lender that normally works with mortgage brokers.  Mortgage brokers don't actually make the loans, but they specialize in working with a network of several lenders to serve the lending needs of a more diverse borrowing population.
Advice for foreign homebuyers
If you would rather take advantage of the lower down payment options available with traditional lending programs, you'll want to start taking some steps to create a credit, income and savings history that will meet the standard lending program guidelines.
Start building credit in the U.S. if you hope to establish a career and eventually buy a house in this country. You'll probably need to apply for a Social Security card first, and once you do, expect to get small secured credit cards through your bank until you've established several months of payment history.
When you are ready to start looking, you also need to save for a down payment. If you don't meet FHA or conventional requirements, build up a down payment of 25% to 50%.
Work with qualified and professional real estate agents and mortgage brokers familiar with the foreign buyer market because they can help you find the most suitable lenders for financing.
Make sure your visa stamps, immigration status and paperwork are up-to-date. You'll be eligible for a standard loan program like conventional or FHA if you have permanent resident alien status. Be sure to educate yourself about how to get a mortgage as an immigrant to the United States.
Give yourself enough time to prepare all your financial statements, and hire a translating service to translate them, especially if some of those originate from your home country, before approaching a lender.
Compare mortgage rate offers from several financial institutions to be sure you're getting the best deal. This is especially true if you're working with non-banks and brokers, since the terms, rates and requirements can vary significantly from lender to lender.
The information in this article is accurate as of the date of publishing.